Visitor's Guide to Pedestrian Bridges on the Las Vegas Strip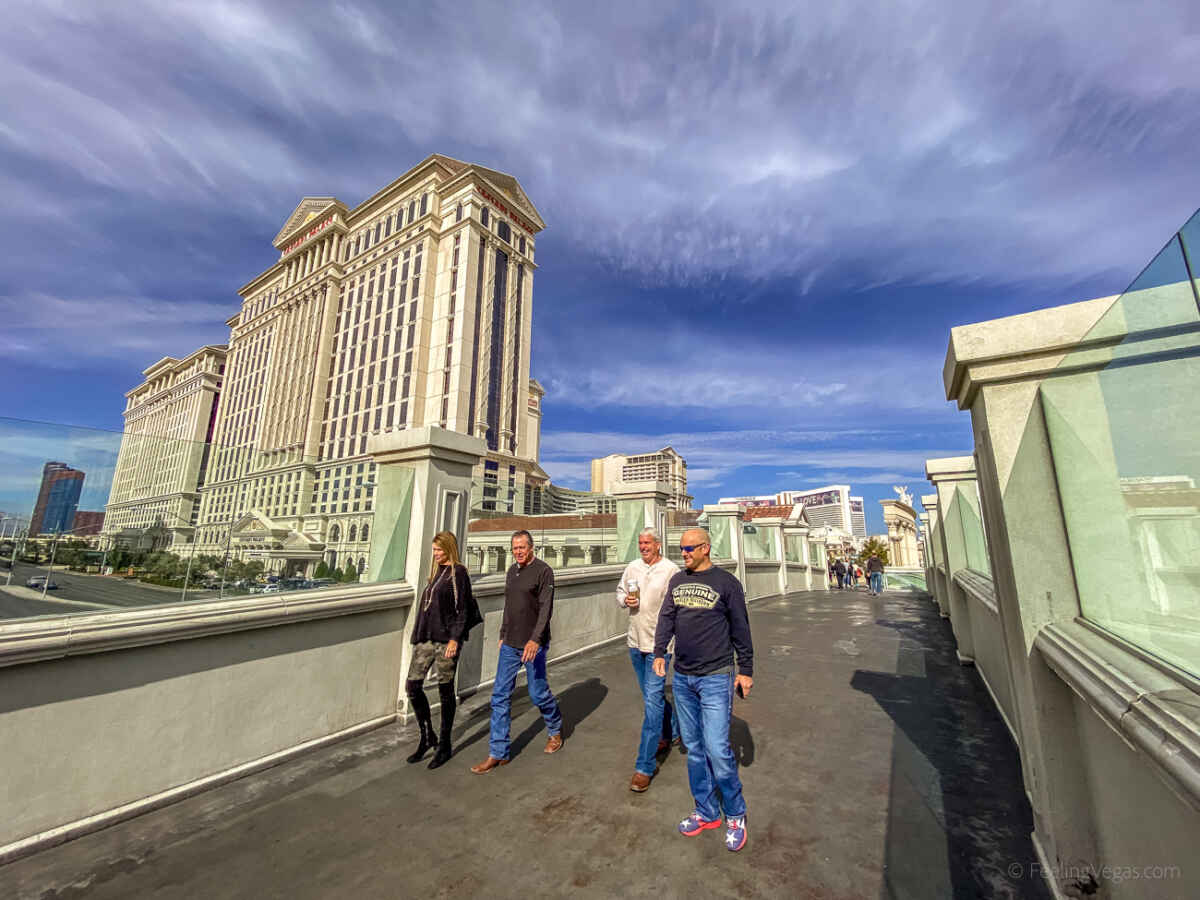 (This article may contain affiliate links, which means we might earn a small commission if you click and make a purchase. Thank you!)
Welcome to the dazzling and bustling heart of the Entertainment Capital of the world – the famous Las Vegas Strip! Go for a relaxed walk in this well-known part of Nevada and savor the moment!
Follow this guide to breeze through the city's pathways and explore the vibrant Las Vegas Blvd.
Let's discuss the Vegas Strip's elevated pathways, where every step brings you closer to the heart of Las Vegas.
Overview of Pedestrian Bridges on Las Vegas Strip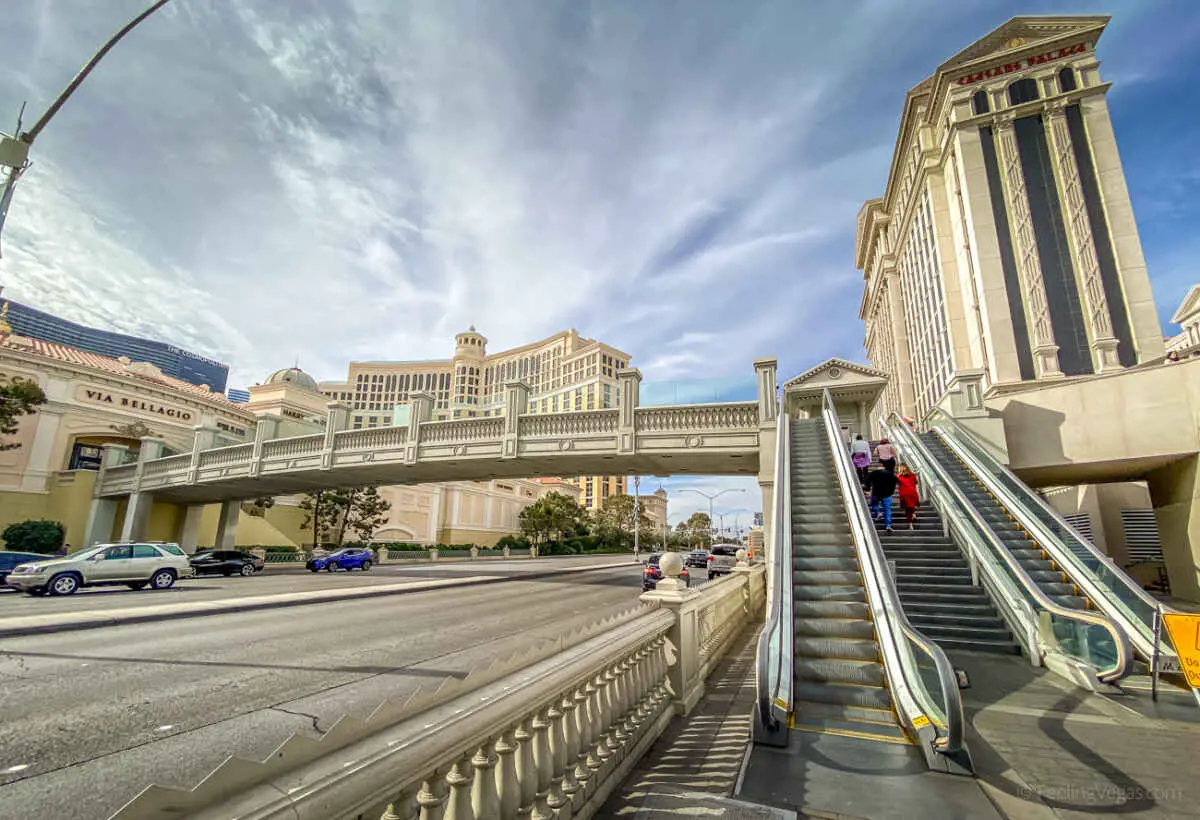 The famous Las Vegas Strip features footbridges for security, comfort, and to improve the experience of visitors wandering down the iconic boulevard.
History and Evolution of Pedestrian Bridges
The first pedestrian bridges on Las Vegas Blvd were built in the mid-1990s to ensure pedestrian safety and provide an elevated vantage point.
Today, these architectural wonders enhance the visual spectacle of the Vegas Strip while offering accessibility and convenience.
The structure and design of walkways at the Vegas Strip have undergone substantial changes, reflecting the city's historical evolution and its growing emphasis on safe and efficient urban mobility.
Role in Enhancing Walkability of the Strip
The overhead walkways on Las Vegas Blvd enhance safety and accessibility for all sightseers, including those with disabilities or restricted mobility.
They also deliver seamless navigation between Las Vegas hotels and stunning skyline panoramas.
Overall, the walkways enhance the experience of the Vegas Strip by providing access to entertainment, dining, and nightlife without traffic or safety issues.
Detailed Analysis of Pedestrian Bridges on Las Vegas Strip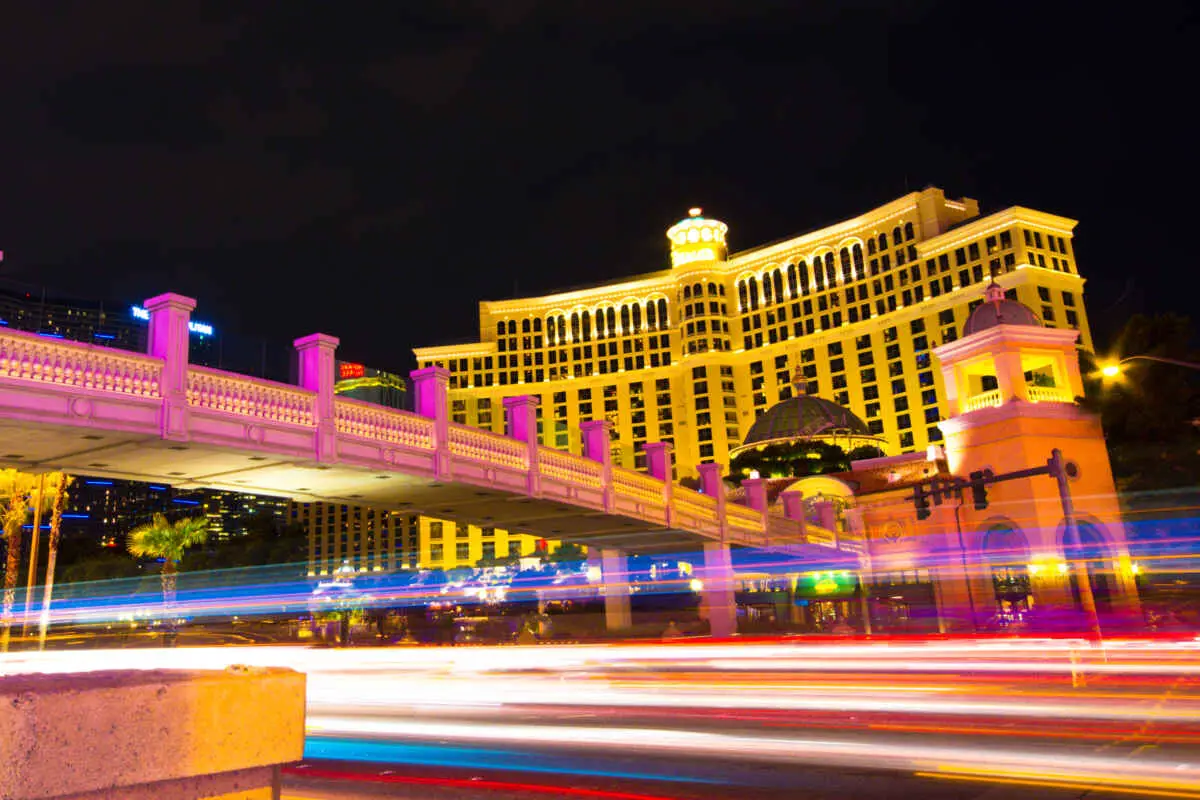 This section examines the design, functionality, and impact of pedestrian bridges on Las Vegas Blvd, emphasizing their role in improving visitor experience and traffic flow.
Locations of Major Pedestrian Bridges
Understanding the arrangement of major bridges along Las Vegas Blvd is crucial for safe and efficient exploration, enhancing accessibility and the overall Vegas Strip experience.
Tropicana Avenue Bridge: Located near the Vegas Strip's southern end, the Tropicana merges prominent hotels like Park MGM, New York-New York, and Tropicana Las Vegas.
Excalibur Bridge: It is located at the southern end of the Vegas Strip and merges the Excalibur Hotel and Casino, Luxor, and Mandalay Bay hotels.
Bellagio Bridge: It is located near the resort and connects Caesars Palace and Horseshoe Las Vegas, offering a stunning view of the iconic Bellagio fountains.
Flamingo Road Bridge: It is located in the heart of the Strip and connects Bellagio, Cromwell, and LINQ Hotel + Experience, serving as a central hub.
Park MGM (and T-Mobile Arena): A direct footbridge connects Park MGM and the Showcase Mall. Formerly known as the Monte Carlo Resort and Casino, Park MGM and MGM Grand are two separate buildings. The distance between Park MGM and MGM Grand Las Vegas is 2174 feet.
Accessibility and Features of Pedestrian Bridges
This segment examines the accessibility and features of footbridges on Las Vegas Blvd, focusing on their design to provide visitors with a seamless and pleasant experience.
Elevators and Escalators: Accessibility is key, and footbridges at the Vegas Strip are often equipped with an elevator and an escalator, enabling the mobility-challenged and tourists with strollers to move effortlessly between street-level and elevated walkways, like the footbridge connecting Park MGM and MGM Grand.
ADA Compliance: Footbridges on Las Vegas Blvd are ADA-compliant, including ramps, handrails, and tactile paving, to ensure pedestrian accessibility.
Security Measures: The Las Vegas Blvd prioritizes safety through integrated footbridges with surveillance cameras and well-lit walkways, ensuring the well-being of visitors at all times.
Pedestrian Bridge Design and Architecture
This section discusses the design and architecture of footbridges on Las Vegas Blvd, stressing their artistic and innovative features as prominent urban landmarks.
Unique and Eye-Catching Designs: Las Vegas Blvd footbridges have captivating designs that complement the nearby hotels.
Integration with Resort Themes: Las Vegas Blvd resorts' footbridges blend with the surroundings, like the Eiffel Tower footbridge by the Paris Resort.
Use of Modern Materials: Las Vegas Blvd footbridges use contemporary materials like glass, steel, and concrete for aesthetics and structural integrity.
Illuminated Beauty: The Las Vegas Strip's footbridges, illuminated with LED lighting systems, add a captivating ambiance to nighttime, enhancing the Vegas Strip's enchantment.
Walking the Las Vegas Strip: An Experience
Strolling down the Vegas Strip is an exceptional and memorable experience, attracting millions of tourists yearly. Walking around will help you discover the Las Vegas Strip and all it has to offer.
Indoor vs. Outdoor Walking on the Strip
Explore the Vegas Strip in two ways – walk outdoors on the street or indoors within hotels. Outdoor walking offers visually stunning neon signs, access to popular attractions, and diverse dining options.
Indoor walking provides a comfortable, climate-controlled environment to admire luxurious resort interiors and enjoy dining and entertainment venues.
Safety Measures for Pedestrians
The Vegas Strip is a famous tourist destination, but assuring pedestrian safety is important. Las Vegas implements several safety measures, including:
Well-marked pedestrian crosswalks on the street
Synchronized traffic signals
Dedicated pedestrian footbridges
A well-maintained sidewalk
Adequate lighting
The Vegas Strip also has traffic lights, patrols, and security personnel to keep pedestrians safe.
Benefits of Walking the Strip
Walking along the Vegas Strip offers a unique perspective on the city's nightlife and entertainment and is a must-do experience for visitors.
Immersive Experience: Walking on the street allows pedestrians to fully appreciate the sights, sounds, and energy of Las Vegas Blvd, including the grandeur of its hotels, mesmerizing light displays, and vibrant street performances.
Close Proximity to Attractions: Walking the Strip offers great views of iconic Las Vegas Blvd attractions like Planet Hollywood, the High Roller observation wheel, and The Bellagio Fountains.
Discover Hidden Gems: The Strip has hidden gems like boutiques, street art, and entertainment.
Flexibility and Freedom: Walking offers the freedom to explore, take photos, shop, and eat without time or traffic constraints.
Planning a Visit: Navigating the Las Vegas Strip on Foot
This segment provides essential tips for planning a visit to Las Vegas Blvd, focusing on the shimmering lights, colossal hotels, and eclectic street performers.
Best Times for Walking the Strip
Explore Las Vegas Boulevard during the evening and nighttime, when the neon lights, LED displays, and marquee signs light up the Strip.
The sidewalks and bridges along the Strip are generally less crowded on weekdays. They can get very crowded on the weekends and during big events.
Tips for a Comfortable Walking Experience
To maximize your Las Vegas walking experience, follow these tips to ensure comfort and enjoyment.
Wear comfortable, supportive walking shoes. Avoid high heels because they're unsuitable for a long walk.
Las Vegas Blvd experiences extreme temperatures, so dress in lightweight, breathable clothing during hot months, layer in cooler seasons, and ensure sun protection with a hat.
Las Vegas' desert climate necessitates regular hydration, especially during warmer months. Grab a bottle of water from your hotel or nearby store before heading out for a walk.
Las Vegas Blvd hotels provide numerous opportunities for planned rest stops, including outdoor seating and indoor lounges, to provide a break, hydrate, and recharge during your long walk.
To protect your eyes and skin from the intense desert sun, apply sunscreen while walking and consider wearing sunglasses for eye protection.
Must-Visit Spots Accessible via Pedestrian Bridges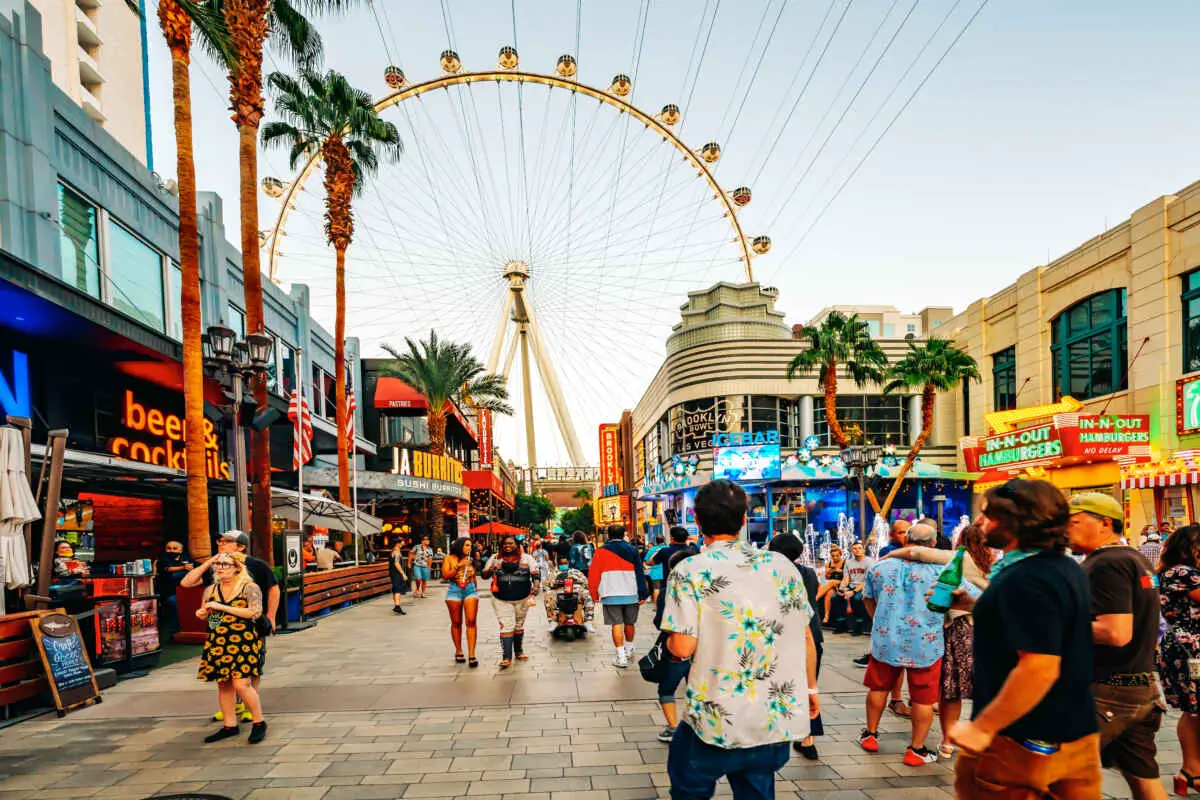 The Las Vegas Strip's footbridges connect various hotels and attractions, providing access to iconic spots to visit on the strip, making foot navigation more convenient.
The Bellagio Fountains: The fountains of Las Vegas Blvd are a popular attraction, featuring a captivating water and light show, with the pedestrian bridge providing an ideal viewing spot. Take a look at the Bellagio Fountain schedule for show times and songs.
The High Roller Observation Wheel: The world's tallest observation wheel is located at The LINQ Hotel + Experience and offers panoramic city views from its top via a pedestrian bridge. Learn more about the High Roller Observation Wheel.
The Eiffel Tower at Paris Las Vegas: The replica at Paris Las Vegas Blvd is a popular landmark and observation deck accessible via a pedestrian bridge connecting Bellagio to Horseshoe Las Vegas and the Paris resort.
The Volcano at The Mirage: The Mirage's nightly eruption showcases fire and music, accessible via footbridges located near The Venetian Resort, Wynn, and Treasure Island.
The LINQ Promenade: The LINQ Promenade is a lively outdoor shopping, dining, and entertainment district. Access it directly via footbridges located next to The LINQ Hotel + Experience or nearby resorts.
Frequently Asked Questions
Learn more about footbridges, safety, attractions, and more, to make your Las Vegas trip smooth and memorable.
What Are the Operating Hours of Pedestrian Bridges on the Las Vegas Strip?
Pedestrian bridges on the Las Vegas Strip are accessible 24/7, providing year-round convenience and safety without specific operating hours or traffic closures.
Are the Pedestrian Bridges on the Las Vegas Strip Wheelchair Accessible?
Yes. The footbridges in Las Vegas have elevators and escalators for wheelchair accessibility, making it easy for everyone to use.
How Safe Is It to Walk on the Las Vegas Strip at Night?
The Vegas Strip is safe at night with the presence of tourists, security personnel, and law enforcement. Stay alert, avoid secluded areas, and take urban safety precautions for a secure experience.
Prepare and think about various safety considerations for night-time walks before taking a walk along the Strip at night.
Are There Any Restrictions on Walking the Las Vegas Strip?
Walking along the Vegas Strip is generally unrestricted, but following basic pedestrian rules, obeying traffic signals at crosswalks, and respecting private property boundaries around Las Vegas are important.
What Are Some Landmarks or Attractions Accessible via Pedestrian Bridges on the Las Vegas Strip?
Some landmarks and attractions accessible via footbridges at the Vegas Strip include the following:
The High Roller observation wheel
The Eiffel Tower at Paris Las Vegas Blvd
Bellagio Fountains
The LINQ Promenade
T-Mobile Arena
Treasure Island
The MGM Grand Garden Arena
The Shops at Crystals
Fashion Show Mall
Showcase Mall
The Park Las Vegas
Conclusion
The Las Vegas Strip's pedestrian footbridges are more than just walkways. They connect Las Vegas hotels, attractions, and entertainment venues while providing safety and comfort to millions of visitors annually.
They offer a spectacular city view from the Fountains to the High Roller observation wheel. These footbridges at the Vegas Strip enhance the walking experience, making exploring the Strip's gems easy and safe.
Whether experienced or a first-time visitor, the footbridges of Las Vegas Blvd guarantee an unforgettable journey.
So, put on your walking shoes, enjoy the neon spectacle, and let the footbridges guide you to an immersive Las Vegas Blvd adventure.