Not To Miss on The Las Vegas Strip (11 Essential Experiences)
(This article may contain affiliate links. If you click through and make a purchase, we will receive a small commission at no additional cost to you. )
Las Vegas is such a cool city, and you may find it challenging to pick the attractions to visit and the shows you should see because there are so many from which to choose! Yet, choose you must. To help, I've put together a list of some of the top attractions you don't want to miss on the Las Vegas Strip.
Although there is more happening on the Las Vegas Strip than you can possibly do in a single visit to Sin City, the following list will make sure that you don't miss out on the most essential Vegas experiences.
Whether it's your first visit to Las Vegas or your hundredth, here's what not to miss on the Las Vegas Strip:
1. The Bellagio Fountains (Don't Miss!)
Everything is done big in Las Vegas, and without a doubt, the Bellagio Fountains is the biggest can't miss attraction on the Las Vegas Strip.
The Bellagio Fountain Show is one of the most famous draws on the Strip. More than 1,200 dancing water jets choreographed to music shoot skyward from the lake in front of the Bellagio Hotel every afternoon and evening, allowing thousands of visitors to get a front-row view from the sidewalk along Las Vegas Blvd.
The fountain's synchronized plumes shoot as high as 460 feet into the air and are spectacular both day and night (I recommend that you catch at least one show during the day and another in the evening.) Even better, this Las Vegas attraction costs nothing and ranks as one of the best free shows in the entire city. 
The fountain performances are every 30 minutes, beginning at 3 p.m, then every 15 minutes from 8 p.m. until midnight. (Check here for a complete list of show times and songs).
After checking out the fountains, you'll want to head inside the Bellagio Hotel itself. The Bellagio Hotel is the epitome of luxury in Las Vegas and inside the hotel, you'll find a spectacular lobby, an iconic Las Vegas casino, the Bellagio Gallery of Fine Art, the Conservatory & Botanical Gardens, upscale restaurants, shopping, and a spa.
The Bellagio Fountains and hotel are certainly an area of the Strip that you won't want to miss.
2. Stop By The Welcome to Las Vegas Sign
Would it really be a Las Vegas vacation without a visit to the Welcome to Fabulous Las Vegas sign? Found on the south end of the Las Vegas Strip, the Welcome to Las Vegas sign has greeted visitors since 1959.
Grabbing a picture of yourself in front of the sign creates a memory that is essential for every Vegas visitor. The sign is located in the middle of Las Vegas Boulevard and can be easily reached by car, Uber, or taxi (unfortunately it's not easy to get to on foot).
Tip: By late afternoon the Vegas sign can get quite busy. Visit earlier in the day to avoid the crowds.
3. Walk The Strip (Day and Night)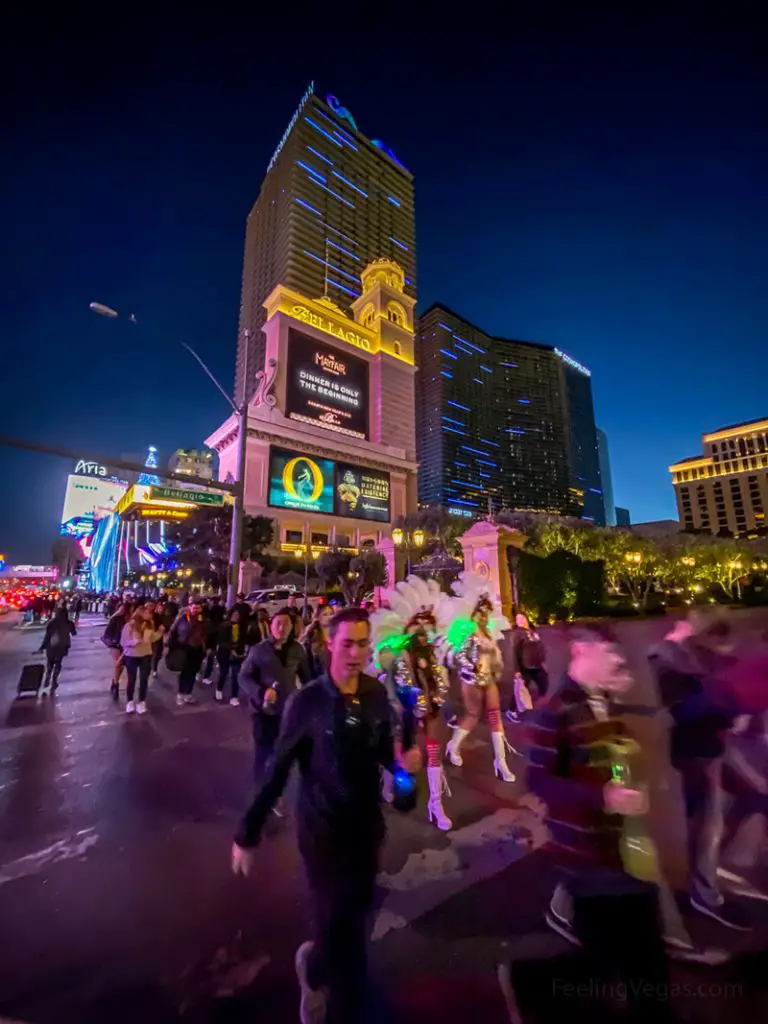 Taking some time to walk along the Strip is something you really have to do when you're in Vegas. The lights, the sights, and the people can provide hours of entertainment. Taking a self-guided walking tour is the absolute best way to experience the real Las Vegas.
I'd recommend walking the stretch of the Strip between Tropicana Avenue (New York-New York) and Flamingo Road (Bellagio). This is where you'll find the highest density of Las Vegas mega-resorts (on either side of the Strip), and it's an area that is very convenient to walk.
I'd also suggest that you make sure to get out on the Strip both during the day and at night. There are plenty of sights to see during the day, and, of course, when the lights come up at night, they transform Las Vegas Blvd. into one of the most impressive stretches of road on the planet.
4. Explore One or More Themed Las Vegas Resorts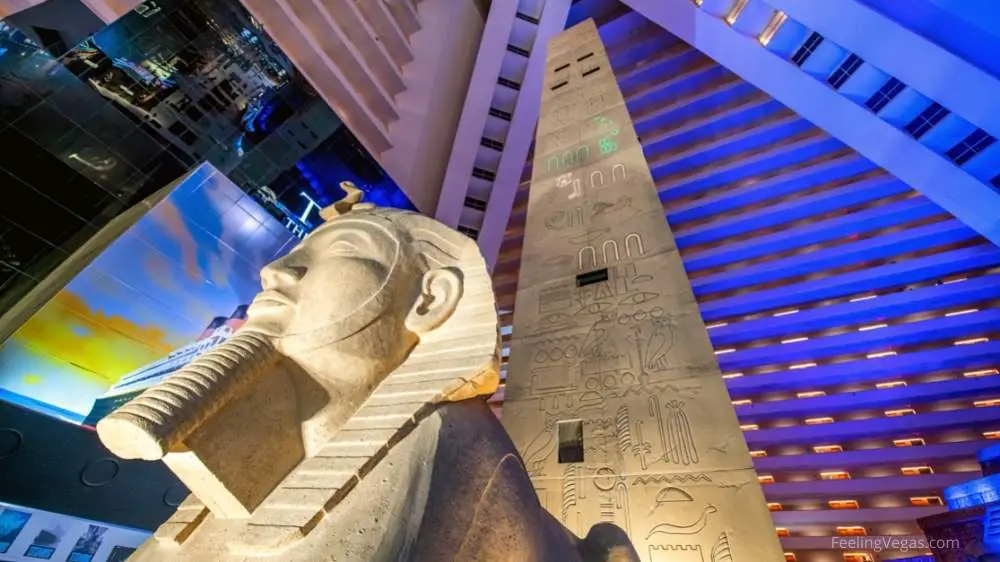 Vegas just wouldn't be Vegas without visiting one or more of our famous themed resorts. We've got one shaped like a pyramid, another that looks like a medieval castle, and one that will transport you to the streets of New York City.
Luxor Las Vegas – Only in Vegas can you find a giant glass pyramid-shaped building that houses a casino, hotel, attractions, dining, shopping, and shows. The entire resort has an Egyptian theme, and you'll be amazed when you're standing inside the pyramid and looking up to the point on top.
Excalibur – If you're driving down the Las Vegas Strip and see what appears to be a medieval castle complete with colorful turrets, you can be assured that you've just seen the Excalibur Hotel & Casino. A walk through the property will transport you back to the time of kings, knights, and fair maidens.
New York-New York – If you love The Big Apple (New York City), then you're sure to appreciate the New York-New York Hotel & Casino. The exterior of the resort is a giant facade of the Manhattan skyline, and you'll find several replicas reminiscent of New York City on the property, including the Statue of Liberty and the Brooklyn Bridge.
If you'd still like more excitement, then you'll want to jump on the Big Apple Coaster. It's a roller coaster that soars over the top of the resort with enough dips and dives for any thrill-seeker.
If you're trying to figure out which one of these themed properties to visit, you're in luck! The Luxor, Excalibur, and NYNY resorts are all located right next to each other on the south end of the Strip, so you can check them all out at the same time.
Related: Download our free map of the hotels and casinos on the Las Vegas Strip.
5. Visit The Venetian (You'll Be Sorry if You Miss This!)
Speaking of themed resorts, The Venetian Las Vegas is a property so amazing it deserves its very own spot on this list. Located on the north end of the Strip, The Venetian (along with its sister property, The Palazzo) pays homage to the Italian city of Venice with details so accurate they are not to be believed unless you've seen it with your own eyes.
The Venetian is part hotel, casino, and shopping center all designed to look like the streets of Venice, Italy. The most incredible feature of the resort is the indoor and outdoor Venetian canals at the Grand Canal Shoppes. Here you can take an authentic gondola ride while a gondolier serenades you with song.
Of all the resort properties in Las Vegas, The Venetian is one you do not want to miss!
Tip: When visiting The Venetian, don't forget to look up. The ornately painted ceilings are some of the most beautiful in all of Las Vegas and would impress Michelangelo himself.
6. Get a Free Drink While Gambling
You haven't lived it up in Las Vegas until you get at least one free drink while gambling in a casino. That's right, free drinks! Legend has it that if you play in a Las Vegas casino, a cocktail waitress will approach you and ask if you'd like a complimentary drink.
Beer, wine, shots, mixed drinks, you name it, and they will bring it to you….for free! Pretty cool, huh? Check out my article: Are Drinks Free in Las Vegas Casinos? (Yes! If You Know How) for more details.
Oh, and by the way, the drink may be free but don't forget to offer a tip.
7. Check Out The Forum Shops (Not to Be Missed)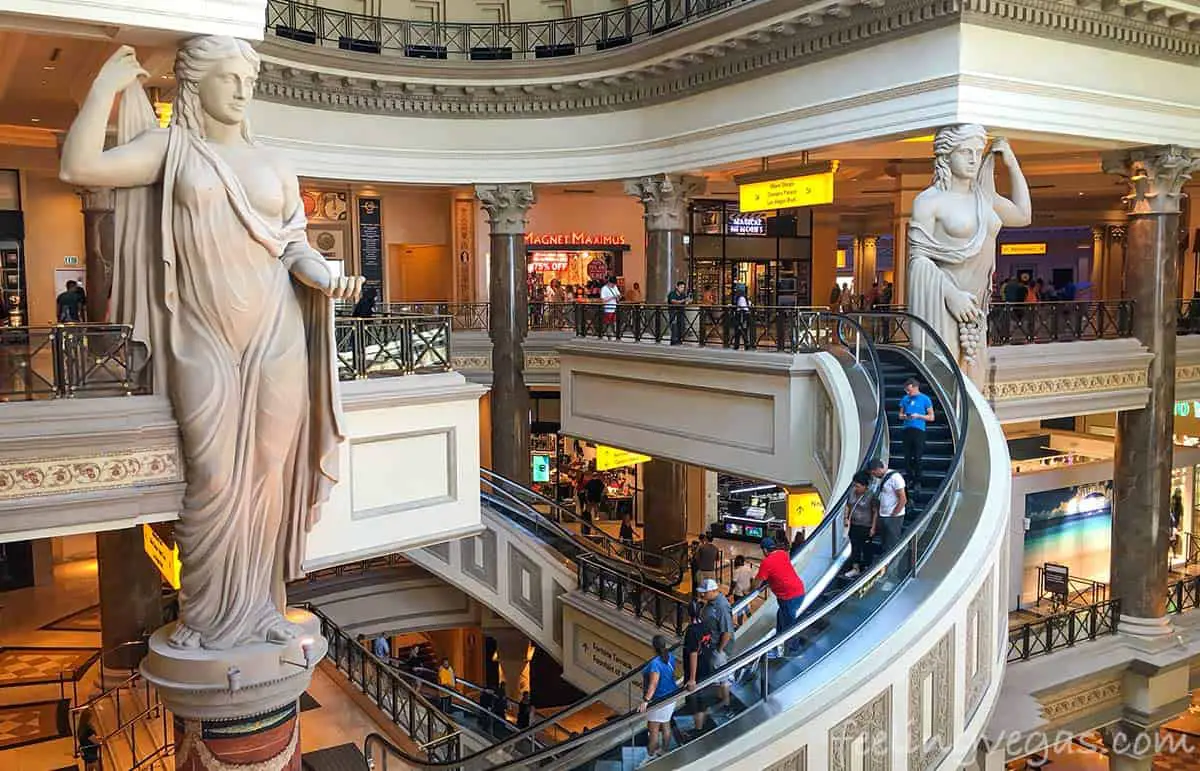 If you love to shop, then Las Vegas is the place. From fancy luxury brand name stores to outlet malls, Vegas has it all. There is, however, one shopping center you don't want to miss (even if you don't like to shop). The Forum Shops at Caesars Palace is an indoor shopping mall like no other.
When you enter the shopping center, you'll think you've been transported back to ancient Roman civilization. The mall is absolutely gorgeous and designed to look like the Forum in Rome, Italy, with giant columns and Roman statues found throughout.
One cool thing you should definitely see while you're here is the Fall of Atlantis show. The show details the fall of the mythical city of Atlantis and is free for all to watch. The most interesting thing about the show is that all of the characters are animatronic. They move, speak, and shoot water and fire for about ten minutes at the top of the hour.
Finally, right behind the show area is a large saltwater aquarium that is set in the crumbling ruins of Atlantis. You might even catch a scuba diver in the tank feeding the fish.
8. Chow Down at a Classic Las Vegas Buffet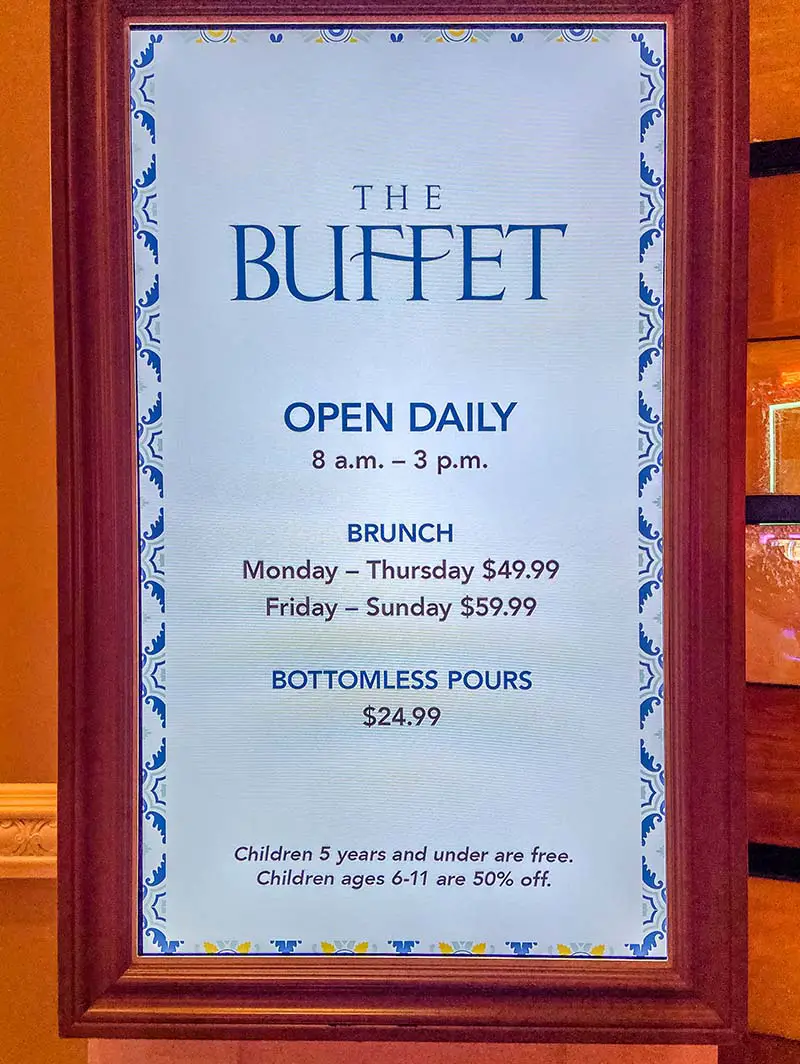 A trip to Las Vegas just wouldn't be complete without gorging yourself at a classic Las Vegas buffet. Better yet, plan your buffet visit during a weekend to experience a champagne brunch. Prime rib, crab legs, and all-you-can-drink champagne really hit the spot.
Unfortunately, Las Vegas buffets aren't as plentiful now as they were prior to the pandemic but they are slowly reopening. Check here for a complete list of Las Vegas buffets that are open for business.
9. See a Cirque du Soleil Show
Did you know that Las Vegas is home to six (yes, six!) Cirque du Soleil shows? Las Vegas Cirque shows include:
The Beatles LOVE
Mad Apple
Mystere
Michael Jackson ONE
KA
Getting tickets for a Cirque du Soleil show is a must when visiting Vegas. Any one of these amazing shows will do, so pick one that sounds interesting to you.
Tip: Plan on getting your tickets in advance so that the show you want to see doesn't sell out.
10. Eat at a Las Vegas Celebrity Chef Restaurant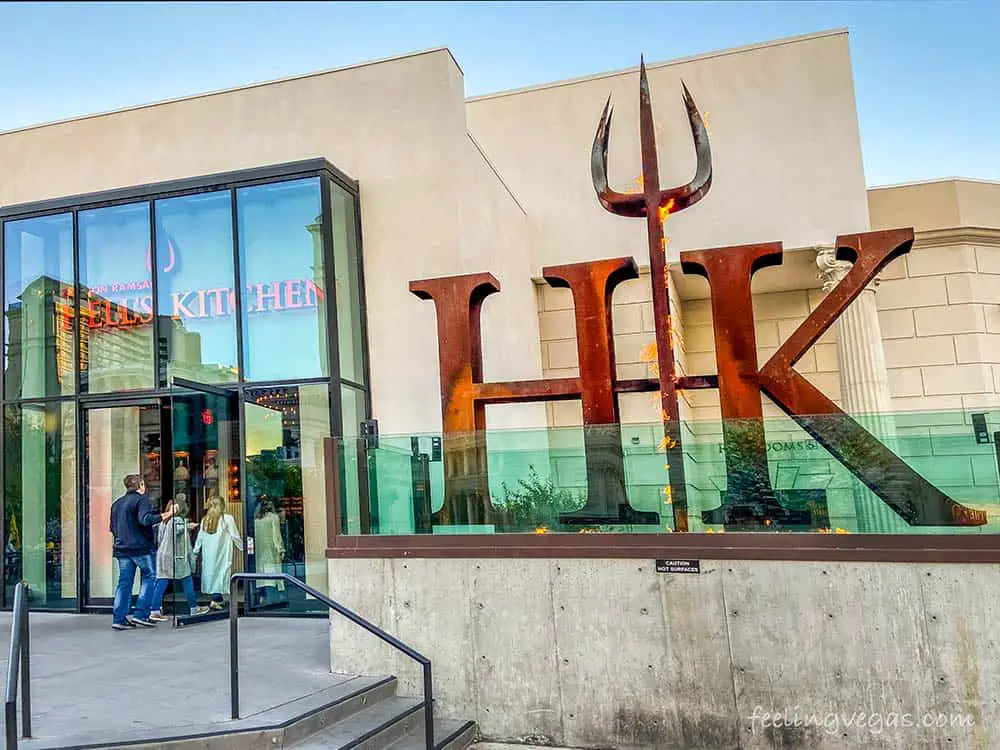 If you love to eat (and who doesn't?) then you won't want to leave Las Vegas without eating at one of the many celebrity chef-owned restaurants in town. The best celebrity restaurants in Sin City include:
Bazaar Meat by Jose Andres (Sahara)
Michael Mina (Bellagio)
Gordon Ramsay's Hell's Kitchen (Caesars Palace)
Vanderpump A Paris (Paris Las Vegas)
Buddy V's Ristorante (The Venetian)
Amalfi by Bobby Flay (Caesars Palace)
Wolfgang Puck Cut (The Venetian)
Fine dining with a menu designed by a celebrity chef may not be something you want to do every night you're in Las Vegas (that could get kind of expensive), but you should plan on at least one really nice meal at any of these celebrity chef restaurants.
11. Enjoy The LINQ Promenade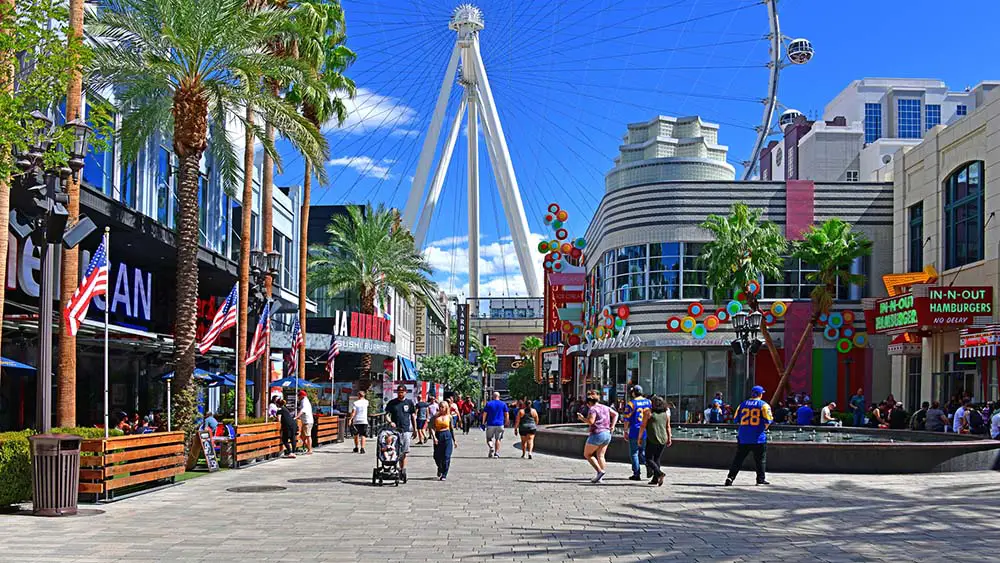 The LINQ Promenade is another area of the Strip you won't want to miss. The promenade is an outdoor shopping, dining, and entertainment center located around The LINQ Hotel.
The whole area has kind of a Disney theme park feel to it but unlike Disneyland, The LINQ Promenade is made for adults with its numerous bars, lounges, and nightlife venues.
The LINQ Promenade is also home to one of Las Vegas's biggest skyline features, the High Roller. A ride on this huge observation wheel (it's not a Ferris wheel) will give you views of the Strip and surrounding Vegas Valley that you can't get from anywhere else. Each "pod" is a fully enclosed and air-conditioned space that holds up to 40 people, and the wheel takes 30 minutes to make one complete revolution.
Also found at the LINQ is the Fly LINQ Zipline. If you've ever wanted to zipline in Las Vegas, here's your chance. The zipline lets you soar 12 stories above the promenade. The line runs from Las Vegas Boulevard to the High Roller.
More Things You Might Not Want to Miss on The Las Vegas Strip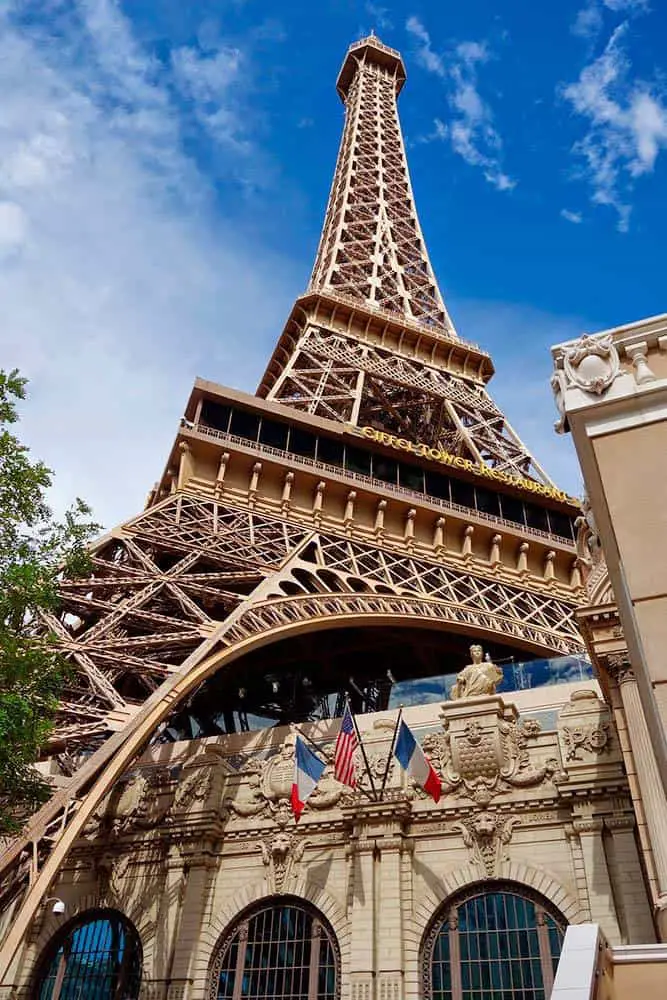 If that wasn't enough of a list for you, I've got a few more suggestions of things you won't want to miss on the Vegas Strip.
Eiffel Tower Observation Deck
You are not mistaken when you see the Eiffel Tower while cruising the Strip. The replica of the famous tower directs the way to Paris Las Vegas, one of the most fascinating resorts in Las Vegas.
The Eiffel Tower Experience is one everyone must do, especially if they want to get 360-views of the city from the observation deck. Like so many popular Vegas attractions, you'll want to reserve your tickets in advance to be sure you get in.
Catch a Show at The Colosseum
The Colosseum at Caesars Palace is a large entertainment venue on the Strip and offers all kinds of entertainment featuring A-list performers like Adele, Rod Stewart, Chris Rock, and Sting. Plan ahead to catch a show here as the biggest names always sell out.
Pinball Hall of Fame
If you'd like to play on one of the world's largest collections of pinball machines, then you'll want to hit up the Pinball Hall of Fame. Located on the Strip near the Welcome to Las Vegas Sign, the Pinball Hall of Fame is a fully interactive museum of sorts.
With over 25,000 feet of vintage and current-day pinball machines, you can play to your heart's content. The Pinball Hall of Fame is free to visit. All you need are quarters to play the machines.
Shark Reef Aquarium
The Shark Reef Aquarium at Mandalay Bay Hotel and Casino allows you to get up close and personal with some of the 2,000 animals housed there. This is the only predator-based exhibit in North America and features animals like endangered green sea turtles, piranha, golden crocodiles, and plenty of sharks. 
It has a "water tunnel" so you can walk through the aquarium and see the animals swimming around you. It will take you a while to get through the whole thing, so allow plenty of time.
Top of The World
The Top of the World Restaurant, located in the STRAT Tower, gives you great food with a memorable skyline view. What's even better? The restaurant rotates 360-degrees over 80 minutes, giving you the chance to see every part of the city while you eat.
The 1,1,49-foot Stratosphere Tower has a hotel, other restaurants, and plenty of observation decks to get a look at the skyline. It is the tallest freestanding observation tower in all of America.
Tips for Planning a Vegas Trip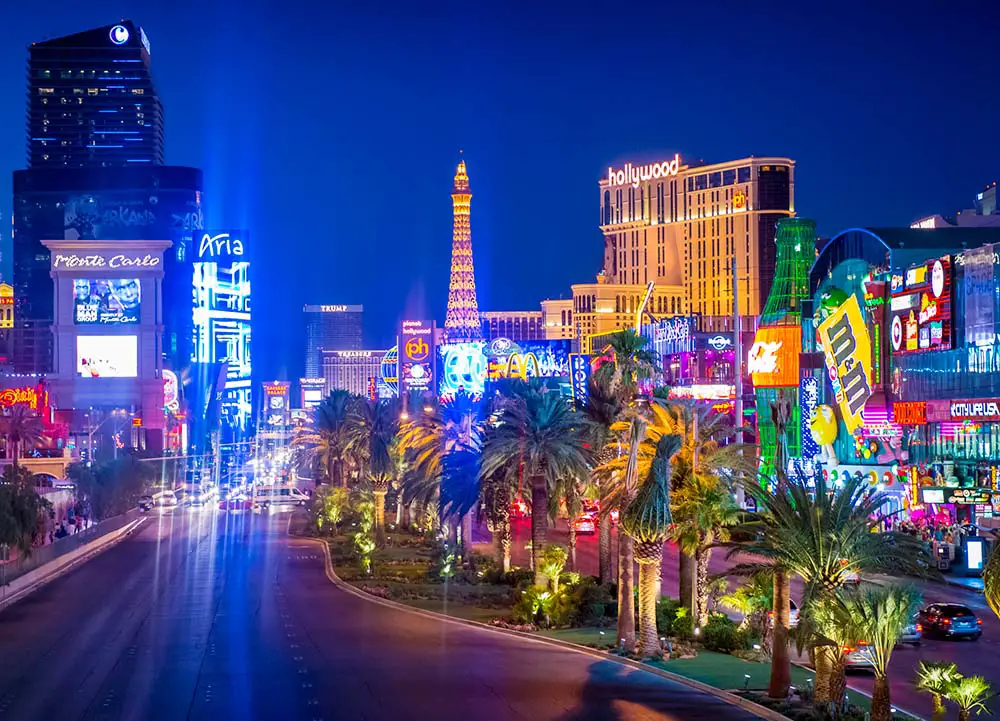 You will need to understand how things are laid out in Vegas. The airport comes in near the south end of the Strip. Most of Vegas's major resorts and attractions are found along the Strip, but there is also Old Vegas (Fremont Street Experience), where Las Vegas first started. It is north of the Strip. 
Even though the Strip is just over four miles, you can't easily walk the entire length of it in one go. Crowds and cars often block intersections and slow things down. Allow more time to get to your intended destination than you first think.
Be aware that many hotels on the Strip are resorts. That means they charge a daily resort fee, and even though they advertise cheaper rooms, the resort fee can add up.
It's best to avoid weekends and holidays for activities because those are the busiest times in Las Vegas. You can get cheaper rates on various attractions if you go during the day on a weekday. 
Bring comfortable walking shoes. You will walk everywhere and will need good shoes to avoid tired, sore feet. You will also need good socks to cushion your feet. You will be doing a lot of walking on concrete. Check out our packing guide for Las Vegas.
Buy tickets to attractions in advance. Many of these attractions sell out quickly, especially during weekends and holidays. It's best to have them in hand before you get to Las Vegas.
Be aware that many Vegas tickets for attractions and shows are not refundable, so be sure to show up on time to attend your attraction. At the same time, many tickets are open tickets, so they will give you some flexibility. Be sure to ask if there are open tickets available before you buy so you can have some options.
Las Vegas weather is different from most other places because of our desert location. It can get blistering hot during the day but cool at night (except during summer). It's best to carry sunscreen, lip balm, a good water bottle that stays filled, and a sweater for when you go out at night or head into a heavily air-conditioned casino.
Be prepared to lose some sleep or readjust your biological clock. There are no clocks in casinos in Las Vegas, so you can lose track of time. The nightlife is huge, so you will want to sleep a little later in the morning to enjoy the blinking lights and all that Las Vegas has to offer at night.
Final Thoughts
Now that you know what not to miss on the Las Vegas Strip, it's time to get out there and start having fun!
The Las Vegas Strip packs a lot of entertainment into a relatively small area. While there is a lot to see and do, these 11+ Las Vegas experiences are ones you won't want to miss!