Complete List of Las Vegas Radio Stations (All Genres)
(This article may contain affiliate links. If you click through and make a purchase, we will receive a small commission at no additional cost to you. )
Are you on a road trip through Las Vegas and looking for a radio station to get your jam on? Or maybe you just moved to Sin City and are searching for the radio stations that play your favorite genre of music. In either case, look no further, we've got you covered.
We've put together a comprehensive list of local FM Vegas radio stations that cover all genres, making it easy to find a station to suit your musical tastes.
1. KCEP Urban Contemporary
If you like Urban Contemporary music, then 88.1 FM KCEP is perfect for you. Also known as "Power 88," it first graced the airwaves in 1972. Here, you can listen to a wide array of tunes, from R&B to gospel music. Don't forget to listen to the Michael Baisden show, which airs every weekday afternoon.
2. KEKL Contemporary Christian
When it comes to contemporary Christian music in Las Vegas, you should tune into 88.5 FM KEKL. Run by the Educational Media Foundation, KEKL is one of 520 FM stations operated by the said organization. Collectively, these stations have amassed more than 20 million fans.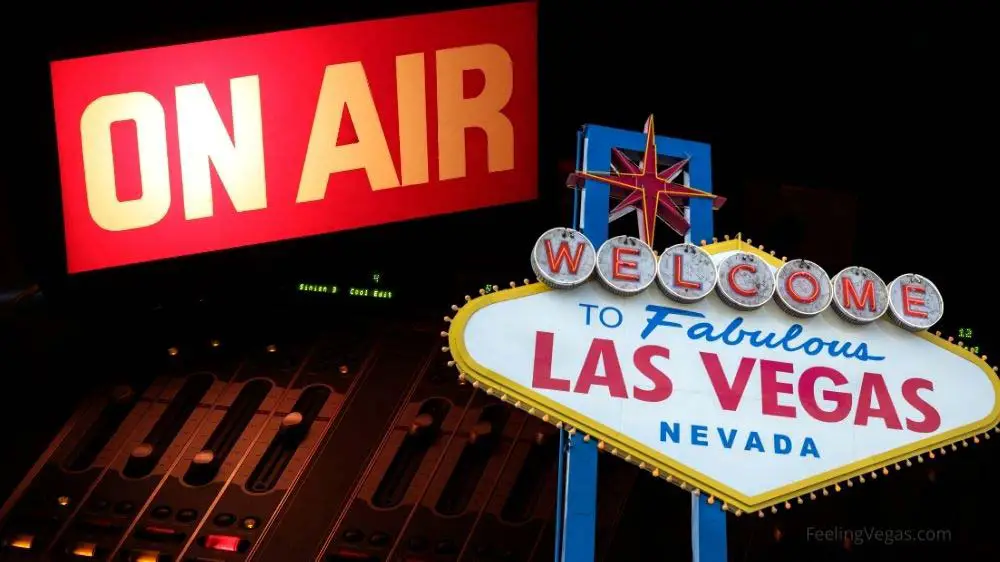 3. KNPR News/Talk
If you are an avid NPR listener, then you'll enjoy 88.9 KNPR, which is a news/talk programming station that runs in HD. Founded in 1980, KNPR is used to run both NPR programs and classical music. You can now listen to the latter at KCNV 89.7.
4. KAER American Christian
KAER 89.3 is run by the Air1 American Christian Radio Network. As such, this is the station to tune into if you want to hear contemporary worship music. Launched in 1986, the Air1 company operates its KAER broadcast out of Mesquite, Nevada.
5. KCNV Classical
KCNV 89.7 is a station owned by Nevada Public Radio and it's funded by listeners to play classical music, including that of the Chicago and New York Philharmonic Orchestra.
KCNV also offers programs hosted by:
Public Radio International
National Public Radio
American Public Media
6. KSOS Contemporary Gospel
KSOS 90.5 is a non-commercial station that broadcasts Contemporary Christian music. Also known as SOS radio, it was founded in 1972 by Jack French. It was first published under the name of KILA, which has earned the title of being Las Vegas' first contemporary gospel music station.
7. KVKL Contemporary Christian
KVKL 91.1 is a Las Vegas-based non-commercial station run by the Educational Media Foundation. As with most in this list, it broadcasts contemporary Christian music. KVKL, however, follows a format popularized by the K-Love network.     
8. KUNV Soothing Jazz
Based out of Paradise, Nevada, KUNV 91.5 is a station run by the University of Nevada-Las Vegas students. KUNV started in 2011 as "The Morning Rebellion Show." It changed its name to "The Source" the following year.
Today, the station is known for its soothing jazz music broadcast.  
9. KOMP Active Rock
KOMP 92.3 is a class-C station run by Lotus Communications that started as KENO-FM, which was its name up until 1981. Now, the station is popularly known as "The Rock Station." True to its name, it's perfect for listeners who like listening to active rock music, and anything else in between.
10. KRRN Rock and Latin Urban Pop
KRRN 92.7 or Fuego 92.7 is a bilingual radio station owned by Entravision Communications and features an English and Spanish rhythmic contemporary format. Founded in 1990, KRRN rose to fame by airing Rock en Espanol and Latin urban pop.
11. KYMT Mainstream Rock
KYMT 93.1 is known to Vegas locals as "93.1 – The Mountain." It operates out of Meade Avenue, which is located west of the famed Las Vegas strip. Owned by iHeartMedia, KYMT broadcasts its mainstream rock music in HD format. As such, it's something you can stream on your car, and your smartphone.
12. KMXB Adult Contemporary Rock
KMXB 94.1 or Mix 94.1 is a radio station based in Henderson, Nevada. Run by the Audacy corporation, 94.1 is known for its hot adult contemporary rock music. KMXB started in 1971 as a station that offered soft adult contemporary music.
Like KYMT, you can listen to 94.1 in HD format.
13. KNYE Freeform
KNYE 95.1 or Kingdom of 95.1 is a station located in Nye County, Nevada, which is run by Karen Jackson of Pahrump Radio, Inc. As the "big voice of the valley," it's the station to listen to if you're looking for an eclectic mix of music. In music circles, it's a format known as "freeform."
14. KWNR Country
KWNR 95.5 is known in the Las Vegas area as "95.5 The Bull." It broadcasts country music – from classical to regional Mexican.
Founded in 1990 as KILA, it underwent several call sign changes. It finally settled to KWNR in 2013 when iHeart acquired the station.
15. KKLZ Decade Hits
KKLZ 96.3 is run by Beasley Broadcast Group. As its slogan suggests, it plays music from the "70s, 80s, and more." So if you're in for a nostalgic road trip, then this is the station for you.
Launched in 1984 as KITT, KKLZ once followed a top 40 format.
In 2007, it decided to shift to the decade hits.
16. KXPT Classic Rock
KXPT 97.1 the Point is a classic rock station operating out of Las Vegas, Nevada.
97.1 started as KORK-FM in 1961. Today, the station is famous not only for its soothing hits but also for its lively DJs, such as Chris Foxx and Steph Mackenzie of the "Foxx and Mackenzie" show.
17. KVEG Hip Hop
KVEG 97.5 or Hot 97.5 is a station owned by Kemp Broadcasting & Digital Media. Launched in 2001 as a mainstream urban music station, KVEG eventually focused its roster on hip hop.
While this station is the only dedicated Hip Hop radio station in Las Vegas, there are several others that play hip hop throughout their schedule or have special times where you can listen to hip-hop.
You can find a list of these stations in our article here.
18. KLUC Top 40
KLUC 98.5 is another one of the Las Vegas radio stations run by Audacy Inc.
Since its first airing date in 1963, KLUC has been delighting listeners with its top 40 hits. The tradition continues up until today. In fact, this has helped KLUC become the most listened-to radio station in NV.
19. KRGT Spanish Urban
KRGT 99.3 is known to its listeners as 99.3 Latino Mix. As the name implies, it broadcasts a unique mix of Spanish urban music. Despite this moniker, KRGT also plays English-language songs by non-Latino musicians.
Founded in 2000, KRGT 99.3 is currently under the helm of the Uforia Audio Network.
20. KWID Spanish Adult
KWID 101.9 or La Buena 101.9 is a contemporary station that offers Spanish adult hits.
Founded in 1963, KWID was then named KRGN, which was based on owner E.W. Cragin who bought the station that year.
Today, KWID is owned by Lotus Broadcasting. This owner-change has led to the station's unique Spanish-hit format.
21. KCYE Country
KCYE 102.7 is known to its listeners as 102.7 Coyote Country. Launched in 1995, it used to run under the 105.5 frequency but then migrated to its current station in 2000, which then played 80s hits.
Today, KCYE offers country music, as well as talk and weather radio.
22. KISF Spanish Rock
KISF 103.5 (Zona MX 103.5) is one of the several Las Vegas stations that play regional Mexican hits. KISF started as LITE 103.5, which then broadcasted adult contemporary music. In 1992, it shifted to playing modern rock music.
In 1999, Univision Radio acquired the station. A true trailblazer, KISF became the first Spanish FM station in Las Vegas.
23. KFRH Current Hits
KFRH 104.3 FM was founded in 1987 as KJUL, a station that played adult contemporary music. Under this call sign, the station won the NAB Marconi's "Station of the Year." Today, KFRH is known as Now 104.3 FM, a station that plays new hit music.
24. KJUL Soft Adult Contemporary
KJUL 104.7 is based in Moapa, 50 miles northeast of the city. It first went active in 1998, playing nostalgic hits from crooners such as Frank Sinatra and Nat King Cole. KJUL then shifted to playing classic country music in 2005.
The focus then changed to soft AC music, a genre it broadcasts up until today.
25. KQRT Hispanic
KQRT 105.1 FM/La Color 105.1 FM is another one of Las Vegas' regional Mexican stations. Owned by Entravision Holdings, it first ran as KRBO in 1989, but eventually became KVBC-FM under the ownership of local station KVBC.
Entrevision acquired KQRT in 2003 and has been playing Hispanic music ever since.
26. KSNE Soft Adult Contemporary
KSNE 106.5 or Sunny 106.5 is one of several iHeartMedia-owned stations in Las Vegas.
Formerly KRLV 106.5 FM, it used to play continuous soft hits by Michael Bolton, Kenny G., and more. Today, KSNE is famous for its adult contemporary music, which you can also listen to in HD format.
27. KXTE Alternative Rock
KXTE 107.5 is an Audacy Inc.-owned radio station based in Pahrump, Nevada. Launched in 1986, listeners then called them "K-Love" and "Oldies 108 FM." Today, the station is popular amongst alternative rock listeners.
Its HD2 and HD3 stations, on the other hand, are perfect for those who want to listen to broadcast classic hits and sports gambling shows.