Las Vegas Strip ATM Fees & How to Avoid Them
(This article may contain affiliate links. If you click through and make a purchase, we will receive a small commission at no additional cost to you. )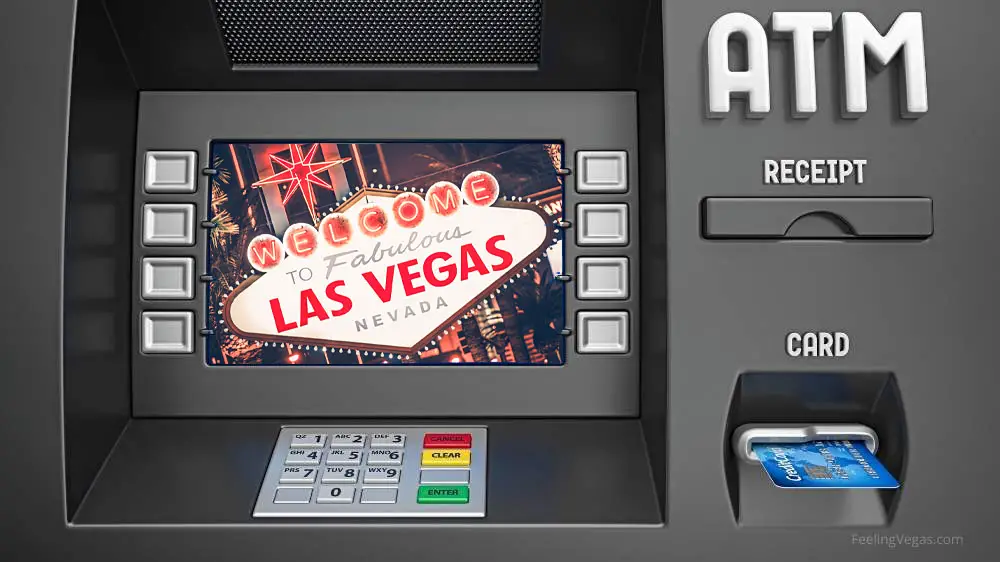 Are you curious to know the best places to take cash out on the Las Vegas Strip without paying an arm and a leg in ATM fees? 
Cash is king in Las Vegas. Everything costs money, and it's important to be able to get your hands on cash easily while you're traveling here. ATMs are on every corner of the Strip, but the Las Vegas ATM fees can get pricey if you don't know where to look. 
In this article, I'm going to help you understand the real deal when it comes to ATMs on the Las Vegas Strip and how to get cash out with minimal fees. 
Why Are ATMs So Expensive On The Las Vegas Strip? 
Las Vegas can be an expensive place to visit. It is a destination that thrives on excess, so you need to be prepared to spend money while you're in Las Vegas. 
Whether you're here to gamble, see shows, or dine out at any one of the extravagant restaurants and bars, you'll need plenty of money. If you want cash on hand, the good thing is that you'll find an ATM everywhere you turn in Las Vegas. 
Because the casinos in Las Vegas want to keep you on the gambling floor or at the bar, they want to make it easy and convenient for you to take out cash. 
They'll do anything they can to help you get cash out so you can get back to spending it. But although it's easy and convenient, that doesn't mean it's going to be cheap. You will end up paying top dollar in ATM fees just to get your own money. 
How Much Are The ATM Fees In Las Vegas Casinos?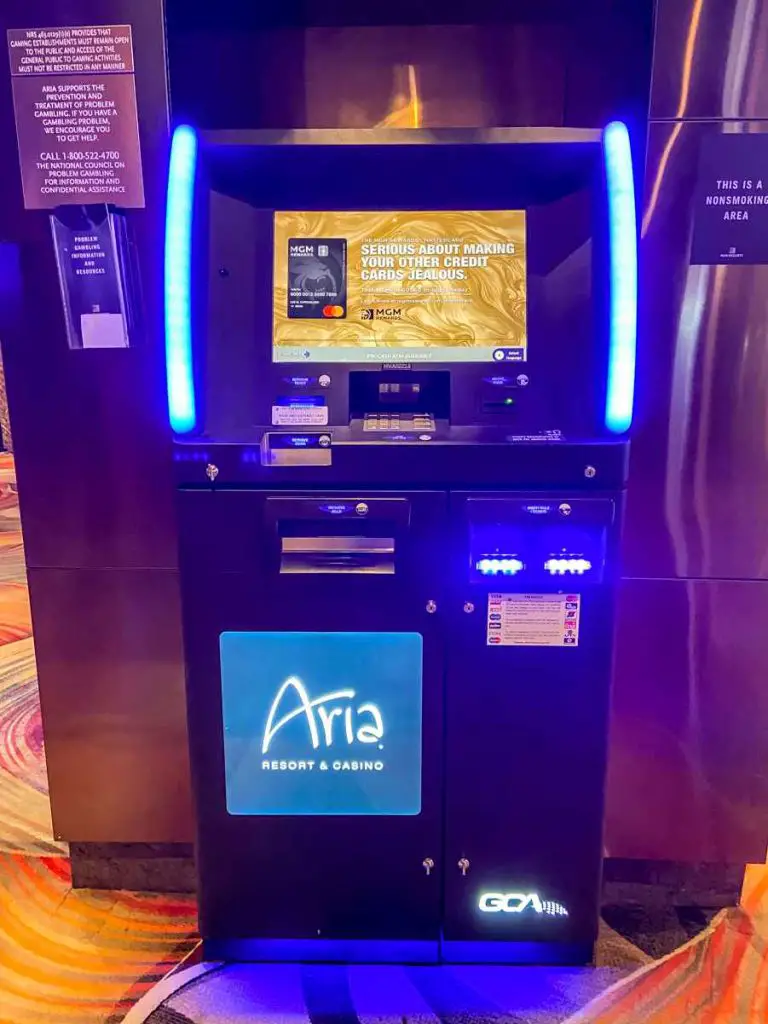 The highest ATM fees in Las Vegas will be found inside the casinos. If you are taking cash out in one of the casino ATMs, be prepared to pay up. 
You'll find ATMs conveniently scattered all over the casino floor and also in various places as you walk throughout the resort property. This is because the casinos want you to use their ATMs rather than have to leave the building in order to seek out a cash machine elsewhere. 
Casinos know that people are willing to pay extra for convenience, and having convenient ATM machines everywhere will keep people in the casino.
ATM fees in Las Vegas casinos on the Strip charge anywhere from $3-$10 every time you pull out some cash. The fee structure is subject to change and is different depending on which casino you are in, so it's important to check what the fee is before making a cash withdrawal. 
Even if you used the same ATM on your last trip to the casino, you'll want to double-check the fee before pulling out money, as it may have gone up.
Here are some examples of the high ATM transaction fees charged at various casinos on Las Vegas Boulevard:
Las Vegas
Hotel/Casino
ATM Fee
Aria
$8.99
Bellagio
$8.99
Caesars Palace
$9.99
Flamingo
$9.99
Luxor
$7.99
MGM Grand
$8.99
Las Vegas Casino ATM Fees
So this means if you withdraw $20 from an ATM machine at Caesars Palace, your bank account will be debited $29.99. The only good news here is that you could pull out $500 and still only be charged the $9.99 ATM fee once. That's small consolation, however.
The Best Way To Minimize ATM Fees In Las Vegas (5 Ways)
If you are really trying to be cautious about how much you are spending on ATM fees while you're in Vegas, you might have to be prepared to go off the beaten path a bit. Casino ATMs are notorious for inflated fees, so think outside the box to find the ATMs where you might save a few dollars. 
Here are some tips to help you save money on ATM fees while you're on the Vegas strip: 
1. Travel To Las Vegas With Cash 
This is not always the safest or best option for everyone, but if you are serious about saving money on ATM fees, the best way is to eliminate them entirely and travel with the cash you need.
You will have to estimate how much money you will need while you're in Las Vegas and withdraw cash from your bank before you leave. 
You always run the risk of running out of money and needing to use a Las Vegas ATM anyway. However, if you travel with most of the cash you need, you will minimize your trips to the ATM, which will save you money. 
RELATED: Find Out How to Bring and Carry Money in Las Vegas
2. Find a Las Vegas Casino With a Lower ATM Fee
While this sounds good, finding a Las Vegas casino or hotel property with a reasonable ATM fee is almost impossible. There is, however, one exception.
The Best Western Plus Casino Royale in the center of Las Vegas Blvd. has an ATM fee of just $3. You can find it close to Harrah's Las Vegas (google maps).
3. Look For Las Vegas Strip ATMs Outside The Casinos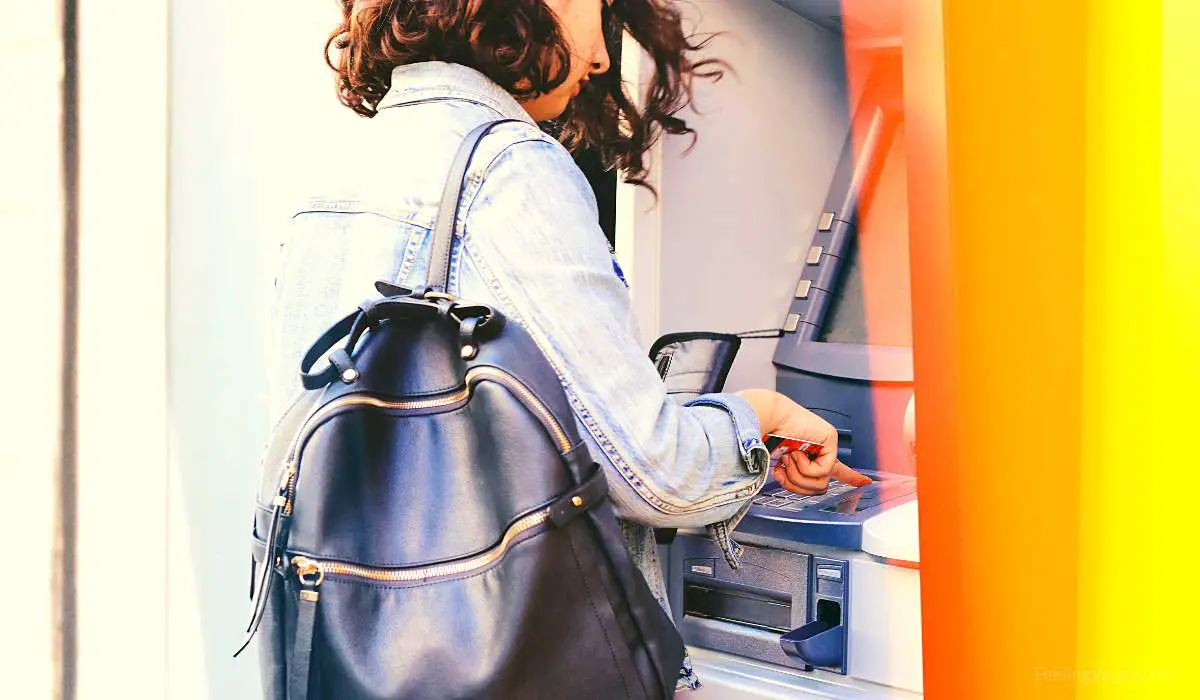 If you are content with using ATMs on the Las Vegas Strip, but you want to save some money, you'll have to look beyond the casino floor. There are several drugstores and convenience stores on the Las Vegas Strip, and most of their ATMs have much more affordable fees than casino ATMs. 
You can stop at one of these stores on your way to or from your casino destination for the day and take out cash for just a few dollars as opposed to almost $10 at most of the casinos on the Strip. 
Here's where you can find a low ATM fee on the Las Vegas Strip outside of a casino:
Store
ATM Fee
Location
CVS
(near Waldorf Astoria)
$3.00
map
Target
(across the street from Park MGM)
$3.00
map
Walgreens
(near Planet Hollywood)
$3.25
map
Walgreens
(across the street from Park MGM)
$3.25
map
Walgreens
(near Casino Royale)
$3.25
map
4. Be Loyal To Your Bank 
If your bank is national, you might be able to find an ATM in Las Vegas from your own bank where you can withdraw cash without any fees at all. This is a great way to hack the system. 
Check online for branch locations of your bank in Las Vegas and see if you can find one. Even if it's a bit out of the way, it might still make sense to make the trip once you are in Vegas. 
Another idea is to check with your bank ahead of time and find out if they reimburse any ATM fees. Some banks and credit unions will reimburse up to a certain amount of fees spent every month. This might take a little bit of the sting out of the fees when you know you will be paid back eventually. 
5. Use a Schwab Bank Debit Card With No ATM Fees (This is What We Do)
As mentioned above, some banks will reimburse you for ATM fees in part or in total. Charles Schwab has a High Yield Investor Checking account that will reimburse you for 100% of the ATM fees you incur in Las Vegas (or anywhere else).
Wendy and I discovered this debit card several years ago and have used it all over the world (as well as on the Vegas Strip) without ever paying an ATM fee. Some of the features of the Schwab account are:
No annual fees
No account minimums
No foreign transaction fees
Unlimited ATM fees (reimbursed)
I'm not stuck on this card, and there may be other banks that offer something similar, but if you're a regular traveler or cash machine user, this will save you a ton of ATM fees in Las Vegas and elsewhere.
The main benefit of a bank account and debit card like this is you can benefit from the convenience of Las Vegas casino ATMs while knowing that the $10 fee you were just charged will be credited back to your account.
Avoiding Las Vegas Strip ATM Fees – Summary
Las Vegas is an expensive city to travel to and spend any time in, and it can even cost money to use your own money here. If you're going to need to take cash out at any point, the fees in Las Vegas are higher than almost anywhere else. 
As frustrating as it can be, the entire Las Vegas Strip is one big business. Although you certainly know you're going to spend some money while you're in Las Vegas, make sure it's on something fun and not something like annoying overpriced ATM fees. 
ATM fees are almost unavoidable in Vegas, but there are ways to minimize or eliminate them if you're savvy. 
Consider bringing cash with you from home, looking for ATMs at convenience stores or drug stores on the Strip instead of the casinos, using a bank card that reimburses fees, or checking to see if you can go directly to a branch of your bank to use their ATM.
These are easy ways to save some money on fees so you can spend more money on slot machines.