How Much Does A Pool Cost In Las Vegas? (7 Top Builders)
(This article may contain affiliate links. If you click through and make a purchase, we will receive a small commission at no additional cost to you. )
If you live in Las Vegas, Nevada, then having a swimming pool in your backyard is a dream come true, especially during the summer season. Finding a contractor who can build the perfect swimming pool for you might be a little overwhelming but don't worry, I've got you covered.
Keep reading to learn everything you need to know about pool construction costs and the top pool contractors in Las Vegas so you can choose the one that best suits your requirements.
How Much Does It Cost To Build A Swimming Pool in Las Vegas?
Summers in Las Vegas can get very hot, which is why you should consider building a pool. The average cost of building an inground swimming pool in Las Vegas will range from $35,000 to $60,000.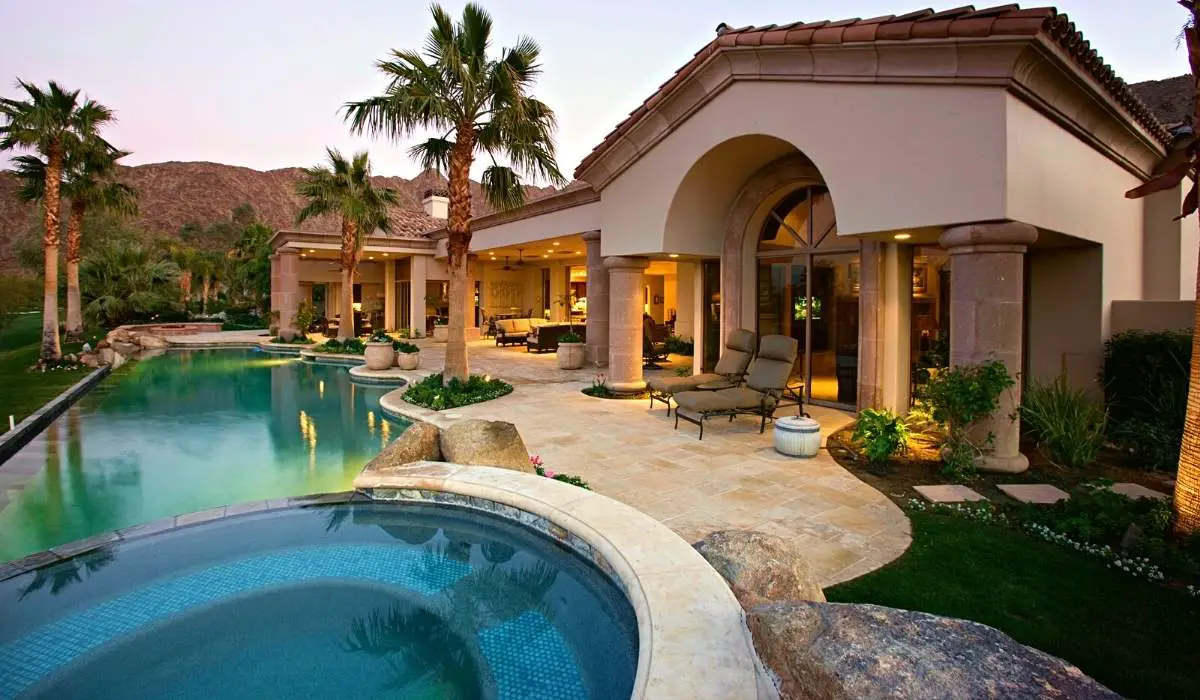 There are a number of factors to consider when building a Las Vegas residential swimming pool. The type of pool, size, materials, maintenance, features, etc. plays a very important role in determining the pool's overall cost.
Las Vegas has many smaller properties, which is why homeowners often choose to construct smaller pools or "spools." Spool pools, on average, run about 10 feet long and 6 feet wide. Not exactly the size you'd want for swimming laps, but in Las Vegas's extreme summer heat, they make for wonderful dipping and soaking pools.
For comparison's sake, the average backyard pool in Las Vegas runs 470 sq. ft. (15ft. x 30ft.)
In addition, the average depth for a residential pool in Vegas is just 5 or 6 feet. The reason for the shallow depth of most Vegas pools is due to the desert sediment.
When you attempt to dig down deeper than about six feet in Las Vegas, you will encounter a layer of impermeable rock known as caliche. Digging through this rock to make a pool deeper will greatly increase the cost of your swimming pool. This is the same reason that most homes in Las Vegas don't have basements.
Note: Due to the extreme drought conditions in the Southwest, the Southern Nevada Water Authority (SNWA) is working with local administrations to limit the size of new residential pools to no more than 600 square feet.
Las Vegas Pool Maintenance Costs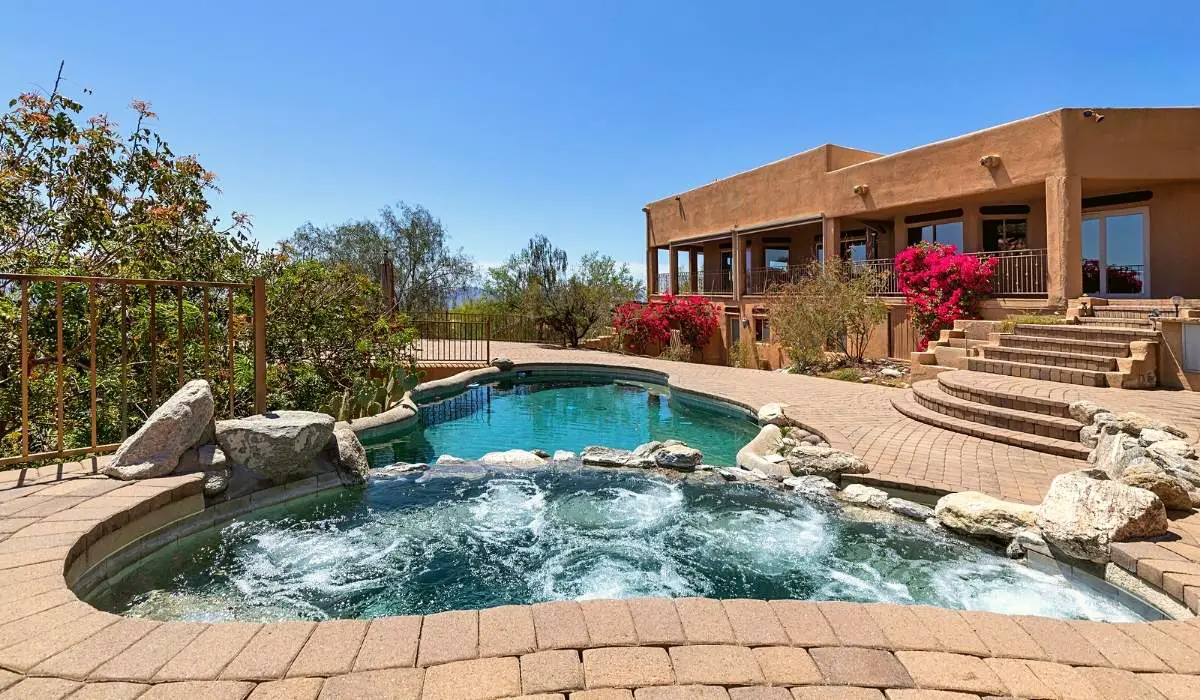 In order to truly determine the cost of building a swimming pool in Las Vegas, you must also factor monthly and annual expenses into your budget as well.
Running a fiberglass pool will cost around $375 annually.
Running a vinyl pool costs $1325 annually, and vinyl needs to be replaced every ten years.
Running a concrete pool costs $2750 per year, and it must be resurfaced every 15 years or so, which can be quite costly.
Water ($10 to $15 per month), pool chemicals, tax rates, and insurance are some of the other elements that will affect the operating costs. A saltwater pool owner must also spend about $800 every three to seven years to replace the saltwater cell, which is required for saltwater pools.
You'll also need to decide if you're going to take care of the pool yourself or hire a pool maintenance service. You can expect a Vegas valley pool service to run you around $100 a month.
In my case, I maintain our pool myself (in-ground gunite) with the help of a solar-powered Floatron (Amazon) and a small amount of chlorine and muriatic acid. It takes me very little time and saves me $100 or so a month. Plus, our pool water doesn't feel or smell like it's full of chemicals.
7 Top Pool Builders In Vegas
I've curated a list of the top 7 pool builders in Vegas for you below. These are by no means the only quality pool builders in Las Vegas. Be sure to take your time and talk to several pool companies before making a decision. Also, check reviews online.
Blue Haven Pools and Spas
Blue Haven is a pool company with a Las Vegas location that has been creating gunite pools and spas since 1954. They have constructed approximately 90,000 pools around the country in the past 25 years alone.
They offer easy and economical backyard pool additions, complete pool remodels, newly designed swimming pools, spas, swim spas, and more.
The smart features upgrade, an automated system for regulating all the backyard pool characteristics like chemistry, lighting, water features, and temperature, is one of the interesting options offered for Las Vegas pools designed by Blue Haven.
By utilizing pool chemicals to their fullest potential, the system significantly lowers maintenance.
With locations available across the country, Blue Haven provides pool construction, renovation, and improvements for both residential and commercial properties. 
Anthony and Sylvan Pools
Best of Las Vegas 2021 recognized Anthony & Sylvan Pools as a leading Pool Builder and Maintenance business for the fifth time.
It is the only and largest publicly traded installer of in-ground domestic concrete swimming pools and spas in the United States. 
The business, which has its headquarters in Mayfield Village, Ohio, maintains 40 sales and design locations and services 22 metropolitan regions in 16 states, including Las Vegas, Nevada.
Their pools can be as large as 1,200 square feet and are available in more than 40 designs. Anthony and Sylvan have installed over 360,000 pools and have been in business for more than 75 years. A basic in-ground spa costs about $12,000, but a pool with a spa, a stone deck, and suitable landscaping can go upwards of $100,000.
The business constructs new pools, provides pool maintenance services, renovates existing pools, and markets swimming pool-related products such as chemicals, filters, pumps, heaters, floatation devices, and poolside accessories.
Their team will consult with you to choose the ideal concrete pool for your family based on your overall requirements and your budget.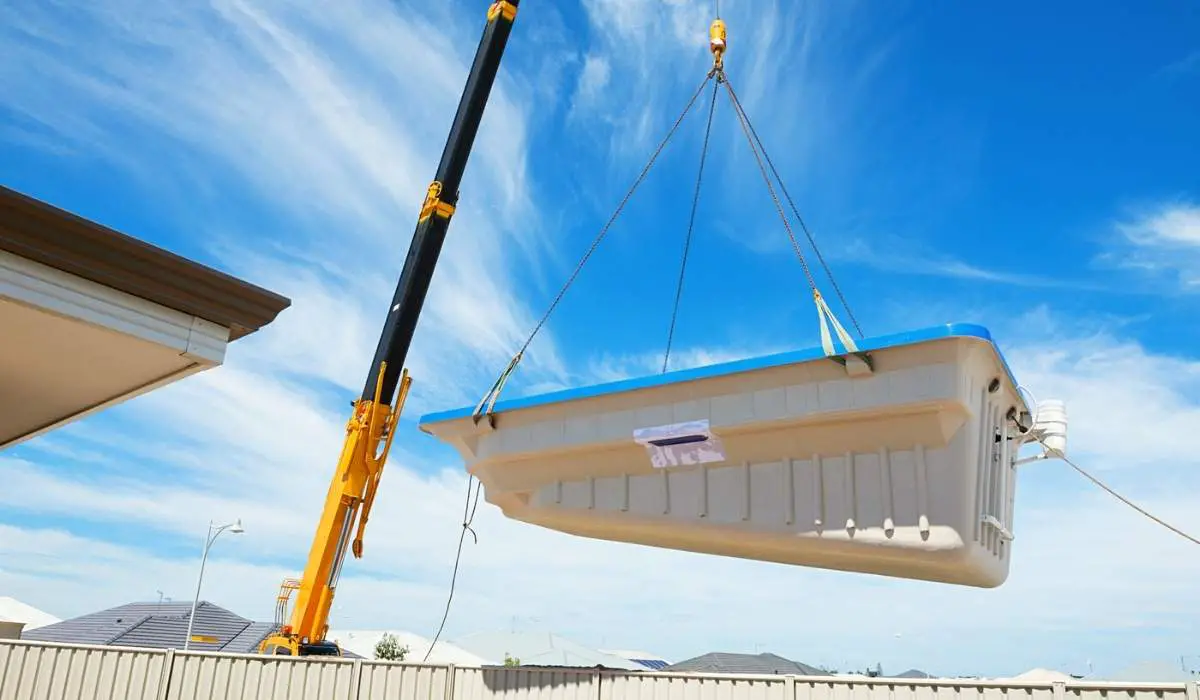 Artistic Pool and Spa
For more than 30 years, Artistic Pool & Spa has been creating pools in the Las Vegas valley, finishing up to 500 pools annually. They work with homeowners to place pools in both tiny and expansive backyards. They specialize in designing distinctive, personalized designs. 
Customers in Las Vegas benefit from the degree of commitment that Artistic Pool & Spa staff members put into each job.
They have programs that are specially made to meet your unique demands. The construction of their customers' backyard fantasies is personally and directly supervised by Artistic Pool and Spa from contract to completion.
Customer satisfaction is constantly prioritized by the ownership and the team.
Fiesta Pools and Spas
In Las Vegas, Fiesta Pools & Spas specializes in pool renovation and construction. They place a strong emphasis on keeping their clients informed at every stage of the process, from the initial visit to the 3D rendering and building phase. 
They design pools in all price ranges, from basic home pools to luxurious grotto-style pools with terraces and waterfalls. Existing backyard pools can also get new features like saunas and smart pool controls.
They also specialize in building hot tubs and spas.
California Pools
One of the largest pool builders in the nation, California Pools offers award-winning custom pools in the Las Vegas area. The company has been in the pool business for more than 70 years. 
The business has years of experience converting ordinary backyards into luxurious private resorts with kitchens, spas, swimming pools, kitchens, lighting, water features, and more.
The history of California Pools as a pool builder is extensive. Over 80,000 pools have been constructed by this builder. The business specializes in custom builds and has locations in California, Georgia, Nevada, Texas, Utah, Pennsylvania, etc.
Waterfalls, fountains, and fireplaces are just a few of the features that California Pools offers to help you find your ideal pool. Some services offered in addition to the construction of your pool include creating your outdoor living space, spa remodels, custom decking, pool landscaping, etc. 
California Pools also provides renovations to update your existing pool if you currently have one and wish to upgrade it.
You can fill out the form on the California Pools website to obtain an estimate and arrange a design meeting or online consultation where you can discuss the design, costs, and other specifics of your pool project.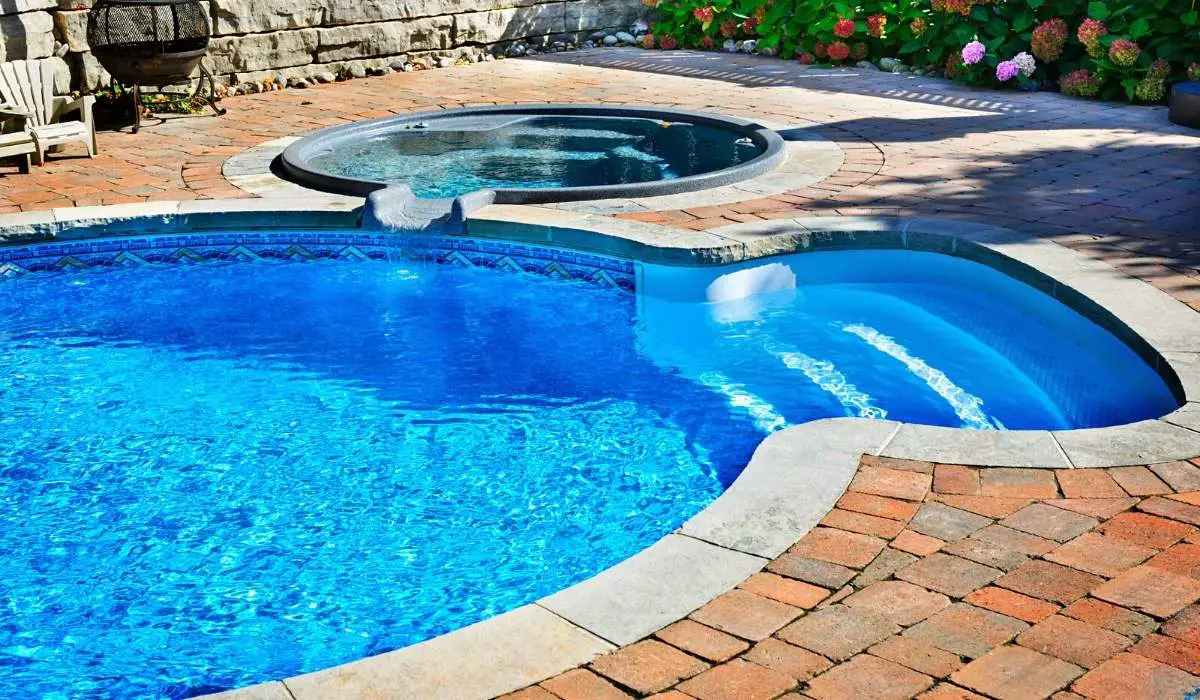 Vintage Pools
Vintage Pools has been based in Las Vegas for more than 35 years and creates unique swimming pools. Complete pool building, the installation and remodeling of BBQs and outdoor living areas, and other services are available.
Vintage Pools prides itself on its high degree of customer satisfaction, attention to detail, and service. They have provided dependable custom pool design and construction services to many Las Vegas residents. 
To assist homeowners in creating a swimming pool design that suits their lifestyle and their budget, Vintage Pools works in close collaboration with them in order to understand their demands and get to know their unique preferences.
They respect the trust you give in them by working hard to deliver the finest standards of craftsmanship, service, and long-term value. They are conscious of the money and trust commitment that a personalized swimming pool requires.
Edgewater Custom Pools and Landscaping
Voted Best of Las Vegas in 2020 and again in 2021, Edgewater Custom Pools and Landscaping is a family-owned and operated swimming pool contractor here in Las Vegas. If you give them a call, you will be dealing directly with the owners.
On top of that, Edgewater is a fully licensed pool and landscaping contractor.
Edgewater Custom Pools can create the backyard oasis of your dreams. Everything from a beautifully designed pool to custom decking, fire pits, and more. They will be with you every step of the way.
Pool Maintenance Services in Las Vegas
Once your custom pool is built, you may wish to have it maintained by a professional. Many of the pool contractors above also offer pool maintenance services. However, you may need an independent pool service company.
Las Vegas has dozens of pool maintenance vendors, but I thought mentioning at least one in detail would be helpful.
Splash Pool Service and Repair
Since 1978, Splash Pool Service has been a family-run enterprise in Las Vegas. The technicians are a skilled and professional group. They will keep your pool sparkling and ready to use year-round.
They specialize in providing monthly pool services that include chemical balancing, filter cleaning, pumps, cleanup of green pools, acid-washing, and more.
If you're not sure what you need, you can schedule a free appointment, and one of their team members will come to your home and evaluate the condition of your pool and provide an estimate. I mention this service because they have hundreds of happy customers here in the Las Vegas valley.
Las Vegas Pool Cost FAQS
How long does it take to build a pool in Las Vegas?
Once the design phase is completed and construction begins, it will take approximately ten weeks to build a pool in Las Vegas.
Does having a pool raise a home's value in Las Vegas?
Having an in-ground pool in Las Vegas raises a home's value by roughly $15.47 per square foot of the home. As an example, having a pool would increase a 1,600 square-foot Las Vegas home's value by $24,752.
What type of pool is best for Las Vegas?
In-ground pools in Las Vegas are typically constructed using either concrete (gunite), fiberglass, or vinyl. The best type of pools in Las Vegas are those made from gunite or fiberglass, as they are easy to maintain and will last for many decades.
How many single-family homes in Las Vegas have swimming pools?
There are approximately 200,000+ homes in Las Vegas with residential swimming pools. It's estimated that nearly 1,500 residential pools are built annually in Las Vegas.
How much are residential pool mainenance services in Las Vegas?
You can find a pool service to maintain your home's swimming pool in Las Vegas for between $80-$175 a month.
What is the average size residential swimming pool in Las Vegas?
The average size swimming pool for a single-family home in Las Vegas is approximately 470 sq ft. or 15 x 30 feet. As of 2022, Clark County has mandated that new residential swimming pools can be no larger than 600 sq ft. in size. This measure was put in place to help conserve water.
Can I receive a loan to install a pool in Las Vegas?
Due to the high cost of installing a swimming pool, most Las Vegas pool builders provide direct financing or work with a bank where you can request a loan to add a pool to your home.
Conclusion
You can expect to spend between $35,000 and $60,000 dollars on building a basic in-ground pool in Las Vegas. However, the cost can easily soar upwards of $100,000 if you're including custom-designed waterfalls, decking, landscaping, and/or outdoor living space.
Before spending the money, make sure you take the time to talk at length with several local pool contractors and read reviews.
Every pool contractor in Las Vegas will provide you with a custom quote so that you can directly compare costs.
Take it from me, having your own pool in Las Vegas is pure joy when the summer heat arrives!