Are Dogs Allowed in Las Vegas Casinos? (Dog Friendly Las Vegas)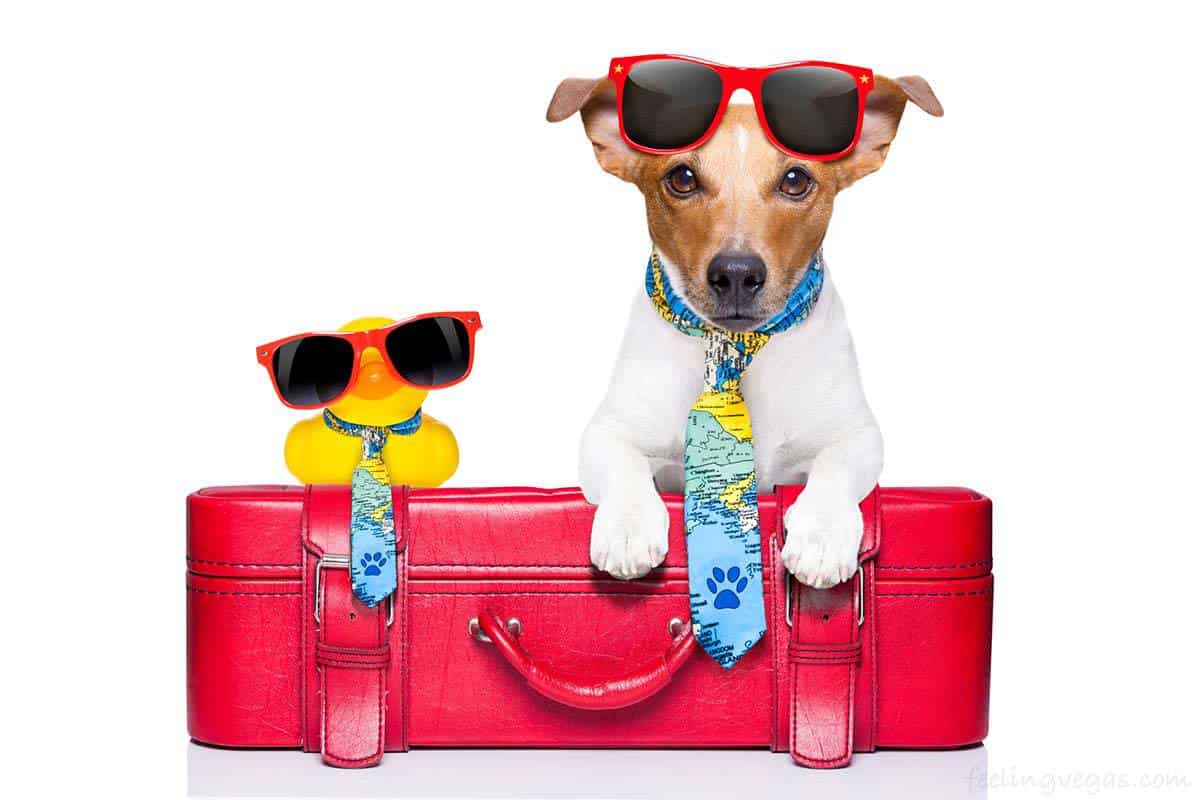 (This article may contain affiliate links, which means we might earn a small commission if you click and make a purchase. Thank you!)
Las Vegas, Sin City, the city that never sleeps, whatever you want to call this vacation hub, this amazing Nevada city is a place that almost everyone wants to experience in their lifetime. Of course, if you are a pet owner, planning any kind of getaway means figuring out what to do with your pet – get a pet sitter, find a place to board – or bring them with you. But – can you bring a dog into a Las Vegas casino?
There are many dog-friendly casinos in Las Vegas that will allow your pet to stay with you in your hotel room. However, dogs are generally not allowed in most other areas of the property. The only exception to this rule is regarding service dogs. Service animals are allowed to go anywhere in a casino.
If your dog is certified as a service or emotional support pet, they should be allowed to accompany you throughout the casino. In fact, the Americans with Disabilities Act (ADA) makes it illegal for you to be asked to leave an area if your pet is a properly behaving service dog. However, even if your pup is not a service dog, many hotels in Las Vegas are pet-friendly and will welcome you and your pet for a stay.
Keep reading to find out more!
Compare room rates for pet-friendly hotels in Las Vegas to save money! (TripAdvisor)
Service Dogs in Las Vegas Casinos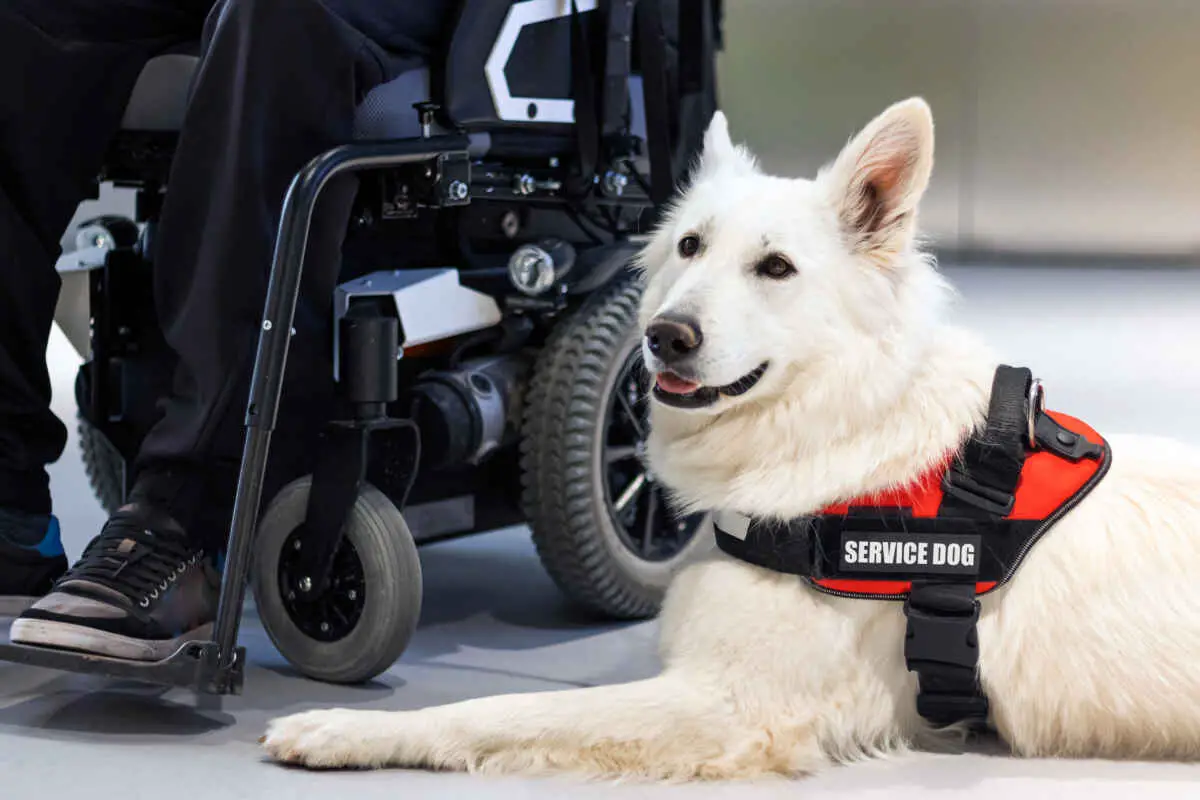 Service dogs are the biggest exception to any rules casinos may have regarding pets. While some hotels are very pet-friendly, they do not allow dogs to enter the casino area. Dogs must stay in the designated areas (pet-friendly hotels have specific outdoor areas for animals to relieve themselves). However, service dogs are allowed in pretty much every area of the hotel or casino because they are legally allowed to assist their owners.
If you have a service pet in the casino, you legally should not be asked to leave because of the ADA, and the staff should not ask you for any documents, certificates, proof, or any details regarding your pet.
However, if your pet is not clearly marked as a service or emotional support pet, they can ask if your pet is needed because of a disability. They may also ask what work or tasks your animal has been trained to do. To avoid any questions, you need to keep any service pets marked with traditional vests or harnesses showing their designation.
Also, the only big exception to the ADA rules would be if your pet is misbehaving or causing an issue at the casino, which most trained service pets will not do. However, if your pet is causing a major disruption or has endangered other guests in any way, you may be asked to remove your pet for safety issues.
Dog-Friendly Las Vegas Hotels
If your dog is not a service pet, but you still want to bring them along for the ride, Las Vegas is extremely pet-friendly. There are many major hotels in the area that allow dogs with just a few stipulations on their care while you visit the hotel. Of course, you will want to read the fine print on the hotel's website, but a few of the great pet-friendly choices are:
Harrah's Las Vegas – This is one of the lesser expensive options but is great for anyone who wants the authentic Las Vegas experience with their pet in tow. This amazing hotel even offers a special room service menu for your pet that you can order directly from and have sent to your room.
Rio All-Suite Hotel and Casino – This is a great hotel for entertainment for yourself and luxury for your pet. While watching Penn & Teller perform or jamming to the Michael Jackson tribute, your pet can relax in the room. The hotel has a special dog room service menu as some of the others mentioned in our list. They also have a puppy relief area, mats, and food and water bowls available should you need them.
Westin Las Vegas – Every room in the Westin Las Vegas hotel is pet-friendly, meaning you do not have to reserve a specific room. This is a cheaper option compared to many on our list and is in an amazing location with potentially a great view. The hotel is very pet-friendly, and you can always grab a bite to eat for yourself with their 24/7 room service!
Caesars Palace – This is a top choice for many dog owners as it is one of the most pet-friendly options on our list. Caesar's Palace is also one of the most well-known resorts in Las Vegas, known for its amazing luxury and QUA Spa. However, you can also pamper your pup while you stay here with one of their dog-friendly room service options or a trip to the dog-walking area.
See the full list of dog and pet-friendly hotels in Las Vegas (TripAdvisor)
Rules Regarding Dogs at Hotels in Las Vegas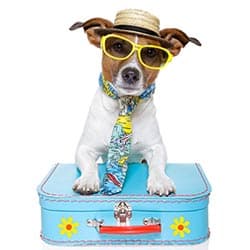 Most hotels promote their pet-friendly policies right on their website, and you can easily access this information with some quick research.
They will also have a list of pet rules and what you should expect from your stay at the hotel with your pet. Many of the rules are similar between pet-friendly hotels in Vegas, so to better understand what you may encounter during your stay, we will focus on one of the favorites of pet owners: Caesars Palace.
Caesars Palace has a PetStay program designed for pet owners, and is a great treat for your pet. When you first check in to the hotel, you'll get all the perks of signing up for the Pet Stay program, which includes:
A welcome bag of dog treats
Water and food dishes
A mat for your pet
Pet-friendly zones for you to walk with your pooch
A map of the dog-friendly areas and the designated "relief" area
Information about nearby services such as grooming & doggy daycare
Veterinarian information is also provided should you need it
There are actually eight Caesars-operated resorts that offer the PetStay program. For most of these resorts, the fee is an extra $100 per night for bringing your pup. Caesars properties that currently offer the PetStay Program are:
Caesars Palace
Flamingo Las Vegas
Harrah's Las Vegas
Paris Las Vegas
The Cromwell
Horseshoe Las Vegas
Planet Hollywood Resorts and Casino
Rio All-Suite Hotel and Casino
The LINQ
RELATED: (Learn about more about resources for dog owners visiting Las Vegas in our Las Vegas Dog Resource Guide).
Caesars Pet Stay Program Rules Las Vegas
Of course, these resorts cannot allow your pet to run wild while at their resort. This is why they have certain rules in place that you must follow when you have your pet along with you. These exact rules can be found on the Caesars website, and other resorts will be similar but may not be exactly the same.
The rules for bringing your dog with you to a Caesars resort are as follows:
Only dogs are allowed through the PetStay program, sorry cat owners.
Dogs must weigh under fifty pounds and must be there during check-in.
Only two dogs are allowed per room.
Dogs can walk through the appropriate common areas but must be with the owner and on a leash at all times.
Dogs must be crated or in a kennel when left alone in the room.
Dogs have to either be in a kennel or not in the room while the housekeeping is taking place. To ensure you are prepared for this, housekeeping can be scheduled for your convenience.
Kennels can be rented at many properties; you should simply contact the front desk for availability and fee information.
Loud or barking dogs will be asked to be boarded elsewhere at the owner's expense.
Bringing Your Dog to Vegas
While you will have trouble bringing your dog onto a Las Vegas casino floor (unless it is a service dog), you will have plenty of luck finding dog-friendly accommodations. Depending on your chosen hotel, you and your dog can be treated like high rollers in Las Vegas!
Don't leave your pooch at home. Check out these Las Vegas pet-friendly hotels (TripAdvisor)
Related Articles:
Related Question:
Are dogs allowed on Fremont Street? Yes, dogs are allowed on Fremont Street in downtown Las Vegas. Most of Fremont St. is just a city street like any other. However, dogs are not allowed at the Fremont Street Experience, a pedestrian-only section of the street.