Cost to Eat at Hell's Kitchen Las Vegas (Food Menu & Prices)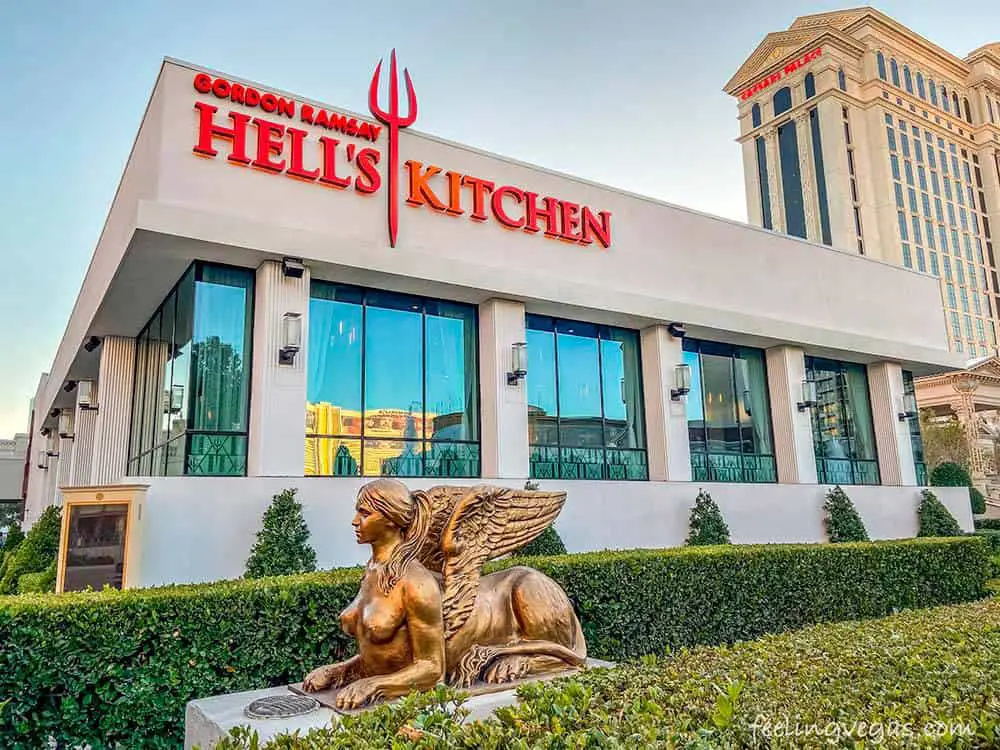 (This article may contain affiliate links, which means we might earn a small commission if you click and make a purchase. Thank you!)
For foodies and fans of Chef Gordon Ramsay, a trip to Hell's Kitchen at Caesars Palace in Las Vegas is a must. Opened in 2018, you can't beat the hospitality, and the flavors, from appetizers to drinks-are, as you might expect, amazing!
So what does it cost to eat at Hell's Kitchen in Las Vegas?
Eating at Hell's Kitchen Las Vegas costs $95.95 per person (lunch or dinner) when ordering from the three-course Prix Fixe menu. When paired with wine, the price increases to $155.90. Alternatively, entrees can be ordered separately for between $39.95 and $78.95.
In this article, you'll get a delightfully delectable peek at some of the current items on the Hell's Kitchen menu with prices, a look at what the restaurant is like inside, what people are saying, and how to make Hell's Kitchen Vegas reservations. Let's take a look!
Compare and save! Check current Caesars Palace room rates at TripAdvisor!
Hell's Kitchen Menu With Food Costs (Lunch & Dinner)
Menu: Hell's Kitchen menu | Click to view images larger or Download menu (150kb)
So what's on the Hell's Kitchen menu? First, let's dive into the Prix Fixe menu, which is available for lunch and dinner. Please note while the menu itself doesn't provide prices, I've added the cost of each menu item below and that the prices provided here are current as of June 2023.
Hell's Kitchen Prix Fixe Menu (Cost)
Your first choice for lunch or dinner at Hell's Kitchen is to order from the Prix Fixe menu. This popular option is a full pre-set meal that includes a salad, a main course, and a dessert. Specifically, the prix fixe three-course meal includes:
Pan Seared Scallops or Beet Salad
Chef Gordon Ramsay's famous Beef Wellington
and Sticky Toffee Pudding for dessert
This fixed menu costs $95.95 per person or $155.90 with a specialty wine pairing. The Prix Fixe menu at Hell's Kitchen is available every day of the week.
While the Prix Fixe meal is Hell's Kitchen's most ordered menu item, it's not your only choice. If you'd prefer to have more selection, the menu contains many other delectable dishes, including chilled seafood, appetizers, soups/salads, and multiple entrees. Let's take a look at each of these, along with the prices.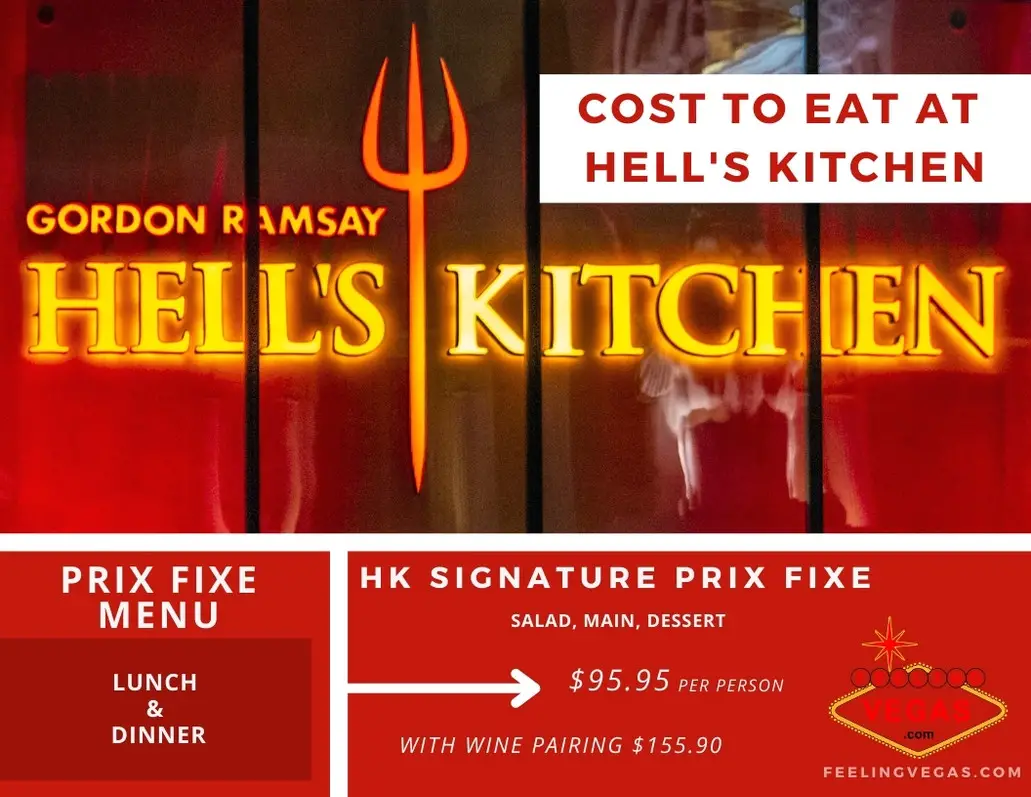 Chilled Seafood
While Hell's Kitchen doesn't have a large seafood selection, they do offer a couple of items that get rave reviews.
Shrimp Cocktail in a gin sauce for $23
Oysters on The Half Shell in cocktail sauce. A half dozen run $28, while a full dozen costs $55.
Appetizers
Not surprisingly, appetizers at Hell's Kitchen are just as delectable as the entrees. Your appetizer options include:
Pan-Seared Scallops with bacon and sumptuous shallots for $28
Lobster risotto that melts in your mouth with onions for $32
Seared Foie Gras with cherries and candied almonds for $31
Steak Tartare in a dijon mustard sauce for $27
Salads & Soups
There are three different types of salads and one of Chef Ramsay's famous soups.
Golden Beet Salad in balsamic vinaigrette with goat cheese $23
Caesar Salad with Parmesan cheese & garlic croutons $21
Quinoa Salad with cranberries, currants, apples, and pecans $20
Spring Onion Soup $17
Entrees
There are several entrees to choose from at Hell's Kitchen Las Vegas; each one is more delicious than the last.
Beef Wellington with a red wine sauce, glazed vegetables, and potato $73
Chicken Scallopini with roasted potatoes, kale, and artichokes $40
Crispy Salmon with lentils and fennel salad $41
Braised Short Rib with spinach, crispy onion rings, and potatoes $53
8 oz Filet Mignon including tomatoes in a bearnaise sauce $61
14 oz Dry Aged Strip Steak with shishito peppers $79
At first glance, what it costs to eat lunch at Hell's Kitchen may seem a little steep to people from outside this region. These prices, however, are quite fair for Las Vegas, and remember, you're also paying for the "experience" and ambiance of Hell's Kitchen.
RELATED: 15 Best Vegas Restaurants with Views of Bellagio Fountains
$17 Side Dishes at Hell's Kitchen Restaurant
Hell's Kitchen Las Vegas also has some delicious side dishes which are available for both lunch and dinner.
Gouda Macaroni and Cheese
Potato Puree with Chives and Creme Fraiche
Wild Mushrooms in Wine Glaze
Brussel Sprouts in a Maple Glaze with Bacon Lardon
If you are a cheese lover, you'll definitely want to give the Mac & Cheese a try!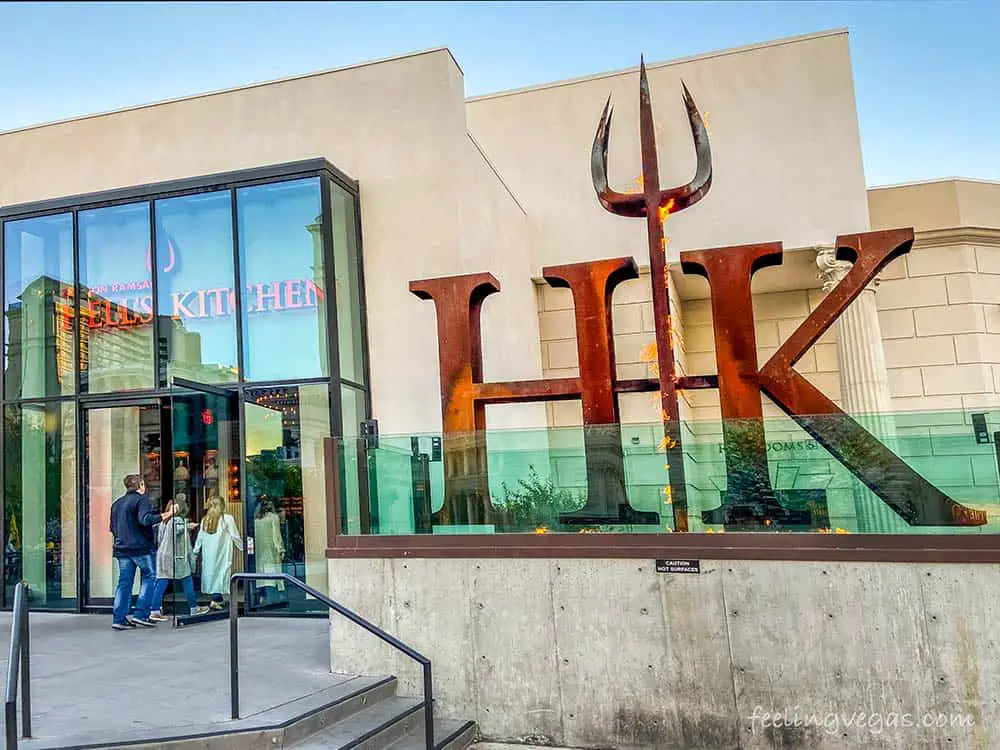 Dazzling Desserts From Hell's Kitchen:
Some of the desserts you've seen in Hell's Kitchen Competition appear in the restaurant at Caesars Palace too.
Sticky Toffee Pudding – $16
Blueberry Cheesecake – $16
Coconut 3-ways – $16
Chocolate Sin Cake – $16
The only time to eat diet food is while you're waiting for the steak to cook."

Julia Child
Find out what you need to know about each of the five chef Gordon Ramsay restaurants in Las Vegas.
Gordon Ramsay Hell's Kitchen (Current article)
As the menu at Hell's Kitchen changes seasonally, you can see the current and complete Hell's Kitchen menu here on their website.
Hell's Kitchen Signature Cocktails
What would a destination restaurant be without a few signature cocktails? Hell's Kitchen Las Vegas does not disappoint. Their drinks are as interesting (and sometimes as spicy) as the venue itself.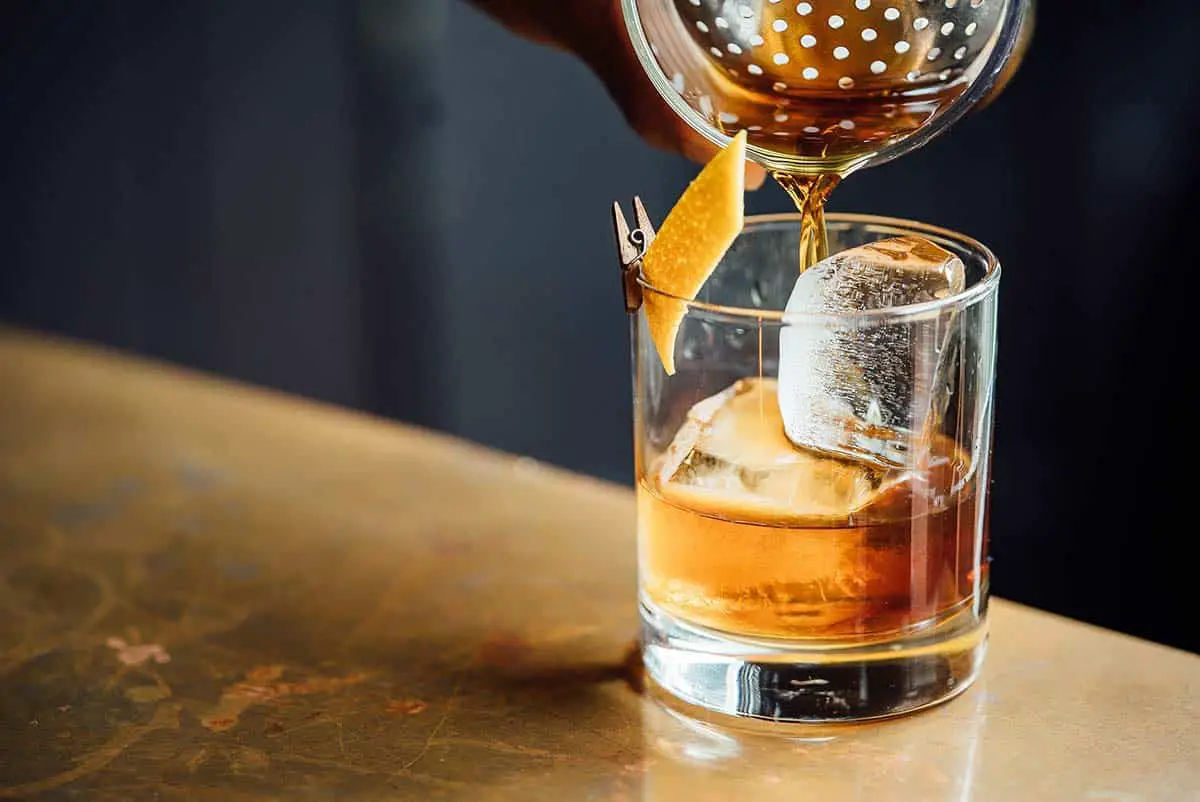 The specialty cocktail list includes these options:
Fear & Loathing: Mezcal, luxardo, blood orange juice, lemon, and pineapple – $21
Meet Your Maker: Maker's Mark Bourbon, with domaine de canton, strawberry, mint cinnamon, and apple – $21
Notes from Gordon: Plymouth Dry Gin, peach, lemon, lemon grass, and a special note from Chef himself – $22
Smoke on the Boulevard: Woodford Rye, aperol, amaro averna, and smoked cherry-wood vermouth – $23
Non-Alcoholic Mocktails – $12
Perhaps an Agua Fresca (Watermellon, agave nectar, and lime juice) or a Hibiscus Sour (Hibiscus tea, lemon, and a bit of simple syrup) will finish off your meal nicely.
Hell's Kitchen Vegetarian & Vegan Options
So you may be saying that while the menu at Hell's Kitchen restaurant looks great, what is a vegetarian or vegan to eat? Fear not! Hell's Kitchen Las Vegas has a special menu just for vegans and vegetarians.
The vegetarian and vegan menu at Hell's Kitchen offers a range of appetizers, entrees, and desserts that cater to those with dietary restrictions.
Some of the appetizers include a vegetarian beet salad and a vegan artichoke risotto, while the entrees include an onion soup with an herb salad and potato hash or a white bean dish smothered in a spicy sauce with grilled bread. These dishes cost between $18 and $22.
Vegetarian side dishes include baked mac and cheese, wild mushrooms, haricot vert, glazed vegetables, and more. Like the non-vegetarian side dishes, they run $17 apiece.
For dessert, the menu features a vegan chocolate mousse, blueberry cheesecake, and sticky toffee pudding (each $16). It's worth noting that the menu may change over time, so it's always a good idea to check the most up-to-date version before visiting the restaurant.
A Hell's Kitchen TV Treat on Your Vacation
Chef Gordon Ramsay owns over 30 restaurants worldwide. Each one is unique, often tailored to its location. The Hell's Kitchen Vegas restaurant takes key scenery notes from the set of the popular Television show and combines them with the Chef's tried-n-true signature dishes. Hungry yet?
There is no question you will find this a wholly unique and memorable experience.
Hell's Kitchen Las Vegas Decor
If you ever watched Hell's Kitchen, certain things pop out at you right away. Those who have never seen an episode may want to watch one before they dine, so the decor makes more sense. You can make a game of pointing out things you recognize from the series.

The interior has red and blue highlights everywhere you look (the colors for the two teams that compete on the show). For example, upon peeking into the kitchen you'll find the cooks wearing blue and red jackets and bandannas.
And, of course, there are pitchforks everywhere, including on the napkins! It's almost like being in a culinary theme park but with a far more serious approach to food.
Hell's Kitchen Las Vegas Dress Code
You may be wondering if there is a dress code for Hell's Kitchen in Las Vegas? Officially the Hell's Kitchen Las Vegas dress code is 'Business Casual.' This basically means you don't need to wear a suit or coat and tie but don't walk in wearing shorts and flip-flops.
Dress up a bit by maybe wearing some khakis and a collared shirt for men and a dress or slacks and a blouse for women. Nothing too fancy, basically just not shorts and a faded t-shirt.
Hell's Kitchen Las Vegas Reservations
Since its opening in January 2018, Hell's Kitchen restaurant has booked 25,000 tables (yep, you read that right). Now, when you consider the restaurant seats 300 guests, that's a lot of bookings.
It's for this reason that making reservations well ahead of time for a table at Hell's Kitchen is highly recommended. You can make Hell's Kitchen Las Vegas reservations online or by telephone at (702)731-7373 as far in advance as you wish.
However, you can take a chance on a "walk-in." They will accept you if there are tables available but don't count on it.
RELATED: Eat at Gordon Ramsay Burger in Las Vegas (Location, Menu, Prices)
About the Chef Gordon Ramsay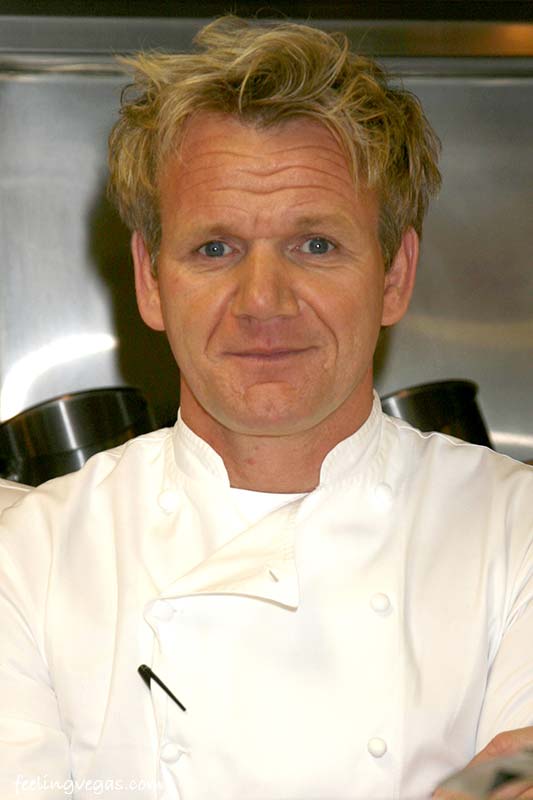 An extraordinary restaurant does not just spring up out of nowhere. To understand the vision for Hells Kitchen Las Vegas, it helps to learn more about the man behind the apron. Chef Gordon's history also ties into what it costs to dine at Hell's Kitchen. His food fame definitely impacts the bottom line.
Gordon Ramsay was born in 1966 in Scotland. While attracted to sports in his earlier years (specifically soccer), by the age of 40, Ramsay had turned to cooking and was taking British TV by storm with Kitchen Nightmares and Hell's Kitchen. Of course, there's a little more to the story than that (source).
Gordon Ramsay Early Years
Ramsey studied hotel management, earning his degree in 1987. From there he was able to study and apprentice under some of Europe's top chefs in both England and France. Come 1993, he was the head chef in Aubergine (London) for three years, earning two Michelin stars. That accomplishment earned him the Newcomer of the Year award at the Catey Awards for the restaurant industry in 1995.
Gordon Ramsay Family Life
Chef Gordon Ramsay married in 1996. His wife, Cayetana (Tana) Hutcheson, was a school teacher at that time. After getting married, they split their life between Los Angeles and London. They have five children Holly, Jack, Matilda, Megan, and Oscar.
Gordon Ramsay Takes the Show on the Road
1998 saw the opening of Restaurant Gordon Ramsay in London. This restaurant did not disappoint, earning three Michelin stars. The Catey Awards continued keeping an eye on Ramsay, dubbing him Chef of the Year in 2000. Six years later, his reputation had spanned the globe, moving into Africa, Australia, and of course, the United States.
Gordon Ramsay's Claim to Fame
Reality television in the United States proved fertile ground for his reality TV shows based on the British series. Master Chef began in 2010, followed by Master Chef Junior in 2013, the same year he was inducted to the Culinary Hall of Fame. And if that wasn't enough, Chef Ramsay has authored over 20 books and currently owns 35 restaurants around the world, including Hell's Kitchen Vegas.
Gordon Ramsay's Charitable Work
Besides his rich home life, the Chef is deeply involved in various charities. In 2005, he teamed up with Chef Madhur Jaffrey for the Spice up your Life Event in support of HIV and AIDS work in India.
Ramsay and his wife also became ambassadors for Women's Aid the same year. They have also been involved in ongoing efforts for UNICEF along the way through Soccer Aid events.
In 2009 he ran the London Marathon for the Scottish Spina Bifida Association. This is an organization he's been involved with for some time, including the "Buy a Brick" drive for creating a family support center in Glasgow (2006). Since 2007 he has hosted a St. Andrew's Day gala as another fundraising focus.
What are Critics Saying about Hell's Kitchen Las Vegas?
"Pull up a chair. Take a taste. Come join us. Life is so endlessly delicious." – Ruth Reichl
While you may now have an idea of what it costs to eat at Hell's Kitchen, Las Vegas, the question is: do you get what you pay for? We know that this restaurant has gotten a lot of attention, including being awarded one of the 10 best Celebrity Chef Restaurants in Las Vegas (and also noted as unmissable) by SmartTravel. In addition, Hell's Kitchen has received:
Trip Advisor's 2019 Certificate of Excellence (the average traveler rating was 4.5 or above)
Eater's Top 10 2018 Design of the Year Award
Gayot's Top Ten New and Hip Restaurants in Las Vegas
Tasting Table's acclaim for being among the hottest restaurants in Las Vegas
Words used to describe Hell's Kitchen Vegas experience include:
Amazing
Delicious
Enamoring
Impressive
Outstanding
Perfection
The few negative reviews I've heard generally focus on the small size of the portions and inconsistent food and service quality.
The Devil's in the Details
So you're starting to warm up to the idea of making reservations at Hell's Kitchen in Vegas. What else might you like to know?
Pricing & Reservations Online (Hell's Kitchen)
If you want to be certain about the most current prices for the food at Hell's Kitchen in Las Vegas, you can check these websites before your trip. Both offer the option of making your Hell's Kitchen reservations online.
Gordon Ramsay Restaurants / Hells Kitchen
or
Other Savory Specifics About Hell's Kitchen
The restaurant is wheelchair accessible and features a full bar. There are Vegetarian, Vegan, and Gluten-Free options on the menu.
Hell's Kitchen restaurant at Caesars Palace is located in front of the hotel in Roman Plaza, right next to the Strip. They are open daily from 11 am until 11:30 pm. Call (712) 731-7373. (google maps)
Private dining in groups of 14 or more can be accommodated, but you must contact group sales at 866-733-5827.
Travel Tip: If you belong to Caesars Entertainment Rewards, Hell's Kitchen accepts CET redeemable points toward your meal.
Other Fine Dining Options in Las Vegas
If you'd like to learn more about some other dining experiences in Las Vegas, you'll want to take a look at the following articles on our website:
15 Best Restaurants with Views of the Bellagio Fountains (here)
If you're vegetarian or vegan (or traveling with someone who is) you'll also want to read our article here to find out about The 15 Best Vegetarian & Vegan Restaurants in Las Vegas.
Hells Kitchen Las Vegas, Nevada-Nearby Attractions
Let's face it you didn't come to Las Vegas just to eat did you? Once you've eaten your fill at Hell's Kitchen, you're going to want to check out one or more of the attractions on the Strip near Hell's Kitchen.
How else might you pamper & play?
Absinthe (Caesar's Palace): A cabaret-style variety show with daring acrobatics. Think of a carnival with incredible acts that inspire the imagination. Be ready for humor and danger, all rolled into one. (Check ticket prices at vegas.com)
O by Cirque du Soleil (Bellagio Hotel & Casino): A live production of dance and acrobatics with performers from all corners of the globe. There is a little something for everyone at fairly reasonable prices. (Check ticket prices at vegas.com)
Wildlife Habitat at the Flamingo (Behind the Flamingo Hotel): A wildlife habitat with flamingos (of course), penguins, goldfish, and turtles. Take a walk and enjoy the calmer atmosphere. Find out more at Vegas.com.
Bird Bar at the Flamingo (S. Las Vegas Blvd). A bar located inside the Flamingo Las Vegas. The bar itself is decorated with brightly colored bird cages and offers bird-inspired drinks and cocktails. A patio area is also available. (google maps)
The LINQ Promenade: (LINQ Hotel): A little bit of everything all in one spot, including a 550-food observation wheel that shows you the entire Las Vegas Valley. Add 40 shops, restaurants, concerts, and bowling, all with pedestrian access. Valet parking is offered. Get discount tickets for the High Roller observation wheel here.
Paranormal Mind Reading Show (Bally's): This 70-minute show will challenge what you think about mind reading. Frederic Da Silva, an award-winning mentalist, taps into audience minds up close and personal. Discounted tickets at here at vegas.com.
Piff the Magic Dragon (Flamingo Hotel & Casino): A 75 minutes show filled to overflowing with great magic tricks and escapes. The Chihuahua steals the show (but the dragon man isn't bad either). Check out show price here.
Qua Bath & Spa (at Caesar's Palace): Inspired by decadent Roman baths, you'll find hot and cool pools and even a snowflake room! There are robes, slippers, juices, soft drinks, tea, and coffee. They segregate the spa (male and female), and it's clothing-optional (website)
You really won't have a minute of boredom on the Las Vegas strip. The list of attractions and activities goes on and on. Oh, certainly, you can find a quiet nook tucked away at the hotel or a shady place by the pool for reading a novel, but the high energy of Vegas gets most people up and moving.
Find the best deals on Caesars Palace rooms and save big with TripAdvisor!
Cost to Eat at Hell's Kitchen Las Vegas – Final Thoughts
What stands out is that no matter what traveler lists you read, Caesars Palace comes up again and again. There's the Omnia Club, the infamous Venus Pool, the Forum Shops, the Fall of Atlantis (living statues), the Garden of the Gods Pool, and a cigar bar, just to name a few.
It's no wonder that Chef Ramsay chose this for Hell's Kitchen's home. So plan out your meal, make a Hell's Kitchen reservation, and take in a bit of Caesars Palace's ambiance while you are at it. Double your pleasure, double your fun!
Related Articles (Eating in Las Vegas)