MGM Grand vs. Luxor: Which Is Better?
Well, you thought you'd found your ideal Las Vegas resort in the MGM Grand, with everything you want at a reasonable price. Then you saw the small print telling you a daily resort fee is payable on top of the room rate, and it doesn't look so reasonable now. So, when exploring cheaper alternatives, you've come across the Luxor, and now you're wondering if maybe it's a better choice?
The MGM Grand is the best choice if you're looking for a truly self-contained resort with everything Las Vegas has to offer, all on one site. However, if budget is a primary concern, Luxor will provide a better value while still offering an amazing property right on the Strip.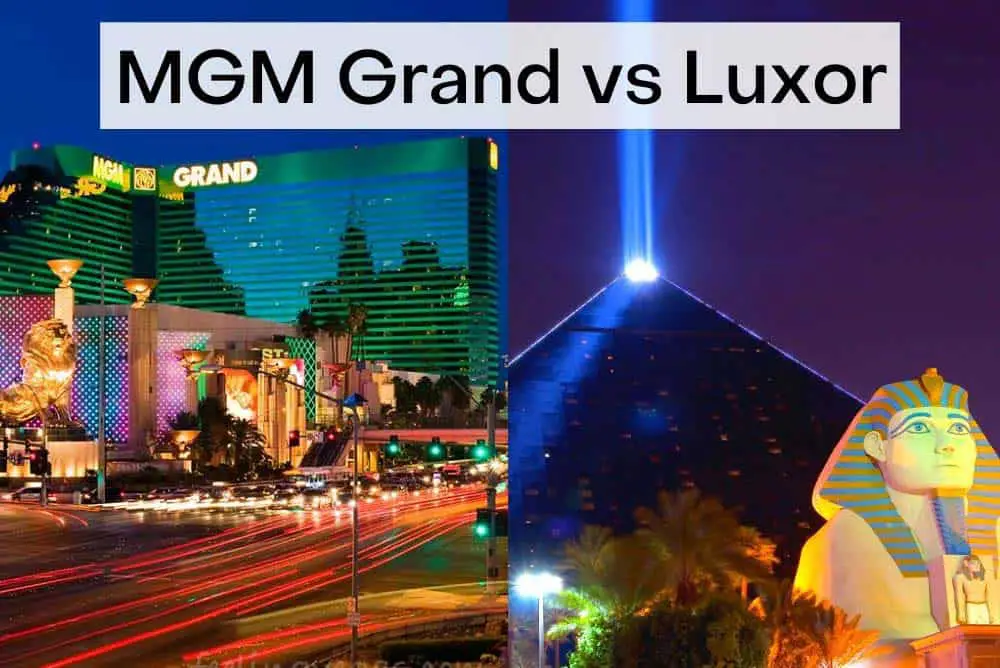 (This article may contain affiliate links, which means we might earn a small commission if you click and make a purchase. Thank you!)
The table below will give you a quick overview of the highlights of these two hotels:
Name: MGM Grand
Address: 3799 S Las Vegas Blvd
Year Built: 1973
Number of Rooms: 6,852
Name: Luxor Hotel & Casino
Address: 3900 S Las Vegas Blvd
Year Built: 1993
Number of Rooms: 4,407
But, the table probably doesn't tell you enough to decide if the cheaper Luxor will provide the Las Vegas experience you're after. Well, this article delves deeper into these two resorts to give you the information you need, so keep reading.
Be sure to download your FREE map of the Las Vegas Strip so you can see where both hotels are located on the Strip!
MGM Grand vs. Luxor – How Do They Compare?
As you probably know, the MGM Grand (link to property map) is an enormous hotel and entertainment complex, like a mini Las Vegas captured within a single resort. The Luxor (link to property map) tries to do the same thing, just on a smaller scale.
So, let's take a closer look at how they compare.
Standard Rooms at MGM Grand Compared to Luxor
The starting prices for the room rates above are for the entry-level rooms. So, let's have a look at what you'll get:
MGM Grand
Luxor
West Wing King:
– 350ft² (32.5 m²)
– King bed 
– 40'' (140cm) Flatscreen HDTV
– In-room wifi
– Seating area
– Desk
– Max guests, 2
Pyramid Room:
– 420ft² (39m²)
– King bed
– Flat-screen TV
– Oversized shower
– Seating for 2
– In-room wifi
– Desk 
– Max guests, 2
You're probably thinking, there's not much here to separate the two in terms of in-room amenities. But, you'll get more space at the Luxor, in addition to the large, angled windows (remember you're staying in a pyramid-shaped hotel) that brighten the rooms.
On the other hand, MGM Grand's standard rooms have only a small window behind the bed, which can make the rooms seem a bit dark.
Also, there's no door on the bathroom in the MGM Grand standard room, just obscured glass screens on the toilet and shower. This arrangement could be a deal-breaker for some. You can see what I'm talking about in the video below.
As to decor, you'd probably describe the West Wing King as modern and contemporary. The Art-deco Egyptian look in the Pyramid room doesn't seem dated when set against the neutral tones of the walls and furnishings.
But both provide enough comfort to keep most people happy.
Dining Options
Both resorts provide an array of dining options, but you'll find more choices at the MGM Grand, with around twenty-two restaurants. There's a whole range of choices, from American to Italian, to Japanese, and many more. Celebrity chefs Joël Robuchon, Tom Colicchio, and Wolfgang Puck all have outlets here.
On the other hand, dining at the Luxor is a more casual affair. Its fourteen eateries offer American, Mexican, Asian, and of course, steak and pizza. Some of these are in the Shoppes at Mandalay Place, which is a shopping area that links the Luxor and the Mandalay Bay resort. This includes a burger bar from the French chef, Hubert Keller. 
Additionally, the 0.3 miles (0.48km) covered walkway between the Luxor and neighboring Mandalay Bay gives easy access to all the dining options on offer there as well. They're on a par with the MGM Grand's offering, so don't be too quick to dismiss the Luxor on this front.
Shopping
Although there's a reasonable selection of shops within the MGM Grand resort, you won't find high-end international designer labels here. The shopping is probably intended for more general mass appeal.
The choice of shopping at the Luxor is limited, with only six outlets within the resort itself. There's a broader range of shops at Mandalay Place, but even here, the offering isn't extensive.
Casino Action
The MGM Grand's 171,500ft² (15,933m²) casino is a gambler's paradise, with 2,650 slots and table games! You'll also find a separate 24-hour poker room and a sportsbook boasting 60 LCD and plasma screens capturing all the sporting action.
The Luxor's casino is less extensive at 120,000ft² (11,150m²). Although it lacks a poker room, it still manages to squeeze in around 1,100 slots and video poker, table games, and a state-of-the-art sportsbook. 
So, if you're a casual gambler, you may be more than satisfied with Luxor's casino. But, remember there's easy access to Mandalay Bay's casino, including its poker room, if you want a more extensive casino experience.
However, if you want all your gambling needs in one place, you're probably going to be happier at the MGM Grand.
Entertainment
In terms of variety and scale, entertainment at the MGM Grand beats Luxor's stand-alone offering hands down.
Its spectacular Cirque du Soleil show, KÀ, is a marvelous mix of acrobatics and stunning stage production on a grand scale.
The MGM Grand also hosts the David Copperfield Theater with enthralling nightly performances by the man himself, sure to mesmerize people of all ages. Additionally, there's a virtual reality gaming arena where you can do battle to save the Universe, as long as you're over 13 years old. You'll be pleased to know, there's no upper age limit.
It also has a live events venue, the MGM Grand Garden Arena, which hosts a generous variety of live music and sports.
You get the idea. There's a lot going on at the MGM Grand to keep you entertained beyond eating, shopping, and gambling. 
That's not to say that Luxor has nothing going for it. It's just less extravagant.
The Luxor has the famous Blue Man Group, plus live comedy. Also, you'll find two captivating educational exhibitions of Titanic artifacts and the human body. The latter includes thirteen real human bodies that have been dissected and preserved. Best not to go after eating 😜
So, if you're looking for real Las Vegas-style spectacles, you'll be better served at the MGM Grand. 
However, you shouldn't forget that Luxor has easy access to all the entertainment at Mandalay Bay, which rivals that of the MGM Grand. So, staying at the Luxor may not mean having to compromise on the entertainment options at all.
Conclusion
So, what was the question? Oh yes, MGM Grand vs. Luxor: which is better?
Well, if you don't mind the 0.3 miles (0.48km) covered walk to Mandalay Bay's facilities and amenities, the Luxor looks like a pretty good deal and will definitely save you some money. The combination probably at least matches what the MGM Grand offers, but you'll be paying less for the privilege. 
So, if you're looking to keep down the cost of your Vegas trip, you may feel that Luxor is worth considering.
Other Las Vegas Hotel Comparisons
Check out these other comparisons of Las Vegas Hotels.
MGM Grand vs. MGM Signature – Read here
MGM Grand vs. Park MGM: Which is Better? – Find out here
MGM Grand vs. Mirage – How to decide?
MGM Grand vs. Venetian: Who's tops? – How to decide
Paris Las Vegas vs MGM Grand: Who comes out on top? – Article here
Luxor vs. Flamingo: The best? – Find out here
MGM Grand vs. Mandalay Bay: Which Is Better? – Read Article
MGM Grand vs ARIA – How to decide