ARIA vs Vdara (Which Las Vegas Hotel to Choose?)
(This article may contain affiliate links. If you click through and make a purchase, we will receive a small commission at no additional cost to you. )
One of the hardest decisions you'll make when planning your Vegas getaway is picking the right hotel. If you're trying to decide between ARIA Resort and Casino and Vdara Hotel and Spa, you'll need to understand the differences between these two first-rate properties so you can choose the best one for your Las Vegas vacation.
ARIA is the best choice if you want to be right on the Las Vegas Strip and in the middle of the party. Vdara is the right choice if you want to be near the action but prefer to stay at a smaller, quieter, non-gaming, non-smoking, all-suite hotel.
Category
ARIA
Vdara
Room Price
From $129 per night
From $99 per night
Resort Fees
$51.02 per day
including taxes
$51.02 per day
including taxes
Parking Fees
Self-Parking: $18 daily
Valet: $30 – $35 daily
Valet Parking: $30 – $35 daily
(self-parking is available at ARIA)
Location
Busy mid-Strip area
Busy mid-Strip area (located behind The Cosmopolitan approx .3 miles from Las Vegas Blvd.
Shows
None
None
Pools
– 3 full-size pools + 21 and up pool club at Liquid within the property
Rooftop pool area with 1-large pool, Cabanas, and semi-private plunge pools
Spas
– The Spa at ARIA
– The Spa at Vdara
Nearby Attractions
– ARIA Fine Art Collection
– The Shops at Crystals
– No attractions on-site
– Near to ARIA, The Cosmopolitan, The Bellagio, City Center, and The Shops at Crystals
Name: ARIA Resort & Casino
Address: 3730 S Las Vegas Blvd
Casino Floor: 150,000 sq ft.
Year Built: 2009
Number of Rooms: 4,004
Name: Vdara Hotel & Spa
Address: 2600 W Harmon Ave
Casino Floor: None
Year Built: 2009
Number of Rooms: 1,495
Without a doubt, ARIA and Vdara are two first-rate hotels, both located in a great area along the Las Vegas Strip. While these two hotels are both top destinations, there are a few major differences between these properties. This article will highlight the differences between the hotels and help you choose which is the right one for your Vegas vacation.
Comparing ARIA vs Vdara: An Overview of These Vegas Hotels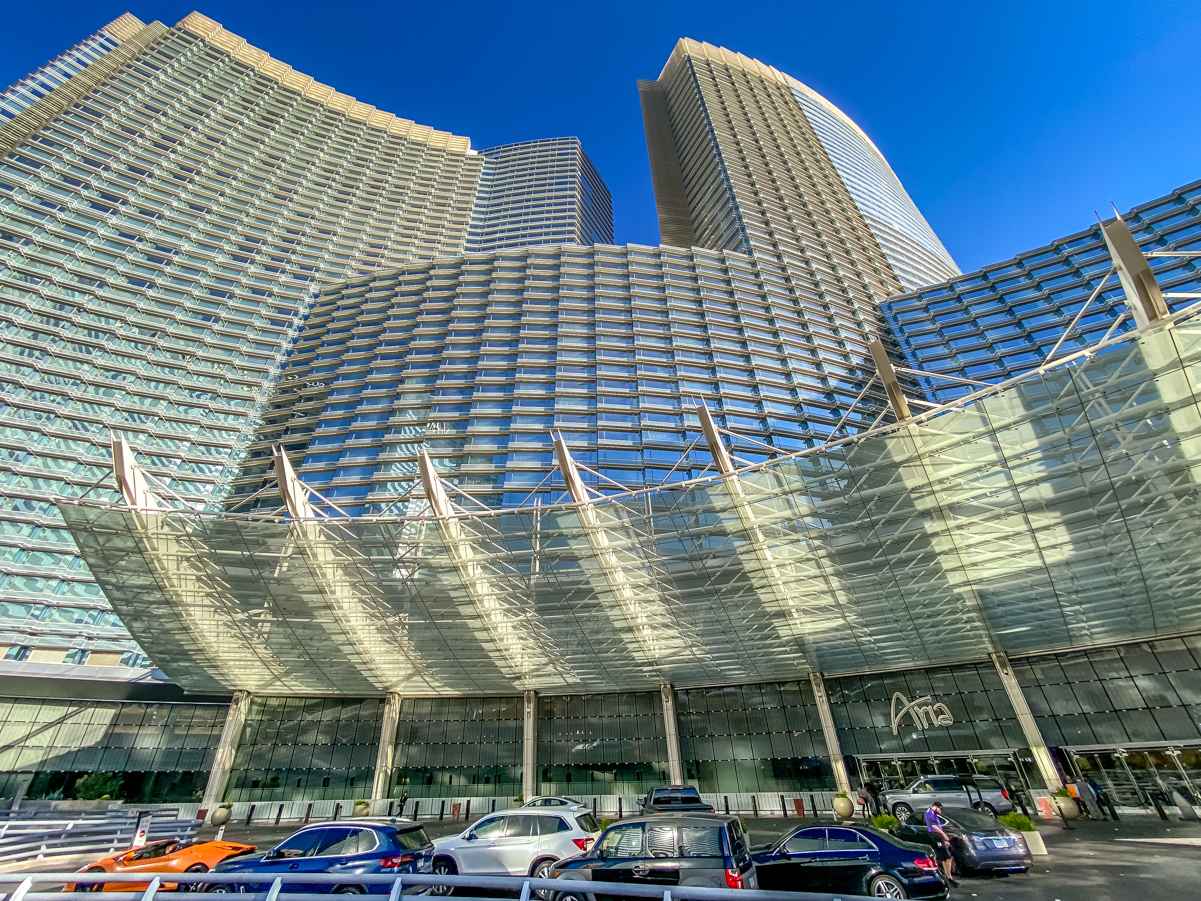 ARIA and Vdara are both luxury properties owned by MGM Resorts and connected using a free tram system. The ARIA hotel is located directly on the Strip and has a large casino, multiple pools, and well over 4,000 guest rooms. Vdara, on the other hand, is an all-suite, non-smoking, and non-gaming hotel with a little over 1,400 rooms. So, to boil it down, Aria has a casino and a more lively vibe overall.
As such, the main difference between these two properties is that the Vdara is focused on creating a more relaxed atmosphere. Without a casino in the hotel, guests returning to their room after a night out on the Strip will be greeted by a quiet and calm atmosphere.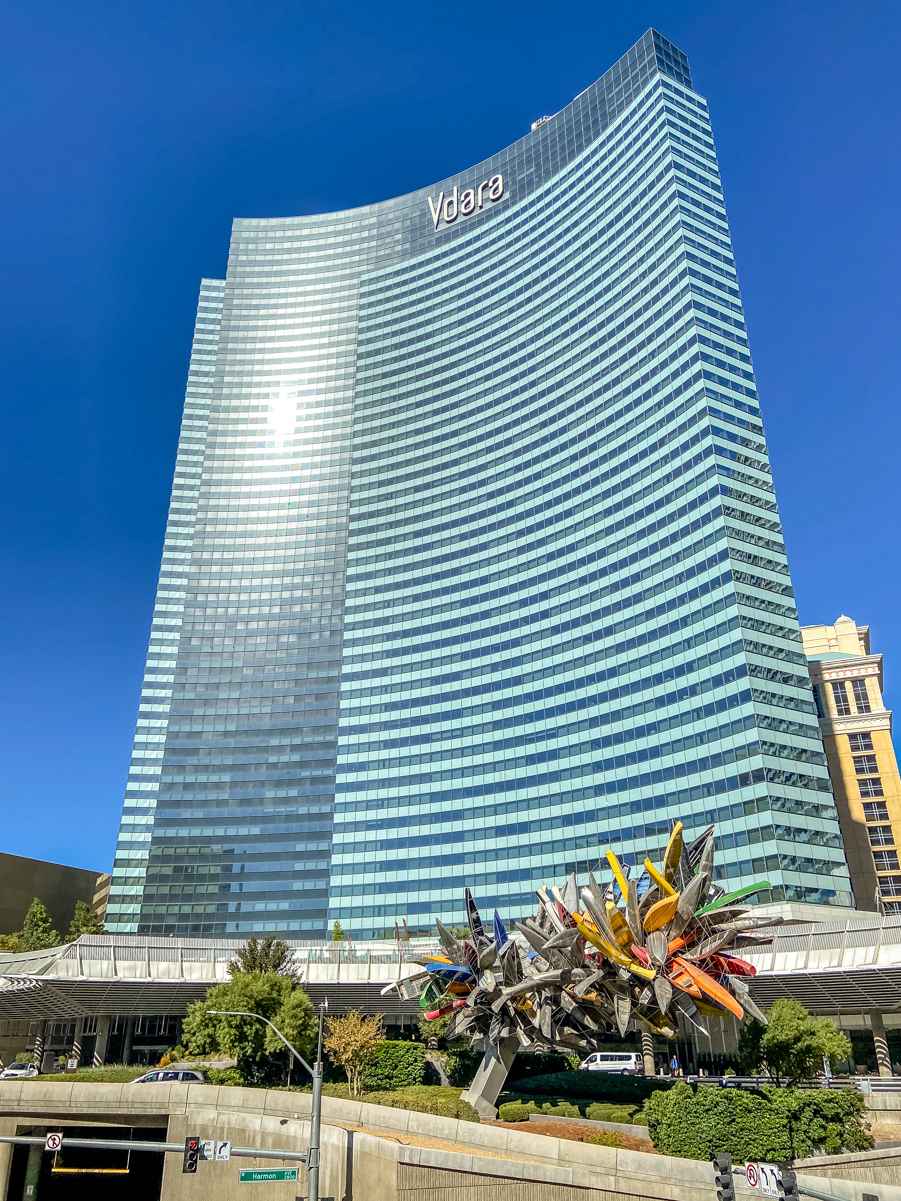 Vdara is located in an area that is set back from the Strip and is thus removed from much of the noise on Las Vegas Boulevard. The Vdara is a much smaller hotel with fewer rooms, but they are all suites that allow you to enjoy your stay in luxury.
While the ARIA is a true luxury resort property, Vdara has much more of a boutique hotel vibe. At ARIA Las Vegas, you can take the elevator downstairs and be in the middle of the casino in no time. At Vdara, you'll need to either take the free ARIA Express tram or take a short walk (6 minutes) to get to the bars and casinos along the Strip.
Being that both properties are located next to each other, with the Vdara setback behind ARIA and The Cosmopolitan, you won't be lacking for a multitude of things to do and see. Both properties will have you right next to the famous Bellagio Fountains and luxury shopping at the Shops at Crystals, as well as several large nearby resorts (Bellagio, Paris Las Vegas, Planet Hollywood, The Cosmopolitan).
While ARIA is the party place, Vdara is almost the complete opposite. Here, the focus is on creating a refined luxury environment to relax in. Vdara is geared towards large private functions such as weddings, parties, or celebrations where people may not want random people interfering or wandering into their event.
Vdara is more of a traditional hotel than a Las Vegas mega-resort. It is meant to cater to families and crowds that want a more subdued experience, preferring to see the town and what it has to offer rather than just gambling and partying.
ARIA vs. Vdara: Standard Room Comparison
The ARIA and Vdara may be sister properties, but their standard rooms are quite different. The standard ARIA hotel room is the Deluxe King room. An upscale room consisting of 520 sq. ft. of space, a king-sized bed, big screen tv, a seating area, and a nice sized bathroom with dual vanities.
Vdara's standard room is called a Studio Suite. The Studio suite at Vdara is a bit larger at 582 sq ft., and it also sports a luxury king-sized bed.
One interesting difference between the standard rooms at the two properties is that Vdara's rooms come with a small kitchenette with a two-burner cooktop, which is nice if you need to heat something up or don't want to have every meal outside the room.
Another difference is that all the rooms at Vdara are suites. In the case of the Studio Suite, besides having some extra room, there is a living room area with a couch. The couch has a queen-sized pull-out bed that can sleep two, making this room capable of sleeping up to 4 guests. This is an important difference if you're traveling with friends or have a four-member family, as the standard ARIA room can only accommodate a maximum of 3 guests.
ARIA
Vdara
Deluxe King:
– 520 ft² (48.3 m²)
– King bed w/ 300 thread count linens
– 42″ (106cm) LCD HD TV
– In-room wifi
– Floor-to-ceiling windows
– Seating area with two chairs
– Desk
– Dual vanity bathroom sink
– Soaking tub
– One-touch technology controls
lighting, curtains, music,
wake-up
– Max guests, 3
Studio Suite:
– 582 ft² (54 m²)
– King bed w/pillow-top mattress
– 50″ (127cm) LCD Flat screen
– In-room wifi
– Living room couch w/pull-out sofa bed (queen)
– Dining table for 2
– Electric cooktop (2 burners)
– Walk-in shower & soaking tub
– Media hub for mp3 players & gaming consoles
– Blackout curtains (automatic)
– Max guests, 4
Comparing the standard rooms of ARIA & Vdara at a glance.
ARIA & Vdara Resort Fees
When comparing room rates in Las Vegas, it's always important to take into account the daily resort fee each property charges. In the case of ARIA and Vdara, the resort fee charged by both is $51.02 per day, including tax.
This is in addition to the daily room charge and gives access to things like the internet, pools, fitness center, and local phone calls. The resort fee is charged regardless of whether you plan on using any of these amenities or not.
Parking Fees at ARIA Las Vegas & Vdara
Both ARIA and Vdara charge for parking. Self-parking is available at ARIA (for both hotels) at a rate of $18 a day, while valet parking is offered at both properties for between $30 – $35 a day.
You can learn more about the parking rates at Aria in our article here.
Are ARIA & Vdara Pet-Friendly?
A growing trend in Las Vegas is for resorts to offer pet-friendly accommodations. The ARIA is not a pet or dog-friendly hotel, so if you plan to travel with your pooch, ARIA is not the place for you. Vdara, however, is not only pet-friendly, they even have their own dog park with a walking trail that is open 24/7!
Vdara has some special dog-friendly (cat-friendly, too) suites that will accommodate up to two dogs with a combined weight of under 100lbs. It's an extra $150 per night per dog. Dogs can't be left alone in the room unless they are in a carrier.
If you're bringing your pooch to Vegas, check out our article about pet boarding and doggy daycare available near the Strip.
ARIA Express Tram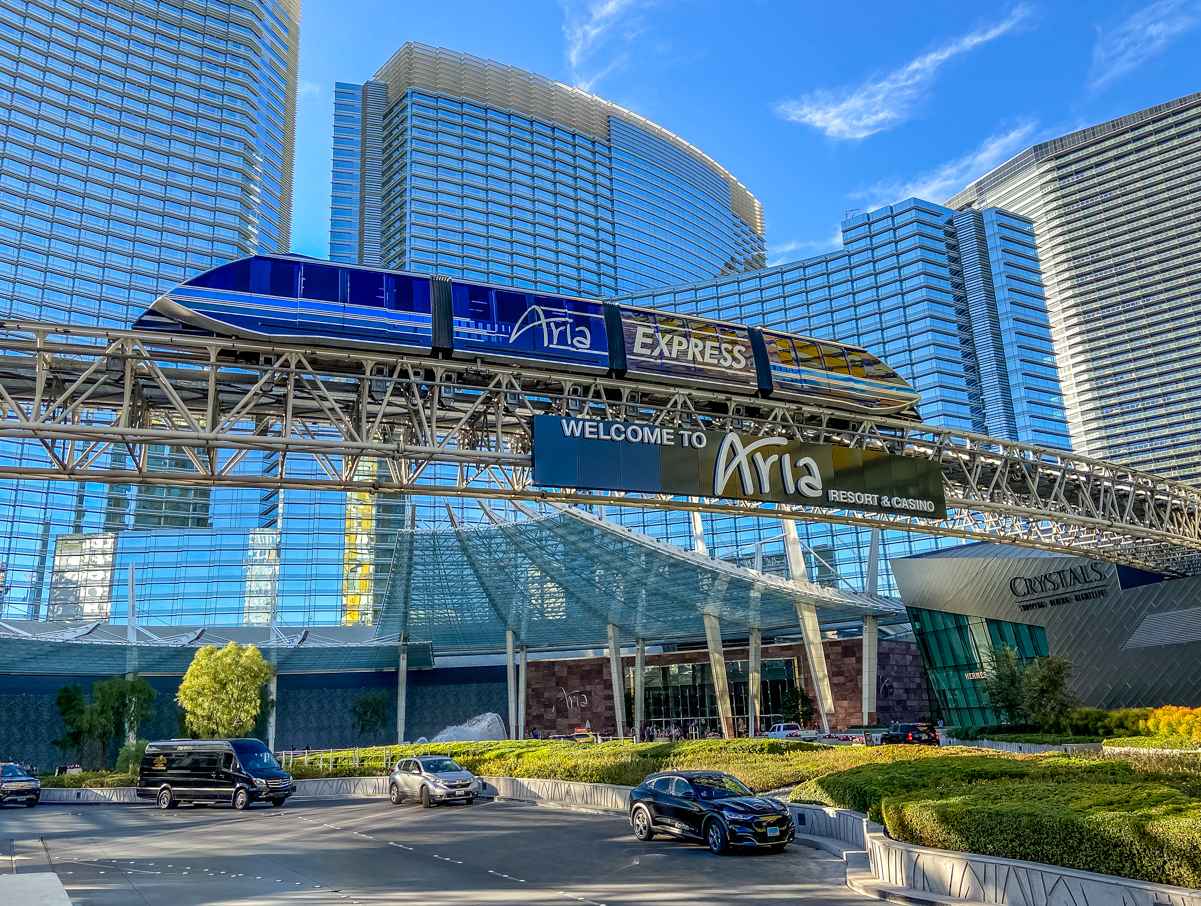 Both ARIA and Vdara make getting around this area of the Strip easy by having a free tram service. The ARIA Express is an elevated train that connects ARIA, Vdara, Bellagio, Park MGM, and The Shops at Crystals (City Center).
The tram comes through each station every few minutes and operates between 8 am and 2 am. This is a great way to save your legs from some walking and avoid the summer heat.
You'll find more info on walking between Aria, Vdara, and Bellagio and using the Aria Express Tram here.
Comparing Shows & Entertainment at ARIA and Vdara
Shows and entertainment are obviously a big attraction when visiting Las Vegas, so it's unusual for a major hotel not to have any resident shows, but neither ARIA nor Vdara is home to any shows. The good news is that there are plenty of shows available very close by.
Right next door at the Bellagio, you'll find 'O' by Cirque du Soleil. One of the most amazing shows on the Las Vegas Strip, 'O' is an aquatic-themed production filled with swimmers, acrobatics, divers, and dancers. Also, just across the street is Planet Hollywood, and it is home to several shows as well, including,
plus several other headliners and one-time shows
In addition to these options, both ARIA and Vdara are close to T-Mobile Arena, which hosts regular shows, concerts, and sporting events. Also, next to T-Mobile Arena is the Park Theater. A 5,200-seat theater that hosts its own packed lineup of sports, concerts, conventions, and award shows.
So while Vdara and ARIA don't have any regular shows of their own, you will be literally steps away from a long list of big-name shows, concerts, and sports.
Vdara vs ARIA: Restaurants and Bars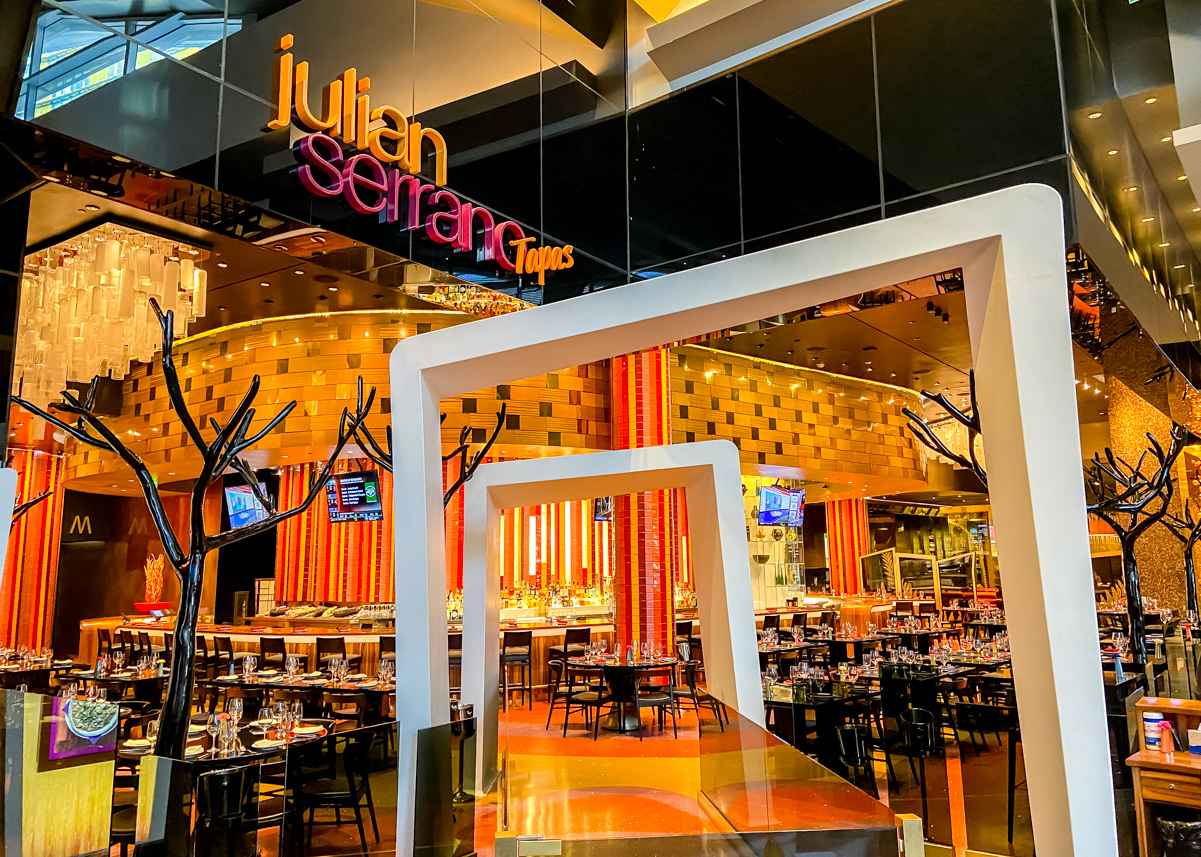 Eating and drinking are likely at the top of the list for most Las Vegas vacationers. While both ARIA and Vdara have restaurants and bars, they do differ significantly in number and style. While Vdara is limited to a single restaurant (Market Café), a Starbucks, and the Vice Versa Patio & Lounge, ARIA has nine or more restaurants within the resort.
Restaurants at ARIA include:
Jean Georges Steakhouse – Steaks by Chef Jean-Georges Vongerichten
The Pub – Burgers, fries, and other pub classics
CATCH – Asian-influenced steak and seafood
Carbone – Italian-American
Lemongrass – Thai cuisine
Javier's – Southern Californian Mexican fare
Blossom – Chinese cuisine
Julian Serrano Tapas – Small plate Spanish cuisine
ARIA is also home to several lounges and bars, not to mention cocktails and drinks on the casino floor itself. At ARIA, you're never far from a good drink or a great restaurant!
Pools at ARIA and Vdara
The fabulous resort pools in Las Vegas are famous for their size, fun, and luxury amenities. The Vdara's rooftop pool area doesn't disappoint! Featuring a modern design, the single luxury pool is made for relaxation. From its beautiful views of the Strip, signature cocktails, secluded plunge pools, and casual food offerings, a day at Vdara's pool is a total escape.
Adding to the feeling of relaxation, Vdara's pool can only be accessed if you are a guest at the hotel, which makes it perfect for those that want to chill and relax in the sun.
In comparison, ARIA has three distinct pools that can be accessed only if you're staying at ARIA (Note: Guests of Vdara can use Aria's Sky Pool during the winter months. Find out more in our article here).
Overall, Aria's pool deck is the more impressive of the two.
Each resort provides pools with plenty of relaxed lounging and luxury amenities, such as drinks, pool menus, and private cabanas.
ARIA also has a fourth separate pool known as Liquid Pool Lounge. This is an adults-only pool featuring an upscale vibe and a party atmosphere.
ARIA vs Vdara: Which is Better?
So which of these two luxury Las Vegas hotels should you choose for your trip? It depends on what you're looking for during your stay in Las Vegas.
My recommendation:
Choose ARIA if you're looking for everything Las Vegas is known for, such as restaurants, a casino, and a vibrant party vibe.
Choose Vdara if you're looking to have a quiet, relaxing vacation in an upscale hotel or at least a quiet, calm atmosphere to return to after a wild night on the town!
Related Las Vegas Hotel Comparisons