Is Las Vegas Humid or Dry Heat? (Vegas Humidity Explained)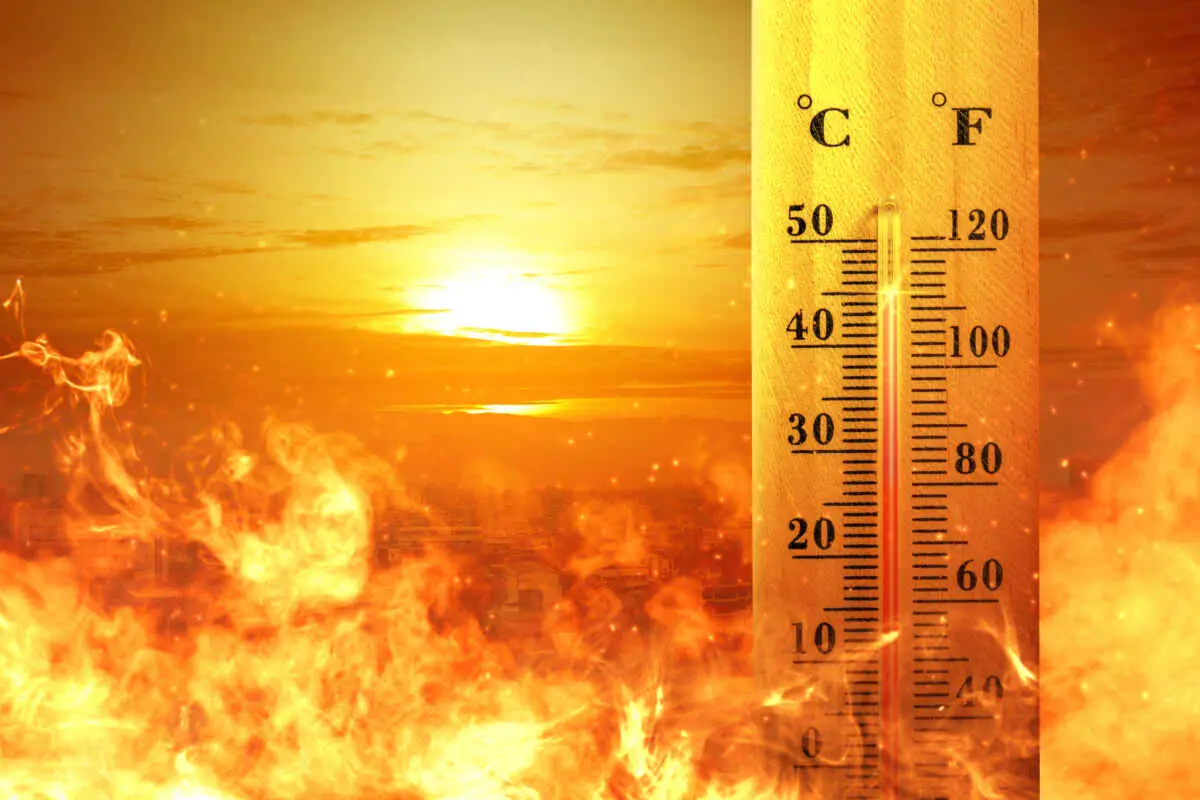 (This article may contain affiliate links, which means we might earn a small commission if you click and make a purchase. Thank you!)
Las Vegas, Nevada, is a globally renowned resort destination that attracts more tourists than nearly any other city in the world. Famous for its sunshine, gambling, fine dining, shopping, nightlife, and endless glitz, Las Vegas will surely have something for everyone. Everything, that is, except humidity!
Las Vegas has dry heat and is one of North America's sunniest, driest, and least-humid cities. It's located in Nevada, which has an average humidity level of just 31 percent. Visitors to Las Vegas, especially in the summer, need to protect themselves from the effects of such low humidity levels.
In this article, I'll discuss the climate in Las Vegas, how it can affect visitors, and the best activities to seek out according to the seasons. I'll also include some of the most enjoyable ways to beat the heat in this vibrant desert city.
The Average Temperature and Humidity Levels in Las Vegas
In Las Vegas, the average high temperature ranges between 59 ℉ (15 ℃) and 80 ℉ (27 ℃). In July, the hottest month, the average temperatures go as high as 104 ℉ ( 40℃), while in December, the coldest month, the average high temperature is 57 ℉ (14 ℃).
The average annual relative humidity level in Las Vegas is 31 percent. 
December is typically the most humid month, with the relative humidity at 45 percent. June is the driest month, with an average humidity of just 17 percent!
RELATED: How Hot Is Las Vegas In July and August?
What Are the Implications of Vegas's Dry Heat On the Body?
Humidity is defined as the amount of water vapor in the air. Heat is usually more bearable in areas with lower humidity because it's easier for sweat to evaporate. Las Vegas has dry heat, meaning it has low humidity, and the city's typically high temperatures are more bearable than in other areas with wet heat. 
In areas with high humidity, sweat remains on the body. And since the evaporation of sweat is what results in cooling, you're likely to feel warmer, as sweating won't be as effective. Additionally, your skin will feel clammy and uncomfortable since the sweat just stays there. 
Relative humidity is the quantity of water vapor in the air relative to the amount of vapor the air can hold onto. Cold air can hold less water than warmer air. Relative humidity is measured by a percentage. For example, if the relative humidity in Las Vegas on a given day is 17 percent, that means that the air is holding 17 percent of its capacity of water vapor. As the air temperature rises, so does the air's capacity to hold water vapor.
The result is that a person in Las Vegas won't appear to sweat as much as they would if they were somewhere more humid. The truth, however, is that a person in Vegas will still sweat profusely, but the extremely dry air causes the moisture to evaporate quickly, keeping them from becoming soaked with sweat.
Why Is High Humidity So Uncomfortable?
Have you ever heard the saying, "it's not the heat, it's the humidity?" It's actually the combination of heat and humidity that can make us uncomfortable. Hot air holds more water vapor than cold air, so when the relative humidity is high on a hot day, the air becomes heavy and clogged with water vapor.
When the air is hot, we tend to sweat to cool off. When we sweat, our perspiration evaporates in the air, making our skin feel cooler. However, when the humidity is also high, it makes our sweating ineffective. In hot, humid air, sweat can't evaporate. Our main mechanism for cooling ourselves off is lost. 
Exposure to high levels of relative humidity (defined as percentages greater than 60 percent) can lead to the rapid growth of fungi and increased ozone formation, among other things. Indoor air quality is typically considered optimal when the relative humidity levels are between 40 percent and 60 percent.
Luckily for visitors to Las Vegas, there is a relatively low chance of excessive heat and humidity occurring simultaneously except during the Vegas monsoon season . When the temperatures soar in the summer, the relative humidity is at its lowest. Likewise, when the humidity is highest (winter), the temperatures are at their lowest.
This is why it can get so much hotter in Las Vegas and still not be nearly as oppressive feeling as a place like Florida, with cooler temperatures and much higher humidity.
RELATED: Is Las Vegas Too Hot To Visit in the Summer? (Nope, Here's Why)
Low Humidity Can Have Negative Effects 
A more pressing concern in Las Vegas is the effect of low levels of relative humidity. Humidity below 30 percent can be noticeably uncomfortable, causing respiratory problems, increased susceptibility to rhinovirus, and exacerbation of allergies. Relative humidity levels lower than 20 percent can also cause eye irritation.
Visitors heading to Las Vegas should be aware of some steps they can take to reduce the uncomfortable effects of low humidity, including the following:
Drink plenty of water, even if you don't feel thirsty.
Use moisturizer and lip balm liberally throughout the day.
If your hotel room's air feels too dry, add some water to the bathtub and leave it there to help humidify the air.
If you're especially sensitive to low humidity, consider bringing a small portable humidifier (Amazon) to place in your hotel room.
RECOMMENDED: How To Choose a Hotel in Las Vegas (The Ultimate Guide)
The Danger of High Heat and Low Humidity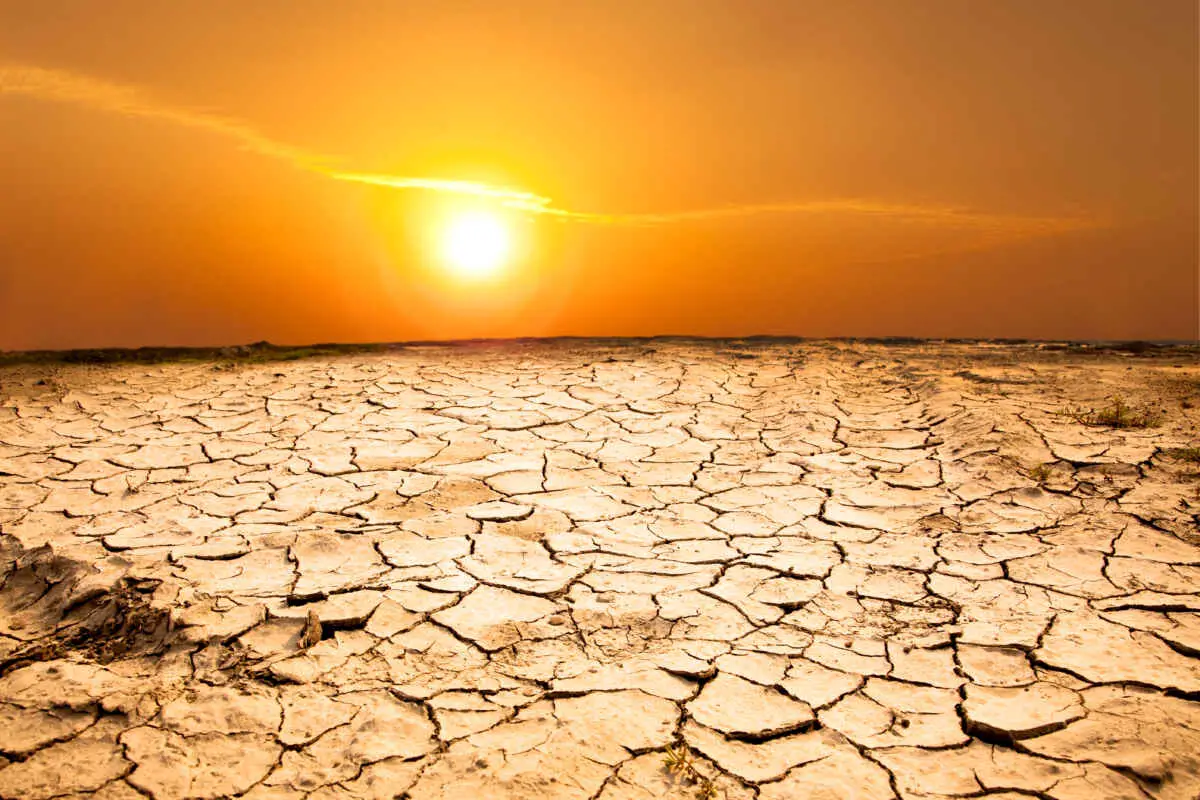 Our bodies indeed cool us more efficiently when the humidity levels are low than when they are high. However, when the temperatures are as hot as they get in Las Vegas in the summer — often well above 100 ℉ (38 ℃) in the daytime — the humidity is irrelevant. Our bodies cannot produce enough sweat to cool us off at such high temperatures.
Travelers to Las Vegas in the summer are at risk of two serious heat-related conditions. 
Heat exhaustion is a medical emergency caused by a loss of fluid and electrolytes from excessive sweating. Symptoms include nausea, dizziness, headache, weakness, and thirst. 
First aid for heat exhaustion includes moving to a cool location, drinking water, and resting.
If it's not dealt with, heat exhaustion can cause heat stroke, a life-threatening illness that can develop when the body's core temperature rises above 104 ℉ (40 ℃). Symptoms include hot, dry skin, nausea, delirium, and convulsions. 
Emergency first aid treatment includes using ice packs, immersion in cold water, and cold intravenous fluids. Without prompt medical attention, heat stroke can be fatal.
You can reduce the risk of heat exhaustion or heat stroke by:
Wearing lightweight, loose clothing. 
Avoiding the direct sun and limiting the time you spend outdoors on very hot days. 
Avoiding alcohol and caffeine. 
Drinking plenty of other fluids, even when you are not thirsty.
RELATED: Are There a Lot of Mosquitoes in Las Vegas? (Answered)
When Is the Best Time To Visit Las Vegas?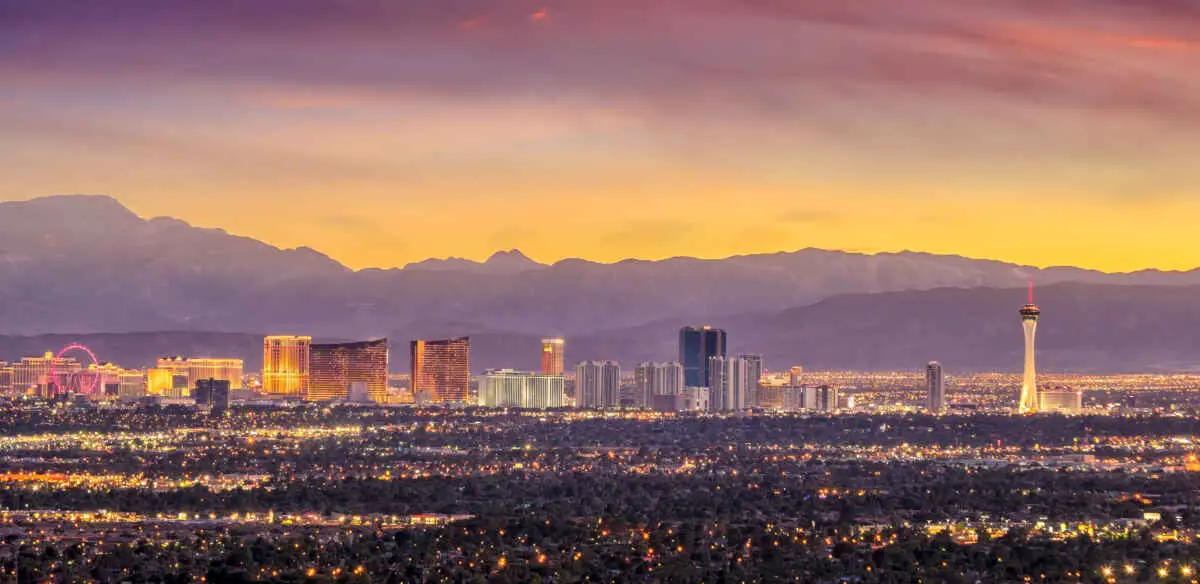 The best time to visit Las Vegas depends on what you want to do when you get there. The city truly has something for everyone. If you're coming to strike it rich at the casinos or enjoy the world-class shopping and shows, any time is the perfect time to visit. 
Las Vegas is so much more than casinos and shows, however. Let's look at a few of the other amazing experiences this city has to offer, broken down by season. 
Winter is the Best Time to Spend Outdoors in Las Vegas (Snow Free!)
Winter is the coolest and most humid season in Las Vegas. As a result, it's one of the best seasons for being active outdoors. Another reason to visit Vegas in the winter is all the spectacular natural beauty in this part of the United States, most of which is relatively close to downtown Las Vegas!
The winter months are the perfect time to visit the following attractions:
Grand Canyon National Park South Rim – After a bus ride from your hotel, take a guided or nonguided walking tour of Mather Point, Bright Angel Point, and Hopi House. Don't forget your water and camera!
Emerald Cove – Rent a kayak to explore this gorgeous spot on the Colorado River, about an hour's drive from Las Vegas. If you get chilled, there are hot springs nearby to warm you. 
Death Valley National Park – Death Valley is the hottest and driest national park in the United States and the driest spot in North America, so visiting in the winter is a sound idea. In December, the coldest month, the average high temperature is 66 degrees Fahrenheit (19 degrees Celsius). Activities like hiking are much more comfortable in the winter than during the blistering summer.
If you love holiday festivities, shopping, and parties, you'll love winter in Las Vegas. The Las Vegas Strip has shopping adventures, restaurants, casinos, and theaters. Whether you want to buy the perfect gift for a special someone at the Forum Shops at Caesars Palace, relax in a gondola at the Venetian, or enjoy the city's breathtaking holiday lights from atop the High Roller, the strip is the place to be. 
RELATED: Does it Ever Snow in Las Vegas?… Just Wait Till You See!
Spring Is Usually Packed With Festivals and Events 
Weather-wise, spring is a fantastic time to visit Las Vegas. Daily temperatures are generally in the 70s and 80s. Evenings are cooler, with temperatures in the low 50s to middle 60s. There's likely to be less than an inch of rain during the entire season, and the humidity levels are lower than in the winter. 
Some of the events taking place in Las Vegas in the spring include:
NASCAR Weekend – One of the two annual weekends for this event is in the spring (March), at the Las Vegas Motor Speedway
Viva Las Vegas Rockabilly Weekend – Las Vegas's longest-running music festival takes place in April. It includes live music, burlesque, a tattoo lounge, onsite weddings, a pin-up contest, and a guitar geek festival. 
Electric Daisy Carnival (EDC) – Scheduled each year in May, the Electric Daisy Carnival features the best in electronic dance music and takes place at the Las Vegas Motor Speedway. Find out what to wear to EDC in our article here.
There's a Lot of Swimming in Summer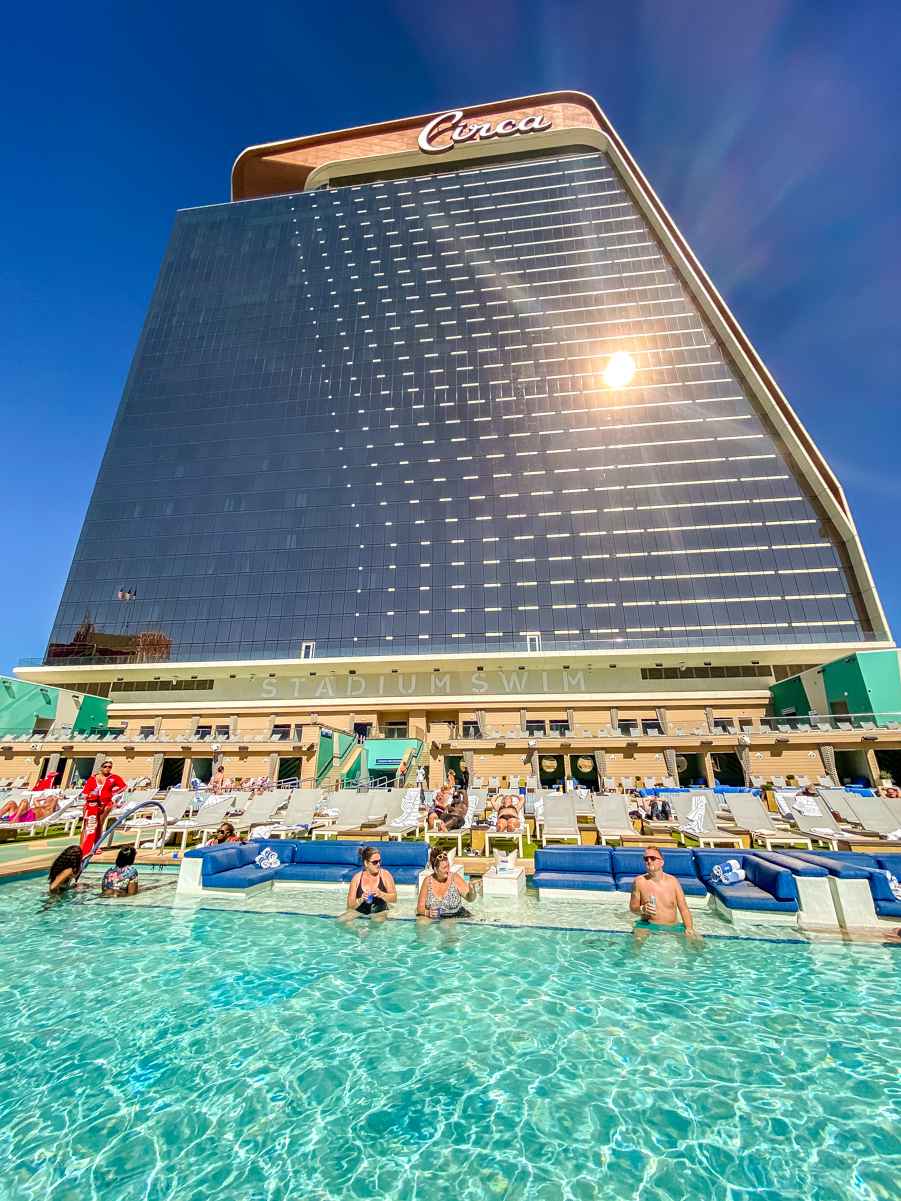 Las Vegas summers will be quite hot and dry — the perfect weather for swimming. It's no surprise then, that Las Vegas has a multitude of pools! Adults over 21 can enjoy a "European style" (meaning that women can swim topless) pool experience at the Mirage's Bare Pool Lounge. Another option for adults only is the Golden Nugget Hideout, which features DJs and cocktails all day.
For those who prefer family fun in the sun, there is the Tank Pool at the Golden Nugget hotel, which features a three-story water slide and waterfalls flowing into the pool. Another family-friendly swimming spot is the Scene Pool Deck at Planet Hollywood. This rooftop pool features the "Flowrider," where swimmers can enjoy surfing! 
For people who want more than just a swimming pool, several water parks are available for a full day of slipping and sliding. Check out The Best Water Parks in Las Vegas for details on the five best-rated parks in the city. Don't forget to wear a hat and bring sunscreen!
Fall Is Perfect for Visiting Attractions Like the Hoover Dam 
Along with spring, fall has some of the loveliest weather in Las Vegas all year. More comfortable temperatures replace the extreme heat of summer, and the relative humidity begins to rise (although it's still considered very dry in the fall). 
There are plenty of activities and attractions to enjoy in the fall. Visitors can take advantage of the beautiful outdoors by attending the Life is Beautiful festival in downtown Las Vegas in September. The festival, founded in 2013, is a music, arts, and culture festival for people of all ages. 
Fall is also the perfect time to visit these attractions:
The Neon Museum and Boneyard – Neon signs got their start in Las Vegas in 1929 and were popular until the 1980s, when LED and LCD screens became more popular. Some 250 vintage neon signs have been preserved and are displayed at the Neon Museum and Boneyard. Even the museum's visitor center is a relic — it's made from the rehabilitated lobby of the La Concha Motel. Learn more about the Neon Museum here.
Haunted Vegas Tour and Ghost Hunt – What better way to celebrate Halloween than with a scary tour of haunted buildings and the ghosts that inhabit them? This Vegas tour allows you to use ghost-hunting equipment such as temperature guns and dowsing rods. You never know what you might see!
Hoover Dam – A concrete arch-gravity dam on the border between Nevada and Arizona, Hoover Dam was built between 1931 and 1936. The dam is visited by millions of tourists every year.
Conclusion
Las Vegas is a vibrant, active city with plenty of activities and attractions sure to please every visitor regardless of the season. It's wise to remember that the weather in Las Vegas is likely to affect you, especially in the summer. 
The combination of high heat and ultra-low humidity means that tourists and residents alike must take precautions to avoid becoming victims of heat-related illnesses.