9 Best Rooftop Pools in Vegas (Amazing Rooftop Pool Views!)
(This article may contain affiliate links. If you click through and make a purchase, we will receive a small commission at no additional cost to you. )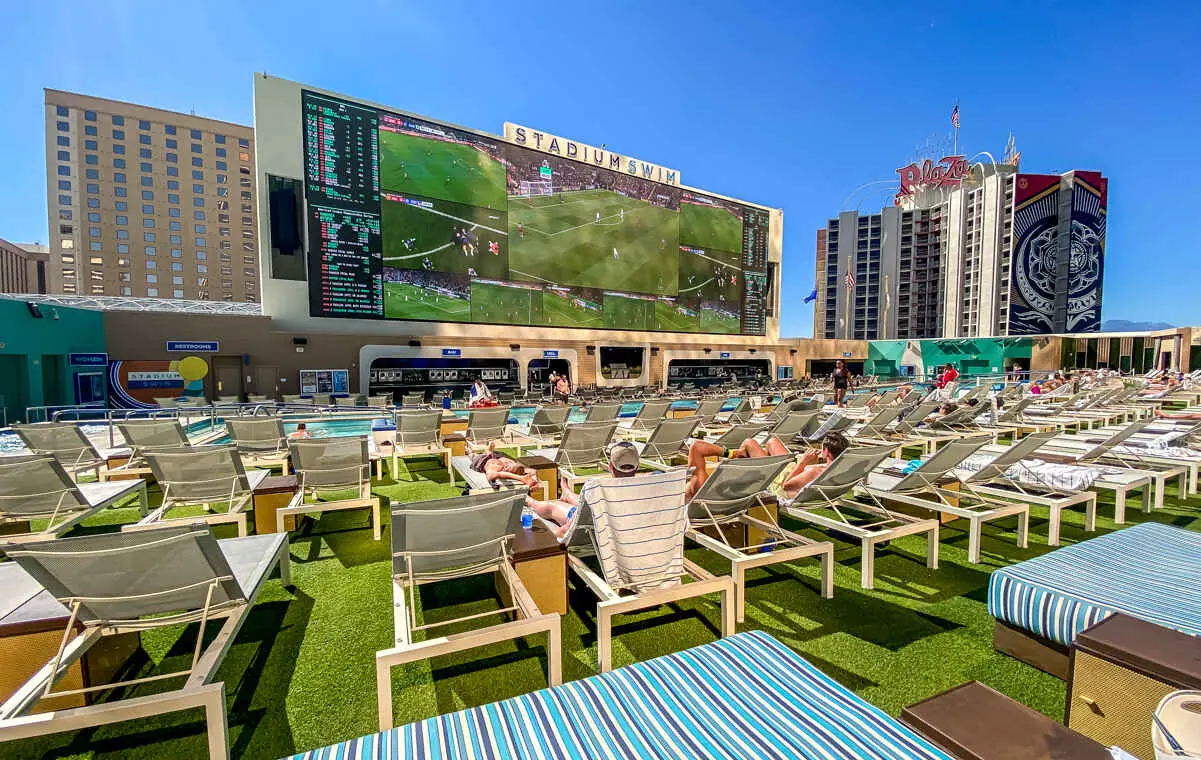 A visit to Las Vegas is exciting and can get quite busy, so ensuring you have a place to go back to and relax is essential. The city has numerous hotels, all with their advantages, but the hotels with rooftop pools are always a big hit. So, what are the top Vegas hotels with rooftop pools?
The nine best Las Vegas hotels with rooftop pools are:
1. Circa Resort (Downtown Vegas Rooftop)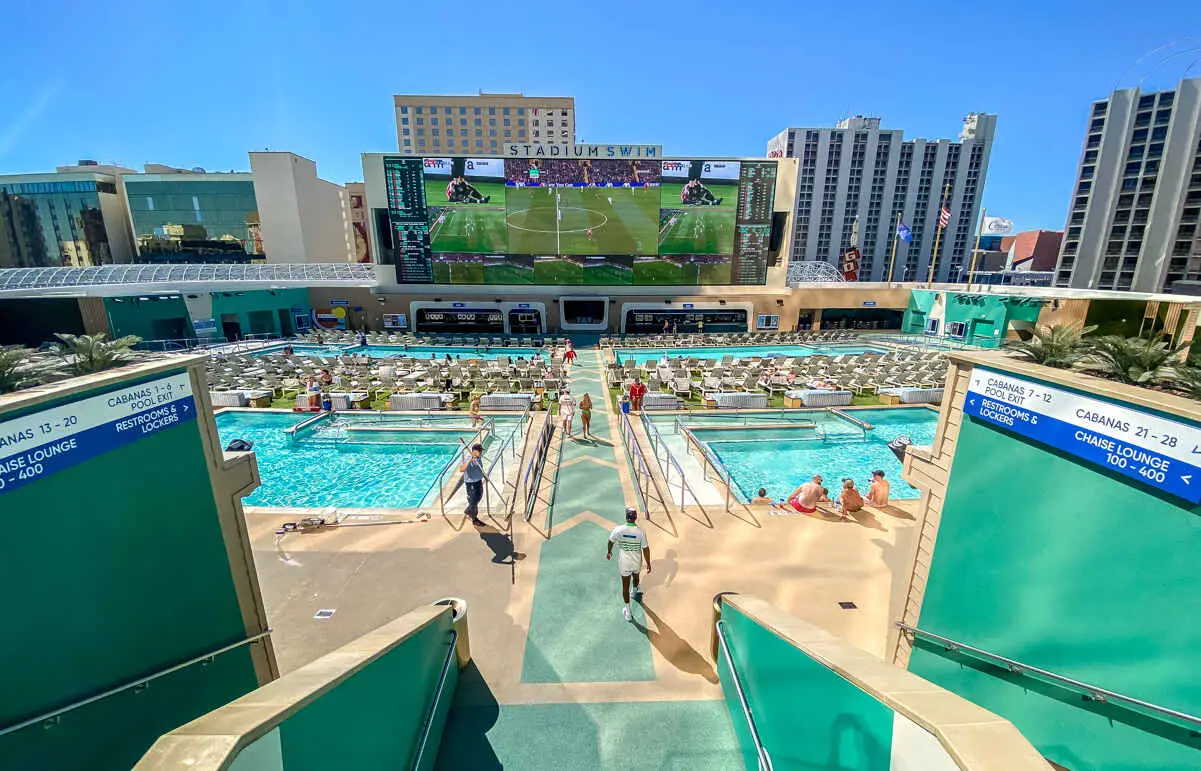 Circa Resort in downtown Las Vegas boasts one of the most awesome rooftop pools in all of Las Vegas. Stadium Swim, as the swimming pool is known, is home to six pools in all with a capacity of 4,000 guests and offers impressive views of downtown!
The best view from the pool, however, is of the giant 40 foot tall LCD television screen. The high-definition screen has over 14 million pixels and plays live sporting events. It's like having a normal watch party for sports, except you're lounging in one of the pools with a drink in your hand and chatting with one of your new 4,000 best friends.
As a bonus, this Vegas rooftop pool is heated and open 365 days a year. Also, unlike many other Las Vegas pools, Stadium Swim is 21 and up (no kids), which is a nice touch if you're looking for some adult-only fun.
2. Resorts World Las Vegas (Las Vegas Strip)
Resorts World, located on Las Vegas Boulevard, has the largest rooftop pool complex on the Strip. This luxury Las Vegas hotel provides seven different pools, meaning there's plenty of room to both swim and lounge around.
At the hotel pool complex, you can drink poolside cocktails and while relaxing in one of the various lounge chairs and cabanas available, all while enjoying a fantastic view of the Las Vegas Strip.
Not only does Resorts World offer a fantastic outdoor pool complex with an amazing view, it also boasts a luxurious spa with personalized treatments. Additionally, there's a massive gym nearby with state-of-the-art equipment and access to immersive technology, making it one of the city's most technologically advanced resorts.
The rooftop pool complex is found on the 5th floor and is accessible only to guests of one of the three hotels on-site.
RECOMMENDED: 13 Best Pools in Las Vegas for Non Guests (Vegas Pool Guide)
3. Paris Las Vegas Hotel (Las Vegas Strip)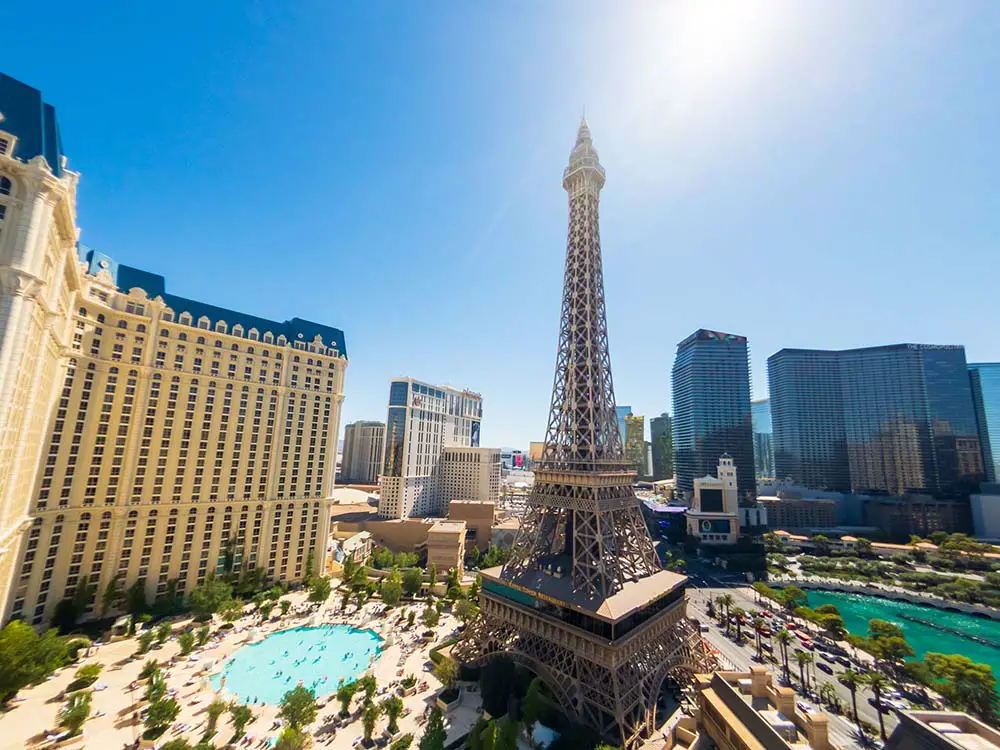 Paris Las Vegas is located on Las Vegas Blvd. and offers a large rooftop pool area with beautiful views. This hotel is situated right in the middle of the Strip, making it convenient for people who want to spend their days out and about exploring all the nearby resort properties.
The hotel is home to a large replica of the Eiffel Tower, which is where its name comes from. The pool is positioned right under the replica, making the swimming and lounging experience all the better.
While the replica is only a half-scale replica of the real Eiffel Tower, it's still a gorgeous part of the skyline and a great way to enjoy the romantic monument without shelling out for tickets to France. The hotel will even allow you to go to the top of the tower and see the fantastic views of Las Vegas.
4. The Cosmopolitan of Las Vegas (Las Vegas Strip)
Directly on the Strip, you'll also find The Cosmopolitan of Las Vegas (also known simply as The Cosmopolitan), which has several separate pools, each of which offers distinctive poolside experiences.
The two main pools available are:
The Chelsea Pool: This is considered the more low-key and relaxing pool.
The Boulevard Pool: This is a great way to socialize and meet new people while enjoying food and drinks poolside. This pool, in particular, provides some impressive views of Las Vegas.
Then there is also the Marquee DayClub pool, which is home to food, music, and signature cocktails. It's a chill place to socialize during the day and at night becomes a hip lounge with live DJs.
Each pool has plenty of spots to relax, including daybeds, cabanas, and private bungalows.
Recommended Reading: 3 Las Vegas Hotels With A Lazy River (Fun in the Sun!)
5. Planet Hollywood Las Vegas Resort and Casino (Las Vegas Strip)
While Planet Hollywood is best known for its fabulous casino on Las Vegas Boulevard, the resort as a whole is nothing short of amazing. The resort features an edgy, modern hotel with plenty of rooms and a rooftop pool with stellar views of the Strip.
Along with the rooftop pool, Planet Hollywood also boasts poolside cabanas to relax in. In addition, you can also access the FlowRider, which is the Strip's only place to surf and a great way to be able to say that you've surfed in the middle of the desert.
Along with the resort and casino, Planet Hollywood offers a spa and salon, numerous restaurants (including Gordon Ramsey Burger), access to exclusive golf courses near the Strip, and various bars in which you can enjoy a great night out.
6. The Cromwell Hotel (Strip Las Vegas)
The Cromwell Hotel is a popular choice for adults (21+ only), and its rooftop pool, Drai's Beachclub, is where the pool party is at!
This pool offers impressive views of Las Vegas, is surrounded by palm trees to give you a beachy, tropical vibe, and includes a drink service.
While you're at the pool, you can order from a full rooftop bar as well as get some food off the menu at Drai's Cafe, which means you can spend your entire day relaxing in the pool without interruption.
The pool deck also has fifteen cabanas and ten bungalows available to those who want the extra privacy, and during the pool season, the pool is filled with music, DJs, and special celebrity guests.
Like Planet Hollywood, The Cromwell offers a casino, various bars and restaurants, and even access to a couple of golf courses (Rio Secco and Cascata).
7. SAHARA Las Vegas (Las Vegas Strip)
The SAHARA Las Vegas has two beautiful rooftop pools on the Las Vegas Strip. Both the Alexandria Pool and the Retro Pool offer a relaxing environment with a mix of Vegas-style and excitement.
Both pools are on the smaller side but that only adds to the exclusive feeling you'll get while you're soaking up the sunshine and enjoying the impressive views.
Daybeds and cabanas are available for reservation, and the pools each offer plenty of food and drink to keep you satisfied.
8. Polo Towers Rooftop Pool (Las Vegas Strip)
Polo Towers, located on the southern end of Las Vegas Boulevard, offers a relaxing rooftop pool experience. While the pool is much smaller in comparison to some of the others on this list, it's lined with lounge chairs for your convenience and has excellent views of the Las Vegas Strip.
However, this pool doesn't have a lifeguard on duty, so guests are told to swim at their own risk, especially if they have young children with them or are weak swimmers.
A kiddie pool is offered along with the main pool, making this location a good place for families with small children. Additionally, the hotel's pool complex includes a hot tub, complimentary towels, and vending machines.
Along with a rooftop pool, Polo Towers also offers a fitness center and spa for guest use.
RECOMMENDED: 14 Best Family Pools in Las Vegas (Kid-Friendly!)
9. SpringHill Suites Vegas Convention Center (Off Strip)
Though located on Paradise Road (near but off the Strip), SpringHill Suites still offers a beautiful rooftop pool experience. This hotel isn't in the middle of the busiest part of the Strip, so – while it may seem a bit less exciting – it provides a little more solitude and relaxation for guests.
While smaller than other options in Vegas, the rooftop pool is relaxing, and it's heated, so you don't have to worry about jumping into cold water. The pool also provides towels to guests. There are both lounge chairs and chairs with tables poolside, depending on where you'd like to sit, and it offers a beautiful view of the surrounding buildings and landscape.
SpringHill Suites also offers a fitness center that is open 24/7 with a beautiful view overlooking the skyline. This hotel offers complimentary breakfast, room service and is only two blocks away from the busy Las Vegas Strip.
It is located near the Las Vegas Convention Center, making it a great option for people who have to visit the convention center during the day.
More From Feeling Vegas
Sources: