14 Best Family Pools in Las Vegas (Kid-Friendly!)
(This article may contain affiliate links. If you click through and make a purchase, we will receive a small commission at no additional cost to you. )
Las Vegas has become a popular travel destination for family-friendly vacations and has plenty of exciting attractions geared toward kids and families. But as every parent who's traveled with their kids knows, the hotel pool is often the biggest attraction there is when it comes to having fun with the family.
While Las Vegas has many amazing and over-the-top pools, they are definitely not all "family-friendly". So in this article, I'm going to share with you a list of the best pools for families in Las Vegas.
These pools include things like lazy rivers, wave pools, water slides, zero-entry pools, and even sandy-bottom pools. Each of these pools screams, "Family Time!"
Keep reading to find out all about the top Las Vegas swimming pools kids and families are sure to love!
Cancun Resort Las Vegas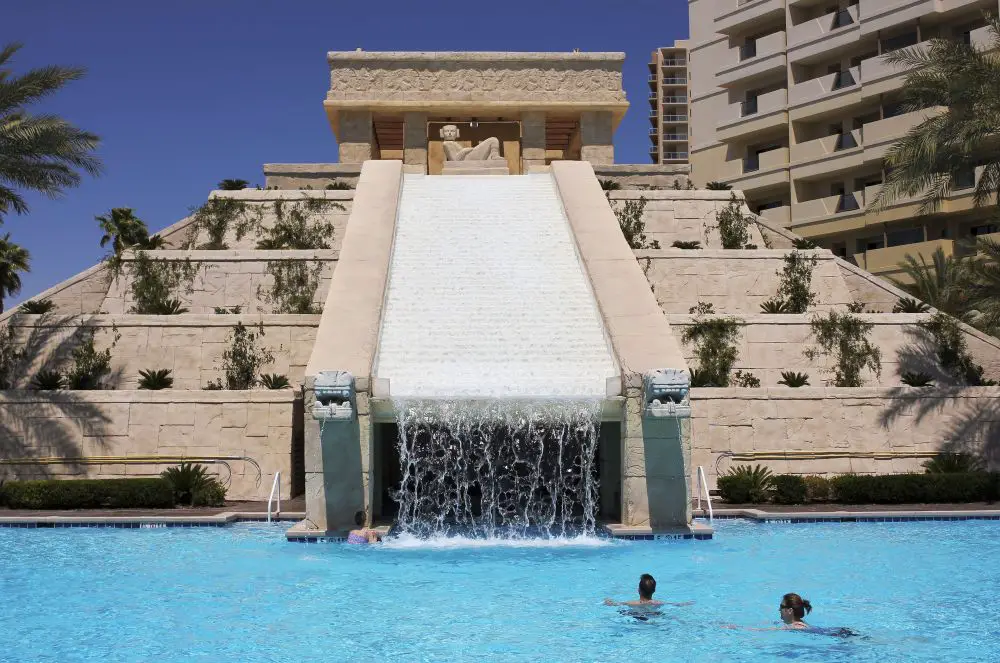 The Mayan Lagoon Pool is a kid favorite when visiting Las Vegas and is a perfect pool for families. The Cancun Resort Las Vegas pool has a fun theme, complete with a giant Mayan Pyramid, cascading waterfalls, water slides, and lots of family-friendly excitement.
The kids will love the water slides and swimming in and out from under the waterfalls! The pool area provides many opportunities to get wet, including some smaller shallow areas for non-swimmers seeking some pool excitement.
The pool at Cancun Resort is one you have to see for yourself to understand why it is one of the best family-friendly pools in Las Vegas.
Check room rates and see pictures of the Cancun Resort pool here (TripAdvisor)
Circus Circus Las Vegas
Everything about Circus Circus screams family-friendly, including their pool area. The Circus Circus Las Vegas Splash Zone is where families are likely to spend much of their time at this resort because the pool deck has something for everyone, regardless of age.
Kids will have fun splashing around on the Splash Pad, a water playground complete with waterfalls, rain trees, and splash buckets. Bigger kids will love the 50-foot water slide tower, featuring three thrilling slides — Mat Racer, Aqua Tube, and Speed Slide.
Families can even rent a cabana at the Splash Zone, featuring lounge chairs, a television, a mini-fridge, and a secure storage area. It's a great spot for parents to relax while the kids use up their endless reserves of energy!
Check out the Splash Zone and Circus Circus room rates here (TripAdvisor)
RELATED: 9 Best Las Vegas Hotels for Kids and Families (On The Strip)
Excalibur Hotel and Casino
At Excalibur, kids will feel like they've stepped into a pool area designed just for them, while parents feel like they've entered a tropical oasis fit for royalty. The pool area is a paradise that will make you forget you are just steps away from the mass of humanity on the Las Vegas Strip.
The 30,000 square foot pool complex is home to four pools, a water slide, and 19 cabanas stocked with snacks and beverages for your family's poolside enjoyment. The Drenched Bar & Grill serves American fare with plenty of kid-friendly menu items, including chicken tenders and fries or maybe even a deep dish pizza.
Kids will love the waterfalls and water slides, while the parents will enjoy relaxing in the cool pool water and lounging poolside. For non-swimmers, there is a shallow area, which is perfect for splashing around and having fun in the sun.
Excalibur Hotel and Casino is considered among the best family-friendly hotels in Las Vegas; it's no wonder then that their pool is one of the best family-friendly pools in town.
Check out photos of the pool and Excalibur room rates here (TripAdvisor)
Flamingo Las Vegas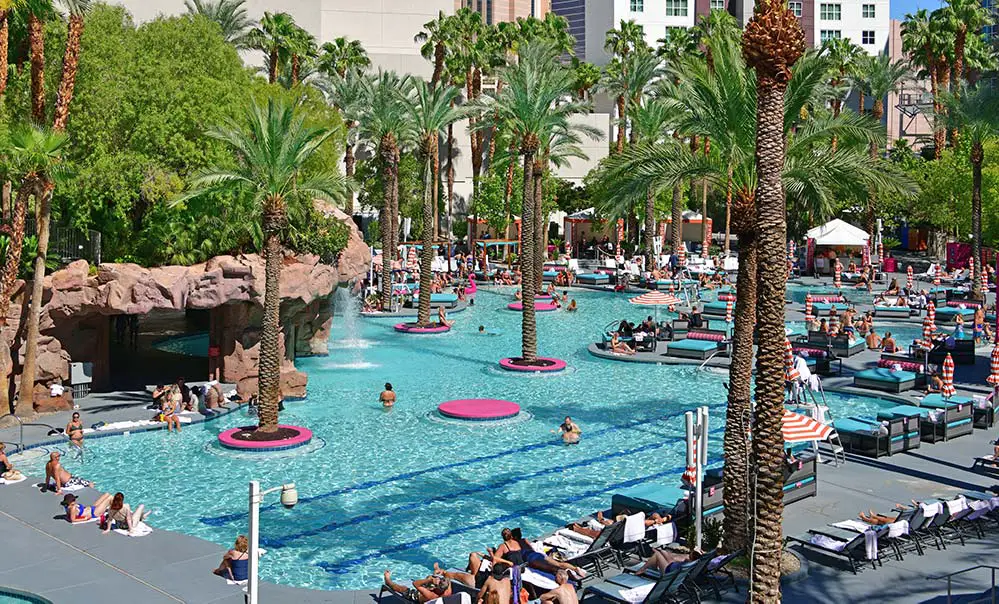 The Flamingo Las Vegas is just a fun hotel to stay in when visiting the Las Vegas Strip. Families will love the wildlife habitat but also relish splashing around the Beach Club Pool. The best thing about this pool is the brightly colored decor and flamingos that line the family pool.
The lagoon at the pool is perfect for floating and lounging; however, kids will love the excitement of racing down the waterslide and splashing into the lagoon. The Flamingo Las Vegas pool is an oasis where everyone in the family is sure to believe they stepped into paradise.
Daybeds and cabanas are available to enjoy your day and provide a great place to rest in between waterslide adventures.
See photos of the Flamingo pool and check room rates here (TripAdvisor)
Golden Nugget Las Vegas
The Tank at the Golden Nugget Las Vegas is what makes this pool one of the best family-friendly hotel pools in Las Vegas!
Do you dare swim with the sharks? Well, maybe you won't be in the same pool as the sharks, but you can swim up to the 200,000-gallon shark aquarium, which makes you feel like you are in the water with them.
Kids love the thrill of being this close to the sharks and will screech with excitement as they race down the three-story water slide that goes through the center of the tank.
The Tank pool area covers three separate floors and has dozens of private cabanas, daybeds, and lounge chairs for you to relax and enjoy your day at this pool in downtown Las Vegas.
Check out "The Tank" photos and room rates at the Golden Nugget (TripAdvisor)
Green Valley Ranch
The pool at Green Valley Ranch in nearby Henderson has been a family favorite among visitors and locals for quite some time. This eight-acre backyard oasis pool makes you feel at home while still having outstanding views of the Las Vegas Strip.
Kids love playing around in the sand-bottom beach-entry pool so much that you may have trouble pulling them away to eat some lunch at the Sandbar Grille. This laid-back pool area provides hours of fun for kids to swim and play while their parents relax in a private cabana.
The manicured lawns surrounding the pool provide plenty of space to spread out, have fun outside, and even have a picnic lunch. This pool is the place to go for uninterrupted serenity and lots of fun for the entire family.
Check out the pool and room rates at Green Valley Ranch (TripAdvisor)
RELATED: 14 Family-Friendly Hotels in Las Vegas (Off The Strip)
JW Marriott Las Vegas Resort and Spa
Families looking for a more relaxed pool atmosphere will find what they're looking for at the JW Marriott Las Vegas Resort and Spa. This family-friendly hotel is located nearby in Summerlin, which is close to many things to do for kids and families.
The pool is simple but allows parents to relax in a cabana or lounge chair while the kids burn off energy swimming. Kids will love splashing around under the waterfall and swimming in the grotto area of the pool. Though simple, you will find yourself in a luxury oasis that is family-friendly when spending time at this pool.
Check out the pool pics and JW Marriott room rates here (TripAdvisor)
Mandalay Bay Resort & Casino Las Vegas
Considered the best pool for families in Las Vegas, Mandalay Bay Resort offers an 11-acre aquatic playground kids and their families will love! This pool area is inviting, offering plenty of opportunities for families to swim, play in the sun, and have fun.
The Mandalay Bay Beach pool area has a beach area with natural sand, a wave pool, four regular pools, a lazy river, and a lounge area. Chances are, you will find your kids spending most of their time in the sandy area of the pool and lounging around in the lazy river.
To accommodate families, you can rent a Lazy River Cabana keeping you close to the action, with a place to relax and eat near the Beach Bar and Grill.
See pool photos and check room rates at Mandalay Bay (TripAdvisor)
MGM Grand Hotel and Casino Las Vegas
There is no doubt that the MGM Grand Hotel and Casino Las Vegas is one of the best Las Vegas hotels with a child-friendly pool. While parents will enjoy spending time relaxing poolside at the MGM Grand, the kids will absolutely love it!
With 6.5 acres of outdoor water excitement, your kids will have trouble deciding what area to play in first. Most kids will rush to one of the refreshing swimming pools (there are four of them); however, they will get quickly distracted by the nearby lazy river.
So the first thing you need to do is grab some tubes and float around the lazy river a few times before heading to the pool with the cascading waterfalls.
Cabanas are available for rent and will provide a secure place for your belongings but most of your time at the pool will be spent laughing and making memories with your kids. For lunch, kids will be really happy with the menu at the Cabana Grill, where even the pickiest eaters will find something to enjoy.
Check out the pool area and room rates at the MGM Grand (TripAdvisor)
Tahiti Village Resort and Spa
The Tahiti Resort and Spa is located just south of the Las Vegas Strip and provides families with another great child-friendly pool experience. Kids will love digging in the sand at the bottom of the zero-entry pool, where they can swim and build sandcastles.
The lazy river winds around among tiki poles with waterfalls and water spouts to help you cool off as you float lazily around the pool area. Parents will really dig the Tahitian theme, and the surrounding palm trees create a relaxing environment to enjoy while the kids play.
See photos of the Tahiti Village pool area and check room rates (TripAdvisor)
The Mirage Las Vegas
The Mirage Las Vegas pool will have you feeling like your family left Las Vegas and stepped onto an island in paradise. Though this pool provides a laid-back atmosphere, families with older children will truly enjoy swimming and relaxing in the lush tropical landscape.
Kids are amazed by the Mirage pool, which is just a few feet deep, and they love swimming around the lagoon coves and waterfalls coming down from the rock landscapes surrounding the pool.
Cabanas and poolside lounge chairs are available, offering a comfortable place to relax and enjoy lunch while spending family time soaking up the sun.
Check out pictures of the pool area and the room rates at The Mirage (TripAdvisor)
Aside from hotels, there are a few other family aquatic play areas in Las Vegas that are not to be missed! The following three waterparks were literally made for kids and families to enjoy.
Cowabunga Bay Las Vegas
Located in nearby Henderson, Cowabunga Bay waterpark provides families with access to water-based entertainment all day long! This water park is a family favorite among both locals and visitors. Why do families love Cowabunga Bay so much? Because no matter how young or old their kids are, there is something for everyone to enjoy.
There is a wet deck for smaller kids, complete with slides, fountains, waterfalls, and gigantic dumping water buckets.
For older kids, there are racing slides, giant tube water slides, a wild surf waterslide, and a water slide that drops you from a trap door straight down into the winding action of the slide.
The large wave pool provides fun all day long, with zero-entry access, you'll be able to relax along the shore or swim deep into the wave area. Cabanas are also available for rent providing guests access to a smaller pool for quiet dips in the water.
Kids will also have fun with the lazy river, which winds around the park passing many sights along the way, including surfboards and a relic of a '67 VW Bug.
Hungry? Head over to Bullwinkle's Boardwalk Grille or Duke's SurfSide Snacks for some lunch. Then, enjoy a sweet treat of Dippin' Dots or a Dole Whip for dessert.
Additionally, the water park hosts many special events throughout the year with DJs, movies, food trucks, and fireworks.
Cowabunga Canyon
Another Las Vegas family favorite is Cowabunga Canyon (Formerly Wet 'N' Wild), a water park filled with exciting water activities for all ages.
Smaller kids love Buckaroo Bay, a splash deck with smaller slides and plenty of pint-sized activities. Bigger kids (and kids at heart) love the big water slides, including Deuce's Wild speed slides, tube slides, and racing slides.
Families also enjoy relaxing around the wave pool, which has a walk-in entry and many lounge chairs and cabanas so parents can keep an eye on their kids.
This waterpark has plenty of food options available as well, including the Cowabunga! Vittles, Lea Lana's Bananas, and plenty of food carts scattered throughout the park. Kids love the burgers, chicken tenders, Dippin' Dots, and refreshing ICEEs. Cowabunga Canyon also has a full bar for the biggest kids
Aqua Park at Lake Las Vegas
Though not technically a pool, no list about family-friendly pools in Vegas is complete without mentioning the Aqua Park at Lake Las Vegas (Viator). This inflatable water park sits on top of Lake Las Vegas providing families hours of fun recreation.
Kids love bouncing on the inflatables and climbing up giant slides before splashing into the lake below. Adults love watching how much fun the kids have and can join in on the excitement by swinging on a line before flying into the water below.
The Aqua Park is located about 20 miles from the Las Vegas Strip and is worth the drive. Additionally, Lake Las Vegas is home to two family-friendly hotels — the Westin Lake Las Vegas Resort and Spa (TripAdvisor) and the Hilton Lake Las Vegas Resort and Spa (TripAdvisor).
Though simple, both hotel pools are family-friendly, and staying in Lake Las Vegas puts you close to the excitement of the Aqua Park.
Conclusion
Spending time together at one of these best family pools in Las Vegas is an exciting way to spend the day!
Pools in the area offer everything from sandy beaches to lazy rivers, water slides, and more. Ultimately, there is a kid-friendly pool nearby for your family to enjoy no matter where you decide to stay in Las Vegas.
Find Some Great Las Vegas Family Attractions Here