6 Best Neighborhoods in Las Vegas To Live (Top Choices)
When you think of Las Vegas, you may think of casinos, funky outfits, and over-the-top shows and performances. You'd be right, of course, but Las Vegas also has over 2,699,000 full-time residents who live their lives away from the Strip and other touristy spots.
Those of us living in and around the Las Vegas Valley have a different view of the city and live in communities and neighborhoods with plenty of other features and amenities to enjoy.
According to locals (myself included), these are the best areas in Las Vegas to live:
Summerlin
Henderson
Skye Canyon
Boulder City
Lake Las Vegas
Southern Highlands
Sometimes year-round residents need a break from the hustle and bustle of the Las Vegas we all know and love, and these top neighborhoods are perfect for settling down while still enjoying everything the city has to offer. Let's get started.
1. Summerlin (A Great Las Vegas Neighborhood)
There's often debate over whether the East or West side of Las Vegas is better to live in, a.k.a. Summerlin vs. Henderson. We'll dive into both of these Las Vegas neighborhoods so you can determine which is the best fit for you.
Summerlin is on the West side of the city and is partially within the official Las Vegas city limits in Clark County, Nevada. The neighborhood is ranked #1 for Master Planned Communities in Nevada and #4 in the USA, meaning residency is a bit on the pricier side.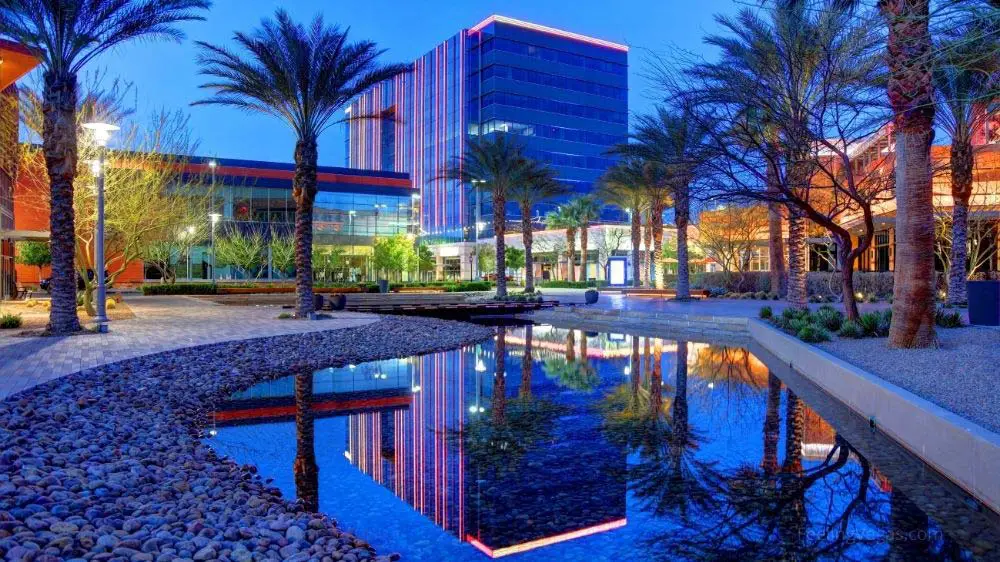 (This article may contain affiliate links, which means we might earn a small commission if you click and make a purchase. Thank you!)
The neighborhood is well known for its shops and restaurants in the downtown area, which are less crowded than the Las Vegas Strip but still hold the charm of the city. Downtown Summerlin is home to concert venues, luxury brand stores and boutiques, notable restaurants, and one of the biggest yoga studios in the country.
The neighborhood includes many smaller communities, meaning there are many places you can choose to live. It is also known as one of the safest neighborhoods since most of its residencies are in guarded and gated communities.
If you want a bit of Las Vegas along with a bit of Nevada's natural beauty, Summerlin is a good area because it has many parks and hiking trails nearby. It's noted as a "desert oasis" and has over 150 miles (241.40 km) of trails, some connecting to Red Rock Canyon National Conservation Area.
With the best of both worlds containing Las Vegas flashiness and nature's beauty, Summerlin is often considered the best neighborhood in Vegas, by many locals.
RELATED: Red Rock Canyon in Las Vegas (Directions, Hikes, Stops & Tours)
2. Henderson: The Fastest Growing of the Las Vegas Neighborhoods
On the other side of the East vs. West debate is Henderson, which resides on the East side of the Las Vegas Valley.
Henderson is voted as the #1 safest place to raise a family in the state of Nevada. While technically, it is its own city on the outskirts of Las Vegas, Henderson is still recognized as part of the Las Vegas metropolitan area and qualifies as a neighborhood in Las Vegas by everyone who lives here.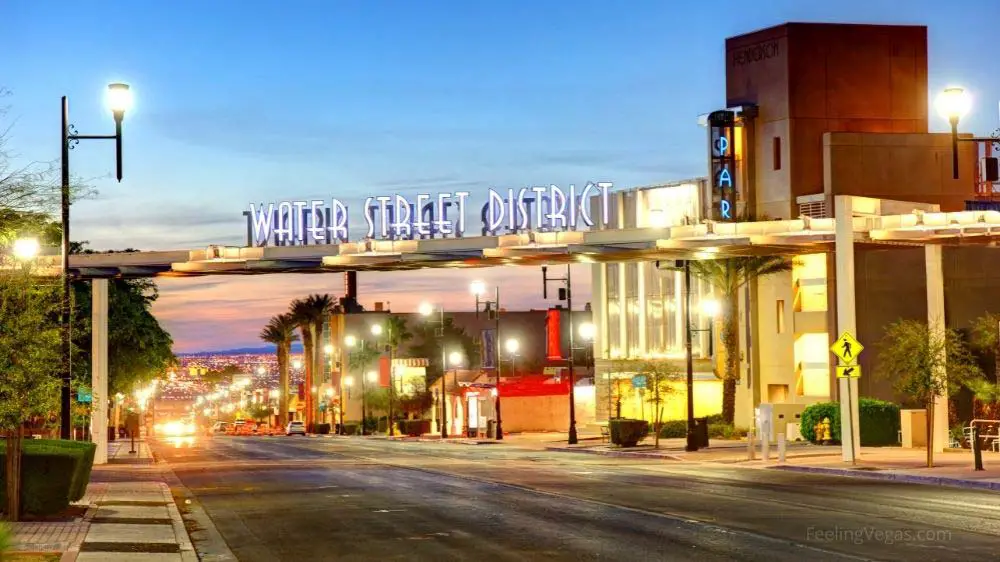 The city, with over 300,000 residents, is low in crime and poverty, making it a great place to live, work, and play. There are over 50 parks in the area and many gated communities, which helps keep its crime rate low.
Much like Summerlin, there's a lot of nearby outdoor entertainment in Henderson. Waterparks, dog parks, and off-Strip casinos are just a few of the many attractions that are appealing for all age groups.
This neighborhood is also known for its excellent economy, as most jobs have an average annual salary of over $60,000. In addition, Henderson's schools have an excellent reputation, making it an ideal place to raise children.
If you're environmentally conscious, Henderson is a great option for you as well. The city puts a lot of emphasis on sustainability and water conservation, especially since it's located in the dry Nevada desert.
Henderson is a great family-friendly option in the Las Vegas area for locals to settle down.
RELATED: Is Las Vegas a Good Place to Live for Families? An Essential Guide
3. Skye Canyon
Located between the Strip and Mt. Charleston, Skye Canyon is a great planned community found in northwest Las Vegas.
Skye Canyon features many community events for residents to enjoy, such as art competitions, star gazing, 5k (3.11 mi) runs, and more. The neighborhood adds an extra dimension to what there is to do in the Las Vegas besides gambling.
The scenery of Skye Canyon is unmatched. Located on the northwest end of Las Vegas, the neighborhood is in between both desert and mountain, so you will never get tired of the gorgeous views.
The neighborhood has plenty going for it including:
Parks
Recreational spots
Trails
Schools and shops
This allows the community to cater to both families and retirees as it has something for everyone.
Many additional amenities are included within the planned community, like pools, gyms, racquetball, basketball, and more. As a result, it's a challenge to be bored when living in the Skye Canyon neighborhood.
4. Boulder City
Boulder City is a town southeast of Las Vegas. The town is part of Clark County and considered part of the Las Vegas metropolitan area. It was named after nearby Boulder Canyon and was a city created for the workers during the construction of the nearby Hoover Dam.
Unlike its neighbor Las Vegas, Boulder City prohibits gambling. It's one of the two cities in Nevada to do so, which makes it a more appealing option for families who are looking to settle down in the area.
Boulder City features several golf courses, parks, and community activities, so there's always something entertaining to do. In addition, it's home to Bootleg Canyon Park, giving locals some beautiful natural sights to see.
Lake Mead National Recreation Area is also a great place to visit within the Boulder City limits, featuring trails for hiking, biking, and seeing the famous Hoover Dam. Boulder City is quaint and historic, making it a popular area for Las Vegas locals who aren't as interested in the gambling scene of the city.
RELATED: Where Does Las Vegas Get Its Water? (How Long Until It's Gone)
5. Lake Las Vegas
Lake Las Vegas is a luxury community just east of the city of Las Vegas.
The neighborhood is a master-planned recreational community popular among locals for its amenities and gorgeous open views. The man-made lake community is about 17 miles (27.36 km) from Las Vegas Blvd. (the Strip) and is surrounded by mountains and greenery.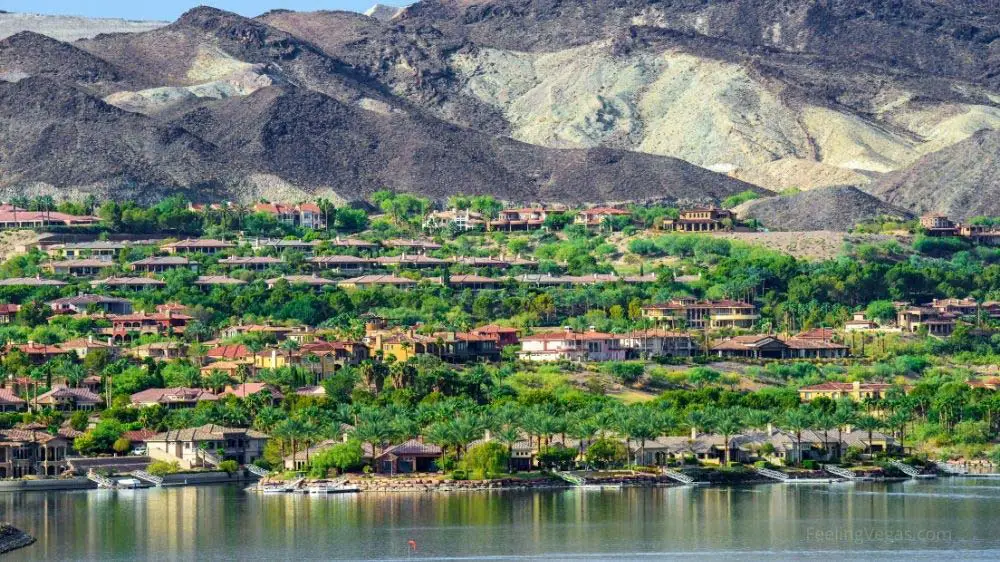 Taking inspiration from European architecture, the neighborhood has its own shopping center, golf courses, and villas. As a result, the Lake Las Vegas community has a cozy, small-town feel while still being located near all the amazing entertainment of Las Vegas.
If you're looking to spend time on the water while living in the hot desert, the lake offers a marina where you can rent boats, canoes, kayaks, paddleboats, and more. The golf course has been voted one of the best in the country, giving golfers an incentive to settle down in the area as well.
Lake Las Vegas also has many walking trails and has easy access to nearby Lake Mead and Hoover Dam. In addition, the luxury hotels near the lake make it a great place to visit for tourists who don't want to stay in the heart of Las Vegas.
6. Southern Highlands
Southern Highlands is another luxury community, including parks, trails, shopping, golf, gambling, and community events. Located in southwest Las Vegas, it's a popular place for locals to reside.
This area has a small-town atmosphere, even though it's just a few miles from the famous Las Vegas Strip. They have single-family homes, K-12 schools, as well as after-care and other programs for children, making it an ideal place for families to settle down.
In fact, it's noted as one of the best and safest Las Vegas neighborhoods for families in the state of Nevada. 
The neighborhood has golf clubs, parks, and many community events. They also have security patrolling 24/7, assuring renters and homeowners that it's a safe place to reside with their families.
If you're a football fan, the new Raiders stadium is in close proximity to this Las Vegas neighborhood, making it easy to go to games to cheer on your favorite team. However, if football isn't your sport of choice, Southern Highlands features one of the United States' top private golf courses within walking distance.
If you're looking to move to the Las Vegas metropolitan area, Southern Highlands may be the right choice for you. With close proximity to the city and its own sense of community, it's an ideal area to live.
Final Thoughts
So, there you have it, the six best neighborhoods in Las Vegas. There's a whole lot more to living in Vegas than most tourists ever see. If you're thinking of moving to Sin City, here are a few other articles we've written about living in Las Vegas that you may find helpful: