Do Aria Rooms Have…? (17 Things To Know)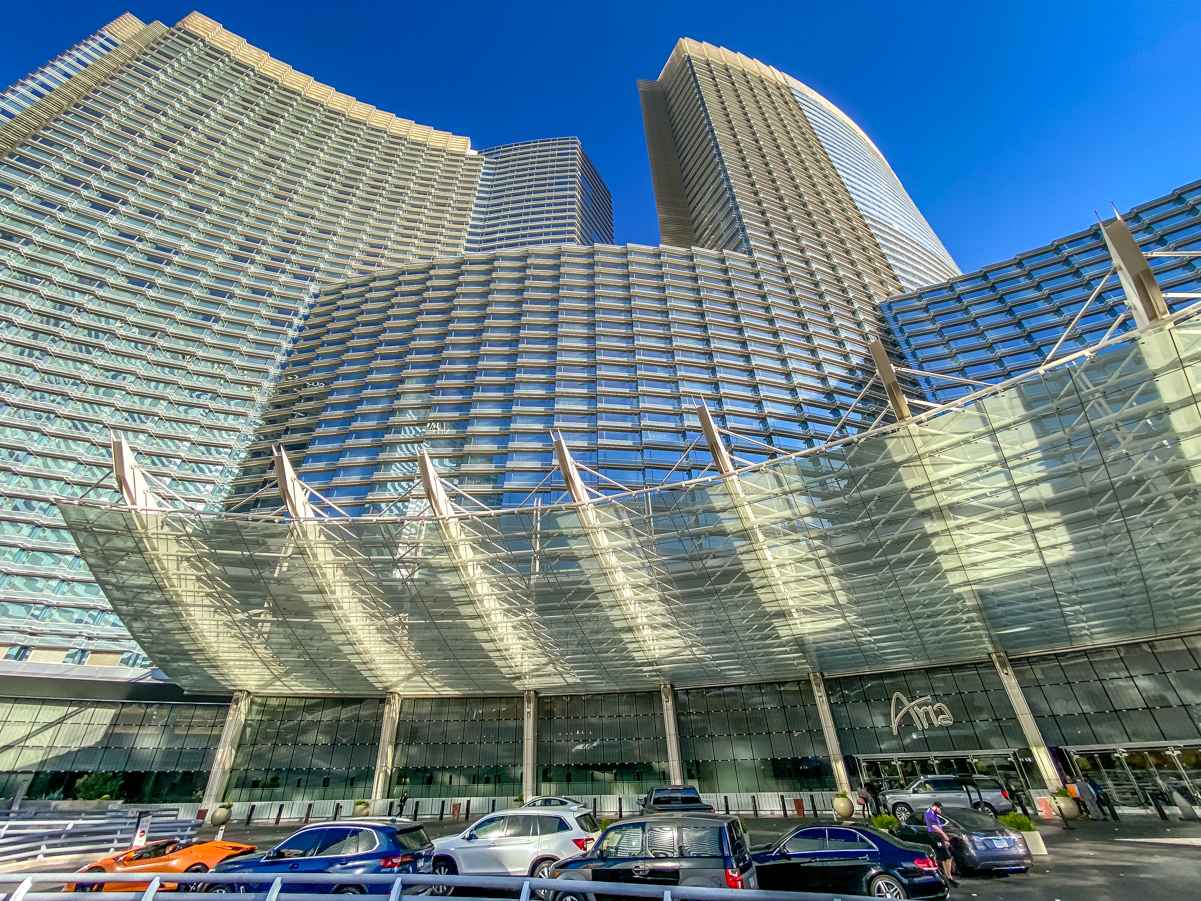 (This article may contain affiliate links, which means we might earn a small commission if you click and make a purchase. Thank you!)
The rooms at Aria Resort & Casino in Las Vegas boast some of the most stylish features and modern amenities on The Strip. With their sleek furnishings and breathtaking views of the city, these rooms provide guests with a luxurious experience that's hard to replicate. But what exactly do the rooms at Aria have to offer guests?
Aria rooms have top-quality sheets, floor-to-ceiling windows that offer fantastic views of the city, high-tech controls for adjusting lighting and temperature, and special access to the hotel's facilities. You will also find a fully-stocked mini bar, television, and plush robes in your room.
This post will explore everything you can expect when you book a Deluxe Room or Stay Well Premier Room at Aria Las Vegas. Let's begin!
Compare and save! Check current ARIA room rates at TripAdvisor!
1. Aria Rooms Have Top-Quality Sheets
There's nothing like slipping into fresh, clean sheets with a high thread count for a good night's sleep. That's why Aria rooms have 300-thread-count bedding.
The higher the thread count, the softer the fabric will be. Not to mention, it looks and feels incredibly luxurious. So, if you're looking for a truly luxurious sleeping experience, try one of Aria's rooms with 300-thread-count bedding.
Additionally, the beds at Aria have triple-sheeted bedding. The extra sheet will make the beds more comfortable. The bottom sheet is usually fitted, and the top two sheets are flat and tucked into the sides of the mattress.
This bedding is often used in hotels because it's more sanitary than just two sheets. It's also more comfortable for guests because it prevents them from coming into direct contact with any dirt or stains on the bottom layer.
2. Aria Rooms Have Floor-to-Ceiling Windows
If you're looking for a breathtaking view, look no further than an Aria Deluxe Room. With floor-to-ceiling windows, you'll be able to take in the sights of the cityscape from every angle. It's a truly unique experience. Whether you're watching the sun set over the Vegas skyline or waking up to the hustle and bustle of the city streets below, you'll surely enjoy your stay.
The views are stunning, and the floor-to-ceiling windows will make your room look more spacious and modern.
3. Aria Rooms Finetuned Lighting and Temperature Controls
Most hotel rooms come with a standard set of controls that let you operate the lights and temperature in the room. But what if you want more control over your environment while staying in your home away from home? Aria rooms have a 10″ tablet that allows you to conveniently control the lighting and temperature throughout the room.
The rooms at Aria have been designed to provide guests with ultimate comfort and convenience. So if you're looking for state-of-the-art features that allow you to adjust the lighting and temperature to your liking, look no further.
4. Aria Rooms Have Special Access to the Resort Pool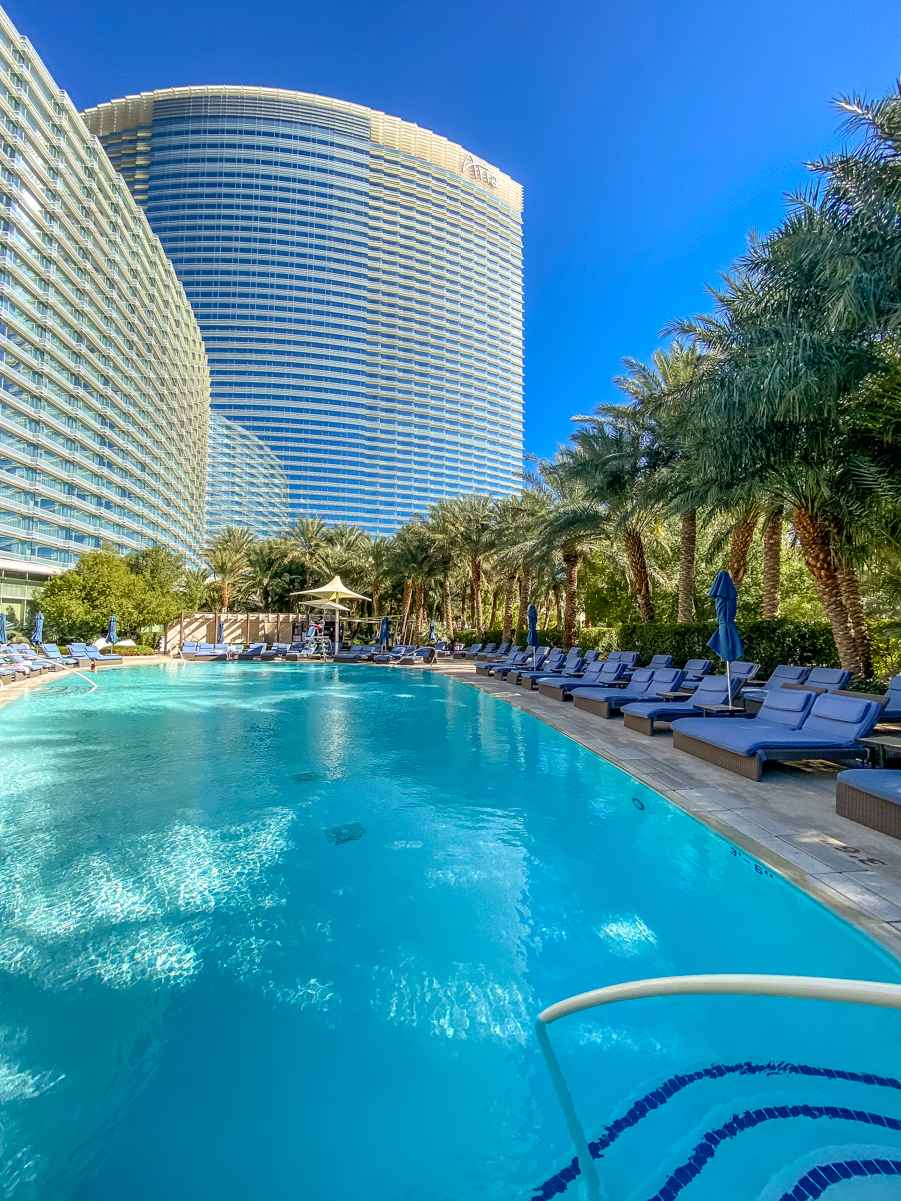 ARIA Las Vegas is home to one of the most impressive pools in the city. When you stay in one of the rooms at Aria, you'll have access to the resort pool and enjoy the views of the gardens while relaxing in one of the many poolside cabanas. This pool is only accessible to Aria room guests and features several amenities that make it a truly luxurious experience. 
Aria also offers a variety of poolside dining options, making it the perfect place to spend a day in the sun.
5. Aria Rooms Have Special Access to the Fitness Center
Guests of the Aria hotel can enjoy special access to the ARIA Fitness Center. The fitness center offers a variety of cardio and strength training equipment and personal trainers who can help you make the most out of your workout.
And with stunning views of the Las Vegas Strip, it's easy to see why the Aria Fitness Center is one of the city's most popular fitness destinations.
6. Aria Rooms Have a Fully-Stocked Intelligent Mini-Bar
Aria is known for its luxurious accommodations and top-notch service. Now, guests can enjoy a more relaxing stay with the new fully-stocked mini-bars in each room. 
In these, you'll find an assortment of chips, candy, cookies, crackers, cheese, nuts, fruit, and more. The mini bar also features a variety of alcoholic beverages.
The mini-bar is perfect for unwinding after a long day with a wide selection of beer, wine, spirits, and snacks. Whether you're looking to have a nightcap before bed or just want to relax with a drink and some snacks, Aria's mini-bar has you covered.
So, next time you plan a trip to Vegas, be sure to book a room at the Aria and enjoy all the amenities that come with it, including the fully-stocked mini-bar.
7. Aria Rooms Have an Entry Foyer
Aria rooms are designed with both function and style in mind. The entry foyer is no exception. This space can be used as a mudroom, a place to store coats and shoes, or simply a place to relax and unwind. No matter how you choose to use it, you'll appreciate the extra bit of luxury that an entry foyer provides.
These beautifully designed spaces provide a welcoming place for guests. You'll be greeted by a warm and inviting space as you step through the door.
From the comfortable seating to the stylish decor, it's clear that no detail has been overlooked in this luxurious space. Whether you're waiting for housekeeping to finish tidying up your room or just want to take a break from the action on the casino floor, your room's entry foyer is the perfect place to do it.
8. Aria Rooms Have Dedicated Dressing Areas
One of the best features of an Aria hotel room is the dressing area with a granite-top dresser and dual closets. This feature gives guests plenty of space to store their belongings and prepare for their day.
The dresser provides a perfect place to put on makeup or style hair, and the granite top is beautiful and easy to keep clean. The additional storage space is great for keeping your belongings organized.
The dual closets are a great way to keep clothes organized and wrinkle-free, making it easy to look your best while on vacation. With two separate closets, you can easily hang up and store all your clothes, keeping them tidy. Dual closets are especially helpful if you're traveling with family or friends and need to share closet space.
9. Aria Rooms Have Plush Robes
When it comes to hotel stays, many people look for amenities that will make their experience more comfortable. For some, this means having a room with a view. For others, it means having a room with plush robes to lounge around in.
Aria rooms certainly don't disappoint when it comes to comfort. In addition to the luxurious bedding, you can enjoy a cozy robe during your stay. Aria rooms have plush robes that make you feel like royalty. The robes are so soft and comfortable that you'll never want to take them off. 
10. Aria Rooms Have Television
Aria rooms are outfitted with top-of-the-line amenities, like a 42″ HD LCD television with full device connectivity. This feature allows you to watch your favorite shows and movies on a high-definition screen and connect your devices to the TV to use as you please.
Whether you're streaming content from your laptop or phone or just want to browse the internet on the big screen, Aria has you covered. The picture quality is amazing, and you'll never miss a moment of your favorite shows or movies.
11. Aria Rooms Have Pure Cotton Bath Linens
The Aria rooms have 100% cotton bath linens for a luxurious and comfortable experience. These linens are soft to the touch and gentle on your skin. You'll love enjoying the plush towels and robes after a refreshing shower or soaking in the tub.
In addition to being comfortable, the bath linens are also stylish and add a touch of elegance to the room. The right bath linen can make all the difference in the overall look and feel of your accommodation in Las Vegas.
12. Aria Rooms Have a Granite Dual Sink Vanity
Aria rooms boast a luxurious granite dual sink vanity, perfect for couples or families sharing a bathroom. This luxurious material is perfect for Aria's high-end clientele. The sinks are made from a single piece of granite, and the countertop is also made of the same material. Aria's luxurious vanity will make your bathroom look like a million dollars.
The sleek, minimalist design of the vanity makes your room look pristine. The stone countertop and backsplash are both easy to clean and maintain.
The ample counter space is perfect for storing toiletries or getting ready for a night out. The Aria's granite vanity is one of the many features that make this high-end hotel the embodiment of luxury and style.
13. Aria Rooms Have a RFID Room Key
Aria Las Vegas is one of the luxury hotels using RFID room keys. The new system uses an RFID tag embedded in the key card. The tag is read by a reader that is mounted on the door of the room. When the guest inserts the key card into the reader, it unlocks the door and allows them to enter the room.
The RFID room keys are more secure than traditional key cards because they cannot be duplicated. This feature ensures that only authorized guests have access to the rooms. Additionally, the tags can be programmed to expire after a certain amount of time, so guests can use them for temporary stays or one-time use only.
14. Aria Rooms Have a Laptop Size In-Room Safe
If you're planning a stay at the Aria hotel in Las Vegas, you can rest assured that your belongings will be safe. The rooms come equipped with a laptop-size in-room safe for your valuables. This safe is large enough to fit most laptops, making it the perfect place to store your valuables while you enjoy all the hotel has to offer.
The safe also features a keypad entry system, so you can rest assured that your belongings are secure. Whether you're looking to store a laptop, tablet, or other electronics, the safes are large enough to accommodate.
15. Aria Rooms Have a Full Bathroom
Hotel rooms in Aria Las Vegas have a full bathroom complete with a shower, toilet, and sink. Guests staying at the hotel for an extended period will enjoy the convenience this full bathroom offers. The hotel room's shower, which includes a bench adjacent to a soaking tub, is the perfect place to relax after a long day.
The bench provides the perfect spot to sit and enjoy the warm water cascading over your body, while the soaking tub is the perfect place to soak your tired muscles. The combination of these two features makes this room the ideal place to unwind and escape the stresses of everyday life.
16. Aria Rooms Have a Stay Well Cleaning Protocol
Aria's Stay Well Premier Rooms are staying ahead of the curve when it comes to cleanliness. Not only do they use non-toxic cleaning products, but they also utilize UV lighting to reduce the presence of germs as much as possible. 
Aria Las Vegas is known for its luxury accommodations, and its Premier Rooms are no exception. Guests can rest assured knowing that these rooms are cleaned with non-toxic products and UV lighting. This commitment to cleanliness is just one of the many ways Aria ensures its guests have a safe and enjoyable stay.
17. Aria Rooms Have Air Purification
Aria's Stay Well Premier Rooms are also equipped with an air purification system, ensuring that you can breathe easily while enjoying your stay. The system fights bacteria and viruses and filters the air to remove allergens and other particles. Therefore, you won't have to worry about breathing in harmful particles or toxins while staying here.
The cleaner air will also help you sleep better at night, so you won't have to worry about experiencing respiratory problems upon waking up.
With this new air purification technology in place, Aria Stay Well Premier rooms will provide you with a safe and comfortable environment.
Note: If you're staying at Aria Las Vegas, You can ask for a room upgrade. But how? Read my guide to learn more about the rules. [Ways to Get an Upgrade at Aria Las Vegas (Tips)]
Find the best deals on ARIA rooms and save big with TripAdvisor!
Aria Room FAQs
Do rooms at Aria have refrigerators?
Suites at Aria have refrigerators for holding guests' personal items. Aria's standard rooms (aka non-suites), however, have a fully stocked mini-bar fridge, but there isn't any room in them to hold personal items.
Are there hairdryers in Aria's rooms?
Yes, every Aria room comes with a built-in hairdryer in each bathroom and/or vanity area.
Does Aria Hotel offer room service?
Aria has a robust In-Room-Dining (aka room service) menu. In fact, you can use the computer tablet found in the room to order room service. Each tablet has access to the full in-room menu. You can place your order and have it delivered, all without having to call and speak to anyone.
Are there coffee makers in the rooms at Aria?
The hotel rooms at Aria do not have coffee makers. You can, however, order coffee from room service and have it delivered or head downstairs to one of the restaurants that have coffee, such as Starbucks, The Roasted Bean, and the Patisserie.
Do the hotel rooms at Aria Las Vegas have microwaves?
Aria's rooms do not have microwaves. Officially, you're not allowed to bring outside food or drink to your hotel room, so there is not generally a need for a microwave.