Can You Smoke at the Wynn Las Vegas? (Smoking Rules Explained)
(This article may contain affiliate links, which means we might earn a small commission if you click and make a purchase. Thank you!)
The majority of hotels and resorts in Las Vegas have made significant changes to their smoking policies in recent years. This is due to the updates during the 2019 legislative session that were made to the Nevada Clean Indoor Air Act. Since these changes, many are left wondering about the updated smoking policies; for instance, can you smoke at the Wynn in Las Vegas?
Smoking at the Wynn Las Vegas is permitted in designated smoking areas of the property only. The Wynn hotel allows smoking in designated smoking rooms. Smoking in a non-smoking hotel room will result in a hefty cleaning fee of $350. 
In this article, I'll discuss the smoking policy at the Wynn in further detail, including where you can and cannot smoke. I will also share the policies at Wynn's sister resort, Encore, located on the same property, and whether or not you can smoke in the casinos and bars inside the Wynn.
Compare rates and save! Check current Wynn room rates now at TripAdvisor.
Smoking Rooms at Wynn Las Vegas (How To Book)
The Wynn Las Vegas permits smoking in its hotel rooms as long as you're staying in a room designated as a smoking room. This resort has two floors appointed for smoking rooms. That being said, these rooms aren't listed on Wynn's website. 
However, all you need to do to secure a smoking room for your stay is simply request it by typing it into the "special requests" section when booking your stay online. You can also book a smoking room by calling and making a reservation through Wynn directly.
If smoking in your hotel room is important to you, ensure you stay in one of Wynn's designated smoking rooms. Smoking in a regular non-smoking room at Wynn will cost you big bucks!
Smoking in a Non-Smoking Room Will Cost You $350 at Wynn!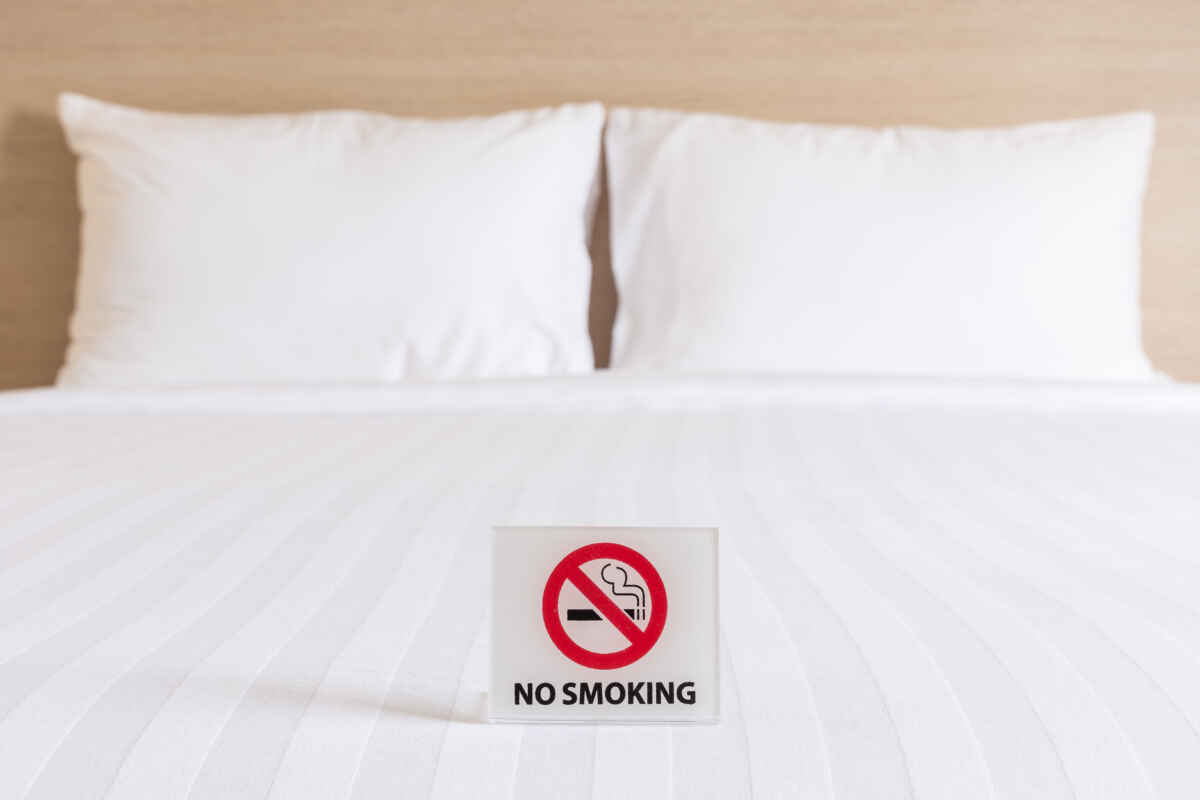 If you smoke in a non-smoking room at Wynn, you will get hit with what they call a "deep cleaning fee." If housekeeping finds that you have been smoking in a non-smoking room (after all, the smell of smoke is hard to hide), a $350 fee will be automatically billed to the credit card you put on file when you checked in.
So what exactly does the housekeeping team do to rid the room of the smell of smoke?
I'm sure many of us wonder if they actually "deep" clean the hotel rooms when guests leave or just spray some frebreeze and happily pocket the $350 bucks. In truth, however, eliminating the smell of cigarette smoke isn't really something that can be faked. Believe me, the next guest will know and complain if they were expecting a non-smoking room.
Getting the odor of smoke out of the air and off the bed linens, towels, pillows, and everything else can be quite a task, especially in the allotted time frame housekeeping has to prepare for the next guest.
Many hotels use vapor phase technology to eliminate the odor of smoke. These units are safe for hotel guests and staff, as they do not release any harsh chemicals, but instead, they release submicron dry vapor particles of odor-eliminating products into the air.
Using the sustainable, natural chemistry of plant oils, the dry vapor effectively neutralizes odor molecules found on the following:
Carpet
Upholstery
Draperies
Walls
Ceilings
Bedding
While housekeeping runs the unit for about 45 minutes, they simultaneously clean the rest of the room to get ready for the next guest. This effectively eliminates all odors left behind from smoking. 
So, if it has crossed your mind to light up in a non-smoking hotel room thinking you can probably mask the smell yourself and avoid the $350 fee, it's really best not to try it. You will likely not successfully eliminate the odor, and you'll end up with an extra charge on your bill.
Note: Additional cleaning fees are considered incidental charges, which are fees that aren't part of your main hotel bill.
ALSO SEE: Can You Smoke in Las Vegas Hotel Rooms? (Explained)
Can You Smoke in the Casino at the Wynn Hotel Las Vegas? 
In general, Wynn does allow smoking in its casino. However, some areas are now designated as smoke-free, as well. This is because of the previously mentioned Nevada Clean Indoor Air Act, passed to protect children and non-smoking adults from the harms of secondhand smoke and aerosol from e-cigarettes and vaping products in most indoor public places. 
The Wynn allows people to smoke in its casino in areas where minors are not permitted, which is most of the casino floor. The poker room, however, is a smoke-free area, as are any places where food is being served. 
While some casinos in Las Vegas have gone completely smoke-free, most casinos still choose to allow smoking, as studies have found that there is a strong connection between smoking and gambling.
Although no one under the age of 21 is permitted to gamble, those under 21 are permitted to be in the Wynn property. This includes adults between the ages of 18 and 20 years old, as well as minors. 
To be clear, anyone under 21 years of age is prohibited from spending time on the casino floor. They are permitted to walk through but are not permitted to stop and stand around the gaming areas and must keep moving even when accompanied by an adult.
Since a casino floor is 21 and up only, it is not considered a public space like other areas of the resort property where the no Vegas smoking law would be enforced.
Note:  The Wynn casino does have a section of its gaming floor that is marked as non-smoking.
How Bad Is the Smoke in the Casino?
With the Wynn allowing smoking in different parts of the property, there will clearly be smoke in the air as it floats from the casino to other areas of the resort. 
However, to keep the air as clean as possible for all guests, even within the permitted smoking areas, the Wynn has a strong air filtration system that maximizes the fresh air exchange. This helps keep the smoke from lingering in the air too long and reduces the smell of cigarettes in other parts of the property.
Is Smoking Permitted in the Bars and Lounges at Wynn?
As per the Nevada Clean Indoor Air Act, smoking is allowed at stand-alone (enclosed) bars where minors are prohibited and where they don't offer food service.
Many bars and lounges are shared between the Wynn and the Encore (Wynn's sister property), all of which allow smoking within the premises. These bars and lounges include the following: 
Aft Cocktail Deck
Bar Parasol
Overlook Lounge
Eastside Lounge
Lobby Bar
Little Bubble Bar at Delilah
Tower Suite Bar
Can You Smoke in the Restaurants Located at Wynn Las Vegas?
There are 21 dining restaurants shared between the Wynn and the Encore. These restaurants include the following: 
| | |
| --- | --- |
| Fine Dining | Casual Dining |
| Casa Playa | Allegro |
| Cipriani | Caffè Al Teatro |
| Delilah | The Buffet |
| Lakeside | Charlie's Sports Bar |
| Mizumi | Espresso |
| Mizumi Teppanyaki | Jardin |
| Sinatra | La Cave |
| SW Steakhouse | Red 8 |
| Wing Lei | Terrace Point Café |
| Tableau | Urth Caffé |
| | Wazuzu |
The Wynn does not allow smoking in any of these dining areas, as doing so would directly violate the Nevada Clean Indoor Air Act. However, with the many designated smoking areas at the Wynn, this shouldn't pose a major problem.
Can You Vape at the Wynn? 
Vaping is permitted in all designated smoking areas at the Wynn, as it is considered the same as smoking. Remember, you must purchase a room on a smoking floor if you wish to vape in your hotel room. 
If you vape in a non-smoking room at the Wynn, you will be hit with the same hefty cleaning fee as you would with cigarette and cigar smoking. There will be an additional charge of $350 added to your bill after your stay to deep clean the room. 
Can You Smoke Marijuana at the Wynn?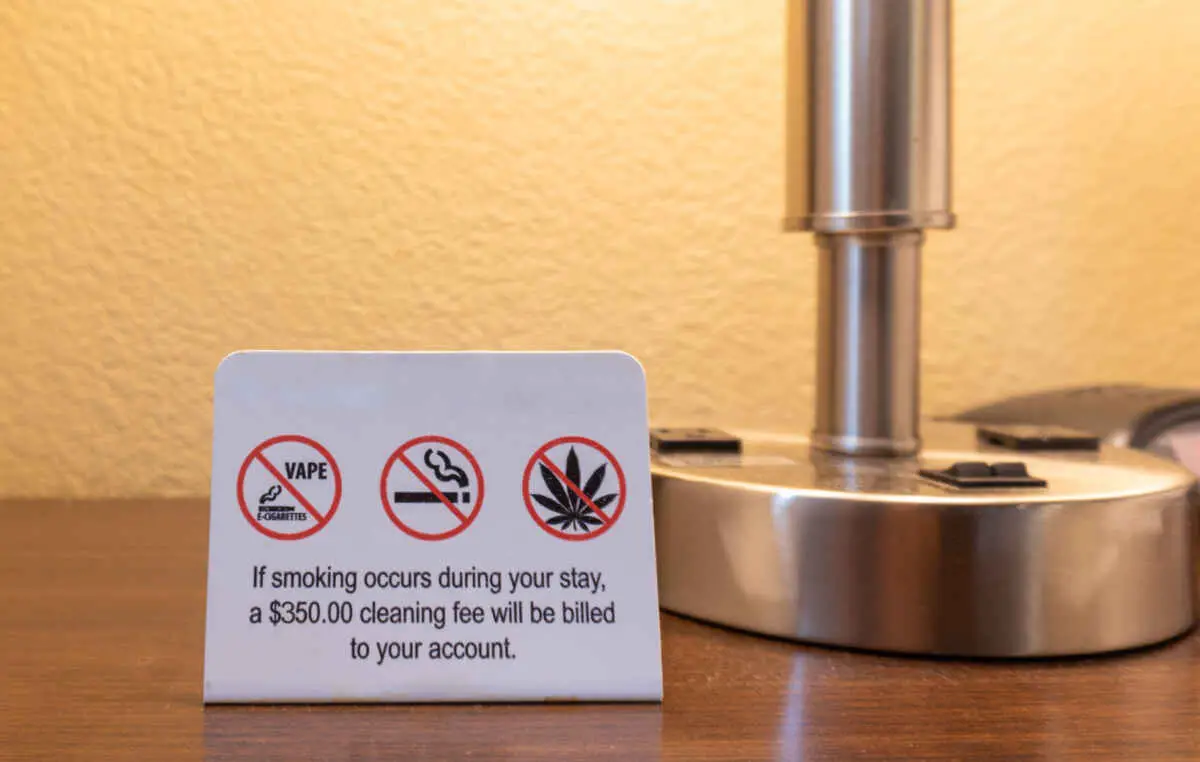 Smoking marijuana is not permitted at the Wynn in Las Vegas. While it is legal to purchase marijuana in Las Vegas, it is technically only legal to smoke it inside a private residence, which does not include a hotel room.
Because of this, Wynn, as well as all other resorts and hotels in Las Vegas, do not allow the use of marijuana anywhere on its property. 
Smoking marijuana in either a smoke-free hotel room or a designated smoking room will result in a $350 fee added to your charges at the end of your stay. Failure to adhere to the hotel's policy can result in being asked to leave the hotel property early and the termination of the remainder of your stay.
This policy also prohibits the use of marijuana in places on the premises that are designated smoking areas, including the casino, by the pools, and anywhere outside on the hotel's property. 
This, of course, doesn't stop visitors from smoking marijuana just about everywhere. Head to any Las Vegas resort parking garage or out on the Strip, and you will most likely encounter the distinctive smell. As a matter of practice, you are less likely to get into trouble smoking marijuana in one of these areas than you would smoking in a Wynn hotel room.
Is Smoking Permitted at the Wynn Pool?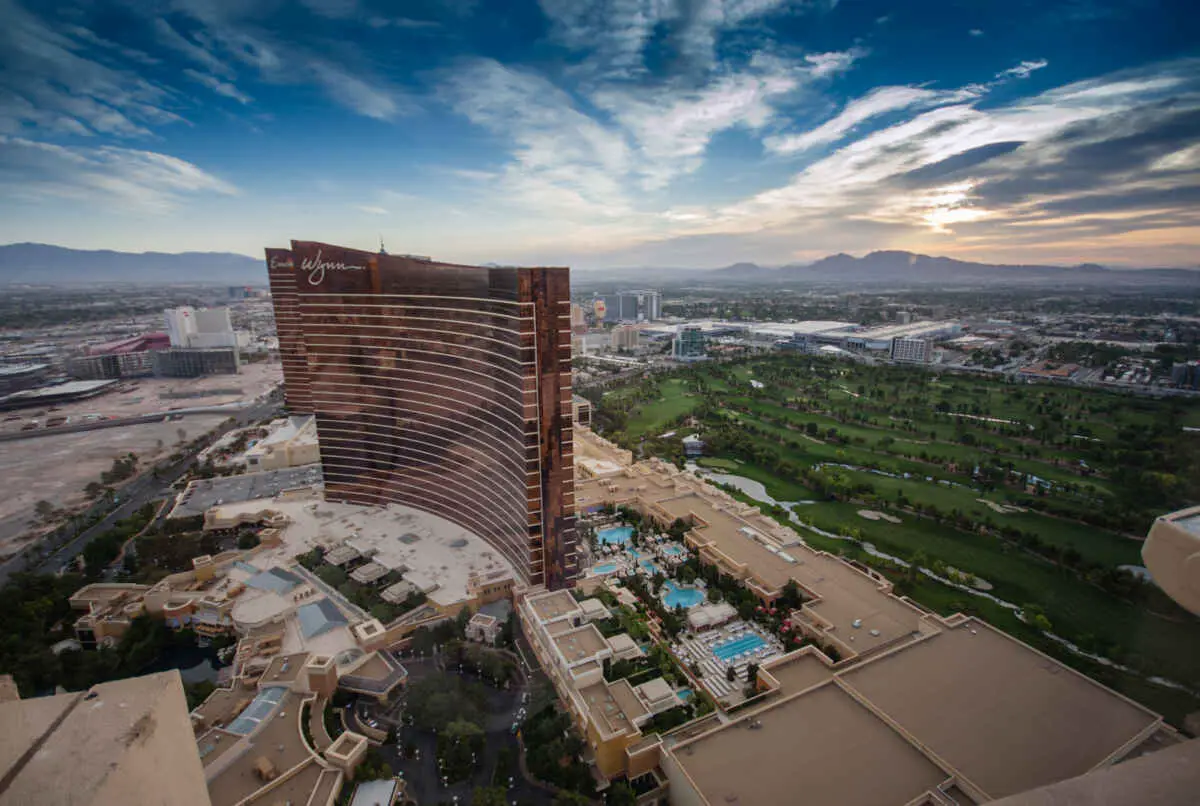 Each pool area at the Wynn permits smoking poolside, around the daybeds, and the cabanas. However, smoking is not permitted while physically in the pool. 
Between the Wynn and the Encore, there are four luxurious pools on the hotel property. These swimming pools include the following:
Wynn Las Vegas Pool
Wynn Tower Suite Pool
Encore Beach Club
Encore Pool
Guests are welcome to use any of these pools regardless of which hotel they are staying at, with the exception of the Wynn Tower Suite pool. The Wynn Tower Suite Pool requires a room key from a suite in order to use this pool.
Tobacco Shops Near the Las Vegas Strip
If you are in need of replenishing your tobacco or vape products while staying at the Wynn, there are a couple of shops conveniently located near the hotel. They are:
Sun Smoke Shop: Open from 8 am to 4 am every day (map)
Vice City Smoke: Open 10:00 am to 10:00 pm Monday-Thursday. Friday, Saturday, and Sunday open 10:00 am to 12:00 am (map)
These two shops in Las Vegas are known to carry everything you could possibly need for your smoking and vaping needs, and both are within fairly easy walking distance of the Wynn. 
Other Las Vegas Resorts and Hotels That Allow Smoking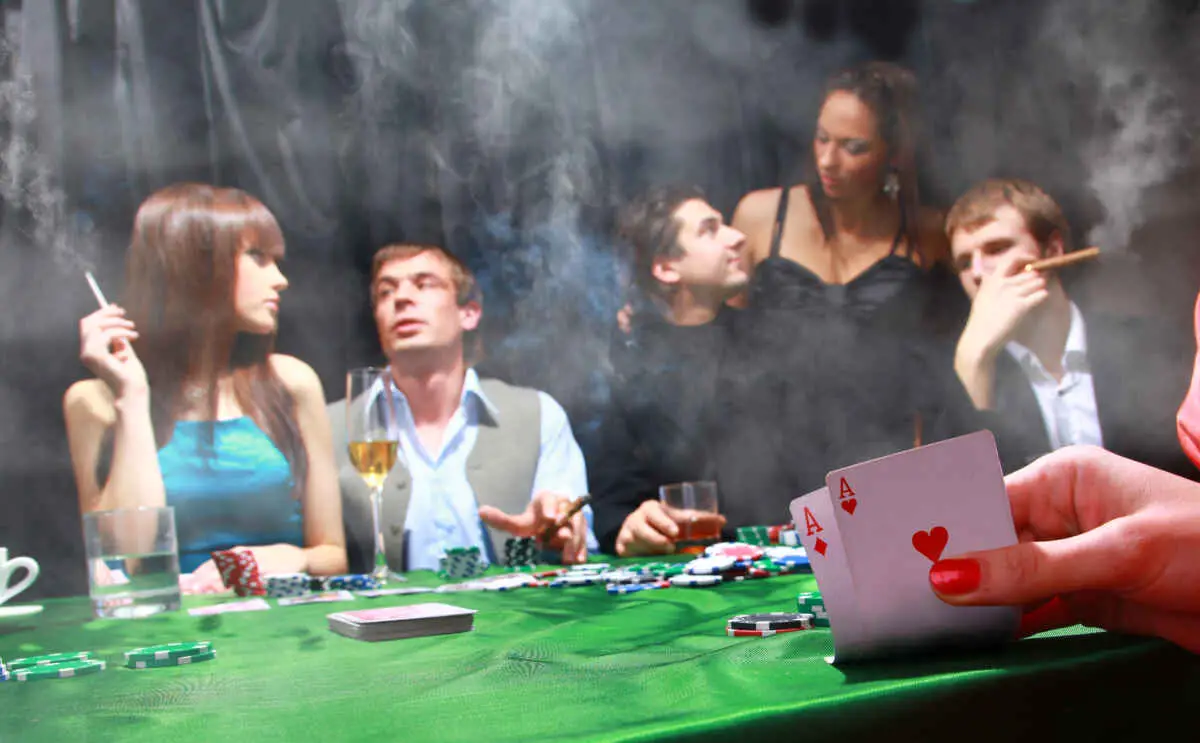 Ever since the pandemic, there has been a great deal of focus on health and safety in Las Vegas, and while some hotels are going completely smoke-free, other hotels are trying to find a compromise between old habits and the new normal. 
Many iconic hotels in Las Vegas are accommodating non-smoking guests while still trying to meet the needs of guests who smoke.
Cosmopolitan
The Cosmopolitan Las Vegas delivers the best of both worlds and makes it look easy. While it's true they do not permit smoking inside of their guest rooms, they offer guests who smoke rooms with a terrace where they allow their guests to smoke. 
Smoking on the terrace is permitted as long as the door is closed before lighting up so that the smoke doesn't make its way inside and as long as the guests use the ashtray provided by the hotel located out on the terrace.
Check current room rates at The Cosmopolitan (TripAdvisor)
Caesars Palace
While most guest rooms at Caesars Palace are non-smoking, they do have a nice selection of smoking rooms available, as well as smoking-optional suites. Smoking on the casino floor is also permitted. 
Smoking is not allowed in non-gaming areas. These areas include restaurants and bathrooms among other locations at Caesars Palace.
Check current room rates at Caesars Palace (TripAdvisor)
Treasure Island Hotel and Casino
Smoking is permitted at the Treasure Island Hotel and Casino. Only a portion of the 36th floor of the hotel has designated smoking rooms for guests who reserve them. Most of the casino is also a designated smoking area for guests.
Check current room rates at Treasure Island TI (TripAdvisor)
Can You Smoke at the Wynn's Sister Resort, the Encore?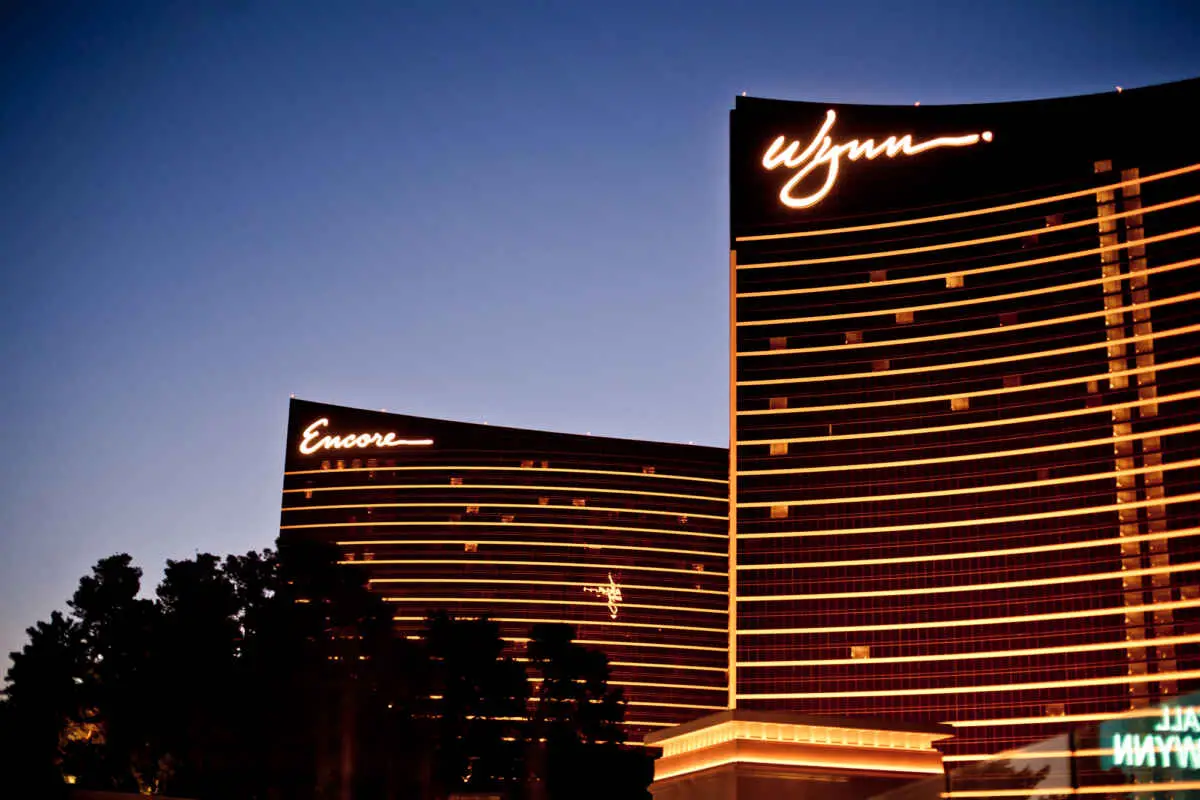 The Encore is Wynn's sister resort located on the same property. Although these two resorts are different in some ways, they both have the same smoking policy. 
As long as you are in a designated smoking room at Encore, you are permitted to smoke. However, smoking is not permitted in non-smoking hotel rooms or in public areas outside of the casino or bars. Failure to adhere to the hotel's policy will result in a deep cleaning fee of $350. 
Just as with the Wynn, you can request a smoking room at Encore by adding it to the special request section during booking online. 
Trying to decide which of these two resorts to stay at during your trip to Las Vegas? Check out this article explaining the key differences between the Wynn and the Encore to find out which one best suits your needs.
Check current room rates at Encore (TripAdvisor)
Conclusion
While the Wynn does permit smoking in quite a few areas around the resort and in designated guest rooms, it's important to adhere to Wynn's policy so that you are not hit with a hefty cleaning fee tacked onto your bill. 
As previously mentioned, smoking in a non-smoking area or guest room can result in an extra $350 charge in deep cleaning fees, and I'm sure you'd rather spend that money doing something fun in Vegas!
RECOMMENDED: Does The Wynn Las Vegas Have An Airport Shuttle? (Answered)