What Club Is in ARIA Las Vegas? (JEWEL Nightclub Revealed)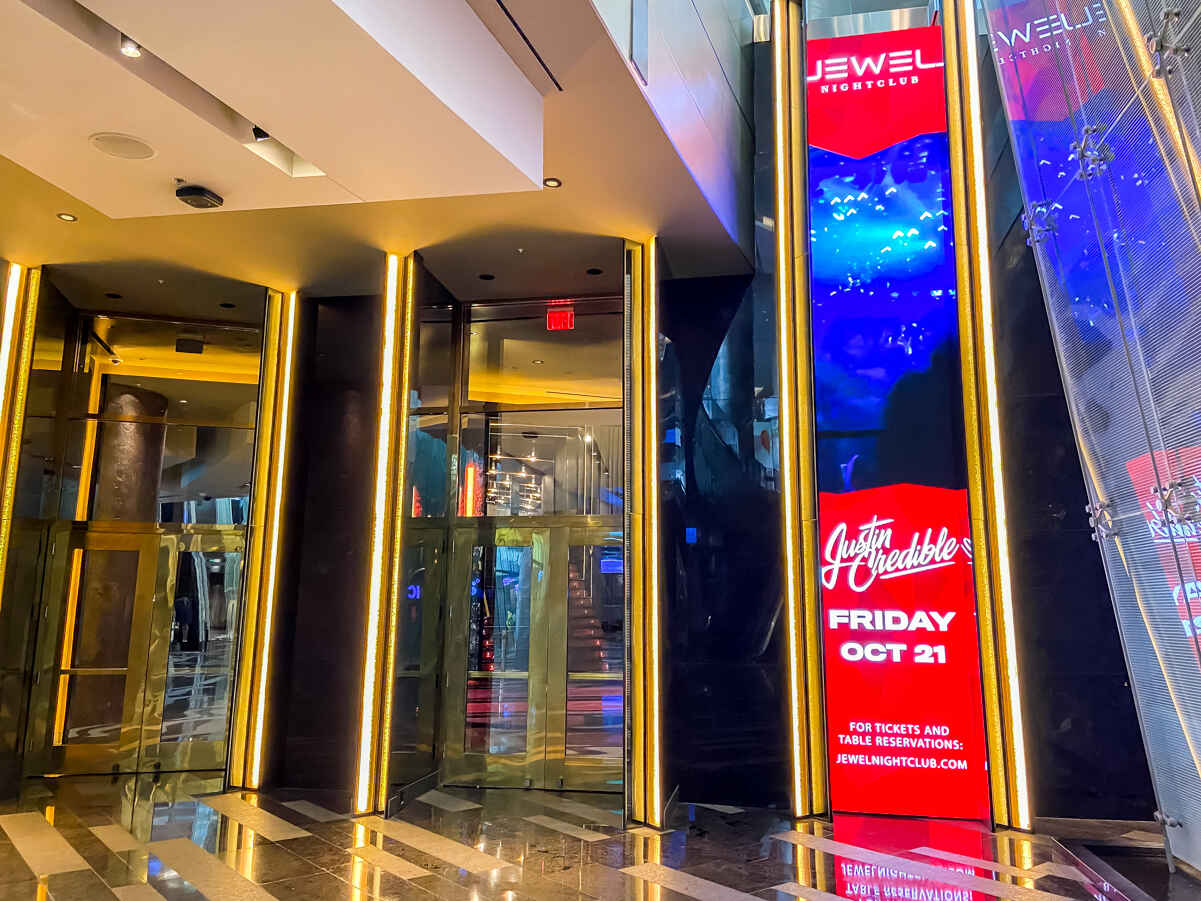 (This article may contain affiliate links, which means we might earn a small commission if you click and make a purchase. Thank you!)
Whether you're planning a night out or staying at the ARIA in Las Vegas, you might wonder what kind of nightlife the resort offers. Clubs and venues quickly come and go in Las Vegas. Where the Haze nightclub once stood, JEWEL Nightclub now invites visitors to party the night away.
JEWEL Nightclub is an incredible venue that offers an electrifying ambiance, a mix of EDM and hip-hop music with live DJs, and a spectacular level of service. JEWEL is one of the best places in Las Vegas to dance the night away.
This club is a cut above the others, bringing vibrant modernity to high-society classics. With innovative electronic displays and luxurious amenities, there's no better place to go in Las Vegas. Here's everything you need to know about the JEWEL Nightclub.
Compare and save! Check current ARIA room rates at TripAdvisor!
Why JEWEL at ARIA Is One of the Best Nightclubs in Las Vegas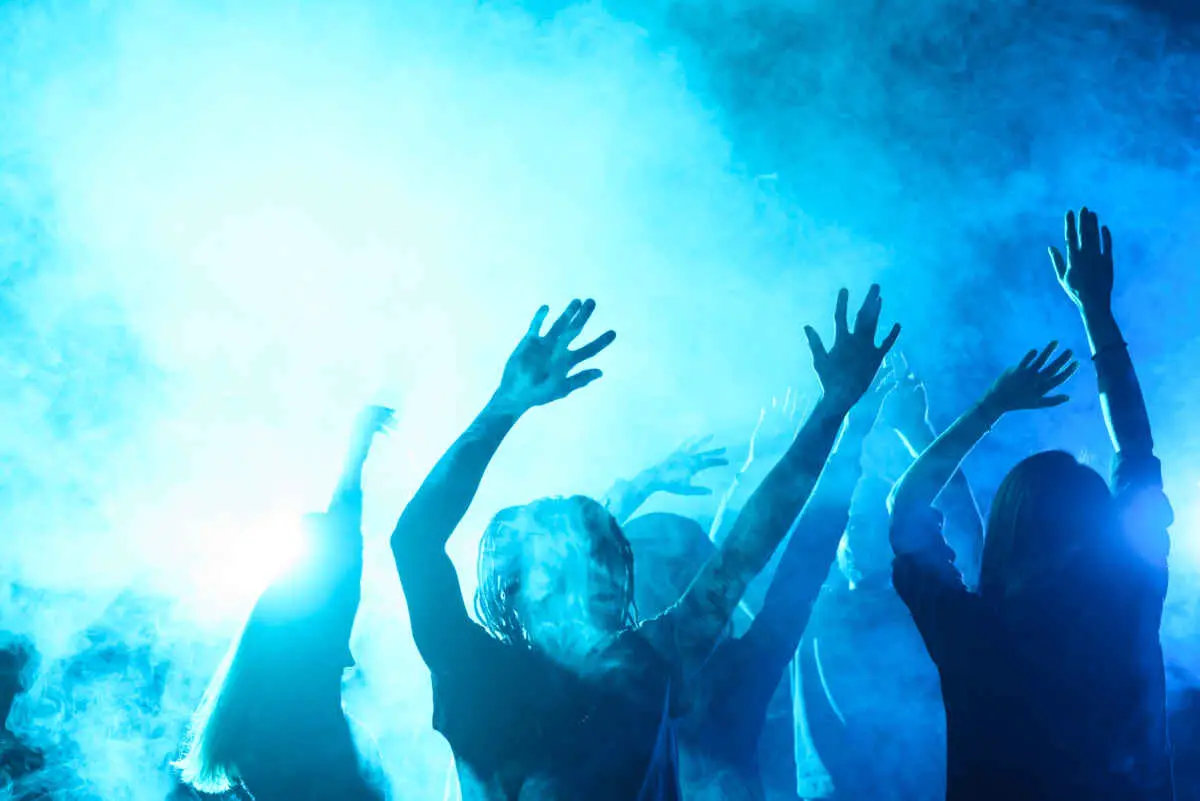 JEWEL Nightclub at ARIA Resort & Casino is one of the best clubs in Vegas. Its ambiance combines the modern luxury typical of ARIA with a world-class nightlife experience. Famous DJs and performers are frequently invited to the club to give legendary performances — and even on nights without a special event, JEWEL Nightclub is easily one of the liveliest spots in Las Vegas.
Tons of amenities are provided to partiers at JEWEL Nightclub. Wait staff are typically situated throughout the club and provide drinks and appetizers. Fun accessories like light-up glasses and necklaces are sometimes provided so that guests can fully enjoy the glowing atmosphere of the nightclub.
The nightclub has a fascinating layout. JEWEL Nightclub has two floors and an illuminated dance floor. Both entrances to JEWEL feature incredible electric displays. This is easily one of the best spots to go to in Las Vegas if you're looking for a photo opportunity.
The bartending at JEWEL Nightclub is also spectacular. You can enjoy drinks like cranberry vodka and malibu liquors, courtesy of the kind bartending staff. On some nights at certain hours, women can enjoy a completely open bar or free drink ticket. These opportunities are random occurrences, so you just need to be there and get lucky.
Many of the entertainers and DJs who perform at JEWEL Nightclub are spectacular. Depending on the night, you can even see artists like Tyga, Lil Jon, or Steve Aoki perform live. Many smaller artists also frequent the venue, typically with a focus on EDM, top 40 music, or hip-hop.
Weekends are the best time to visit JEWEL Nightclub. Friday and Saturday nights are always the ideal time to party at JEWEL since this is typically when the best performers make their way to the nightclub. Another good time to visit JEWEL Nightclub is on Monday night. Monday is JEWEL's #flawlessmondays party, so you can expect to find a good crowd and a fun performance if you stop by.
The Essential Guide to Visiting JEWEL Nightclub
Below I've put together some things you need to know before heading to JEWEL, plus some tips to help you have the best time while you're there.
Consider Purchasing Bottle Service
One of the best ways to upgrade your experience at JEWEL Nightclub is to purchase bottle service. The most significant benefit of bottle service is that you'll have a place to sit down for the night — seats aren't offered to any other partygoers.
Inside the club, there are five VIP rooms and forty bottle service tables. These tables and VIP rooms are quite expensive, but they are a good fit for anyone who wants to make the best of their night partying at JEWEL.
You'll enjoy a few other benefits if you decide to purchase bottle service. You can spend the bottle service tab any way you like, and your table will have access to unlimited mixers. You'll have VIP access to staff like a cocktail server, a busser, and security.
That's not all. Parties who purchase bottle service are given a secure place to store their belongings. You'll also get one of the easiest entries into JEWEL, since bottle service parties are given a dedicated entry lane and private entrance.
The private rooms are also worth considering. Each private room features a different theme, including the photogenic Gallery, the Blind Tiger speakeasy, the artistic Studio, the sports memorabilia-laden G.O.A.T., and the exclusive Prestige.
It's important to note that JEWEL Nightclub is smaller than many other nightclubs on the Las Vegas strip. The nightclub spans 24,000 square feet (2229.67 square meters) of spectacularly decorated space. If you prefer to dodge the crowds, I recommend that you avoid nights with popular performers on the schedule, as these will be even busier than normal.
You can check who is performing at JEWEL Nightclub by visiting the special events list on the official website.
What To Wear at JEWEL Nightclub
JEWEL Nightclub has a refined dress code. Considering that JEWEL is one of the best bars at ARIA, it can be difficult to get in. If you want to make sure that you'll be allowed to enter the club, you should make sure to dress in fashionable and high-class attire. There are a few guidelines you should follow.
What Ladies Should Wear to JEWEL Nightclub
The dress code at JEWEL Nightclub is much laxer for women than it is for men, but you should still dress properly if you want to make sure that you'll be allowed to enter.
The best kind of outfit to wear to JEWEL Nightclub is a classy mini-dress with heels. You can also pair nice slacks with a dressy top. If you want to wear a casual piece of clothing, I recommend pairing it with something formal. For example, you can pair nice jeans with a classy top.
You should only bring a small bag to JEWEL Nightclub. Purses and clutches should be under 12" x 12" x 6" (31cm x 31cm x 15cm).
Avoid wearing flats and sandals. You can wear low-heeled shoes if you want to keep comfortable, but flats are generally frowned upon. There generally aren't any rules against jewelry for women, but I recommend against adding anything too provocative to your outfit.
What Men Should Wear to JEWEL Nightclub
Men are expected to follow a very meticulous dress code to enter JEWEL Nightclub. Your outfit should be upscale and fashionable. You don't need to go full black-tie, but the general rule is to wear pressed pants, dress shoes, and a nice button-down shirt.
It's sometimes acceptable to wear designer jeans and casual pieces to JEWEL, but you should play it safe by wearing formal pants if you want guaranteed entry. Don't ever wear frayed or ripped jeans.
Don't wear tennis shoes or sports shoes. You should only wear leather shoes or dress shoes to JEWEL Nightclub. Keep your accessories minimal. One of the best things you can accessorize with at JEWEL is a nice watch.
Men and Women Should Avoid Wearing These Clothes to JEWEL Nightclub
Don't wear any clothing that has vulgar language printed on it. Don't wear ripped, baggy, or stained attire. Your outfit should be very clean. Wearing anything excessively informal, like capris, tank tops, sports jerseys, or shorts, will lead to dismissal.
Don't wear sportswear. This includes athletic shoes, sweatpants and sweatshirts, and gym clothes. You shouldn't wear sneakers, either. This rule includes quality brands like Nike and even extends to designer sneakers.
You shouldn't wear any headwear, including masks, veils, sunglasses, hats, or beanies. You might be able to get in wearing something like a fedora, but you're more likely to be denied entry. You should also avoid wearing work boots and other informal pieces, even if they're from a quality brand like Timberland or Doc Martens.
You shouldn't wear anything informal, even if it might be fashionable at other venues. While studs, chains, hooks, and rivets might be a staple in alternative fashion, they won't be accepted at JEWEL.
ALSO SEE: Jewel Nightclub Dress Code (What to Wear)
Other JEWEL Nightclub Recommendations
The club is often packed with partygoers, so you'll need to dress comfortably to have the most fun. I recommend wearing low-heeled shoes that will allow you to navigate the crowds comfortably. This will also reduce the risk of tripping on any dropped objects!
To learn more about footwear etiquette at Vegas clubs, check out my article about what shoes you can and cannot wear for a night out on the Strip. [Can You Wear Sneakers To Vegas Clubs?] (coming soon)
How To Park at JEWEL Nightclub
You can visit the nightclub by navigating to 3730 S Las Vegas Boulevard South, ARIA Resort and Casino Las Vegas, NV 89158. The easiest way to park close to JEWEL Nightclub is to use the parking garage at the ARIA Resort. See here for ARIA parking rates.
According to the parking policy at MGM Resorts, you can expect to spend a predictable rate on self-parking or valet parking depending on what day of the week you visit and how long you park your car.
| | | |
| --- | --- | --- |
| Self-Parking | Monday – Thursday | Friday – Sunday |
| 0 – 60 minutes | $0 | $0 |
| 1 – 4 hours | $15 | $20 |
| 4 – 24 hours | $18 | $23 |
| > 24 hours (daily rate) | $18 | $23 |
| Valet Parking | | |
| Daily rate | $35 | $40 |
Registered hotel guests can expect their parking to be covered under the 24-hour parking fee they paid previously, with any charges outside of the same parking type (self or valet) being billed directly to their room bill.
Pearl, Gold, Platinum, and NOIR MGM Rewards Members will receive complimentary self-parking if they swipe their MGM Rewards card at the exit gate. Valet parking is complimentary for Gold, Platinum, and NOIR MGM Members.
Navigating to JEWEL From Your Parking Spot
Once you've successfully parked your car, you will need to make your way over to JEWEL Nightclub. Luckily, the venue was designed with an easy-to-navigate layout.
If you decide to use the self-parking at ARIA, make your way to the self-parking entrance and then walk to the casino floor. You will need to follow the path on the left, passing the poker room and the cashier until you reach the ARIA Patisserie.
Turn left just before you reach the patisserie and take the escalators on the right to go downwards. You will find the entrance of the JEWEL Nightclub straight ahead once you reach the bottom of the escalator.
It's also very easy to get to the JEWEL Nightclub if you decide to use valet parking. I recommend using the North Valet if you want your car to be as close to the JEWEL Nightclub as possible.
If you're attempting to navigate to JEWEL Nightclub from the front desk, all you need to do is follow the path on the right. You will pass the Lift Bar and the ARIA Patisserie. Once you're past the patisserie, turn right and go downstairs on the escalator, and you'll find JEWEL straight ahead.
JEWEL: Come Prepared To Pay The Cover Charge
Visitors to JEWEL are typically expected to pay a cover charge before they enter the club. Women can usually expect to pay between $20 and $50 for entry, while men will pay a slightly higher fee between $30 and $75. You can buy tickets on JEWEL's website.
If you want your entry to be as affordable as possible, you should consider using an online service to register for JEWEL Nightclub's guest list. If you register a group with an equal or greater amount of women than men, men and women can potentially enter for free. If there are more men than women, the women should still be eligible to enter for free. Find out how guest lists and Vegas club promoters work here.
Remember to show up early in the night if you intend to use a guest list for entry. Many people have been dismayed after registering for a guest list and showing up to the club only to find that they were denied entry. I recommend showing up before 11 PM for the best chance at entering. Ideally, you should arrive an hour before the club opens — the guest line is often incredibly long.
JEWEL Nightclub also has a mandatory coat check. If you want to avoid paying a fee for a coat check, I recommend leaving your jacket in the car. Guests typically report paying between $10 and $20 for the coat check service, but it varies depending on the night.
RECOMMENDED: After partying all night, you'll want to know Where To Eat Breakfast at Aria Las Vegas (4 Best Spots).
Find the best deals on ARIA rooms and save big with TripAdvisor!
Final Thoughts
JEWEL Nightclub is one of the most spectacular venues in Las Vegas. But if you want to get admitted into this incredible nightclub, you'll need to come prepared. You should understand the dress code and have the right funds on hand if you want admission. As long as you use the advice in this article, you're sure to have a legendary night partying at JEWEL.