Getting to the Strip From the Las Vegas Airport (7 Ways)
(This article may contain affiliate links. If you click through and make a purchase, we will receive a small commission at no additional cost to you. )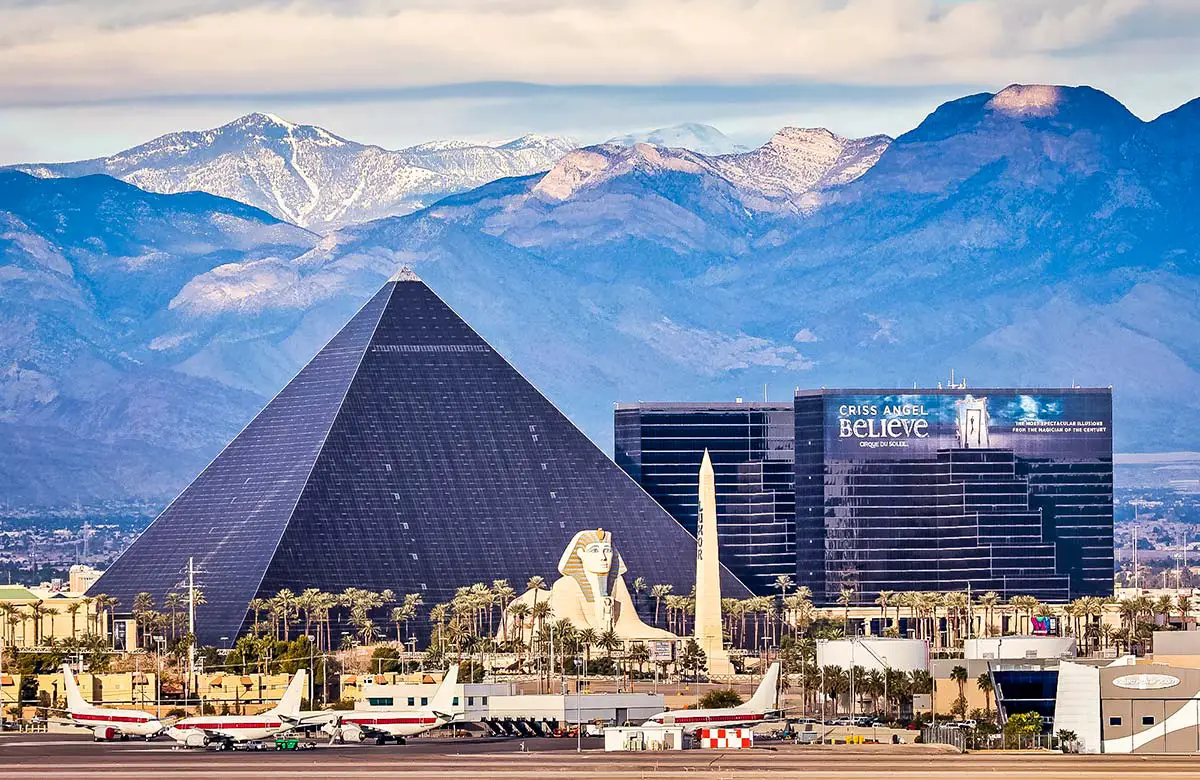 Imagine you've just flown into the Las Vegas Airport (LAS) and you can't wait to grab your luggage and get to the Strip. But wait! Before you can check into your hotel and get down to having a seriously good time, you'll need to get from the airport to the Strip.
Whether you're visiting Vegas for a one-day conference or spending a week-long vacation, it's a good idea to familiarize yourself with the best way to go from the Las Vegas Airport to the Las Vegas Strip.
Let's get started! Here are the 7 best ways to get to the Strip from the Las Vegas airport:
1. Hop on a Las Vegas Airport Shuttle
Airport shuttles should make the top of your list if you are traveling to Vegas on a budget and want to save money for the casinos.
Here is a list of a few of the most popular companies that offer a shared shuttle service at the airport:
The rates are very cheap for a roundtrip to and from the airport, and all of them are found in the same place at Terminal 1 and Terminal 3 at Harry Reid International Airport (formerly McCarran Airport).
You can pre-book at least two hours before your flight arrival, and most of them have apps or boarding booths outside baggage claim that allow you to check-in and book a seat when you arrive.
This may be the cheapest way to travel but it is also the most time-consuming. This is not a private shuttle bus and you'll have to make multiple stops before reaching your destination, so if you're staying in the last hotel on the Strip (Las Vegas Boulevard), you may want to reconsider.
It can take 30 minutes to an hour or more to reach your destination.
A major complaint with these services is the lack of punctuality as these shuttles hardly ever arrive on time. It also works on a first-come, first-serve basis, so make sure you have a backup plan in mind in case they are already full when you arrive.
Important note: In order to avoid traffic congestion, no hotel on the Las Vegas Strip provides its own airport shuttle service. If you'd like to take a shuttle from the airport to your hotel on the Strip you will need to use one of the 3rd party shuttle services mentioned above.
You can find more detailed information about using a Las Vegas airport shuttle in my article here.
2. Travel in Style in an Airport Limo to The Strip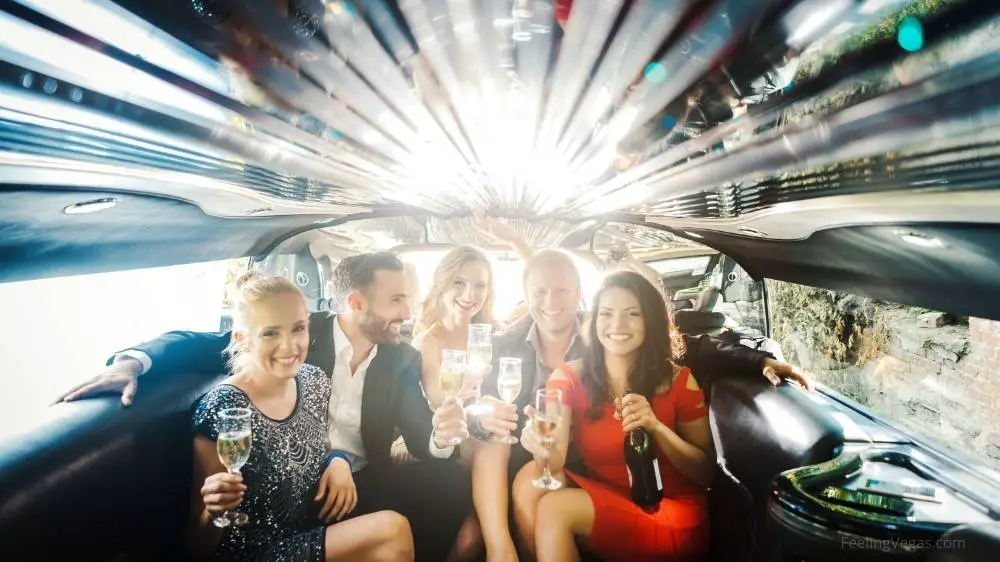 Vegas is all about style and money, and if you want to experience both immediately right from the start of your trip, hiring a limo service may be the way to go. When you think of living it up in Vegas, traveling in a limo definitely comes to mind.
You can pre-book a limo of your choice from one of the several companies that offer this service or use the walk-up limousine service available at the airport. These limousines are available on a first-come basis and may not be available if the airport is busy.
In this case, it would be a better idea to book ahead of time with one of the companies that provide private limo service. VIP Limousines of Nevada is one of the most popular limousine service providers in Las Vegas and is a good choice.
The benefit of a private limo is that there will be no unnecessary stops on the way unless you yourself want to stop.
Hiring a limo is a great idea if money is not an issue or you are traveling as part of a larger group, but it is the most expensive option as it can cost around $75 per trip plus tip.
You can also book a Sedan or SUV from a limo service provider, which will be less stylish and less damaging to your wallet.
Note: The Strip hotel you are staying in may also arrange a limo for you, in which case the driver will meet you at the airport baggage claim area. You'll need to discuss this transportation option with your hotel prior to arriving. However, know that this service is usually reserved for casino high-rollers.
I have a dedicated article where I go into detail about how to get a limo from the airport including cost.
3. Rent a Car at The Las Vegas Airport
If you're staying in Las Vegas for several days and you plan on visiting locations throughout the city and beyond, it may be a good idea to rent a car instead. You can rent a car for a few hours or days according to what meets your budget and needs.
Las Vegas Harry Reid Airport has a Rent-A-Car Center that houses almost 10 rental companies. The center is three miles from the airport, but the blue and white Harry Reid Rent-A-Car Center shuttle buses can take you there.
If you have reserved a car with another rental company, they will pick you up at Space No. 4 by the taxi staging area at the Harry Reid Rent-A-Car Center.
The biggest downside to renting a car is finding free parking on the Strip. The hotels on the Strip have plenty of parking available but you will have to pay for it in most cases.
RELATED: Should You Rent a Car in Las Vegas? 3 Things to Consider
4. Grab an Uber or Lyft From The Airport To The Strip
Uber and Lyft came to Vegas with a bang in 2014 and broke the monopoly of the Vegas taxis.
Hopping in a Lyft or Uber is one of the most common ways that visitors transfer from the airport to the Strip.
You can book a ride as soon as you land at the airport, and the driver can meet you at a set rideshare location outside the baggage claim area. Rideshare prices are lower than taxi fares and booking limousines.
Plus, there is no cash required to make a transaction as everything is done through the app.
Unfortunately, there can be a downside to rideshare. Due to high demand at certain times of the day, you can face surge prices in Uber or primetime in Lyft that can increase prices significantly higher than Taxi fares.
RELATED: Uber From the Las Vegas Airport to the Strip (How Much?)
5. Ride in a Vegas Taxi To The Strip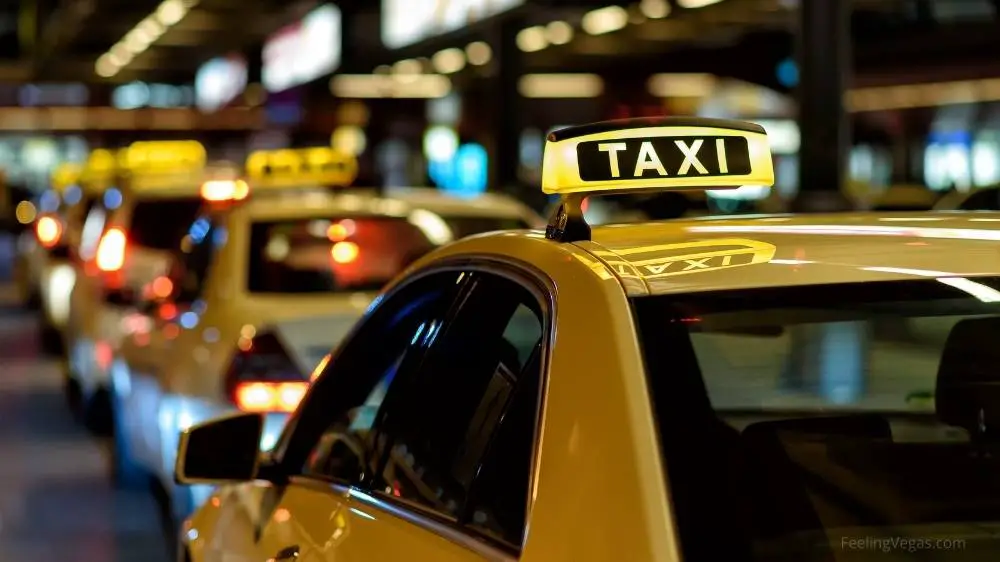 Hailing a taxi ride is an old-school way that is always available wherever you go.
You will find the Vegas taxis at the curbside of the airport with a variety of cab companies to choose from. Taxis rides from the airport have recently become more economical in Las Vegas due to the newly implemented "zone pricing" system.
Zone pricing will get you from Harry Reid Airport to your hotel on the Strip for between $19-$27 depending on what zone your hotel is in.
You can see the zone map and the exact fares to your hotel in my article here that discusses more details about taxi fares in Las Vegas.
The taxi rates from the airport to the Strip are fixed so there is no surge pricing like with Rideshare companies. However, it is proper form to tip your taxi driver 10 to 15%. You'll also be paying an additional $3 if you choose to pay by credit/debit card.
6. Use Public Transportation (Deuce Bus) From The Airport To The Strip
Taking a city bus from the airport is the cheapest way of traveling from the Harry Reid International Airport to the Las Vegas Strip.
The Regional Transportation Commission of Southern Nevada (RTC) runs the city buses (aka The Deuce) and has a bus stop at the airport.
Check the route and schedule from the RTC website to find one that suits you best. Tickets can be purchased from a vending machine at level zero in Terminal 1 or booked using the RTC mobile application.
The tickets are as low as $2 for a one-way trip to the Strip.
As with shuttles, a public bus also makes multiple stops, and it can take up to an hour or more to reach your destination. It may also be very difficult carrying your luggage on a bus, especially if you have to switch buses on your route.
The RTC is also undergoing some route deviations, and some routes may be closed for construction on the day of your flight. It would be wise to use an alternative way to get to the Strip, as a reroute could mean a longer trip or even a walk between stops.
This Youtube user shows how to reach the bus stop and use the vending machine to purchase a ticket in his video at 2:57.
RELATED: Ride The Deuce (City Bus) to Explore the Strip & Downtown (Cost & Route)
7. Walking to the Strip From The Las Vegas Airport
If you look outside your airplane window before you land, the Vegas Strip may seem like it's right next to the airport. While it may look close, walking from the airport to the Strip, while dragging your luggage is not for the faint of heart (especially during the hot summer months).
It's roughly a 3-mile (4.8 km) walk from the airport to the closest major Las Vegas hotel (Mandalay Bay) on the Strip, but since the Vegas Strip is 4.2 miles (6.75 km) long in itself, it may be much further than 3 miles to reach your final destination.
Using this way to travel to the Strip is a personal choice.
If you are adventurous, on a mission to save money, or just want a different experience, walking may be a good option for you.
Plan your attire according to the time of year you visit Vegas, as a light jacket can make a positive difference in January, or a cap can save you from the blazing heat in June.
It is very difficult to get lost as most of your destinations will be clearly visible ahead of you but it's recommended to follow a navigation guide on your phone for the shortest route. Security is usually not an issue as the Strip has police and security cameras everywhere.
You will find good sidewalks the entire way to the Strip and on to your hotel.
It's important to note that there is a serious lack of shade on the way to the Strip, so water, and a hat, are your best friends. Also, there may be some restricted areas when leaving the airport by foot, and you may have to reroute and take a longer path to the Strip.
In his video, this Youtube user shows exactly what to expect if you choose to walk from the airport to the Vegas Strip.
Conclusion
Las Vegas airport transportation is pretty convenient. Getting to your hotel on or near the Las Vegas Strip from the Harry Reid airport is quite easy and there are a multitude of transportation options to choose from.
The best choice for you will depend on your budget and time schedule.
My advice is if you're only in Vegas for the weekend, don't waste any of your precious vacation time trying to save a couple of dollars.
Your best bet for getting to your hotel quickly and affordably from the airport is by either taking a taxi or using a rideshare service (Uber or Lyft).
Enjoy your trip to Las Vegas!