8 MGM Grand Restaurants You'll Love (Dining at MGM Grand)
The MGM Grand is one of the best places to stay if you want to fully experience Las Vegas. Apart from its premier accommodation, bustling nightlife, and entertainment, the MGM Grand features top-tier restaurants you should visit when you get the chance.
The top restaurants at MGM Grand in Las Vegas are L'Atelier de Joël Robuchon, Morimoto, Wolfgang Puck Bar & Grill, International Smoke, Emeril's New Orleans Fish House, Crush, and MGM Grand Buffet. 
In this article, you'll learn why these MGM Grand restaurants are a must-try and what dishes you should get when you visit. Keep reading for more information. 
Compare and save! Check current MGM Grand room rates at TripAdvisor.
1. L'Atelier de Joël Robuchon (MGM Grand Las Vegas)
(This article may contain affiliate links, which means we might earn a small commission if you click and make a purchase. Thank you!)
Opened in 2005, L'Atelier de Joël Robuchon is a Michelin-star restaurant that serves gourmet French food and features a refined atmosphere, providing a premier dining experience to its guests.
It's owned by one of the most popular French chefs, Joël Robuchon also dubbed the "Chef of the Century" in France. You can find this restaurant beside the Cirque Du Soleil's KÀ theatre at the MGM Grand.
L'Atelier is open on Mondays and Thursdays through Sundays, from 5:30 pm to 10:00 pm. 
Why You Should Try This Restaurant
If you are a fan of French cuisine, the L'Atelier de Joël Robuchon is a must-try. This restaurant serves delicious dishes, and its dining area boasts a sophisticated and spacious arrangement.
Another thing that makes L'Atelier de Joël Robuchon worth visiting is its unique kitchen setup, where guests have an open view of the kitchen to watch their meals being prepared. 
Must-Try Menu Items
L'Atelier de Joël Robuchon has various tasting menu options, including the Seasonal Discovery Menu, which comes with nine of the restaurant's signature dishes, and some premium wine to pair with the meal.
The dishes served for this 9-course meal change from time to time, but here's a sample of what you might get:
L'amuse-Bouche: Foie gras parfait with parmesan emulsion and port wine reduction.
La Joue: Beef check salad topped with herbs and drizzled with wasabi vinaigrette.
Le Homard: Lobster tempura served with lime and guacamole.
L'œuf de poule: Soft-boiled egg placed on a bed of pearl pasta risotto mixed with green asparagus and smoked bacon.
La Ricotta: Ricotta tortellini pasta imprinted with herbs, served in a flavorful vegetable broth.
Le Bar: Sea bass seared in light garlic butter with chorizo, served on top of some porcini cream.
La Caille: Caramelized free-range quail filled with foie gras, served with mashed potatoes.
La Meringue: Nougat semifreddo in roasted meringue, served with lemon sorbet
La Chocolat: Soft-baked chocolate, pretzel, creamy caramel, and Guinness ice cream.
Although the L'Atelier de Joël Robuchon is on the pricier side (The Seasonal Discovery Menu starts at $195.), you will definitely get your money's worth with the restaurant's ambiance and service, and of course, the food's quality and taste. 
For more information about Michelin-star restaurants in Vegas, read my other article, which highlights 9 Michelin Star Restaurants in Las Vegas. 
2. Morimoto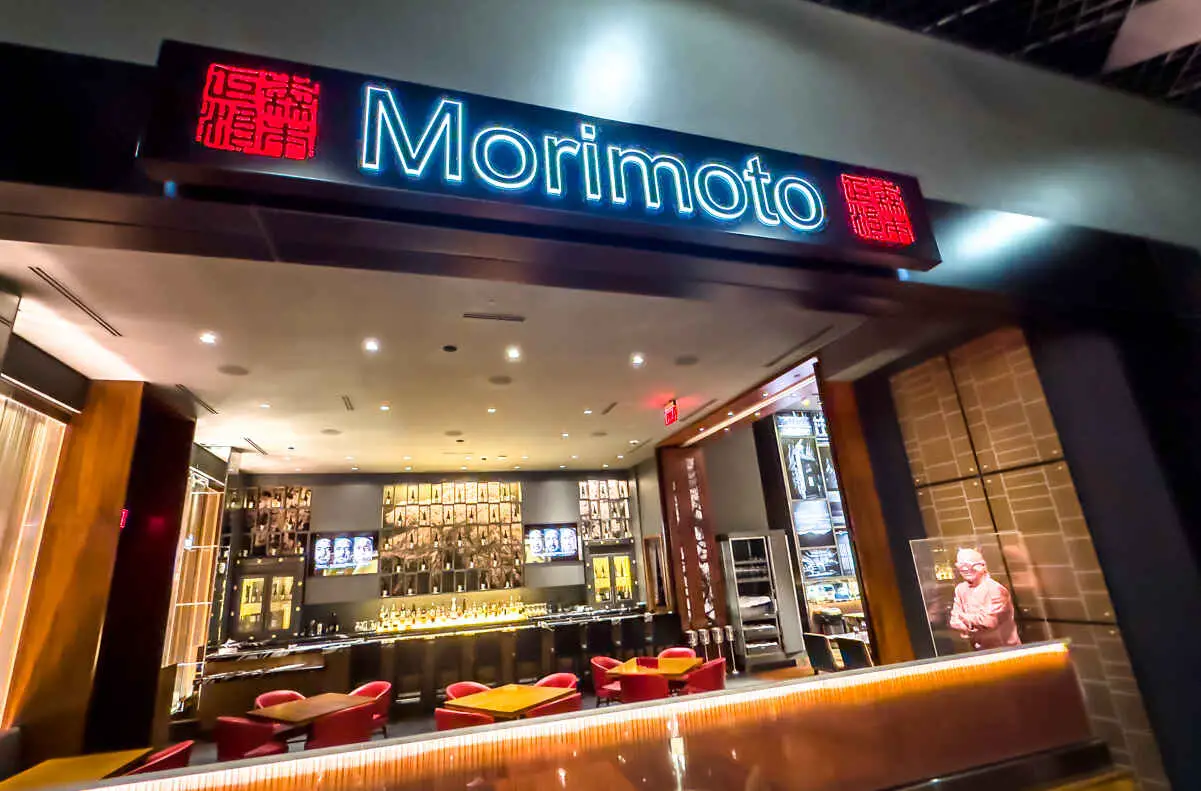 Situated in MGM Grand's The District, Morimoto is a Japanese restaurant owned by one of the most famous chefs in the world, Iron Chef Masaharu Morimoto. It opened in 2016 and operates daily from 5:00 pm to 10:00 pm.
Morimoto features an impressive menu of modern Japanese cuisine, wherein Eastern and Western flavors are incorporated into traditional Japanese dishes. Thus, adding depth and oomph to what we're normally used to.
Why You Should Dine at Morimoto
If you enjoy Japanese food but want something different than your usual order, you'll love Morimoto. This restaurant elevates traditional Japanese food by mixing bold flavors from Eastern and Western cuisine.
The food at Morimoto not only tastes amazing, but it is also beautifully and creatively plated — a good move on their end since our eyes eat first.
Aside from Morimoto's tasty offerings, the restaurant's atmosphere is very appealing because of its design, specifically, the stunning photos shot by Yasumichi Morita, proudly displayed all over the restaurant.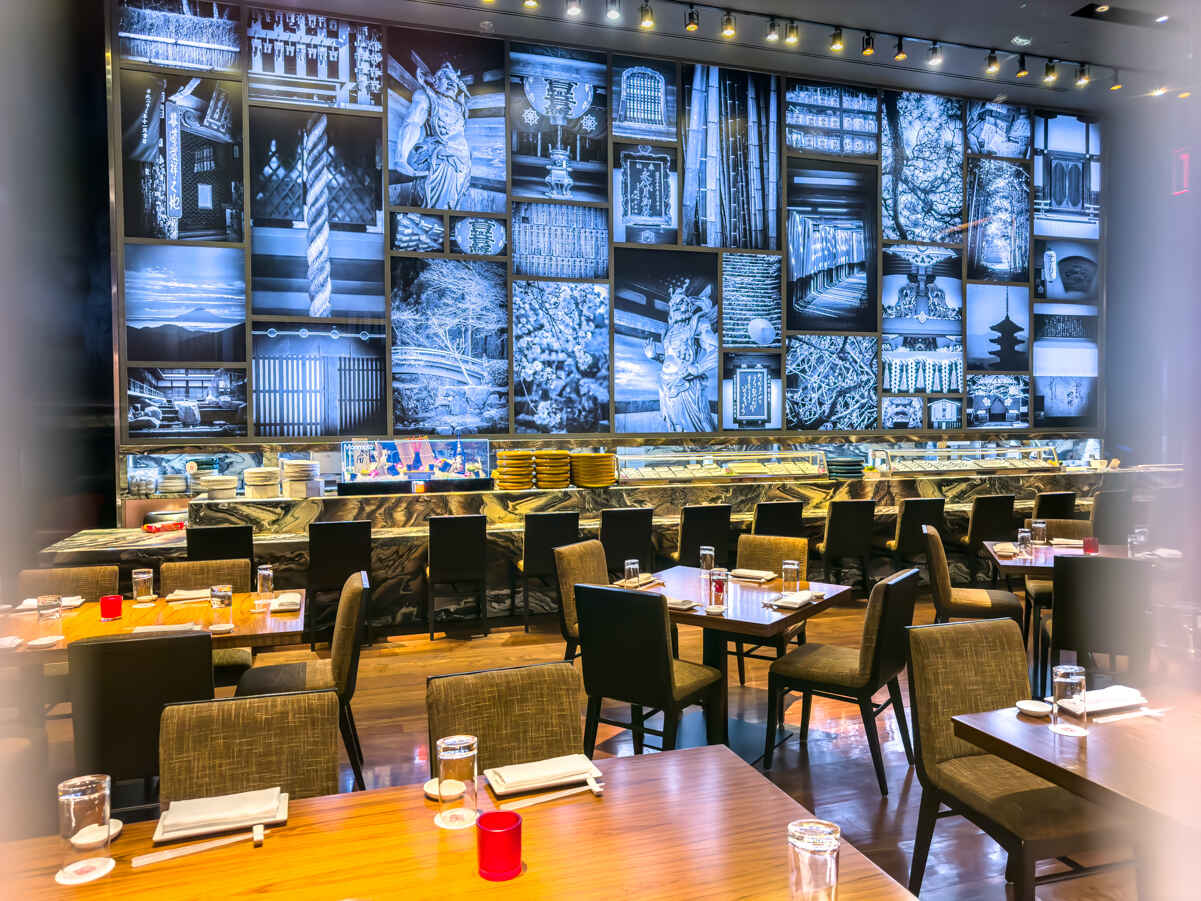 Restaurants Must-Try Menu Items
The fusion of flavors starts as early as the appetizers. Start by ordering the Hamachi Tacos, served with yuzu kosho, lime, and avocado.
And for your entree, you must try the Japanese A-5 Wagyu, which comes with various side options, such as yuzu soy and blistered shishito peppers.
Finish your meal with Morimoto's signature Fiery Chocolate Tart, which comes with a salty caramel ganache, marshmallows, dark chocolate sorbet, and some spiced rum to fire up this beautifully created dessert.
You'll find entrees at Morimoto starting at $29, with wagyu steaks ranging between $110 and $130.
3. Wolfgang Puck Bar & Grill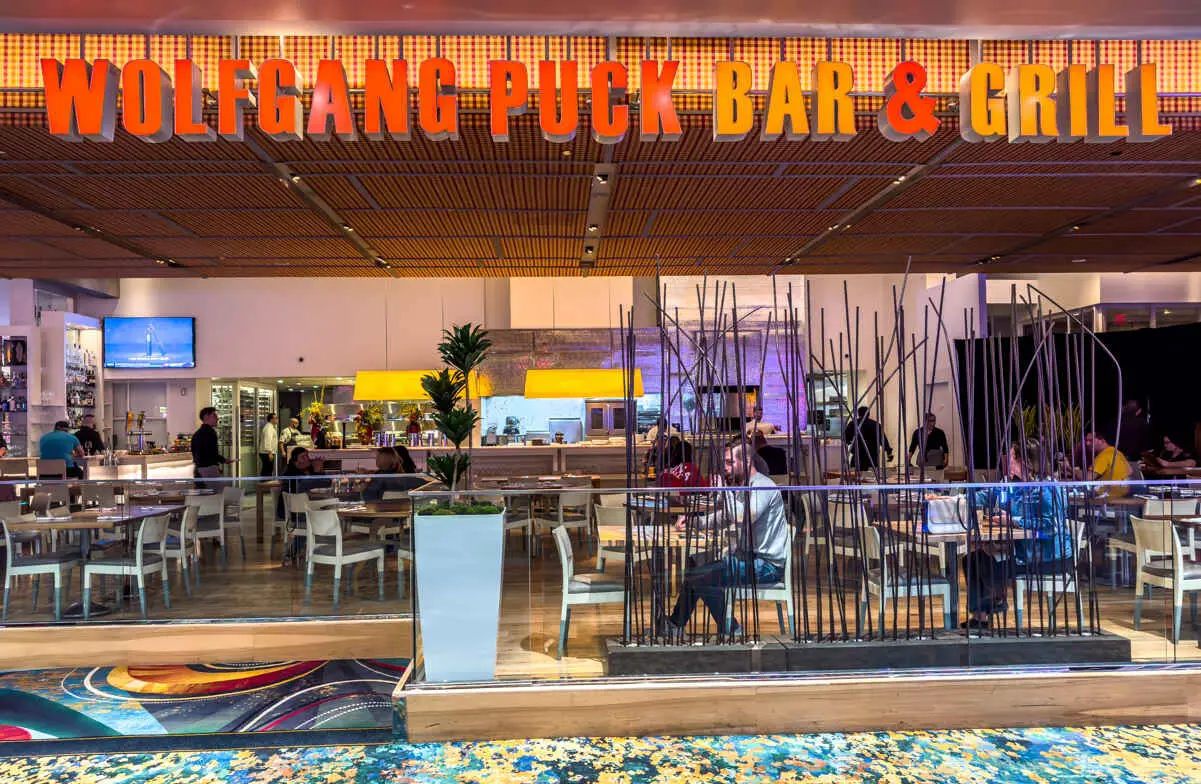 Owned by world-renowned Austrian-American chef Wolfgang Puck, Wolfgang Puck Bar & Grill opened its doors inside the MGM Grand hotel in 2004. This restaurant features a modernized take on traditional bar-and-grill food.
The Wolfgang Puck Bar & Grill is available daily from 8 am to 12 am every Sunday to Thursday and 8 am to 2 am every Friday and Saturday.
Why You Should Try This Restaurant
If you enjoy comfort food, you will love what Wolfgang Puck Bar & Grill offers. The restaurant serves various dishes, including chicken wings, steaks, and their infamous wood-fired pizzas. They also have cocktails you can pair with your food.
Aside from that, the restaurant is situated near KÀ by Cirque du Soleil, so you can enjoy a delicious meal right after seeing the show.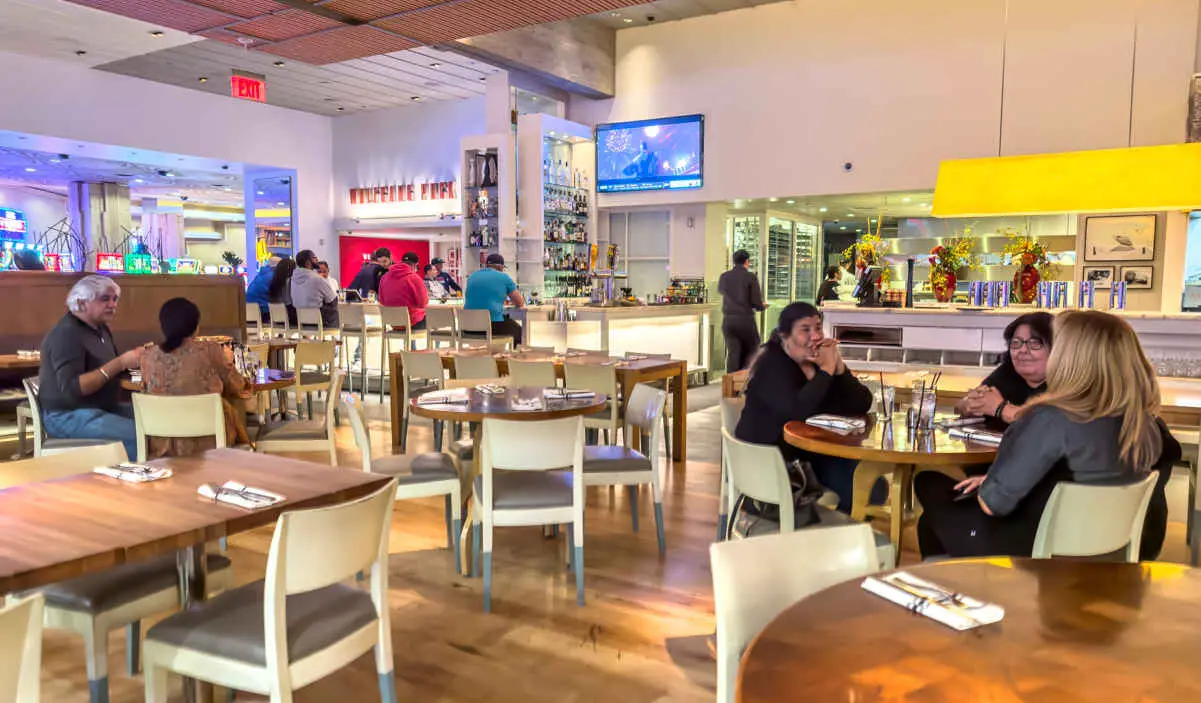 Must-Try Menu Items
Start your meal with the flavorful Truffled Potato Chips, served with blue cheese sauce and topped with garden chives. And if you're a fan of pizza, don't miss out on the wood-fired pizzas, specifically Wolfgang's Classic Smoked Salmon.
With its dough alone, Wolfgang Puck Bar & Grill has taken pizza to a new level. The mastermind behind the restaurant's infamous pizza dough, Wolfgang Puck, has also put together topping combinations that go perfectly well. 
Pizzas and entrees at Wolfgang Puck Bar & Grill run between $14 and $32.
4. International Smoke
Opened in January 2020, International Smoke features an extensive menu of dishes inspired by a combination of American, Mediterranean, Asian, and Jamaican cuisine. This restaurant uses the freshest ingredients possible, from seafood to locally-sourced meat.
International Smoke is owned by two prominent people in the food industry, chef Michael Mina and restaurateur Ayesha Curry, and it operates daily from 5 to 10 pm.
Why You Should Dine at International Smoke
If you're in the mood for food packed with flavor, you won't go wrong with International Smoke. This restaurant allows you to enjoy various cuisine, from Contemporary American to Asian, in one place. They also offer beverages, including wine, cocktails, and beer.
Aside from its tasty dishes, International Smoke provides a hip and vibrant atmosphere divided into three areas: the bar, the dining area, and the patio, where you'll surely enjoy consuming your food and drinks.
Must-Try Menu Items
For starters, I highly recommend Ayesha's Fresh Baked Cornbread, which is perfectly paired with rich Thai Curry Butter.
You should also try one of their signature dishes, the St. Louis Cut Pork Ribs, which comes with your choice of sauce: American Barbecue, Korean Sesame-Gochujang, and Vietnamese Chili-Lemongrass.
However, the charbroiled salmon is a fantastic option if you prefer seafood. It's served with smoked brava sauce, roasted potatoes, grilled broccoli, and braised greens.
And, of course, a meal would be incomplete without a drink to wash all the goodness down. Cap off your delicious dining experience at International Smoke by trying some of their signature drinks, including the Cold Smoked Old Fashion or the Shape Shifter.
For such a transformational dining experience, the meals are quite affordable (by Las Vegas standards anyway). You'll find the majority of main dishes cost between $38 and $59.
5. Emeril's New Orleans Fish House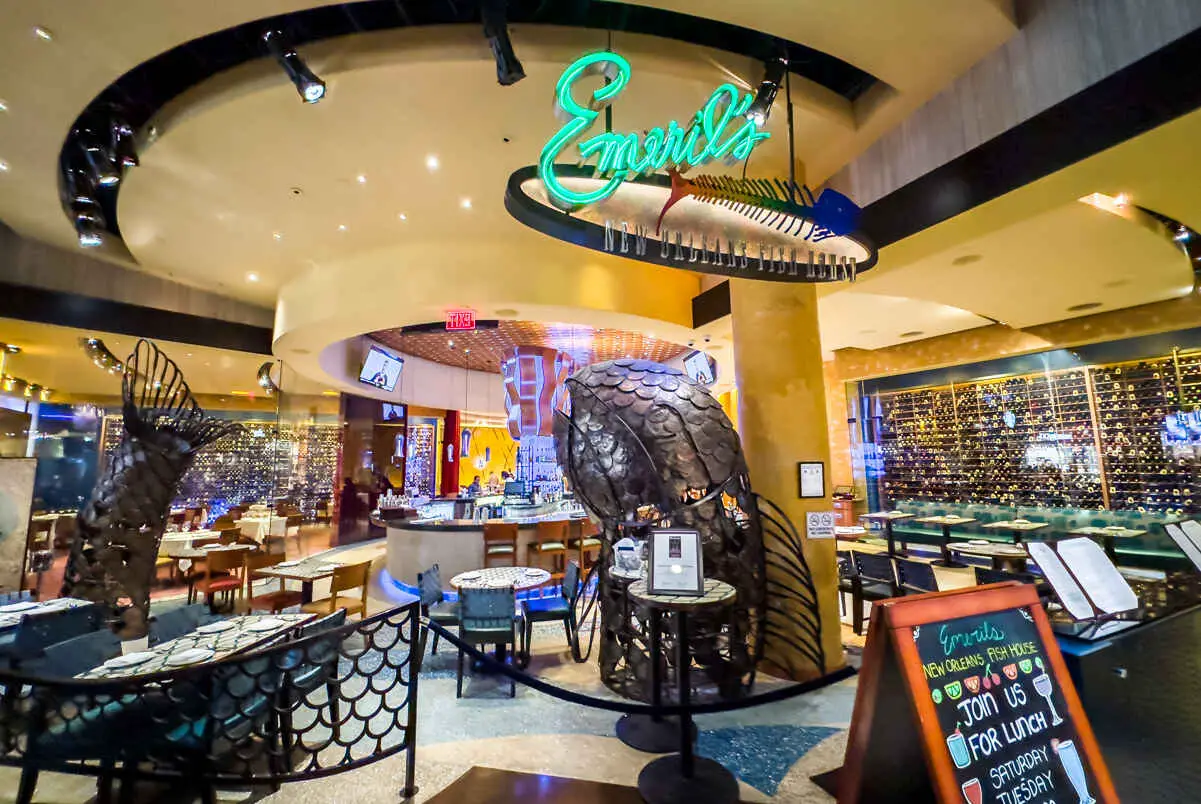 Owned by the energetic and witty chef Emeril Lagasse, Emeril's New Orleans Fish House opened at the MGM Grand in 1995 and is still one of the most popular restaurants in Las Vegas to date.
Emeril's New Orleans Fish House features a menu of impressive seafood dishes that Emeril Lagasse created himself. Aside from seafood, the restaurant also offers premium steaks. 
It's open daily from 5:00 pm to 9:30 pm, with lunch hours from 11:30 am until 2:00 pm every Friday to Sunday. Dinner entrees start at $38 and run as high as $190 (for wagyu steak). Due to the restaurant's popularity, making a dinner reservation is recommended.
Why You Should Try This Restaurant
If you're a fan of seafood, then you'll want to eat a meal at Emeril's. This restaurant uses fresh seafood, from crab to shrimp to oysters, which are turned into dishes bursting with flavors.
Emeril Lagasse's vibrant personality shines through in all the amazing dishes served at this restaurant.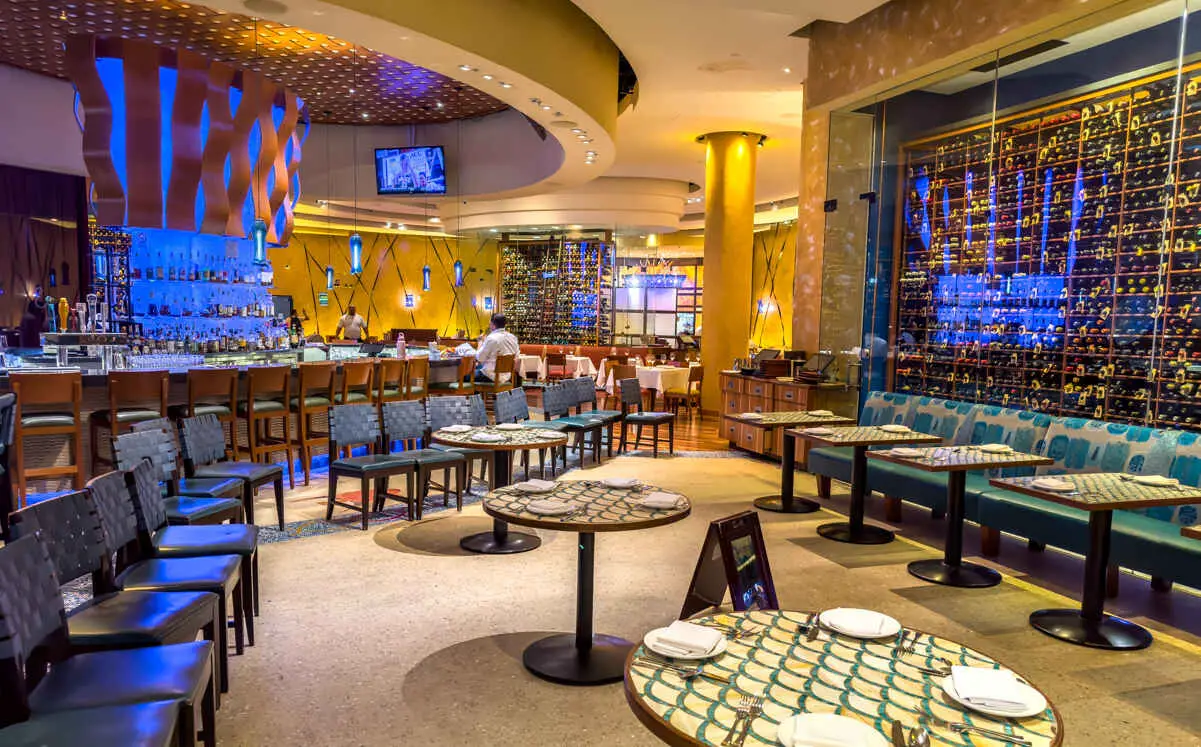 Emeril's Must-Try Menu Items
There are plenty of options at Emeril's New Orleans Fish House, but a few dishes stand out, and I highly recommend them. First is the Freshly Shucked Oysters, which consists of six fresh oysters, served with habanero pepper water, and some cucumber and seaweed mignonette.
The next dish you should try is the Gumbo, made with shrimp, andouille sausage, and okra in a rich and flavorful broth.
Finally, you should try Emeril's infamous Creole Seafood Boil. I would say this dish is the one you shouldn't miss out on, especially if you're a seafood lover. It comes with jumbo shrimp, mussels, clams, andouille sausage, potatoes, and corn, all submerged in a delicious creole garlic butter-based sauce.
7. CRUSH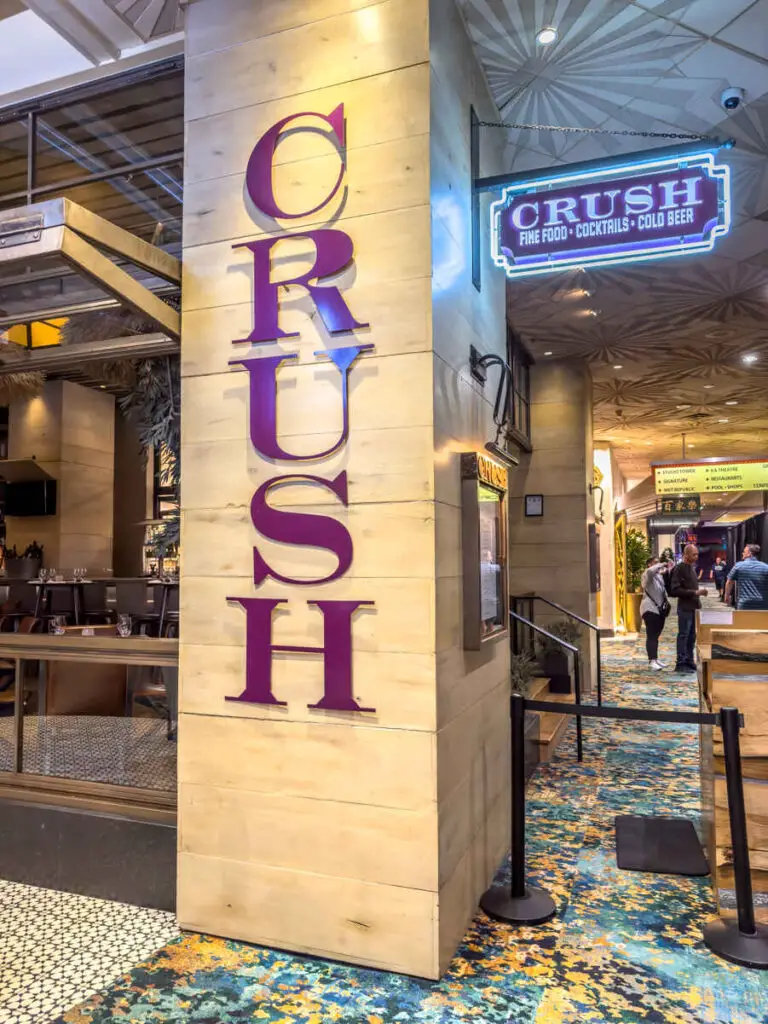 Opened in December 2013, CRUSH is a modern yet classy restaurant at the MGM Grand. It is owned by restaurateurs Michael and Jenna Morton of the Morton Family, who are quite prominent in the food industry.
Crush features an extensive menu of American favorites with a unique twist and operates on Tuesdays through Saturdays from 5:00 pm to 9:30 pm. Pizza's and main course entrees run between $20 and $58.
Why You Should Try This Restaurant
If you're a fan of American classics, this restaurant serves food you're familiar with but adds unique flavors to each dish, elevating it to something better.
Aside from its tasty offerings, Crush boasts a stunning and classy interior, and the atmosphere is quite laid-back yet sophisticated, making it perfect for date nights, birthday dinners, and other intimate celebrations.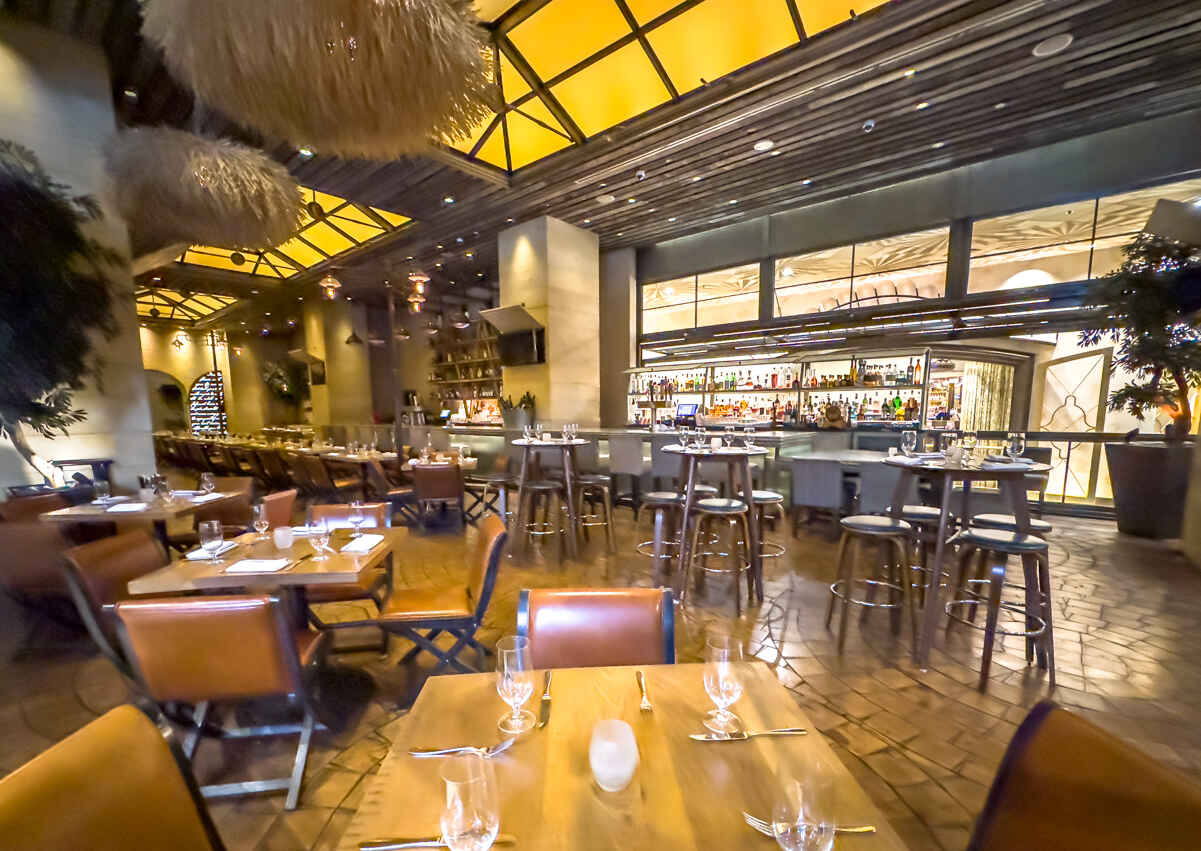 Must-Try Menu Items at Crush
Crush has an impressive menu, ranging from salads to steaks to wood-fired pizza. However, there are three dishes I highly recommend you order. 
The first dish is the Ahi Tuna, crusted with sesame seeds and skewered with avocado. This dish is simple, yet the combination of flavors is delicious.
The next dish I recommend is the Italian Sausage Wood-Fired Pizza. You might think this is a typical pizza, but the flavors of the Italian sausage, roasted red peppers, and pepperoncini marry so well. Plus, the way it's cooked adds more depth to the pizza.
Lastly, you should try the 8 oz Filet Mignon, which comes with sweet onions, fingerling potatoes, and some rich blue cheese fondue. This is another simple dish elevated by the delicious cheese poured on top of the juicy steak.
8. MGM Grand Buffet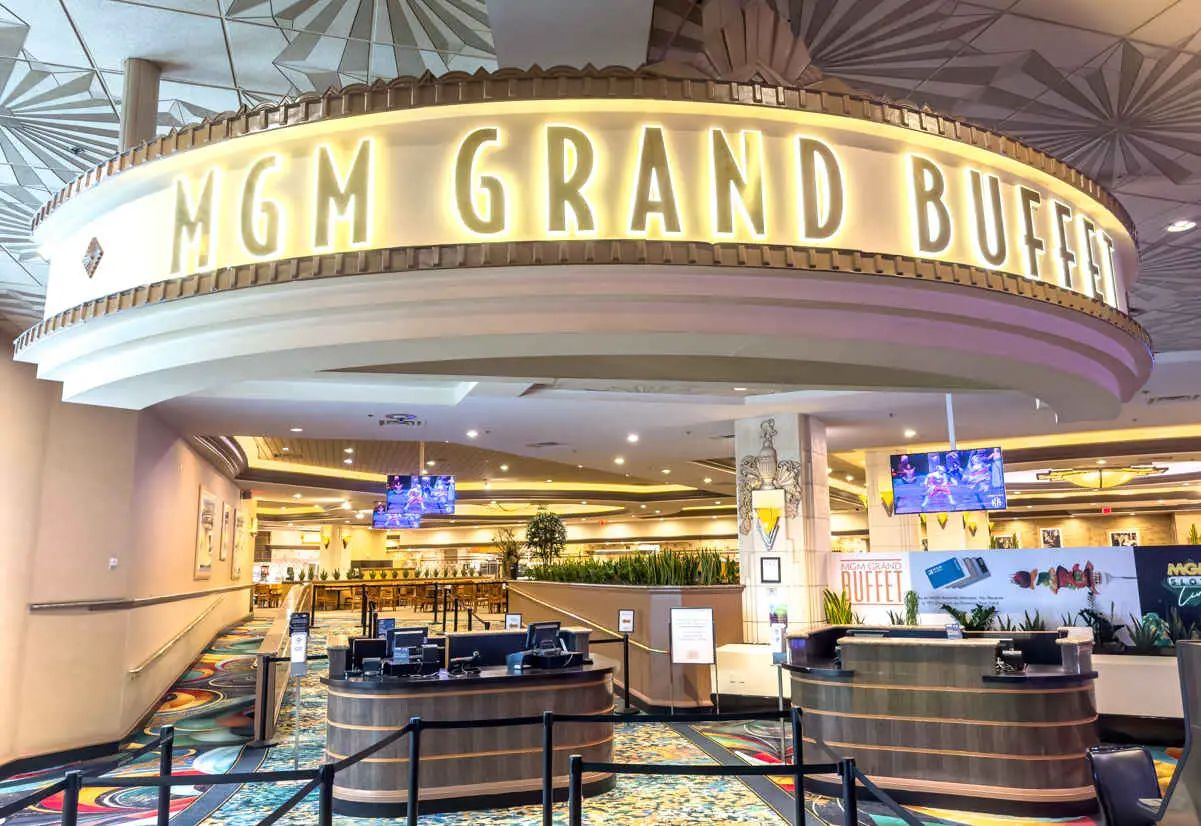 Situated in the MGM Grand casino, the MGM Grand Buffet is one of the most popular buffet restaurants on Las Vegas Blvd. It offers an array of delicious food options that guests can enjoy daily, from 8:00 am to 3:00 pm.
Why You Should Try This Restaurant
If you can't decide what to eat, dining at the MGM Grand Buffet is an excellent idea. This buffet-style restaurant features a wide range of dishes, allowing you to try a bit of everything.
Aside from delicious food, the MGM Grand Buffet also offers an all-you-can-drink alcoholic beverage special ($21.99-$30.99), including wine, beer, mimosa (brunch), and champagne (brunch).
Despite being one of the more affordable dining places in the MGM Grand (adults $28-$37), the quality of the food served here doesn't disappoint. Plus, if you're visiting with kids five years and below, they can eat for free!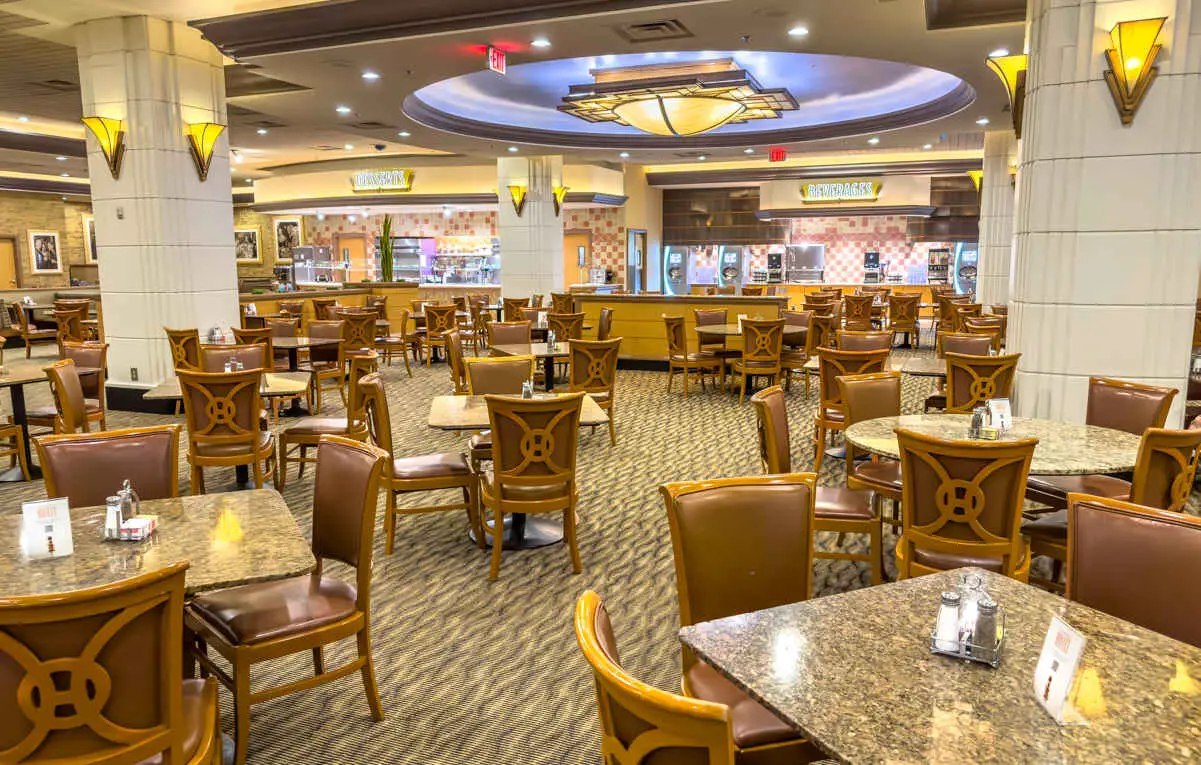 Must-Try Menu Items
If you plan to dine at the buffet at MGM, I recommend visiting during brunch, as this time allows you to enjoy the restaurant's breakfast and lunch menu. For round one, try the fluffy pancakes, assorted sausages, and eggs cooked to your preference. 
If you're a fan of seafood, you'll enjoy the smoked salmon, shrimp cocktail, mussels, and clams. They also have great meat options, such as brisket and tri-tip. Lastly, brunch won't be complete without mimosa or champagne, which can be added to your meal.
If you enjoy buffet-style dining, read my other article, which discusses all the other buffet restaurants in Las Vegas that you'll want to try. 
If you're planning a stay at the MGM Grand then you'll want to know all about the rooms: Do MGM Grand Rooms Have…? (12 Answers You Should Know)
More Restaurants At MGM Grand
While I've given you a list of restaurants at MGM Grand you are sure to enjoy, you may be wondering if these are the only options at MGM Grand. We'll the answer to that is "Not even close!" There are literally dozens of dining options at MGM Grand.
I've gone ahead and made a complete list of the restaurants below:
L'Atelier de Joël Robuchon
Joël Robuchon
Ambra Italian Restaurant
Grand Wok Noodle Bar
International Smoke
Crush
Morimoto Las Vegas
Nellie's Southern Kitchen
Tom Colicchio's Craftsteak
Hakkasan Restaurant
Blizz Frozen Yogurt & Desserts
MGM Grand Buffet
Wolfgang Puck Bar & Grill
TAP Sports Bar
Greek Sneek
In-Room Dining
Emeril's New Orleans Fish House
Avenue Café
Cabana Grill
Pieology
Bonanno's New York Pizzeria
Food Court
You can learn more about each of these restaurants and eateries here.
Find the best room deals at MGM Grand and save big with TripAdvisor!