3 Las Vegas Hotels With A Lazy River in 2023 (Fun in the Las Vegas Sun!)
(This article may contain affiliate links. If you click through and make a purchase, we will receive a small commission at no additional cost to you. )
If you're heading to Las Vegas, why not take advantage of the great weather and get yourself a hotel with a lazy river? Lazy rivers are water rides you float down that mimic the flow of a real stream or river, and there are only a few hotels in Vegas with this cool feature. So, if the idea intrigues you, you need to make sure you choose the right hotel.
There are three great hotels with lazy rivers in Las Vegas:
MGM Grand Las Vegas
Mandalay Bay Resort & Casino
Tahiti Village Resort & Spa
Let's take a look at these hotels, their lazy rivers, and other amenities and water features. Keep in mind that some of these hotel features are only available for their guests, so if you want the lazy river experience, you'll need to book one ASAP.

1. MGM Grand Pool Complex Las Vegas
The MGM Grand Las Vegas should be the first option on your list if you want to enjoy a lazy river. Not only does MGM Grand Pool Complex have a lazy river, but it also has 6.5 acres (0.026 square kilometers) of water features, including four swimming pools, three whirlpools, and several waterfalls.
The lazy river has padded lounge chairs next to it, so adults can relax while kids play safely nearby. (You can, of course, also join them for a relaxing swim!)
If you're an adult and want to let your kids play in the lazy river while you relax, you're in luck. Poolside massages are available, as well as plenty of food and drink options at the on-site restaurants.
Or rent an eight-person cabana with a flat-screen TV and bottle service.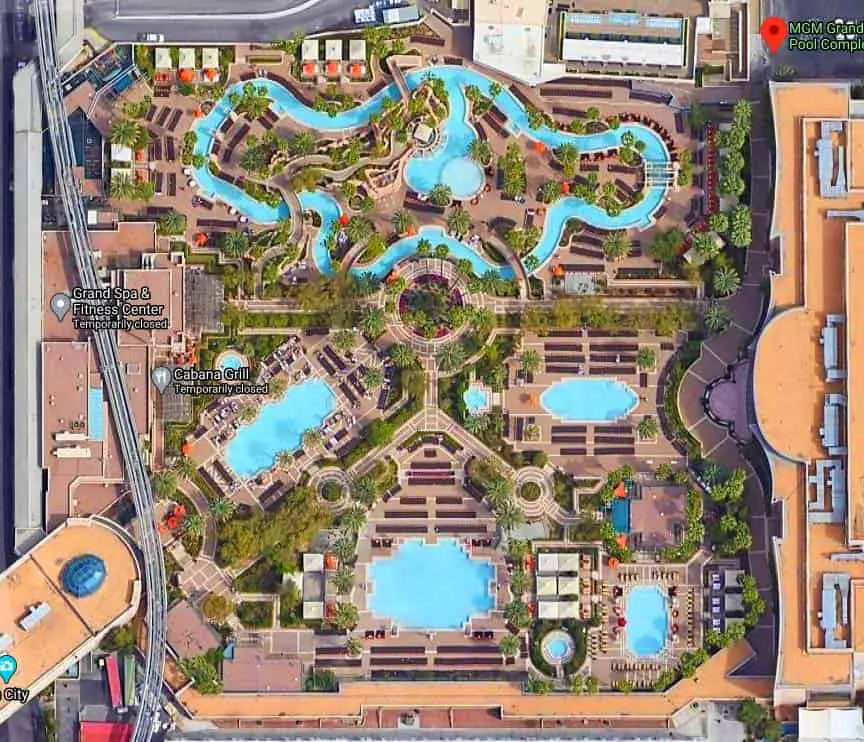 While the entire pool deck is open from 9 am to 6 pm, the lazy river is only open from 10 am to 5 pm. So, make sure to get to the pool area early enough so you have enough time to float and relax!
RELATED: MGM Grand Pool Complex: 23 Things You Should Know (Las Vegas)
The MGM Grand is also the best choice when it comes to entertainment options. You can see stand-up comedy and live magic shows (vegas.com) right there in the hotel.
The MGM Grand Hotel is located on the famous Vegas Strip and is within easy walking distance of many Vegas resorts and attractions.
2. Mandalay Bay Resort & Casino (Lazy River & Wave Pool)
Mandalay Bay is perfect for water lovers and boasts even more water features than the MGM Grand. If you plan on spending most of your time by the pool, this is the place for you.
This hotel offers an astonishing 11 acres (0.044 square kilometers) of water features, and this aquatic playground also includes a lazy river. Featuring a relaxing lagoon, several pools of different sizes, and more, guests of every age will have something fun to do at Mandalay Bay Beach.
Their 1.6 million gallon (6,057 cubic meters) wave pool is almost as big a draw as their lazy river. The pool deck has large areas of sandy beach and plenty of lounge chairs, so you're sure to find a relaxing spot.
Alternatively, if you want to experience ultimate luxury, you can book one of several cabanas by the lazy river. The cabanas include a flat-screen TV, a personal safe, and multiple comfy chairs and loveseats.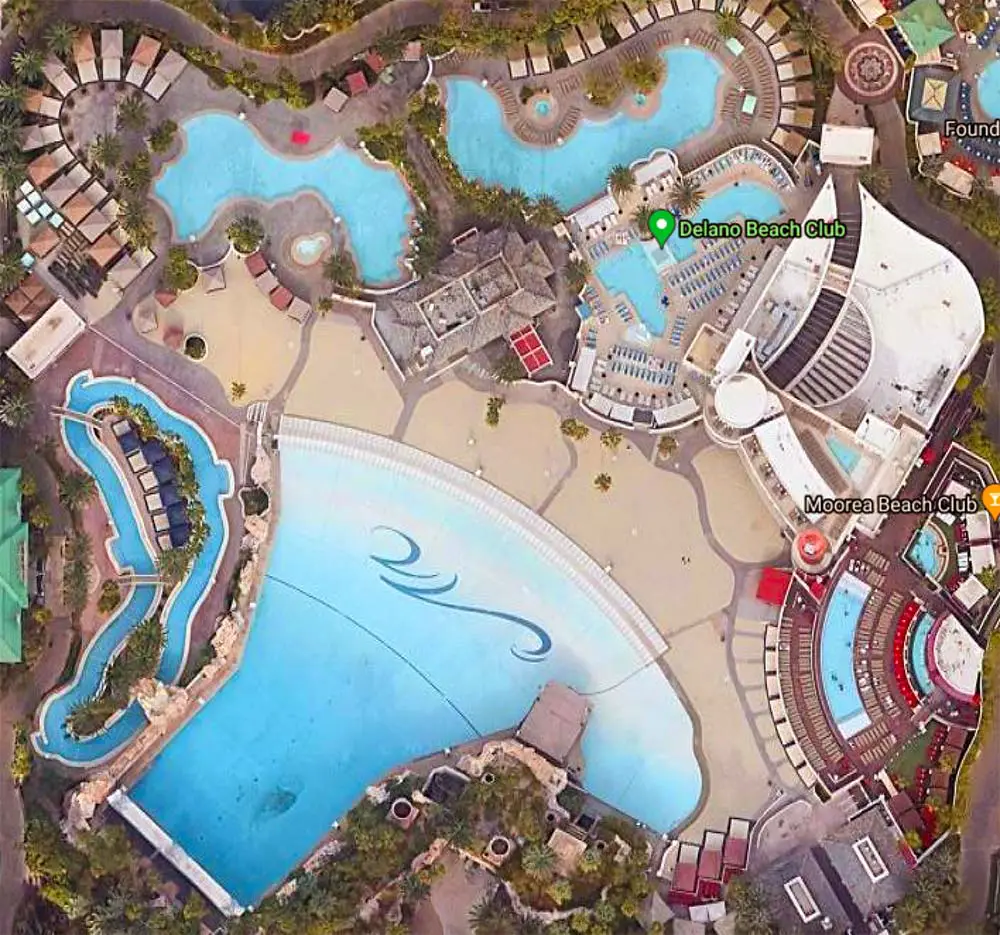 There are numerous options for cabanas starting at around $500 per day, so book a cabana for the day and come and go as you please.
RELATED: Mandalay Bay Beach & Pool: 31 Things You Should Know (Las Vegas)
This waterpark is open between 9 a.m. and 6 p.m. The lazy river at Mandalay Bay Beach is smaller than the one at MGM Grand, but the huge wave pool will make up for that!
The Mandalay Bay Resort and Casino is found on the south end of the Vegas Strip, not far from the Las Vegas sign.
3. Tahiti Village Resort & Spa (A Great Family Hotel)
Tahiti Village Resort & Spa is extremely family-friendly, making it perfect if you're traveling to Las Vegas with your family and young children. Their lazy river is over ⅛ of a mile (0.2 km) long, making it the longest lazy river in Vegas.
The river is heated to about 75°F (24°C) in the summer and 80°F (27°C) in the winter, so you can enjoy it year-round. Additionally, there are plenty of tubes for every guest who wants to float the lazy river.
Keep in mind that Tahiti Village's pool area is only an acre (0.004 square kilometer) in size, which makes it much smaller than the other two Vegas hotels on this list. However, if what you really want is a nice long lazy river to float down, then this is the top choice in Vegas!
The smaller-sized pool area is actually better for families, as it makes it much easier to keep an eye on your kids. You don't have to be stuck by the water all day, and you can even head over to their full-service tiki bar if you like without worrying!
The fun atmosphere at Tahiti Village Resort & Spa can't be matched by any other Vegas hotel. It has tiki torches surrounding the swimming pool area, several island-style water features, and luaus that take place all summer long for fun in the sun.

Make sure to check about the water park's opening times with the front desk when you check-in. Additionally, you'll have to keep in mind that the Tahiti Village's water park is only available to guests, so this lazy river isn't an option if you're not planning to stay at the hotel.
Note: You can visit the pools at both the MGM Grand and Mandalay Bay without being guests of the hotel. You'll just need to pay an entrance fee, however.
One major factor to remember is that this resort isn't in the center of the Vegas Strip, like Mandalay Bay and the MGM Grand. If you want to be in the middle of all the action, this may not be the spot for you. However, if you're planning a relaxing vacation or are traveling with younger children, you'll probably appreciate the slight added distance from the center Strip area.
Final Thoughts
Las Vegas is a city known for its extravagant pools, and the addition of lazy rivers to some of these pool areas has only added to their appeal. These lazy rivers provide guests with a unique and enjoyable way to relax and have fun.
So if you're looking to take a leisurely float down a lazy river, while you're living it up in Vegas, you're in luck! When booking your next trip to this remarkable city, be sure to consider a hotel with a lazy river for a truly unforgettable experience.
Related Articles:
Reference: