8 Craziest Hotel Rooms in Vegas (Vegas Super Suites)
Sin City has some of the most over-the-top hotel rooms in the world. However, even the most extravagant accommodation options will have unique features that set them apart from one another. So, which Las Vegas hotel rooms are a cut above the rest in terms of unique offerings and luxury?
The craziest hotel rooms in Las Vegas are Palms Casino Resort's Empathy Suite, Sky Villa, and Hardwood Suite, the Nobu Villa at Caesars Palace, MGM Grand's Skylofts, the Chairman Suite at the Bellagio, the Strip View Presidential Suite at Four Seasons, and Aria's Sky Villas.
Read on to learn more about the hotel rooms, what makes them stand out, what amenities and services to expect, and anything else you need to know.
Compare and save! Check current Vegas hotel room rates now at TripAdvisor!
1. The Sky Villa at Palms Casino Resort ($40K per Night!)
Palms Casino Resort's Sky Villa is one of the most extravagant hotel suites in Vegas. This two-story suite sits atop the Fantasy tower and offers one of the most breathtaking views of the Vegas strip and the surrounding landscape. 
Many other hotel suites in the area allow guests to enjoy views of the Strip, but the Sky Villa at the Palms is unique in that it offers this view from the comfort of a private infinity swimming pool. This glass-enclosed pool extends off the side of the building and sits on an outdoor terrace with a cozy fireplace, luxurious lounge chairs, and a barbecue grill.
The Sky Villa's private pool is about 160 sq. ft. (14.9m2) in size and 4ft. (1.2m) deep, which is significantly smaller than the standard size of most Vegas hotel pools. It is completely private, however.
(This article may contain affiliate links, which means we might earn a small commission if you click and make a purchase. Thank you!)
The smaller pool isn't necessarily a drawback; it emphasizes intimacy and allows guests enough space for entertainment. Additionally, it's heated to facilitate year-round swimming, something that can't be said for many Vegas pools.
Of course, Sky Villa offers much more than a private pool with stunning views. Each room has high-end finishes, such as marble.
Other amenities include:
A pool table.
A private elevator.
A media room.
A full-size bar.
Round-the-clock butler service.
VIP check-in.
A massage room.
A One-day complimentary cabana rental.
Airport transfer service (round-trip).
A fitness center.
2. The Skylofts at MGM Grand ($1K to $5K per Night)
MGM Grand's Skylofts offer a combination of luxury, tranquility, and personalized service. These luxurious lofts offer several amenities and services that set them apart from similar accommodation options along the Strip, which isn't a surprise given they're found inside Las Vegas's single largest hotel property.
Their most noteworthy offerings include:
Private entrance. If you're looking to stay out of the public eye, you'll appreciate the fact that you can discreetly find your way to your loft through a private entrance and elevator.
Personal concierge. All Skylofts have a round-the-clock personal concierge tasked with helping guests with everything they need, from transport arrangements to restaurant reservations.
Customizable floor plans. Skylofts are available in one, two, and three-bedroom floor plans to accommodate various guest needs. They also offer several customization options for bedrooms, dining areas, and living spaces.
Sophisticated designs. These lofts are designed with modern sophistication in mind. Sleek design elements such as art pieces, furnishings, and the latest technology combine to add a touch of contemporary style to the interiors. This is complemented by two-story windows illuminating the open-plan living spaces with natural light and allowing guests to enjoy beautiful views of the Vegas skyline. 
5-star amenities. The amenities list is pretty long, so I'll only mention a few of the most impressive offerings. These include a jacuzzi tub, a butler pantry, a heated towel rack, a fitness center, iHome ® wireless charging station, and luxury transportation. A private infinity pool is also available in some lofts.
Overall, these lofts are one of Vegas's most over-the-top accommodation options. However, they're on the expensive side of things, which is understandable given what they offer.
If you're interested in staying at the Skylofts or any other accommodations in the MGM Grand, be sure to check out my previous post on MGM Grand rooms FAQs. It covers what to expect in terms of services and amenities, terms and conditions for guests, and much more. 
3. The Nobu Villa at Caesars Palace ($35K per Night at Nobu Hotel)
Caesars Palace's Nobu Villa is a 3-bedroom rooftop villa that spans over 10,300 sq. ft. (956.9m2). This luxurious villa has a Japanese-inspired design that combines simplicity and elegance. It's primarily made of natural materials, decorated with stylish furnishings and Japanese artwork, and fitted with a secluded Zen garden with a koi pond.
Like many other accommodation options featured in this list, Nobu Villa allows guests to enjoy views of the Vegas Strip from its massive patio. It also has a full bar, a fire and water fixture, a media room, a barbecue pit, and a private elevator that allows high-rollers and celebrities to access their living spaces exclusively.
Other offerings include: 
Personalized butler service.
Exclusive access to Nobu restaurant.
Access to a private fitness center.
With so much to offer, it's no surprise that Nobu villa has hosted celebrities like Justin Bieber, Miley Cyrus, Celine Dion, and Jennifer Lopez.
RELATED: How To Choose a Hotel in Las Vegas (The Ultimate Guide)
4. The Hardwood Suite at Palms Casino Resort ($25K per Night)
Yet another offering from the Palms Casino Resort, the Hardwood Suite is the perfect place to stay for basketball lovers. It's a popular destination for basketball-loving celebrities, high rollers, and pro athletes.
This 10,000 sq. ft. (929m2) two-floor suite has two master bedrooms, a professionally designed locker room, and a private regulation-size indoor basketball court. Its decor gives off an urban vibe thanks to fine street art from renowned artists such as Joshua Vides, Cryptik, and MADSTEEZ.
The suite's first floor houses a pool table, a full-size bar, and a secret whiskey room. The second floor is equally designed for relaxation before and after shooting some hoops, with ample living space with a comfy lounge area.
Other amenities and services on offer here include round-the-clock butler service, a jacuzzi, 11 plasma TVs, courtside Murphy Beds, airport transfer, VIP check-in, and a one-day complimentary cabana rental.
5. The Chairman's Suite at the Bellagio ($7K per Night)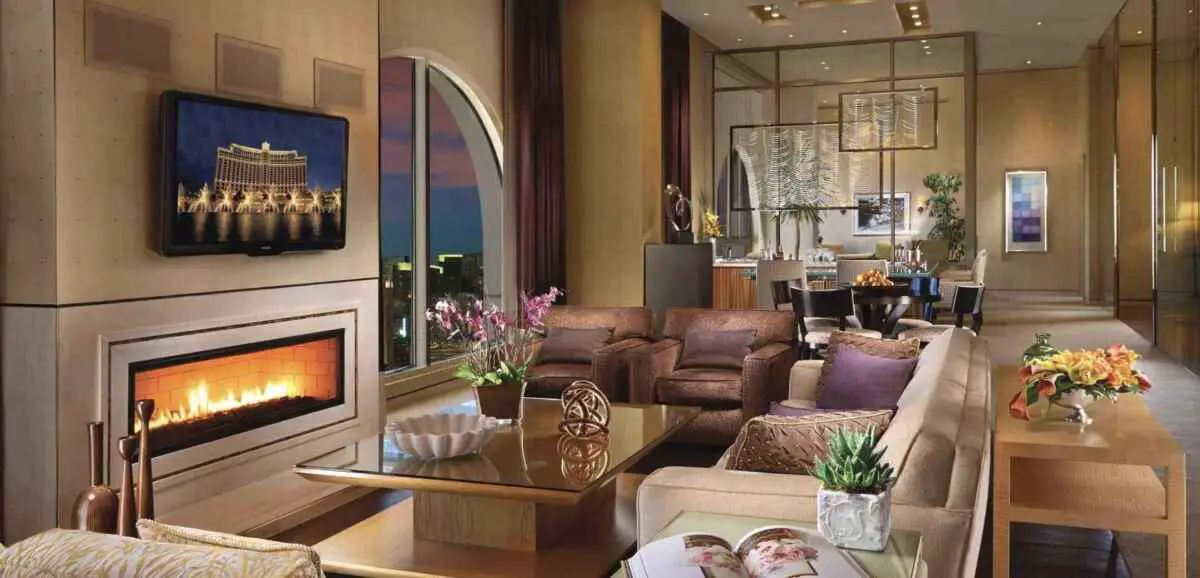 We'd expect nothing short of iconic from a hotel with the Bellagio's legendary status, and the Chairman's Suite doesn't disappoint. Sitting at the summit of the Spa Towers, this 4,075 sq. ft. (379.6m2) two-bedroom suite allows guests to enjoy stunning views of the cityscape from the comforts of a private bathroom fitted with steam showers and whirlpool bathtubs.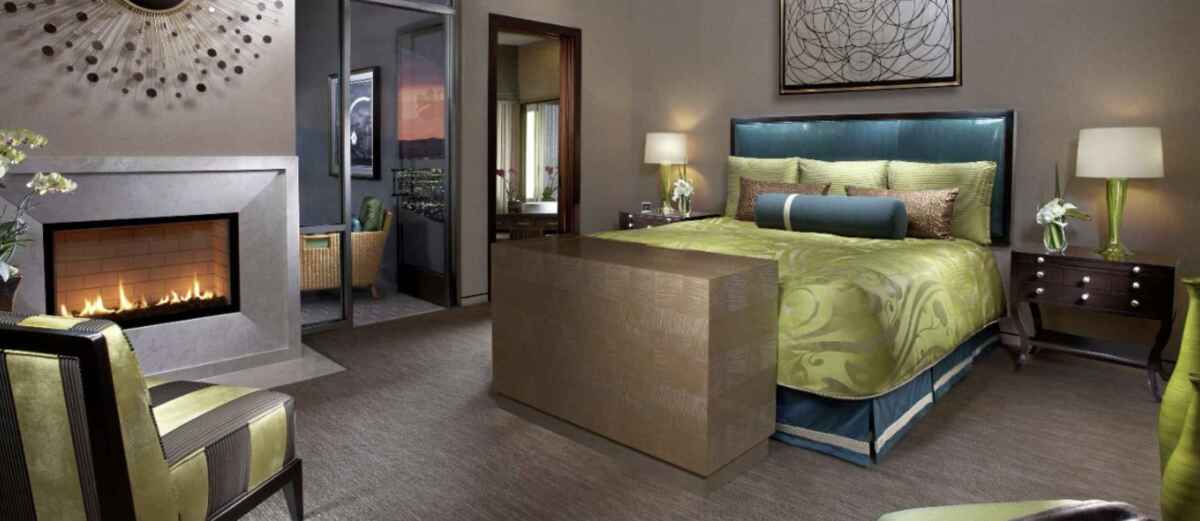 Guests also get their own solarium, conference room, bar to host up to six people, a fireplace, and an indoor garden with a fountain. Other customized amenities and services include:
A 24-hour butler service.
Access to premium seating on MGM Resorts' shows, clubs, and restaurants.
Reservation handling.
Three entourage suites. 
A home theatre system.
A 50" (127cm) plasma TV.
6. The Strip View Presidential Suite at Four Seasons ($3,500 per Night)
Four Seasons' Strip View Presidential Suite offers guests unparalleled panoramic views of the Vegas Strip, thanks to its floor-to-ceiling window design. The windows are also positioned to ensure guests don't have to leave their beds to enjoy the sunrise and sunset.
The suite is about 2,225 sq. ft. (206.7m2). This is significantly smaller than some of the other hotel rooms we've reviewed so far, but that difference is also reflected in the pricing. Don't get me wrong; this is still a luxury suite. It's just that a night here doesn't cost as much as the Nobu Villa, for example. 
Despite being priced significantly lower than most of the other accommodation options we've looked at so far, the Strip View Presidential Suite offers pretty much all the services and amenities you'd expect from an over-the-top Vegas suite. 
It comes complete with:
Sleek furniture.
Art-deco style interiors.
Dining and living rooms.
A full-scale office.
Pantry.
Master bedroom with a walk-in closet.
A marble bathroom.
Guest powder room.
A private refrigerated bar.
7. The Empathy Suite at Palms Casino Resort ($100K per Night!)
One could make a compelling case that the Empathy Suite is the craziest in the Palms Casino Resort and possibly the whole of Vegas. It's the world's most expensive suite, with a single night costing $100,000! Factoring in the two-night minimum, the least you can spend for accommodation here is two hundred grand!!
Empathy suite justifies its hefty price tag in many ways, but what stands out most is the attention to detail Damien Hurst demonstrated when designing this unique space. A quick glance is all it takes to notice the renowned artist's creative portrayal of death as the central decor theme. (Death is a prominent theme in Damien Hurst's artwork.)
At the entrance, guests encounter the famous Winner/Loser installation. This is essentially a white tank with two bull sharks suspended in formaldehyde and is one of the most striking features of this suite. However, it's not the only death-themed art installation Damien used to create this unique space. 
There are up to five other installations, including the Medical Waste. The Medical Waste is a fully-serviced glass bar that can accommodate up to 13 people. It has about 100 pounds of medical debris, as well as the floating remains of marlin. 
Hirst also decorated the windows in one of the two king bedrooms with his trademark pharmacy art and installed a pill-themed wallpaper in one of the bathrooms. Other noteworthy decor elements include glass and stonework installations with butterflies. These have been featured in different parts of the interiors, such as the pool tile work, floors, curtains, and upholstery.
As you'd expect, there's much more to the Empathy Suite than Damien Hirst's exquisite artworks. Other offerings you can expect include:
A fitness center.
Two massage rooms plus a sauna.
A salt room.
Round-the-clock butler service.
A private pool and terrace with great views.
A dedicated gaming area equipped with a pool table and foosball table.
Vip check-in.
Airport transfer.
Concierge service.
One-day complimentary cabana rental.
Great views of the strip.
8. The Sky Villas at Aria Hotel Las Vegas ($3,500 – $7,500 per Night)
Aria's Sky Villas are a perfect choice for anyone looking for a hotel room with the convenience of modern home automation. These 3,370 sq. ft. (313m2) villas are out to redefine what it means to stay in a technologically advanced suite with 10″ (25 cm) in-room tablets that allow guests to control things like:
Lighting.
Temperature.
Opening and closing blinds.
Making reservations for things like salon and spa treatments.
Essentially, you can control most aspects of your surroundings through voice commands. Connectivity panels are also part of the tech package. These allow you to seamlessly connect your DVD player, gaming console, laptop, MP3 player, or any other device to the in-room technology. This way, you never have to "manhandle" the sound system, TV, or other in-room tech trying to find a specific port for your device.
Speaking of TVs, Aria's Sky Villas come equipped with three different-sized HD LCD TVs placed where you're most likely to need them. The largest one is 52" (132.08cm). It has full device connectivity, which makes sense because it's in a part of the hotel space where guests often need to connect their devices: the living area. 
The second largest TV is 42" (106.7cm) and can be found in the bedroom. The third one is about half this size, understandably so because it's in the bathroom.
Additionally, these villas provide guests with a workstation so they can keep up with their career and business obligations. The workstations are fitted with a high-speed wired internet connection. If that fails or slows down for whatever reason, a resort-wide 10MB Wi-Fi connection is always on standby. And if you happen to forget to pack your laptop or iPad, one will be provided throughout your stay.
Of course, Sky Villas provide virtually all the amenities and services you'd expect when staying at a 5-star hotel. Some of the standout offerings include:
A private sky pool.
Personalized concierge and butler services.
Luxury transportation from the airport.
Complimentary courier service.
Powder room.
Access to ARIA fitness center.
Private elevators.
RECOMMENDED: Bellagio vs Venetian (Which Las Vegas Hotel to Choose?)
More Over The Top Hotel Rooms in Vegas (Palms Casino Resort)
While the hotel rooms detailed above are some of the most opulent in the Vegas, there is one hotel in the city that has rooms and suites that take the cake when it comes to providing some of the most outlandishly themed rooms in Las Vegas!
The Palms Casino Resort is known for having several one-of-a-kind rooms that are sure to blow your mind!
Make Good Choices Suite (from $1,500 a night)
The Make Good Choices Suite is a hotel room that's ready to party. With over 1,400 square feet of entertainment space and a private bedroom, this room knows how to do it right.
Grand Blush Suite ($3,000 to $5,000 per night)
You and up to seven of your very best friends will have a night you'll never forget in the Blush Suite. The suite features salon-style washrooms, luxurious satin robes, VIP check-in, and twenty-four-hour private butler service. Perfect for a bachelorette party!
The Palms Casino Resort Cinema Suite (from $5K a night)
The Cinema Suite is THE hotel room for movie lovers! With a private theater room and a 98″ screen, you won't ever want to leave. The room itself provides over 1,900 square feet of floor space, 1 King bed, and plenty of room to entertain up to 8 guests. You can even upgrade the room with another connected room to increase the size of the party.
Grand Loft Suite (from $2,000 per night)
Looking to host your own private party? Then the Grand Loft Suite has what you need for the perfect night. With more than 2,000 sq. ft. of space, two queen-sized beds, and room for up to 8 to stay, this room has everything you need. Oh, I almost forgot to mention the private bar, poker table, and round-the-clock butler service.
Kingpin Suite (from $15K per night)
If you're a fan of the movie Kingpin with Woody Harrelson or just a fan of bowling in general, you're gonna be blown away by the Kingpin Suite at Palms Casino Resort. With two lanes of professional-level in-suite bowling and over 4,000 square feet of living space, this is the ultimate party pad.
There are multiple beds (including bunk beds) to sleep up to 10 guests, a DJ booth, pool table, 12 televisions, and 24-hour butler service. I think I can hear my 10-year-old self losing his mind!
Find the best deals on Las Vegas hotel rooms and save big with TripAdvisor!
Conclusion
So there you have it! These Vegas hotels and rooms are some of the best of the best when it comes to crazy, over-the-top rooms in Vegas. Not only are these rooms amazing, the prices of these Las Vegas suites are eye-popping as well!