Why Is the Luxor Hotel So Cheap? (What You Need To Know)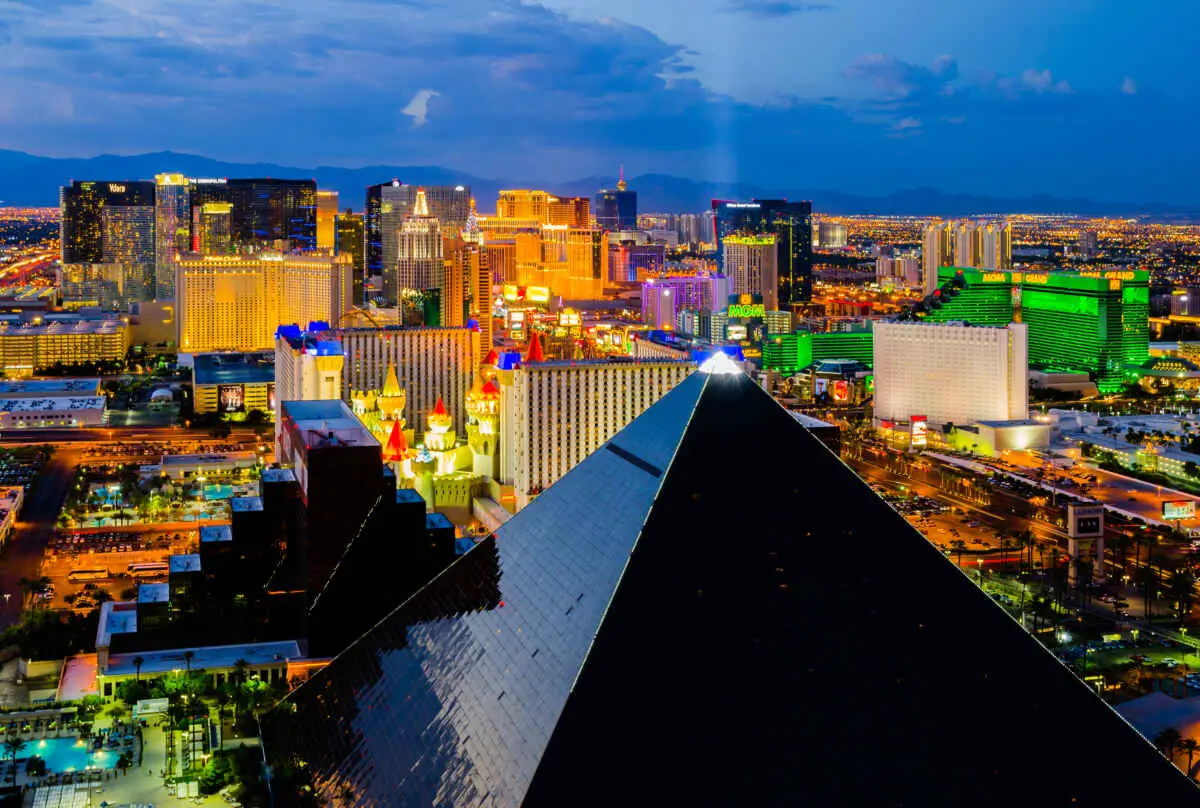 (This article may contain affiliate links, which means we might earn a small commission if you click and make a purchase. Thank you!)
The Luxor Hotel & Casino is a popular hotel option for many Las Vegas tourists and is known for its unmistakable pyramid design. If you're looking at Las Vegas hotel prices, you might have noticed the advertised room price for the Luxor Hotel is relatively cheap, but why is that?
The starting price of a Luxor hotel room is cheap because it's an older hotel compared to many on the Strip. Luxor rooms are slightly outdated, but you can still expect them to be clean and spacious. Also, its location on the south end of the Strip makes it less ideal for some Las Vegas visitors.
In this article, I'll discuss why the Luxor Hotel is cheaper than many other hotels in Las Vegas. Keep reading to learn more. 
Find the best rates on Luxor rooms. Compare and save with TripAdvisor.
Reasons the Luxor Hotel Is Cheap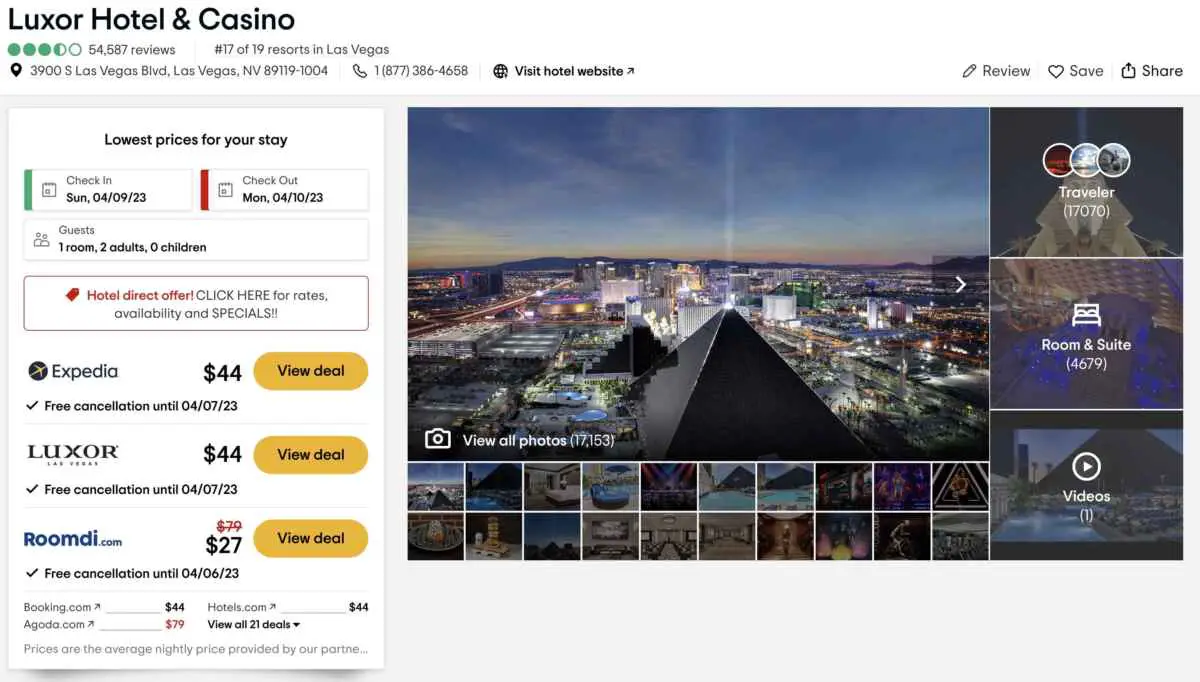 Choosing the right hotel in Vegas requires plenty of pre-planning. Knowing ahead of time what you want to do during your stay is essential, as this will help you choose a Vegas hotel close to your desired activities.
Since the Luxor hotel is comparatively inexpensive, you're probably tempted to go right ahead and book it. However, before you do, it's good to know why the hotel is cheap, as some of the reasons may (or may not) change your mind about wanting to book a room there.
Let's explore some of these reasons below:
Luxor is an Older Resort Property
It's essential to consider the general age and condition of the Luxor Hotel. Compared to other hotels in Vegas (like the Palazzo or ARIA), the Luxor isn't as modern or flashy. Therefore, you'll notice that the rooms look slightly old-fashioned.
For example, some rooms have carpets and bedsheets with outdated styles and designs, and much of the furniture is old. Still, everything is clean and works. So, if a slightly outdated style doesn't bother you and you're on a tight budget, the Luxor Hotel could be a good option.
The hotel was opened in 1993, so it's no surprise that it looks a bit dated. It has received refurbishments over the years, but nothing drastic to modernize the rooms. 
Luxor May Be Too Far From Center Strip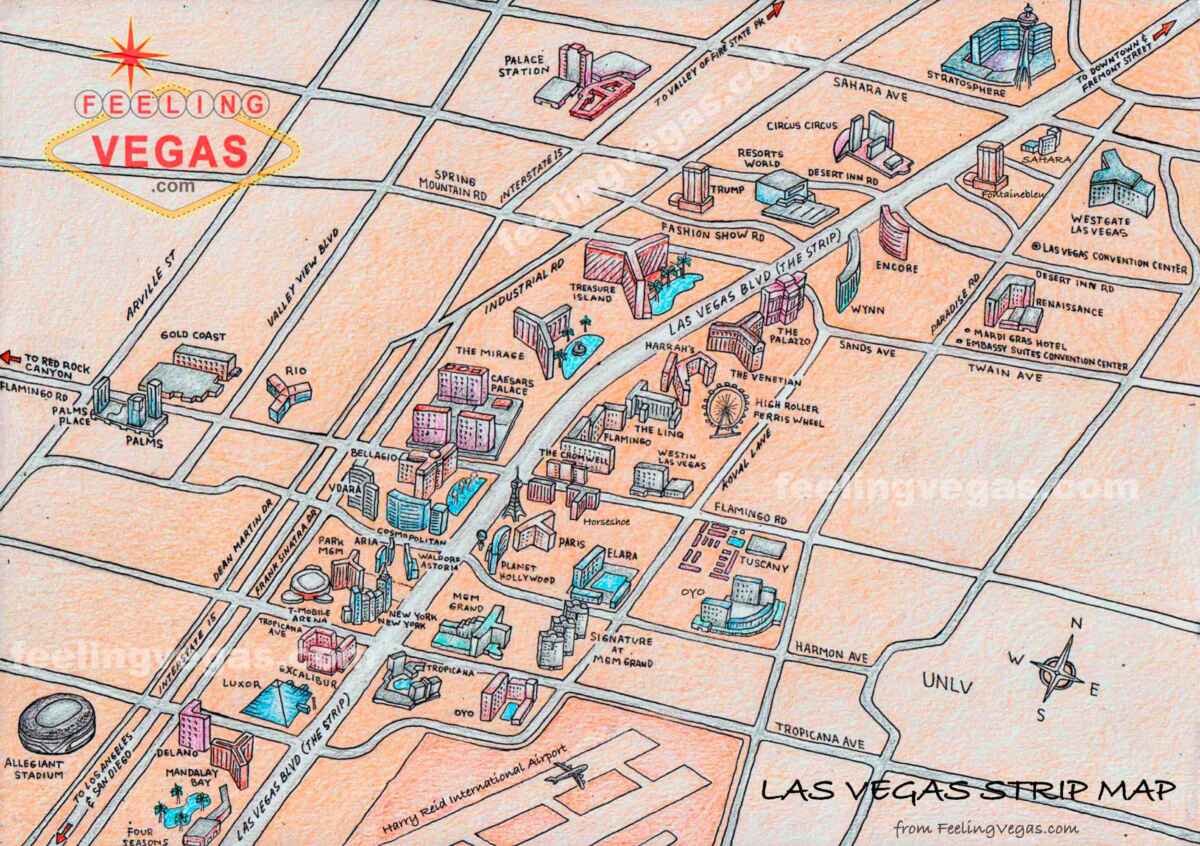 Most visitors who travel to Vegas want to be close to the center of the Strip so that they can be within easy walking distance of the most exciting attractions. However, the Luxor Hotel is further down the Strip, which might deter tourists from booking it. Therefore, it's safe to say that the hotel decreases its rates with this in mind. 
You'll have to consider transportation before booking at Luxor. For example, you'll have to walk for at least 35 minutes to get to the central part of the Strip (Bellagio, Caesars Palace, etc.) from the Luxor Hotel. This can be inconvenient if the casinos and resorts at mid-Strip are where you want to spend most of your time. 
Although it's possible to save money by going with the Luxor Hotel over a more expensive option, you'll likely spend more on Ubers and other forms of transportation because of its distance from all the action.
Having said that, there is still plenty of interest close to Luxor. A stay at Luxor will put you within easy walking distance of several other large resorts and casinos, including Mandalay Bay, Excalibur, MGM Grand, and New York-New York.
Getting Around the Hotel Can Be a Nuisance
People generally don't consider how easy it is to get from the reception to their room before booking a hotel. 
Unfortunately, finding your way around the Luxor hotel can be challenging. It's no surprise, considering the hotel contains over 4,000 rooms and is home to the world's largest open atrium. 
Depending on where your room is, you may need to take numerous elevators and walk across multiple long hallways. You might not have to go through all this trouble in a more expensive hotel, so it's something to consider before booking a room.
Some guests have stated that it took them 10-15 minutes to walk from their rooms to the hotel's front entrance! While that isn't a deal breaker for me, it may be for you.
Lack of Upscale Dining Options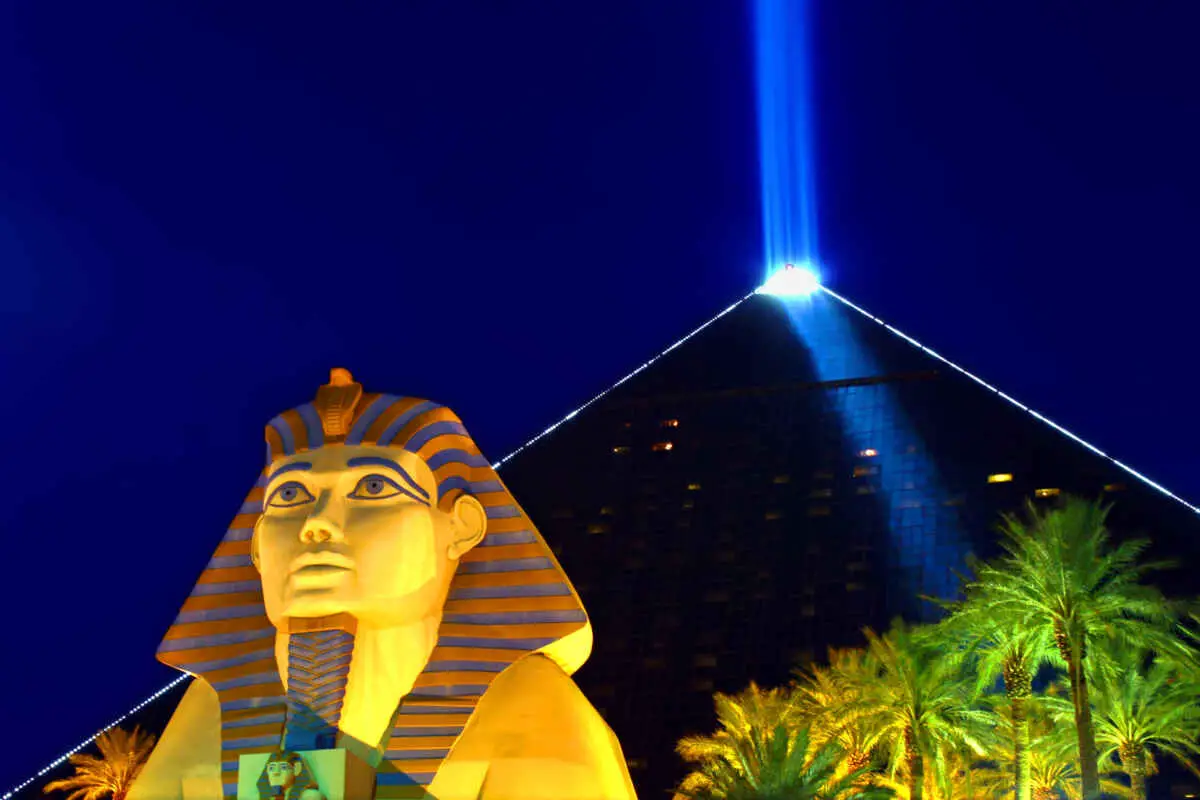 Many hotels on the Strip are home to a plethora of high-end restaurants, but you will find fewer options in the Luxor Hotel. Don't get me wrong, Luxor has plenty of food options, but it's not the culinary smorgasbord available at some other Vegas properties.
That doesn't, however, mean you can't have a nice meal. Luxor has several restaurants within the property, and the hotel is close to Mandalay Bay and MGM Grand, both of which have plenty of higher-end restaurants if that's something that's important to you.
The Mandalay Bay Hotel is home to plenty of delicious, highly-rated restaurants, including:
Kumi
Foundation Room (fine dining)
Fleur
Rivea
Mandalay Bay is only a short walk from the Luxor hotel. Still, it's slightly inconvenient if you want restaurant options within the hotel you're staying at, so consider this before deciding to stay at the Luxor hotel. 
RELATED: I've also written an in-depth article about the top places to eat at MGM Grand, which you may want to check out.
Luxor is Not As Sound-Proofed As Other Vegas Hotels
Many Luxor Hotel visitors notice noise coming from the hallways and other rooms. Don't be surprised if you're woken early in the morning by the sound of housekeeping knocking on people's doors on the other side of the hallway. 
If you spend more to stay in a more luxurious hotel, the soundproofing is likely better, ensuring the guests have more privacy and comfort. 
Therefore, consider this if you're a relatively light sleeper or prefer to avoid hearing people talking in the hallways and surrounding rooms.
Is the Luxor Hotel Worth It on a Budget?
All of the above does not mean that a stay at the Luxor isn't a good choice.
The Luxor Hotel is worth it on a budget because the rooms have everything you need at a reasonable price. The most important things are a decent bed, shower, TV, and internet. Cleanliness is also essential, and each room is cleaned thoroughly every day. It also has a large pool and pool deck (one of the largest in the entire city). 
Check out my article covering all the amenities at Luxor hotel rooms so you can decide for yourself whether it's worth it or not. [Do Luxor Rooms Have…? (XX Things To Know)] (coming soon)
In my opinion, the Luxor is a great choice for someone on a tighter budget. I mean, how cool is it to stay in a pyramid?! It's also a good option for the type of traveler who generally spends their day out exploring and only comes back to the room to sleep.
However, Luxor might not be worth it for some because of the longer distances to get to center strip attractions and the lack of fancy/modern rooms, restaurants, and amenities. Additionally, if you plan on spending a lot of time in the room, it might not be worth it, as the rooms are basic and not the largest. 
Discover unbeatable Luxor room rates! (TripAdvisor)
What Is a Nice Alternative to the Luxor Hotel?
Treasure Island TI is a nice alternative to the Luxor Hotel because it's closer to the central part of the Strip, and the rooms are easier to access. You won't have to take multiple elevators to get to your room, and you won't have to walk such long distances or pay as much for transportation around the city. 
However, the rooms at Treasure Island are similar in style to the ones in the Luxor Hotel, so expect similar quality. 
RELATED: Luxor vs. Treasure Island: Which Is Better?
If you'd like more information on choosing a hotel in Las Vegas, please read my other article, How To Choose a Hotel in Las Vegas (The Ultimate Guide)
Conclusion
The Luxor Hotel is cheap comparatively because the rooms are older than some of the more luxurious hotels in Vegas. It's also on the south end of the Strip, which could increase your transportation costs. 
Despite its downsides, the rooms are clean and offer all the essentials, making it perfect for anyone on a budget.