What is a Las Vegas Residency & Highest All-Time Grossing Acts
(This article may contain affiliate links. If you click through and make a purchase, we will receive a small commission at no additional cost to you. )
Many consider the Las Vegas Strip to be the capital of music residencies in the United States. It's only fitting that it has such a reputation, seeing as the concept of the musical residency originated in the city of Las Vegas.
But what exactly is a Las Vegas residency? A Las Vegas residency is when a well-known musical artist is under contract to perform regularly scheduled shows at a single venue over a period of time. In Las Vegas, a residency is usually an agreement between an artist and one of the large casinos on the Strip to perform shows several times a week for several months or even years.
In this article, we'll discuss the history of Las Vegas residencies, why these residencies exist, the most successful residencies, and how to get tickets to see a Las Vegas residency.
Looking for the ultimate Vegas show experience? Check out the calendar of concerts and festivals coming to Las Vegas!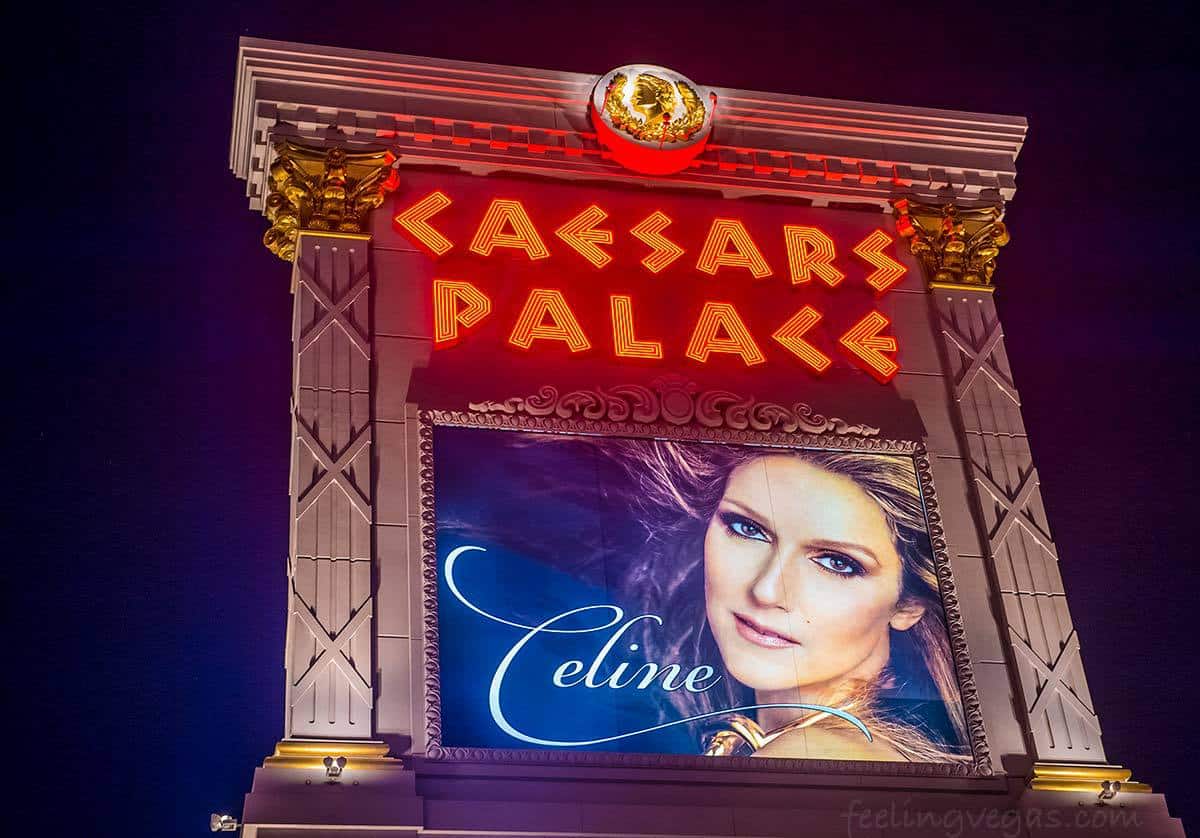 What is a Vegas Residency
As mentioned above, an artist can obtain a Vegas residency by booking a series of shows at a particular venue in Las Vegas, most commonly a resort or casino. 
Hotels and casinos on the Las Vegas Strip have played host to resident performers since the 1940s when the world-famous Liberace graced the city with a series of concerts.
Residency shows in Las Vegas have proven themselves to be as profitable as tours, if not more. The duration of a residency (wikipedia) ranges from a few days to several years. Artists like Celine Dion, Britney Spears, and The Chainsmokers have made a fortune from being resident performers in Sin City.
Not only are residencies profitable, but they also save the performing artists from the stress and grind of a tour that plays in a different city every night. In other words, it's a pretty easy gig for a resident performer, and being a performer in Las Vegas with a residency has become a very desirable thing for many musical artists.
Some critics believe that a residency is nothing but an attempt to rejuvenate the career of a waning artist. However, more trending artists, including Usher, are involving themselves in Las Vegas residencies.
So, how do Las Vegas residencies work, and what are the most profitable residencies in Vegas history? You'll find out the answers to these questions below.
Why do Las Vegas Residencies Exist?
When you see the ridiculous amounts of money that major artists are making throughout their Las Vegas residencies, one question in particular probably comes to mind. 
Why do these residencies exist? 
The short answer is that they make the artists and resorts a lot of money!
The artists make money because the resorts and casinos pay them to perform. That makes sense, of course, but what about the casinos?
The casinos themselves tend to lose money on the performance but gain it back indirectly by attracting people to their casinos, where they spend even more money on dining, other attractions, and gaming.
According to Kurt Melien, the vice president of entertainment at Caesars Palace, residencies are a "loss leader" event. The resorts lose money on hiring the performer but realize a huge profit on the backend because the celebrity performances draw more people to the casino.
There's a lot of competition in Vegas to be the trendiest resort or casino. One of the best ways to attract crowds to your casino is to have the hottest names in music performing at your club or venue. Therefore, resorts will happily pay artists a boatload of money to bring in more customers. 
The Most Successful and Highest Grossing Las Vegas Residencies
While dozens of past residencies have raked in millions of dollars throughout their run, a few of them have really stood out in terms of how much money they made.
A few of these Las Vegas residencies have been so successful that it could be extremely difficult for any future artist to beat their milestones.
Let's look at the six most successful residencies in Las Vegas based on their ticket sale earnings, attendance, and duration. (source)
A New Day — by Celine Dion
Duration: 4+ years (March 2003 – December 2007)
Venue: The Colosseum at Caesars Palace
Gross earnings: $385.1 million
Celine Dion's first residency concert took the world by storm in 2003. It's still the highest-grossing Las Vegas residency to date. Nearly 3 million people attended the residency during its 4-year tenure. In total, Celine Dion performed in about 720 shows.
Celine — by Celine Dion
Duration: 8+ years (March 2011 – June 2019)
Venue: The Colosseum at Caesars Palace
Gross earnings: $245.5 million
After already cementing her reputation as the Queen of Las Vegas residencies, Celine Dion returned to The Colosseum in 2011. This time, she stayed for over eight years, thrilling 1.74 million fans to a total of 427 shows. 
Although profits from the shows paled in comparison to her first residency, it remains the second most successful Las Vegas residency.
The Red Piano — by Elton John
Duration: 5+ years (February 2004 – April 2009)
Venue: The Colosseum at Caesars Palace
Gross earnings: $166.4 million
The Colosseum continued its Las Vegas residency domination with a series of concerts featuring singer and songwriter Sir Elton John. He appeared in 247 shows over five years and made the organizers more money than any other resident performer aside from Celine Dion.
Piece of Me — by Britney Spears
Duration: 4 years (December 2013 – December 2017)
Venue: The AXIS at Planet Hollywood
Gross earnings: $137.7 million
Although the organizers slated the event to run for two years, Britney Spears' first-ever residency was so successful the venue extended its duration by another two years. The American singer sold almost a million tickets before ending her residency in 2017.
The Million Dollar Piano — by Elton John
Duration: 6+ years (September 2011 – May 2018)
Venue: The Colosseum at Caesars Palace
Gross earnings: $131.2 million
Elton John's second stint at the Colosseum proved to be almost as successful as his first. He performed in nearly 200 shows with hundreds of thousands of attendees.
All I Have — by Jennifer Lopez
Duration: 2+ years (January 2016 – September 2018)
Venue: Zappos Theater at Planet Hollywood
Gross earnings: $101.9 million
No residency featuring a Latin artist has been as successful as Jennifer Lopez's first residency in Las Vegas. She performed in just over 120 shows. Despite its relatively short duration of fewer than three years, All I Have sits at number 6 in the list of most successful residencies in Las Vegas.
Elvas Presley's Las Vegas Residency
Speculation indicates that Elvis Presley's residency at Westgate Las Vegas Resort (formerly known as both the International and Las Vegas Hilton), was one of the most successful residencies in Las Vegas history. 
Elvis appeared in over 600 shows spread out across seven years. Unfortunately, there's little data to back up this claim. Hence, the 1969 to 1976 residency can't make the official list.
(source)
(Find out about the hottest comedy clubs in Las Vegas in our article here)
Current Las Vegas Artists in Residence (2023)
Residencies have become so popular in Las Vegas that dozens of performers are currently in residence in Sin City. These performers run the gamut from huge names in the music industry today to big-name performers of the past.
Here is a list of current Las Vegas resident performers:
Katy Perry: Play
Barry Manilow: The Hits Come Home!
Carried Underwood
Keith Urban: Live-Las Vegas
Foreigner
Maroon 5
Rod Stewart: The Hits
Usher: The Las Vegas Residency
Santana: Greatest Hits Live
Sting: My Songs
Miranda Lambert
Luke Bryan
Donny Osmond
and more…
You can see a partial list of current Las Vegas residencies and check ticket prices here at Vegas.com
Upcoming Concerts in Las Vegas
Beyond residencies, Las Vegas plays host to a large number of visiting headliners. Many of these big-name performers and bands are only in Vegas to play for one or two nights.
For a complete list of upcoming concerts in Vegas, please see our up-to-date Las Vegas concert schedule here.
Perks of a Las Vegas Residency
Besides gobs of money, what are the perks of being a resident performer in Las Vegas? We mentioned above that getting to stay in one place to perform instead of going on tour is a dream job for a performer and is probably the biggest residency perk.
Come down to the Strip, perform your shows, and then head back to the comforts of your own home every night. This is what the biggest musical names do. They get a place in an upscale, quiet part of town like Lake Las Vegas and essentially commute to the Strip to do their shows, then head home.
(Find out if you should stay on the Strip when you come to Las Vegas in our article here).
As a performer, I'm sure you can imagine how nice that would be compared to living out of a suitcase all the time.
Other performers are given fancy suites in the hotel/casino they play at for the duration of their engagement. Pretty sweet, eh?
Finally, some Las Vegas residencies are more intermittent, meaning that the musical artist will perform several shows over a couple of weeks or a month in Las Vegas and then head back out on the road for their regular tour schedule.
Being in Las Vegas for a few weeks helps break up their tour schedule and gives them some partial downtime. They may be away from Vegas for several months and then come back to play another month's worth of shows later in the year.
Another benefit of a Las Vegas residency are the accolades. In recent years, it has become a big feather in the cap of a performer's career to have or have had a Las Vegas residency, as only the most in-demand artists get that kind of opportunity.
How Do You Get Tickets to See a Las Vegas Residency?
While many resorts give discounts and invitations to their guests for residency shows, you can still attend the events if you're not a hotel guest.
Resorts in Las Vegas build concert halls, theatres, and nightclubs to host residency shows. They put out tickets for sale, and you can purchase them online or at the resorts themselves.
To get Las Vegas residency tickets online, you can follow these general guidelines:
1. Visit the resort's website or a discount ticket agency.
2. Navigate to the entertainment or shows page.
3. Select the resident performer you would like to see from the list of acts.
4. Scroll through the different dates and times for their shows. Select an event time that best suits you.
5. Choose a seat based on its location and price.
6. Proceed to book your ticket.
Please note that the above process may differ slightly for different resorts, especially those who use third-party retailers.
After booking your seat, it's left for you to show up at the event and have the time of your life! There are dozens of residency shows happening in Las Vegas daily. The continual growth of the concept is mostly a result of past successes.
Conclusion
Las Vegas residencies continue to attract millions of visitors to the city. The artists make money because the casinos pay them, the casinos make money because the artists attract people to the resorts and gaming floor, and the guests get to see their famous artists up close and personal. It's a win for everyone. 
Related Articles (Las Vegas Shows)