March Madness in Las Vegas: Top Viewing Parties (2023)
(This article may contain affiliate links. If you click through and make a purchase, we will receive a small commission at no additional cost to you. )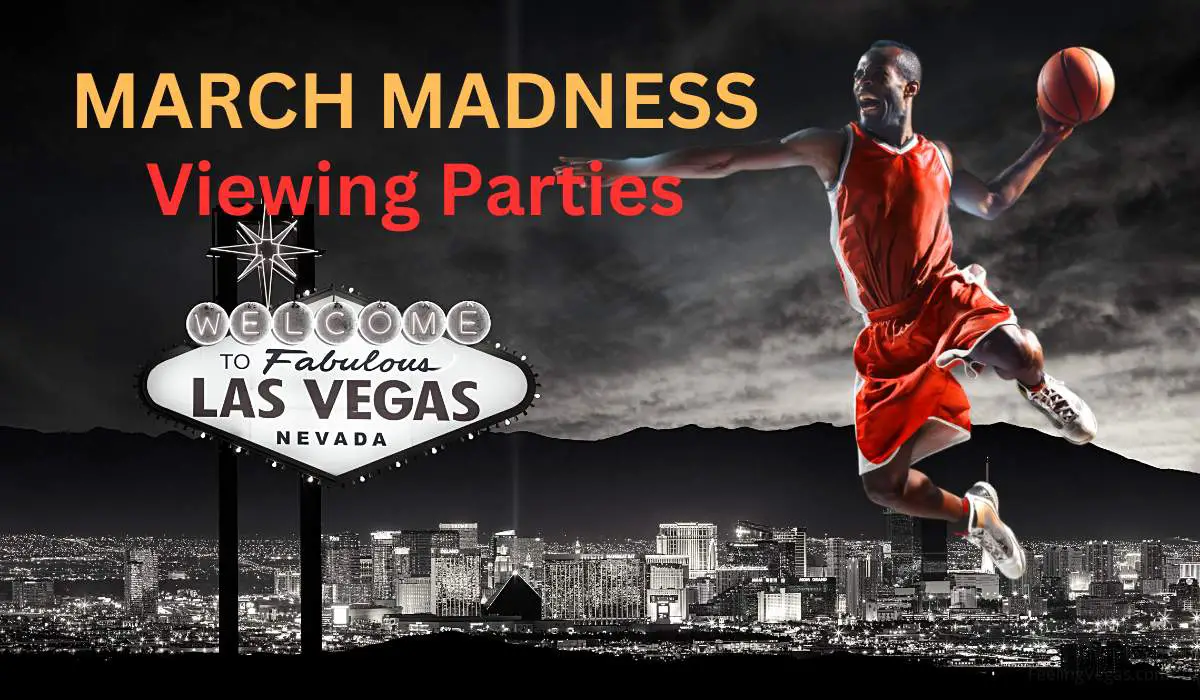 March Madness is an event that has been penciled into the calendar of every serious basketball fan since 1939. When the annual NCAA Division I men's basketball knock-out tournament starts, people are glued to their TV sets. For many, there is no greater place to watch the tournament than in Las Vegas.
During the last two weeks of March, Las Vegas is awash in March Madness viewing parties. First, I'll explain the key dates in this year's tournament calendar, and then I'll tell you about some of the most popular viewing party destinations in Las Vegas.
What Is March Madness?
March Madness is a National Collegiate Athletic Association (NCAA) basketball event held in the US each Spring. The tournament is a single-knockout tournament featuring 68 college teams from Division I of the NCAA. These are some of the best-funded teams in the college leagues. 
March Madness often acts as a showcase for college players looking to break into NBA.
This tournament is one of the most-watched basketball sporting events in the US. Each year, tens of millions of people from around the US gamble on March Madness, and many of the major sports channels will run TV specials for March Madness.
It is believed that 2-3 million people descend upon Las Vegas each year for March Madness-related events. 
March Madness – Key Dates
In 2023, March Madness begins on the 12th of March. This is Selection Sunday. The entire March Madness event will then run through to April 3rd.
Many of the events during March Madness attract huge viewing numbers. It is the 1st/2nd rounds that occur between March 16th and 19th that seem to attract the most attention, though.
While you will find March Madness viewing parties in Las Vegas throughout the duration of the event, the best time to be in Vegas will be between the 16th and 19th of March 2023. 
Why Vegas For March Madness?
Las Vegas is a gambler's paradise. There is nowhere else in the United States where gamblers have access to so many premium sportsbooks.
During March Madness events, Las Vegas is more alive than normal. Tens of thousands of people descend on the sportsbooks. The casinos are packed to the brim, and many people, businesses, bars, and casinos run viewing parties where fans can watch the latest March Madness games.
For keen March Madness gamblers, Las Vegas is the only place in the United States where you can meet thousands of like-minded people and place bets at competitive gambling odds.
Las Vegas also plays host to the NCAA Division I Men's Basketball West Regional on the 23rd and 25th of March at the T-Mobile Arena. These games will bring another flood of sports fans to Las Vegas.
The Best March Madness Viewing Parties in Las Vegas for 2023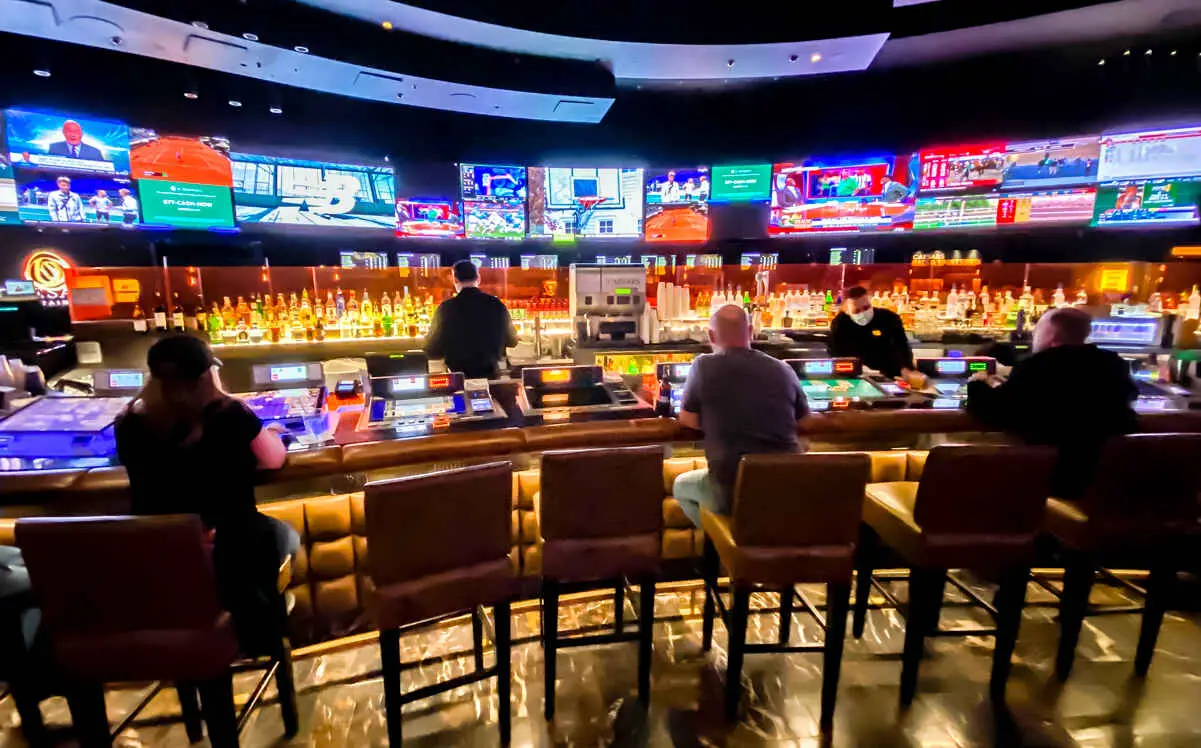 Every sportsbook in Las Vegas will offer multiple big screens to watch March Madness events on. Those who wish to be in the thick of the gambling action will often watch at a sportsbook, even though they tend to fill up quickly.
These won't be the only places to watch March Madness in Las Vegas, though. Throughout the city there will be many ticketed and non-ticketed events where gamblers can watch the games and party at the same time.
Here are some of the most popular spots to watch March Madness basketball in Las Vegas:
The D Hoops Viewing Party
This is the most popular free March Madness event in Las Vegas. Those who wish to attend The D are encouraged to arrive early, as spaces fill up quickly. It takes place in the 12th-floor Ballroom. Those traveling with friends can book a private mancave for $300 per person (minimum of 8 attendees). 
Circa's Galaxy Watch Zone
Circa holds many watch events during March Madness. Circa's Galaxy Watch Zone is their free option. It fills up very quickly. There are food and drink options available for sale, as well as ways you can 'upgrade' to one of their private viewing parties if spaces are available. 
Westgate Hoops Central 2023
This is the most affordable paid viewing party in Las Vegas. For $45, attendees can sit in the Westgate theater to enjoy the basketball action. There are four big screens. Each ticket price includes a single beer. This event can get somewhat rowdier than other paid events, but many people find this helps to increase the sporting atmosphere. 
Ellis Island Hoops Mania 2023
Ellis Island is one of the main off-strip March Madness viewing parties. Tickets start at $200 for half-day and $400 for the full day. Attendees can enjoy unlimited food and select beers. 
Mabel's BBQ at Palms
Mabel's BBQ is located near the sportsbook at Palms. This can make it an ideal option for those that are planning to gamble throughout the event. For $275, attendees can enjoy access to unlimited BBQ food and a whole host of different alcoholic drinks. 
STRAT Festival of Hoops
March Festival of Hoops offers unlimited stadium food and drink at the Strat Hotel. Packages start at $150. There are also additional packages that can provide attendees with access to a hotel room and the viewing party. 
Hoops Mania At The Hard Rock Cafe 2023
For $300, March Madness fans can attend Hoops Mania at the Hard Rock Cafe on The Strip. Attendees will have unlimited access to food, drink, and guaranteed seating for the numerous plasma screens set up in the venue. 
Beer Park at Paris
Beer Park at Paris does not have an entry price, although it does require a minimum spend. Those planning on spending at least $250 per person during March Madness can attend this rooftop viewing party. There is indoor and outdoor seating available. 
Hoop Madness at Azilo Pool at Sahara
Those looking for something different tend to favor the Azilo Pool at Sahara. For $200, attendees can enjoy a pool party while watching the day's March Madness events on a huge screen. An open bar is provided with every ticket.
March Mayhem HyperX ESports Arena at Luxor
The HyperX ESports Arena is the largest ESports arena in the world. During March Madness, the large screen will show the day's March Mayhem events for just $100. There is a huge sound system in place and a party-like atmosphere. Each entry will receive 5 beer tickets, with plenty more beer and food available to buy. 
BetMGM Sportsbook and Bar (Park MGM)
The BetMGM Sportsbook becomes one of the more exclusive sportsbooks during March Madness. For $275, gamblers can gain guaranteed access to the sportsbook, and unlimited food and drink are provided for the day. 
Circa's Stadium Swim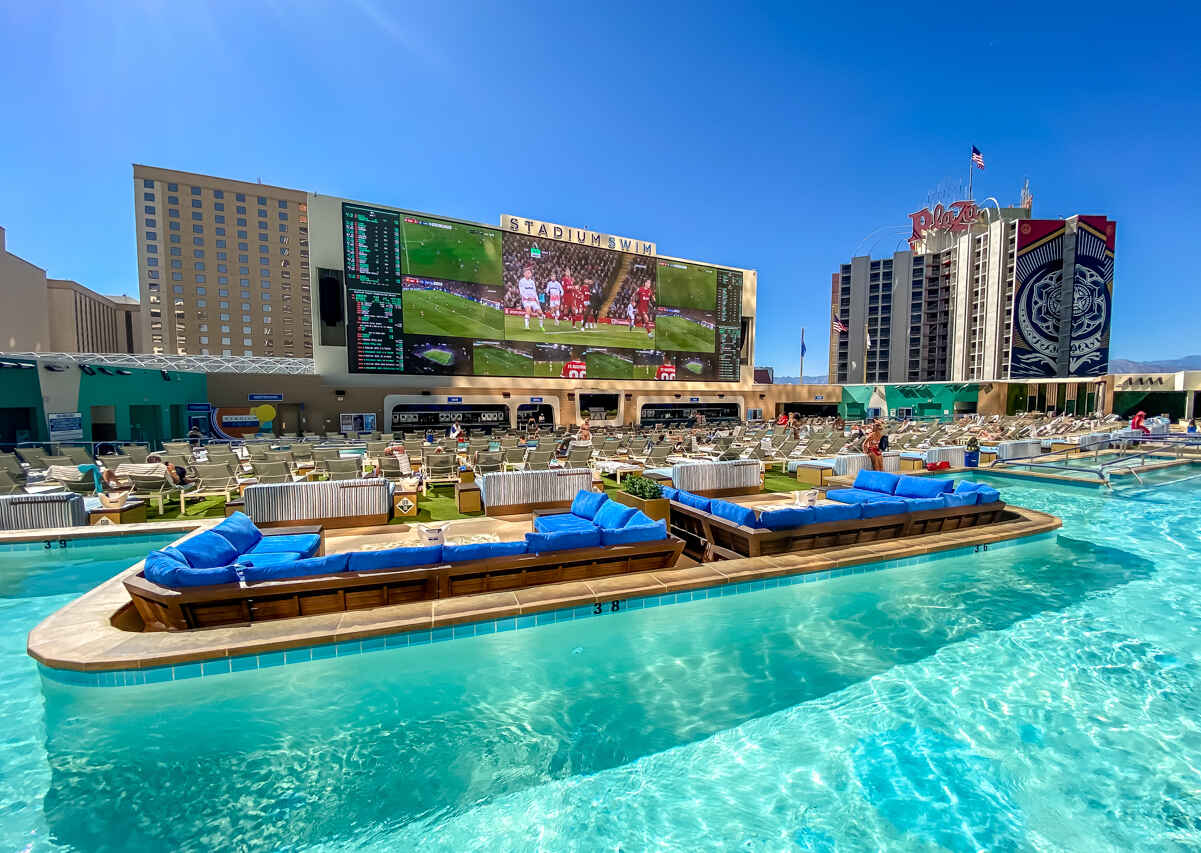 Circa's Stadium Swim is among the more unique viewing parties in Las Vegas. At Circa, you can enjoy a swim in one of six pools while catching a game or two on their giant screens. 
Ticket prices start at $80, but those who wish to enjoy private seating or a cabana will need to spend a minimum of $2,500.
RELATED: Circa Pool: 21 Things to Know About Stadium Swim (Las Vegas)
Montecristo Cigar Bar Hoops on The Strip
This cigar bar allows gamblers to smoke while watching the day's events. Entry starts at $200 for a couple, with a minimum spend of $250 once inside.
Even More March Madness Viewing Parties in Las Vegas
These viewing parties are not the only viewing parties in Las Vegas for March Madness. Not even close. Every major venue will be offering some sort of viewing party. Those that have yet to book a ticket for a viewing party should have no issues finding another party that they can attend, even if it is off-Strip.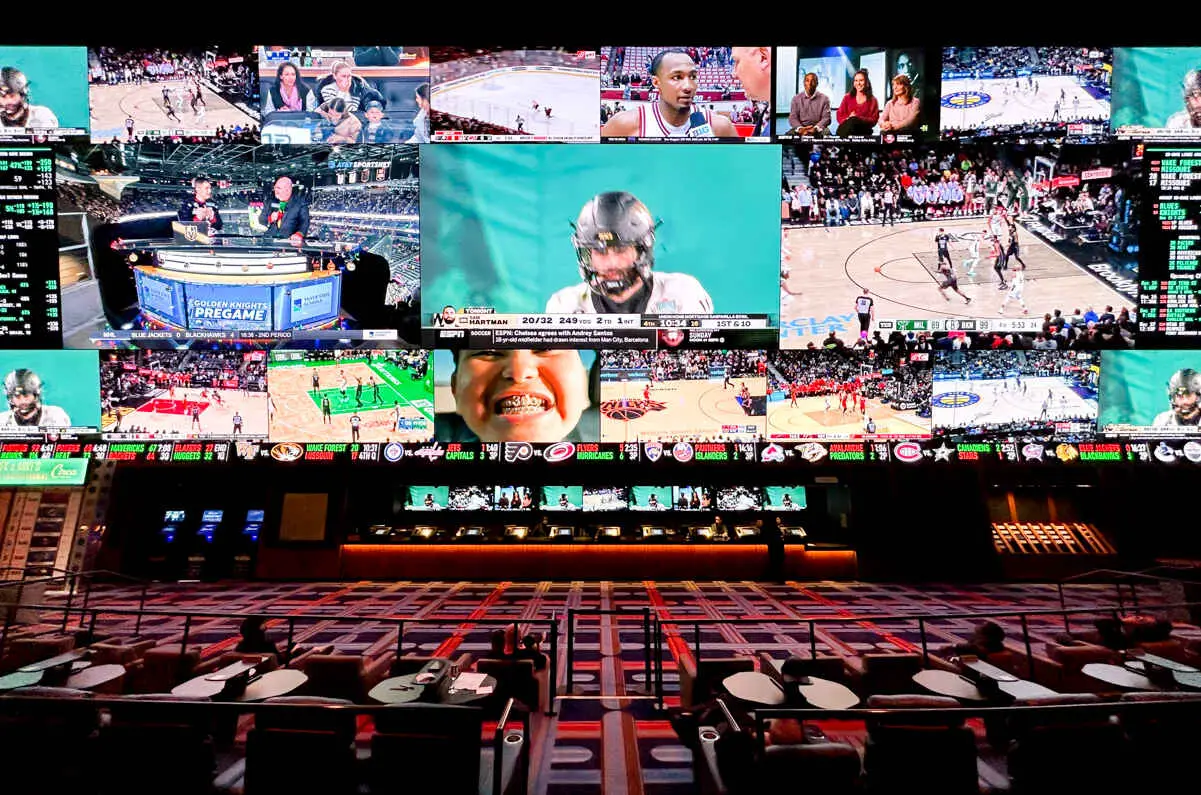 Here is a list of several more March Madness parties and events happening in Las Vegas in 2023:
And the list goes on. You can pretty much count on every major casino, sports bar, and sportsbook in the city to be hosting events during this year's March Madness in Las Vegas.