Can You Go to Las Vegas When You're 18? (Things to Know)
(This article may contain affiliate links. If you click through and make a purchase, we will receive a small commission at no additional cost to you. )
If you've reached the legal adult age of 18, you may be raring to head to Las Vegas and experience everything you've ever heard about a Vegas vacation. But the question you should be asking yourself first is, can you go to Las Vegas when you're 18?
You can go to Las Vegas when you're 18 or even younger. However, certain activities are still prohibited until you're 21, such as gambling, checking into a hotel, and purchasing alcoholic beverages. Don't be discouraged, though, as many exciting events in the city can still engage you 24/7.
In this article, I'll share many thrilling activities for 18-year-olds in Las Vegas, and you will also learn about others you'll need to pass on until after you've turned 21.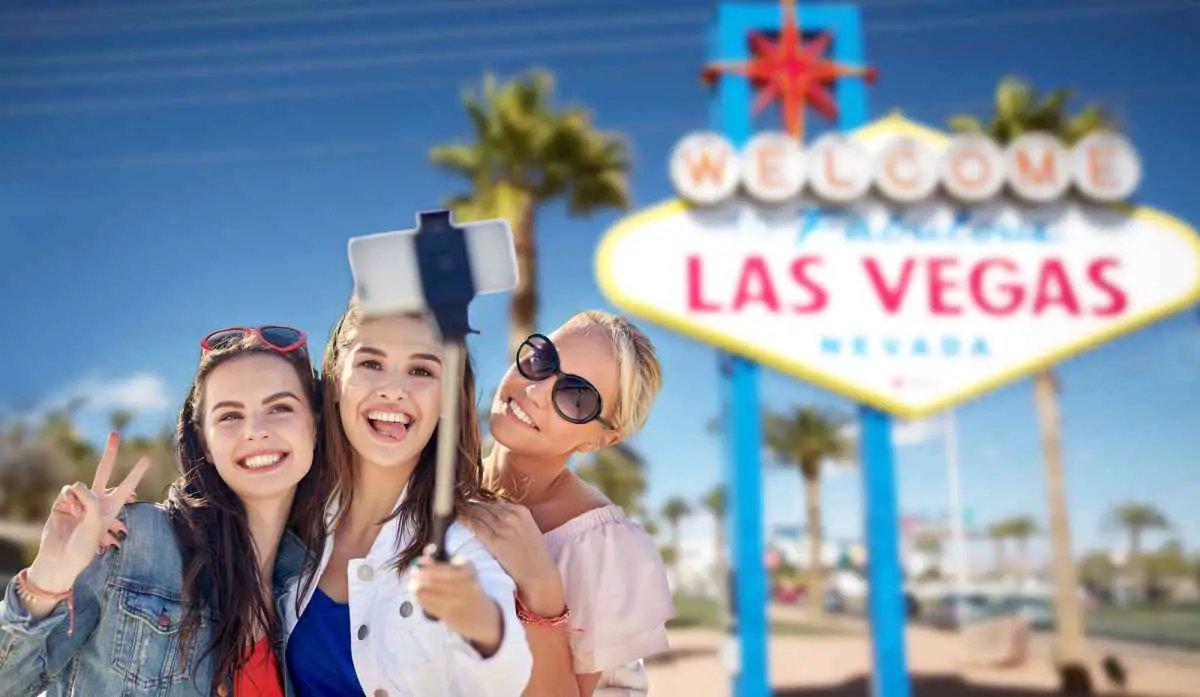 What Can You Do in Vegas if You're 18?
While 18 may be the legal adult age in most of the U.S., there are still many "adult" things that eighteen-year-olds can't do, and that includes in Vegas.
Fortunately, Las Vegas has a ton of things to do that are perfect for the older but not old enough crowd.
If you're between 18 and 21 years of age and are planning a vacation to Las Vegas, here are some activities you will want to have on your itinerary. 
18 and Up: Las Vegas Adult Shows & Museums
Las Vegas has some fantastic museums & exhibits, including some that are only open to those 18 and up.
Check out even more adult-only Vegas shows here (Vegas.com)
Las Vegas Has The Best Escape Rooms
If you have the guts to remain locked or confined in small spaces till you are worthy of freedom, Las Vegas escape rooms are ready to test your intellect & intuition.
Like most others, it's more fun when you come with friends and family, but no one's stopping you when you're alone.
If you're staying on the Strip, there's one close by at The Forum Shops, Caesars Palace. About six different immersive themes are available, and you can increase the difficulty if you dare.
Buckle Up for Thrill Rides
You don't even need to search for thrill rides in Vegas, as they are all around the city. They are not just run-of-the-mill roller coasters but facilities for surreal flying, sky jumping, road racing, and dirt-digging experiences!
Most are open to all adults, so just pocket your credit card or some dollar bills and head to one.
Some of the best include:
Experience Fremont Street Live
There's never a dull moment at Fremont street, but if you doubt it, ask any of the 26 million visitors that flood there every year.
The Viva Vision's canopy projection surface here, about 1,500 feet (457.2 meters) long, will stun you. You'll surely be impressed when shows of your favorite artists begin, and the best part is that it's all free! Click on the link to find the schedule. [Viva Vision Light Show & Schedule (Fremont Street Experience)]
Numerous hotels, stores, restaurants, and attractions will also grant you access to see and do more.
Since you're 18, you can remain on the street into the wee hours and enjoy free concerts every night of the week.
Groove in Live Concert Venues
Not every concert venue will allow under-21s into their shows, but some, like the following, will:
T-Mobile Arena: 20,000-seat theater hosts tons of events yearly. Check out their online schedule to see if something is happening that you won't want to miss.
House of Blues in the Strip welcomes big names in the music and comedy industry for live performances. Check out the dress code in my other guide. [Here's the Dress Code for House of Blues in Vegas] 
Downtown Las Vegas Events Center isn't just for musical events but to enjoy sports games with other passionate fans.
These are just a few of the things you can do when your 18 in Las Vegas. For more ideas of things to do take a look at our Under 21 in Las Vegas guide.
Things You Can't Do in Vegas if You're 18
Now that you know there are a ton of things for those over 18 to see and do in Las Vegas, it's time to talk about some of the things you can't do in Vegas if you're 18.
If you are 18 in Vegas, it's unlawful to do the following:
Gamble in Any Facility
As per Nevada law, gambling is illegal for anyone under 21. Casinos are even supposed to deny you access, let alone allow you to play games, as your presence can lead to severe sanctions.
Therefore, don't assume that being an adult (18 years old) automatically makes you eligible for betting in Sin City.
I have extensively discussed this topic in my previous article here, so read it to understand everything about gambling in Vegas at 18. 
Checking Into a Hotel
Although the Nevada government isn't against it, most renowned Vegas hotels won't allow anyone below 21 to book a room.
However, you can join someone older that will make the booking, like a parent, elder relative, or older friend. Better still, you can opt for hotels that lower the age restriction to 18.
The reason is that most other hotels in Vegas also have significant gambling facilities, which are unlawful for minors to enter. You can find out more about booking a hotel in Vegas under 21 here.
Buying & Possessing Alcohol
As I shared in a previous article about drinking on the street in Las Vegas, you must be 21 years or older to buy or posses alcohol in the city of Las Vegas. 
If you use a fake ID to buy some, you may face a six months jail term or a $1000 fine. There is no compromise or exceptions, so briskly walk past any Vegas bar or liquor store and order only alcohol-free drinks.
Buying Tobacco Products
Only people 21 years and older can buy tobacco products in Las Vegas, including cigars, cigarettes, e-cigarettes, nicotine/nicotine-derived products, etc.
The Nevada government adopted the law to help reduce smoking-related deaths, especially among young people.
Therefore, keep busy or distracted whenever you feel the urge to smoke because no law-abiding smoke vendor will sell to you.
Final Thoughts
Vegas welcomes all ages, from newborns to seniors (I see plenty of both in Las Vegas every week), but some activities are restricted even for 18-year-olds. Before 21, you cannot: 
Gamble at any casino 
Buy or possess alcoholic drinks
Buy smoking products
Check into most hotels
However, you can still enjoy other thrilling activities, including:
Adult shows and museums
Solving escape rooms
Visiting teen-friendly concert locations
Watching free, live shows on Fremont street
So from here, it's up to you to decide if a trip to Las Vegas is worth it at 18 or if you'd rather wait until you're 21.