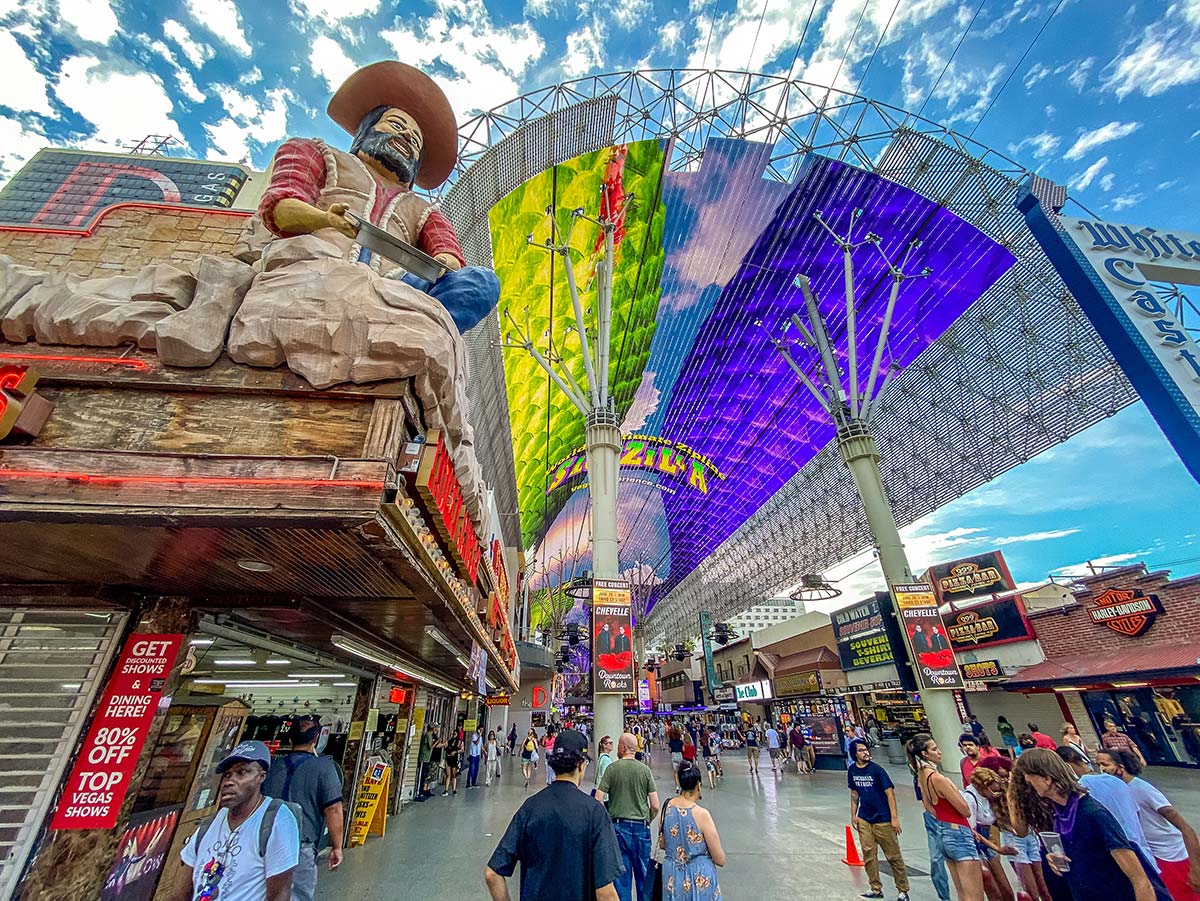 < Previous Image | Next Image >
Download & Save: Daytime on Fremont Street Las Vegas Photo
Downloading this free Las Vegas stock photo during the day at the Fremont Street Experience in Las Vegas is easy.
(Desktop) Click and drag the image to your destop, or Right click image and "Save Image As".
(Mobile) Click and hold image to save to your camera roll.
Tip: Import this image into Canva (free) to add text or use in a design template.
About The Fremont Street Experience
The Fremont Street Experience in downtown Las Vegas is a multi-block pedestrian walkway covered by the largest LED screen in the world. During the day Fremont Street is filled with shoppers, tourists, and street performers. At night, however, is when the real party gets started.
The Fremont Street Experience has live music, bars, casinos, and is home to some of the best people-watching in Las Vegas.
Check out our list of the 19 Best Things to Do in Downtown Las Vegas to find out why you should head to Fremont Street next time you're in Vegas.
Image License: Free Daytime on Fremont Street Las Vegas Image (Do's & Don'ts)
Here's how you can use this free Las Vegas image download:
DO: 👍
DO use the image online in your personal, website, and editorial projects.
DO use the images to illustrate your social media accounts, websites, and articles, as well as background images, screensavers, and digital designs (Images can be used as is, or altered by editing, cropping, adding text, etc.
PLEASE credit FeelingVegas.com for our work.
DON'T: 👎
DON'T sell, redistribute or make the image available for download anywhere.
DON'T use the image for commercial, advertising, or offline purposes.
COPYRIGHT NOTICE:
FeelingVegas.com retains all copyrights to this Daytime on Fremont Street image.
Only the image/s marked as "Free Image" in the title are available for free download and use, all other images on FeelingVegas.com are protected and cannot be used without paying a proper licensing fee to either us (if we own the image rights) or the legal copyright holder of the image.
Note: We've given you the rights to download and use the photo on this page; however, it is your responsibility to make sure that the way you use the images is legal and does not infringe on any person, company, product, or brand.
** By downloading and using this image (fremont-street-las-vegas-feelingvegas.jpg), you are agreeing to these terms.
Reference: